All-electric Kia Niro powers through Duluth test
By John Gilbert
When Kia introduced the Niro a couple of years ago, I got a chance to drive one for a week and review it. The Niro was available in hybrid, plug-in hybrid, and electric — although the electric version was not out yet. It was an impressive vehicle in every way, with the same powertrain options as its partner, Hyundai, had put into its Ioniq sedan.
But this time, when I got a 2022 Niro to live with for a week, it was different. This time the vehicle delivery service in Chicago brought the Niro to me in an enclosed trailer, rather than driving it as they did with the first hybrid Niro. This time, the prize showed up and looked the part, in gleaming Snow White Pearl, and I couldn't wait to drive it.
We've heard all the predictions and speculation about electric vehicles, and we all share the primary concern, called "range anxiety." No, we won't be using an extremely long extension cord. EVs run on battery packs, and every battery company is racing to build better battery packs, with quicker charging and more power delivery to allow us to drive for far more distance than the short-range of the original electric cars.
Face it, we are going to be buying and driving electric cars instead of internal-combustion-engine cars sooner than later, and I am one of those convinced advocates about going electric. But I have some questions of my own.
Having driven a few electric vehicles — or EVs — I understand that the efficiency of electric power means your maximum torque occurs at zero RPMs, so when you hit the gas, you virtually blast away in a flash. The Niro did exactly that. My major question is what happens to all that sweet electric power when you have to park your EV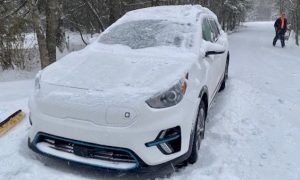 outside in Duluth, Minnesota, when the temperature is single-digit cold overnight? It is similar to camera batteries, which tend to go from fully charged to warning you the battery is drained in minutes, when it's cold out.
Now I could find out first hand, because this Niro was totally electric, with the electric motor under the hood where the engine used to be, and it powers the front wheels. Rolling out of its trailer, the Niro showed 237 miles of range. That's a lot, and is a tribute to the LG Chem company in South Korea, which has worked closely with Hyundai/Kia to develop the lithium-ion-polymer battery pack that is cutting edge on charging, range and power output, and also is conveniently flat for packaging ease.
The lithium-ion-polymer battery pack has 64 kWh (kilowatt-hours) of power, and drives a 150 kW electric motor, and a 7.2 kW on-board charger. The battery pack itself lies flat, under the rear seat, making the Niro handle even better than it should, because it's front-wheel drive but with the weight balance of a mid-engine vehicle.
I drove down our hill and a short way up the North Shore of Lake Superior to shoot a few photos, and a bit more, just experimenting with the throttle and the silent potency. When I got back in, I pushed the button, knowing the response would be silent, and looked for the "Ready" indication on the instrument cluster. I was surprised to see that the range number had actually increased from when I left. I'm a strong believer that you slow down a good distance from your stop, and you descend hills knowing you can add regenerative electricity to the battery pack by braking lightly.
What I didn't realize at first was that the paddle shifters affixed to the steering wheel are not just for up and downshifting the continuously variable transmission to a better range. When you pull on the left paddle to downshift, you also are intensifying the regenerative operation, so when I instinctively downshifted with the left paddle coming the mile down Duluth's Lake Avenue, I inadvertently added to the battery's power without even touching the brakes.
We were thoroughly impressed with the comfort and feel of the Niro, and with the power and efficiency. We don't have a high-speed 480 outlet at home, although we would obtain one if we had an EV, so I plugged into normal household current overnight, from about 6 p.m. until 8 a.m. the next morning. The range-gauge told me I would have 213 miles before needing a recharge, and I was going to drive to the Iron Range and back, so 213 miles should be sufficient.
You need to be aware though, that the battery pack delivers the equivalent of 123 miles per gallon in town, and 102 miles of highway driving, so cruising on a trip at 70 miles per hour will use up your electric energy faster than if you were just driving to work and back. When I started my return trip, it showed I had 110 miles of range. Another neat little item on the information screen shows where the nearest high-speed charger is located with an arrow and distance. I learned from the car itself that there was such a charger in downtown Virginia. I already knew there were others in downtown Duluth and at UMD's campus. I also knew I wasn't that far from home, so I went for the long-range experiment.
As I drove back and through Duluth, noting the range was decreasing, I headed up the mile-long hill toward our house. A little notification informed me I should be looking for a charge, because I only had 11 percent of my total remaining. No problem. It was cold out, and I pulled out the self-contained cord from the trunk, and plugged one end into our outside electrical outlet and opened the little trap door in the front body panel to plug the other end into the car's receptacle.
That short-term charge was enough to improve our range, and we were going to see a UMD-Ohio State women's hockey game at AMSOIL Arena down by the harbor, and about four blocks from the arena a row of parking meters includes high-speed charging stations. I pulled into one of those spots and activated the charger by plugging its cable into the front end receptacle, and we walked to the game. When we returned, it was chilly, with a nasty wind, but we got there promptly. When I unplugged the cable, the charging meter notified me that I had only gotten a partial charge because I was supposed to prepay with a credit card to get more, which I was unaware of.
I got into the Niro and hit the starter button: Silence, but life. And the instrument cluster said I had 184 miles of range. Impressive, especially since I hadn't ordered a full charge. Parking outside again 10 miles away at home, where the temperature went down to about 9 degrees overnight, the car showed 172 miles of range. Not bad, considering the frigid weather hadn't nicked it for much more than the drive home.
The next day, our final full day with the Niro, a snowstorm hit and kept coming through the night, reaching a total of about 7 inches up on our ridge. That gave us the full scope of what we might expect with an EV in Duluth winter. The Niro handled driving in the snow adequately, although the Michelin tires mounted were more for long-wear and high mileage than winter traction, which is a tendency of all Michelins except the company's all-out winter tires.
Interior comfort was excellent, with roomy bucket seats and a rear bench covered with what Kia calls SynTex, which seems to be a tough but comfortable material. They are more comfortable when electrically heated, as the test vehicle's seats were. A sunroof with a shade, all the company's many safety lane-keeping and fore and aft parking warnings are in place, and so is smart cruise-control with stop-and-go, and a Harmon Kardon audio system that was extra impressive because there was no engine sound to interfere with the satellite music.
The $44,650 price tag for the EX Premier model was increased to $47,080, by the addition — thank you very much — of a "Cold Weather Package," consisting of a battery heater, a heat pump, plus a heated steering wheel. The heat pump is greatly responsible for our interior comfort in the Niro. You could get everything going with auto-start, but I kept thinking it would warm up quickly, being all-electric, and I didn't want to lower the range any more than necessary.
The week-long test was interesting, if too brief. I want more time with the Niro EV, and it would be fun to try the Niro Hybrid for comparison. With the hybrid or plug-in hybrid, of course, the 1.6-liter 4-cylinder engine works to recharge the battery pack and eliminate all the range anxiety, as well as the intrigue of daily cold-weather testing. But the pure-electric Niro was fascinating, and the Duluth weather, which can be harsh, was for once appreciated so we could give it a sun-cold-snow-long-range test within our week's trial.
Comments