By John Gilbert
REYKJAVIK, Iceland
Often when you take a trip, the proper cliche is "getting there is half the fun."
Not this time. When Land Rover invited auto journalists for a first test-drive of its new Discovery Sport, it chose Iceland. Maybe I was the only person in snowy and icy Minnesota to be excited about making a January trip to snowy and icy Iceland, but being there was ALL the fun. Only a weather-delayed flight proved disappointing, compressing my group's time from three days to two.
To be the trip's prime attraction, the Discovery had to compete with amazing visual sights that included primitive roadways, a lack of traffic, towns, and alternative routes. There was not a lot of snow, and, by the way, not a single day from January through March passed when Reykjavik didn't have warmer temperatures than Duluth, Minnesota.
After finally arriving in Iceland's main city, where about three-fourths of the country's less-than half-million people reside, we checked in at the Design Hotel 101 in downtown Reykjavik, but didn't have time to unpack. We were fitted with "66-degreeNorth" down jackets, gloves, hats, and other severe-weather-beating apparel, just in case, and then we were off to the product presentation. Promptly, we hit the road for the designated circuit of several hundred miles on mostly narrow, 2- lane roads that passed by mountains, volcanos, hot-spring pools, and terrain that includes tectonic plates, which shift every year and are gradually splitting Iceland in a equally toward North America on the west and Scandinavia on the east.
At one point, we seemed to be bunched up, caravan-style, at an outpost. A Land Rover guide explained the fissure between tectonic plates that are causing gradual continental split dividing Iceland. He added that the roadway ahead was clear, and with studded tires mounted, we should try to pick up the pace to 60 miles per hour or so. Easily done.
The ideal way to tour the rugged countryside proved to be the Discovery Sport. It is the entry-level compact SUV from Land Rover, a British company that builds larger and more luxurious engineering marvels under the names Range Rover, Evoque, Defender, LR-4, and previously the LR-2, which will be supplanted by the Discovery.
The company, formerly owned by Ford, is now owned along with Jaguar by Tata Motors in India. But it's never lost its identity, nor its pride in building the most capable off-road vehicles without ever compromising on comfort, safety and luxury.With the top Range Rovers listing for nearly $150,000, it is impressive to see how the company combines all those standards into a Land Rover Discovery that starts out at $38,000. Regardless of price or perceived stature, the Discovery Sport over-achieved in every way, no matter how desolate the roadways.
At another outpost, we were ordered to turn left, down a bank toward the Hvita River, rushing along between the rare connection of two parallel roads. We were crossing, hood-deep in rushing, chilly water, to prove the Discovery Sport's 24-inch wading capability. No problem.
As vehicle program director for Discovery 4, Paul Cleaver has been with the car since the first sketches and clay models. "I've taken it from the early concept stage with designers, to production," said Cleaver. "It's absolutely like giving birth. The proudest moment of my life was the birth of my son, Archie, and the second proudest is the birth of this Discovery Sport."
Tata is based in India, but it has left Land Rover, and cousin Jaguar, with well-financed backing to stay in England. "This is the entry level Land Rover product. This is a lot smaller than the LR-4, but the space in the interior shows the team has done a fantastic job of versatility," said Cleaver. "The third row and the sliding second row are class-leading. I think we're the best now at making the exterior compact but having a large interior space."
The class-leading interior volume includes a second row that slides 6.3 inches, and reclines. There is 27.8 cubic feet of storage behind the third seat, or 31.75 cubic feet with the third seat folded, or up to 60 cubic feet with both seats folded.
The Discovery Sport has permanent all-wheel drive, and, Cleaver explained, Land Rover has engineered a new rear suspension system to strike a balance between on-road dynamics and off-road capability, yet still provide the driver with all sorts of comfort. Designed from scratch, the rear suspension has a unique integral link and an aluminium lower control arm.
For a powertrain, Land Rover borrowed from its more-luxurious brother, the Evoque, and uses the same 2.0-liter turbocharged 4-cylinder engine which came from Ford, Land Rover's previous owner. It develops 240 horsepower, and its 9-speed ZF automatic transmission is at its best swapping gears for optimum ratios mid-range, with top gear designed for highway cruising, and first gear aimed at serious off-roading. The Discovery Sport will hit a 125-mph top speed, and still deliver 28 miles per gallon highway, with an EPA estimated 23 mpg combined city-highway.
Structurally, Discovery Sport also borrowed from the Range Rover Evoque, using a steel monococque body, with aluminum — "aluminium" to the Brits — in selected areas, such as the bonnet (hood), roof, and tailgate, and magnesium cross beams are used for strength and reduced weight, compared to the high-strength and ultra-high-strength steel of the rest of the structure.
Before I ever laid eyes on the Discovery Sport, the trip was certainly an adventure. It was going to be long, flying from Duluth, MN., to Minneapolis, then to Toronto, from where I would board an IcelandAir flight to Reykjavik. It got suddenly longer when I was contacted by Land Rover officials who said the trip would be delayed because a winter storm would prevent any aircraft from landing in Iceland for 24 hours. Everybody else in my group was connecting through Boston, so I was alone camping out in the Toronto Airport Sheraton's fine accommodations, because the one-flight-per-day trip to Iceland wouldn't depart until 7:30 p.m. the following day. I envisioned a snowstorm that only a Minnesotan might appreciate burying Iceland, but it turned out there was very little snow — just winds blowing at up to 100 miles per hour from west to east across Iceland, eliminating any possibility of seeing across the country, much less landing from the sky.
Once on the road, I was surprised we saw no wildlife, and I asked a resident if there was any. "Horses," he said. I told him back in Minnesota, we didn't refer to fenced-in horses as wildlife. "And some foxes and mink," he added. We never saw any, but, whatever, the lack of traffic and wildlife was offset by breathtaking scenery, everywhere we looked.
We paused at another road-side stop, where another Land Rover guide in another aging but beautiful Range Rover Defender awaited us. Ahead, off to the left in the fading sunlight, was a magnificent white mountain peak. "That's the Baula Volcano," he said. "It's so well-known that the road you're on is called Volcano Road."
The models we test-drove were all loaded up with features, and were priced at about $45,000. The HSE Luxury Pack includes expansive sunroofs, an 8-inch nav and information screen that rivals an iPad in size, and with surprisingly adequate three-row seating inside that compact silhouette. Stadium seating means those in the second row sit an inch or so higher than row 1, and row 3 sits higher than row 2, aiding visibility for the occupants. Flip a switch and the second row folds down electronically. There are seven USB charging sites, taking care of everyone, even if you squeeze in seven occupants.
The Discovery Sport proved more than worthy, even when I gave it that special test beyond anything Land Rover folks might have imagined. The experience gave me a better idea than even Paul Cleaver had about how stable and responsive their new vehicle is. Sophisticated electronic aids work seamlessly. The HDC driving command computer responds to a pitch-rate sensor that detects corners and reduces speed without driver intervention. The terrain response system has push-button control of four modes: general driving, mud and ruts, sand, and snow and ice, and also affects the electric power-assisted steering. The mode shown on the screen notes DFC or HDC, where the powertrain is directing its torque, and which direction the front wheels are pointed, which is vital in off-road driving.
Late in the drive, I was approaching a small rise on Hwy. 1, Volcano Road, going about 60 on a clear road, and I hit the rear window washer and wiper. I glanced in the rear-view mirror for a millisecond to see that the window was cleaned sufficiently, and looked back ahead. To my horror, the unmarked road atop the small rise looked a lot like a skating rink. Solid glare ice. Worse, there was an unmarked "T" intersection 100 feet ahead. I yelled to my partner: "Hang on! This isn't going to be pretty!" Without question, I was going too fast to make the 90-degree turn, studded tires or not, but I stabbed the brake pedal hard, and edged left hoping the slightly dished left edge might help convince a tire to make the turn. It didn't. Our Discovery Sport skidded sideways, crossed the intersection, and went almost gently right off the road. My instincts from scaling Duluth's cliffside avenues took over, and as we settled off the intended road, I hit the gas. The responsive turbo churned straight ahead, until I could pull the steering wheel left. Amazingly, we simply climbed back up onto the road — and kept going! No damage, no break in schedule.
"Going from the clay modeling in the studio, with all the different concepts and schemes, and taking it through to production, has really been exciting," said Cleaver, the product manager who has been with Land Rover for 20 years. "Now, to see the cars rolling around Iceland, it makes the hair stand on the back of my neck."
Imagine if he had been riding with us!
By John Gilbert
Press preview days at Detroit's North American International Auto Show have become a battle to exhaustion of trying to find a decent vantage point for the numerous new-vehicle presentations that run about every 20 minutes for 10 hours.
At one point, Acura was about to introduce the long-awaited renewal of its NSX, which has been used to tease the media for several years now, but appears just about ready for prime-time. As I grappled briefly then yielded to the mob scene, I chose to circle around behind the back of the media cluster, trying to find a place where I could get a glimpse of the NSX, one of the most stunning and flashy sports coupes at the show, now with over 500 horsepower from the combination of its potent V6 and three electric motors. It's a knockout hybrid, at $150,000.
Just then, someone behind me said: "Excuse me, sir, would you move? We've got a car coming through." Sure enough, a car was driving along the carpeted walkway, slowly. It was daring that some manufacturer would be moving a car right near that segment of an estimated 5,000 auto journalists trying to find one of about 100 seats at the Acura display, but it was astounding when I realized what it was. It was the surprise of the show, actually — the 2016 Ford GT.
Ford had brought back a slightly enlarged version of the original GT-40 LeMans race car about a decade ago, and it was absolutely beautiful as a replica, called simply the Ford GT. They took it off its selected market in 2006. But it is coming back, and it doesn't pretend to be a replica of the GT-40 race car any more. As it drove slowly along the walkway, the scene was almost cartoonish; it passed us and was trailed by a turbulent gang of several dozen crazed media-types, grappling for a close-enough vantage point to get an unobstructed photo of the car, chasing it all the way to the Ford display, where it would be mounted on a twirling turntable.
"That wasn't timed to be an intentional distraction from the NSX," said Chris Svensson, the design director of the GT and leader of the small cluster of zealots who met in a cloistered studio within the halls of Dearborn. But he had to chuckle about the coincidental good luck of the timing.
"We had a small crew, usually about six of us, never more than 12, and we had limited reviews from management,' Svensson said. "Management had very little input on our design. It took us just over a year, and the best thing is that people keep coming up and saying, 'Nice concept car.' But it's not a concept car. The car on the stand is a production car. We'll have these in production shortly." Read more
By John Gilbert
A car-buyer who strolls into a Volkswagen dealership to check on the 2015 Golf compact hatchbacks can be excused for feeling curious, impressed, confused, and overwhelmed — all in the space of several minutes. It's like attending a dinner party, noting that available entrees includes your favorites, such as steak, pork chops, lamb chops, halibut, walleye, and salmon– and then you realize you have to select only one.
At the VW dealership, examining the Golfs used to be pretty easy. If you were seeking basic transportation you'd pick the base car with that pretty dull but smooth 5-cylinder engine. If you wanted the hot one, you'd pick the GTI with jacked up power, suspension and trim. And if you wanted the ultra-high-mileage version, you chose the TDI turbo-diesel and set off to pursue 50 miles per gallon. For the 2015 model, all versions of the Golf are improved, and with an electric version, a wagon, and a higher high-performance model, the decisions get more confusing but also more rewarding.
First glance may not betray any major change. The car looks pretty much the same, although a discerning eye can detect some rounding off of the squarer corners to streamline the aerodynamics of the boxy vehicle. You can't tell that it's mounted on VW's new MQB platform, which will underpin all VW sedan models and a few Audis as well, and sits an inch lower, 2 inches longer and a bit wider than the 2014 Golf. Or that the new car is built of 80-percent high-grade steel, making it lighter and with an obvious improvement in torsional rigidity.
That squarish 4-door shape houses 52.7 cubic feet of interior room, an increase over the 2014 model, and more than many midsize cars. Inside, the appearance is mostly black in, with a little satin-finish trim here and there. Pleasant and straightforward, something that will be prized by those, like me, who have grown weary of fake woodgrain and/or bright chrome-like trim that gathers reflections and driver's-eye distractions.
It's understandable that the top models, such as the GTI and TDI, might have neat interiors, but perhaps most impressive is the base car with the new TSI turbocharged 4. Not only does it have nicely bolstered bucket seats, and the soft-touch material on its no-frills dashboard, but it also has a 5-speed stick shift in basic form, and you only miss the preferred 6-speed until you live with the 5-speed and its wide-ratio ease of operation. Read more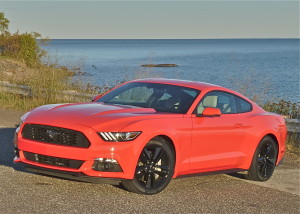 By John Gilbert
Much like the college football season, the nation's top automotive journalists have finished the "regular season" of evaluating the newest 2015 cars and truck/utility vehicles, and now the focus is on choosing the "national champions." The Volkswagen Golf, Ford Mustang, and Hyundai Genesis are the three finalists for 2015 North American Car of the Year, selected after each of 57 jurors distributed 25 points among their choices.     
The top three vote-getting vehicles for North American Truck/Utility of the Year are the Ford F-150, the Lincoln MKC, and the Chevrolet Colorado.
Having earlier voted to cut the field of all-new or thoroughly redesigned vehicles down to 10 or 12, jury members voted to determine the top three, with a maximum of 10 points allowed to one, and only one, in each category and all 25 points required to be distributed. That vote determined the top three, which were revealed December 8 in Detroit.
After a mad scramble to drive and evaluate all the cars on the original and shortened lists, the jury members  (including this writer) next reevaluate the three finalists in both categories, then distribute 10 points, which are compiled to determine both the 2015 North American Car of the Year and the North American Truck/Utility of the Year. The winners will be named at the Detroit International Auto Show on January 12, preceding the show's first media preview day.
Ford Motor Company, with the Mustang and the F-150 and MKC, stands as the only one with a chance to duplicate the 2014 sweep by Chevrolet, which won both awards with the Chevrolet Corvette and the Chevrolet Silverado. Ford's Mustang has been completely redesigned, adding independent rear suspension, and offering a new EcoBoost 2.3-liter 4-cylinder engine to join the 5.0 V8 and the 3.7-liter V6 and the 5.0-liter V8. Prices range from $25,000-$50,000, with all three engines delivering over 300 horsepower in the rear-drive coupe.
Volkswagen's seventh-generation Golf retains its familiar boxy shape, but has several significant upgrades to its front-wheel-drive package in a variety of models that cover the compact segment as well as its price range ($20,000-$35,000). VW's impressive new 1.8-liter turbocharged 4 replaces the boring and unloved 5-cylinder with more power and better fuel economy. Included in the Golf family is the TDI — turbo-diesel — which is a newly revised version of the already world-class 2.0-liter 4-cylinder diesel and can approach 50 miles per gallon. On top of those models is the GTI, a sporty version with the 2.0-liter turbo gas engine that has sportier suspension, wheels, tires, seats and interior appointments. Read more
By John Gilbert
The Ford Mustang takes the term "icon" to new dimensions. Amid very successful pickup trucks and various sedans and SUVs, the Mustang earns icon status by standing out as the very personality of Ford Motor Company. And for 2015, the Mustang takes its own image, as well as Ford's, upward to new heights of styling, performance and technology.
The totally redone Mustang has an enormous responsibility, being the sixth generation of the car that first hit the streets of Dearborn in 1964. That's a long time ago — 50 years ago, to be exact. And the new car seems to have reached all the high points befitting its 50th anniversary.
"Fast, fun and affordable," is the way Mustang vehicle engineering manager Tom Barnes put it. I wasn't sure if that was a new corporate motto or if Barnes was describing the combination of all the new Mustang's attributes, but if it's not the Mustang Motto, it should be. The Mustang will start in the mid-$20,000 range and run upward, depending on the restraint buyers show at the upgrade and option checklists.
Since its inception in 1964, the Mustang has grown bigger, then smaller, then almost disappeared, before being revived in the last decade as a retro model that brought everyone back to the heyday of its first and most classic years. For 2015 the evolution continues and the Mustang sets new standards as a sleeker, quicker and more maneuverable sporty coupe that is a little bit retro and a large bit contemporary, with a dose of Ford's most futuristic EcoBoost technology.
Ford introduced its 2015 Mustang to auto media in Los Angeles, stressing it as a finished product more than simply for its improved power. But the two are intertwined impressively. Under that long and curvaceous hood you choose one of three engines. A surprising new EcoBoost 4-cylinder joins the returning V6 and the bolstered V8 in a versatile arsenal. All three engines reach or surpass 300 horsepower, yet promise economical operation through a pair of 6-speed transmissions, a Getrag manual, or the automatic, which has steering wheel paddles for a sporty touch on all applications.
The base engine is the 3.7-liter V6, with 300 horsepower and 280 foot-pounds of torque, while the top engine is the 5.0 V8, with its sophisticated chain-driven dual overhead camshaft design spinning to a whopping 435 horsepower and 400 foot-pounds of torque, with a top speed of 155 miles per hour. But the spotlight shines brightest on Ford's newly redesigned EcoBoost 2.3-liter 4-cylinder, thoroughly upgraded and reinforced to handle the twin-scroll turbocharger's force-fed demands. In the Mustang, it delivers 310 horsepower and an amazing 320 foot-pounds of torque. From a 4-cylinder.
"The new 2.3 has more horsepower than our V8 did 10 years ago," said Barnes, pointing out the power is complemented by an advertised 32 miles per gallon.
"We had hundreds of people working on this Mustang for the last four years to make sure we had everything from the powertrain to the stiffer structure, to ride comfort, and to improve response and handling, as well as the appearance, inside and outside. We had a lot of input from people and a lot of debates and discussions, because we had to live up to the heritage of the car but also move forward.
"I think we absolutely nailed it."
Small engines that over-achieve always have been my preference, and the EcoBoost 2.3 proves that large displacement isn't the only route to performance potency, while that potency and good real-world fuel-efficiency needn't be mutually exclusive. German manufacturers such as Audi/Volkswagen, BMW and Mercedes all have 2.0 turbos as their primary base power, and the 2.3 EcoBoost proves that small-displacement, high-performing engines with great fuel economy isn't an exclusive domain of the Germans.
When Ford first decided to go with the turbocharging technology it calls EcoBoost, it began with the 3.5-liter V6, built from the ground up to withstand the rigors of rapid surges of RPMs produced by turbocharging. The 2.3, meanwhile, first came to Ford with its smaller 2.0 brother from previous affiliate Mazda, when the two companies had some joint ventures. Refined through the years, they became known as the Duratec family of engines, with no connection to the smaller Sigma family that includes the 1.6, 1.3 and 1.0-liter units. Over the years, the Duratec as come a long way.
"The only thing this engine has in common with that original 2.3 is the placement of the cylinders and the displacement," said Scott Makowski chief engine architect on the EcoBoost fours. "It's pretty streamlined, with the turbocharger and direct injection mounted low, on the side, and the exhaust manifold integrated on the other side. It wasn't cheap to do things like put a steel crank in it , but all along, we looked for anything we could do to strengthen the engine."
That includes a die-cast (instead of sand-cast) block, and camshafts, a forged steel crankshaft, special piston rings and connecting rods, cooling jets on the aluminum pistons, and other modifications to reinforce the 2.3 for the rigors of being force-fed by the Honeywell-built turbocharger.
"We wanted 300 horsepower, and we got 310, with 320 foot-pounds of torque," Machowski said. "We never chased horsepower at the expense of torque, and we never sacrificed gas mileage, horsepower or torque. We were able to get 240 horsepower out of it with a single-scroll turbo, with great power but no low-end. We went with the twin-scroll turbo because it has more pulses, which give faster response. Our emphasis was on getting the torque right because we knew the horsepower would come along later.
"The torque peak is 2,750 RPMs, but 90 percent of it comes in at only 1,750. The 310 horsepower means we got 137 horsepower per liter, which is one of the highest figures in the industry."
The obvious competitors for the Mustang are the Chevrolet Camaro and the Dodge Challenger, both of which have just been reintroduced with huge power outputs. But all that power necessitates enormous pushrod engines — the. Camaro has an optional 7.0-liter V8, and the Challenger offers Hemi V8s of 6.2, 6.4 and a supercharged 6.2-liter with 707 horsepower. The price for those top-performing models is equally astronomical. That connects back to Ford's "fast, fun, affordable" concept.
The V6 base car will start under $25,000 when it hits showrooms, and it will be the choice of many who love the style and substance and want to get a bargain first and foremost. The base price for the GT, with its neat-sounding 5.0-liter V8 reaches up to a $36,100, although you can find another $10,000 of options to add without difficulty. The 2.3 EcoBoost model steals the thunder again, however, with a starting price of $29,170, still armed with all the technical upgrades from the twin-scroll Honeywell turbocharger on up.
There are those who will demand a V8, just for tradition's sake. Makowski, in fact, might have been one of them, until he proved himself perfectly suited to directing the new engine project, combining the new technology with an appreciation for Mustang heritage.
"I have an old V8 Mustang that I built," said Makowski. "And while I like all three of these models, the 2.3 EcoBoost is my favorite. We haven't chased horsepower at the expense of torque , and we haven't chased power at the expense of fuel economy."
New suspension at all four corners is highlighted by independent rear suspension, which replaces the solid-axle rear axle that has served the Mustang from the start. Engineers said that Ford considered both rear-end systems on the first Mustang, but chose the solid axle, and stuck with it. The improved steering, as well as the handling and power, must be driven to be appreciated. We proved it on our test runs up and down the San Gabriel Mountains east of L.A., driving the GT with its 5.0 V8 and the 6-speed stick on the way up, and then the 2.3 EcoBoost with the 6-speed automatic and its steering wheel paddle shift controls over similarly winding mountain roads on our return. We were impressed with both.
The GT's V8 sound and punch is so good that I joked with Ford engineers that it essentially was a "1-speed" on those roads, because I was able to fly up around all the curviest mountain roads by simply leaving it in third gear. When approaching a tight curve, third could harness all the power sufficiently to slow the GT down entering the turn, yet lower-end torque was more than enough to pull us out of those curves with smoothly accelerating bursts, and letting it rev merely improved the sound.
I would also have liked to try the non-GT with the 2.3 EcoBoost and the stick shift, but in the available time, I also wanted to give the paddle-shifting automatic a strong try, so that's what we chose. Shifting it manually and sailing around the similar curvy roads, the Mustang's agility not only reflected the car's improved weight distribution but, when we got to the bottom, its computer showed 31.4 miles per gallon. Imagine if I had driven it easy, rather than pushing it to handling limits.
A subtle element of fuel economy goes beyond miles-per-gallon figures. It is whether a car requires premium fuel, which often costs 30 or 40 cents more per gallon than regular, or whether it is merely recommended. Makowski didn't make a big issue of it, but explained that the 2.3 EcoBoost was designed to run all day on 87 octane regular.
"We developed the 2.3 EcoBoost to run on 87 octane regular, all day," he said. "You might get a little better horsepower with premium, but we made sure we met the minimum levels of performance on 87."
That is just another plus for the Mustang-on-a-budget buyers. If you can blast it off the line once in awhile, and push it through turns or around cloverleafs, but have enough restraint to get 30 mpg, you can consider donating an extra $3 to $5 toward the car payment every time you fill the tank. And you could still fill up with premium every once in a while, such as for track day.
Most buyers may be unconcerned about the impressive technology that went into making the new Mustang world-class; they'll be reeled in by the lure of the Mustang mystique and its great new look. That became clear when I was driving a gleaming white Mustang GT on a test drive, and I pulled into a strip mall parking area, not realizing I had been followed by an eager young fellow who parked and ran over to me.
"What kind of a car is this?" he asked, as I climbed out. I told him it was the new 2015 Mustang GT, and he couldn't stop smiling and offering praise as he circled the car, gazing and shooting cell-phone photos every few steps.
Now, the 2015 Mustang has revised lines and a bit more sinister look compared to the current model, but it never occurred to me it looked like anything other than a Mustang. Nonetheless, spontaneous surveys are fascinating, and add evidence to the evaluation. For me, it confirmed that the new Mustang, with its lower and sleeker styling, balanced with the polished technology under the skin, is ready to go galloping off into an unbridled future.