By John Gilbert
As the continuing rise of electronic gadgetry and driving controls engulfs the automobile world, I had the occasion to interview a bright young fellow who had left a prominent auto company to go to work for am aftermarket company that makes the electronic gadgets that are aiding and abetting our ability to drive, steer, control, stop, and park our contemporary cars.
I asked him of all the cars he has dealt with in his new job, which one is the most sophisticated from the standpoint of electronic connectivity. He first said the Tesla, which is an all-electric marvel but far from being a mainstream car. Of all the mainstream, readily available cars?
"The Audi A3," he said, promptly. That is impressive, because I had just driven the first 2015 A3 at Audi's introduction of the line, and while it is an unobtrusive car, I had noted during the introductory session and test drive, its high-level technology also made it a very sophisticated performer. The car automatically becomes Audi's entry-level vehicle, starting at $29,900, and if you can resist the option bin you still get an impressive vehicle.
The A3 comes as a 4-door sedan first off, but that is only the leadoff hitter for a lineup of various models that will be part of a full-line segment of Audi's impressive dossier. The well-loved 2.0-liter 4-cylinder turbocharged engine returns, upgraded to handle the quattro models with Audi's patented all-wheel-drive system, and it will be joined by a new 1.8-liter turbo that turns the front-wheel-drive A3 into a truly sporty performer with exceptional fuel economy.
On a trip to Germany a few years ago, I first saw the Audi A3, as a smooth, sleek, compact 3-door hatchback. There were some 5-door hatches too, and they seemed to be all over. Anytime you go to Europe, you have to be impressed how European car-owners pack themselves comfortably and easily into efficiently smaller cars, even while U.S. consumers and manufacturers seemed to insist that bigger was better. A year later, when Audi brought the A3 into the U.S. market, I was anxiously awaiting the car, slightly smaller than the stellar A4 sedan, to see both the 4-door and 2-door versions rewrite some of the rules for U.S. entry-level hatchbacks.
I was mostly looking forward to the 3-door, the 2-door hatch, which was about the same size as the Volkswagen Golf. But it showed up in the U.S. market only as the 5-door, the 4-door hatch. My assumption was that Volkswagen, which is Audi's parent, didn't want any small hatchback to compete with the Golf, but I've never stopped hoping for the 3-door in the U.S.
Times have changed, although the U.S. remains a peculiar market. We seem bound by tradition, and tradition says we don't buy hatchbacks, so we don't. In the Volkswagen line, the Jetta 4-door sedan outsells the world-dominant 3-door Golf substantially. Not sure why, but it might have been parent Volkswagen's decision to not bring in the A3's 3-door hatch to protect the Golf. Regardless, sales of the 5-door A3 were disappointing, but then, that also is a hatchback.
Audi is setting its sights on changing all that for 2015 when the new generation of the A3 lands in the U.S. Leading off is the 4-door sedan, which we first were shown at the media introduction in San Francisco. No longer a blunt little 5-door subcompact hatchback, the new A3 sedan will be followed by a convertible, with an array of powerplants that starts with the 1.8-liter turbocharged 4, the 2.0 turbo upgrade, with a hotter 2.0 version coming in a soon-to-appear S3, and then a 2.0 turbodiesel model. A 1.4-liter 4 combined with an electric motor system in a hybrid will show up early next year, only in the 5-door hatch.
For starters, though, the 4-door sedan offers plenty. At first sight, it strikes an immediate resemblance to the A4. "What's the difference in length between this and an A4?" I asked.
"The A3 is 11 inches shorter than the A4," said Beth Wykes, production manager for the A3.
Wow. Almost a foot shorter. The resemblance, then, is more to the A4 a decade ago, when it was a smaller sedan than the closer-to-midsize sedan it now is. But Wykes had more — much more.
The 4-door sedan will be followed by that cabriolet, which is German-speak for convertible, about the time of the hotter S4. The 5-door version, the only first-generation A3 in the U.S., will be coming by summertime 2015, as a 2015 model, to fill out the full complement of A3 vehicles.
Anyone familiar with Audi also knows how versatile and impressive its 2.0-liter 4-cylinder engine is, bolstered by turbocharging that can be turned up to whatever potency is desired in the TT sports car, for example, or the A4. In Volkswagen's corporate scheme, what Audi engineers make perfect can fit in nicely to assorted VW vehicles too, which just makes sense.
But now VW has concocted a new and impressive 1.8-liter turbocharged 4 to replace the stodgy 2.5-liter 5-cylinder as the base engine in the Golf, Jetta and various other VWs. So why not make that engine corporate-wide, too? Sure enough, the 1.8 turbo comes as the base engine in the base A3. The strategy makes perfect sense.
The A3 sedan comes in two forms, at launch, with the 1.8 turbo apportioning 170 horsepower and 200 foot-pounds of torque  sent to the front wheels via Audi's S-tronic dual-clutch 6-speed automatic. Technically, it's not just an automatic, but a clutchless manual that alternates two clutches that grasp alternating gears. That means while you accelerate hard in, say, second gear, the computer knows you're going to upshift, so the other clutch engages the next gear, and when you shift gears, you merely swap which gear is functioning inside the gearbox.
It makes for instantaneous shifts, but while there is a manual gate on the floor shifter to allow you to move the lever over and then manually shift it, there is a conspicuous-by-its-absence lack of steering wheel paddles to let you shift manually without taking your hands off the wheel. I appreciate the manual gate, but having experience VW and Audi products with the slick paddle shifters, not having them is a nuisance.
You cannot get the 1.8 turbo except with the dual-clutch transmission — no stick shift — and you also cannot get it with the quattro all-wheel-drive system — it's front-wheel-drive only. If you move up in class, and about $5,000 in price, you get the A3 with the 2.0-turbo withquattro and the punch of 220 horsepower and 258 foot-pounds of torque, again with the 6-speed S-tronic dual-cluth shifter.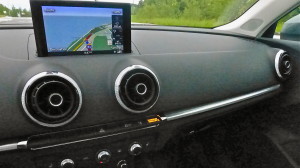 The 1.8T with front-wheel drive starts under $30,000, just barely, leaving a lot of room to load on some options. My test-drive car had Audi's navigation system, a cold weather package and aluminum trim package, boosting the price to $34,345 total. Not a bad price for what you get, and about $5,000 less than a comparable 2.0-turbo quattro.
The two cars provide an interesting contrast in capabilities. The quattro, one of the best-proven all-wheel-drive systems on the planet, makes the A3 feel planted to the road in a secure, stable manner. With just the front-wheel drive, the A3 is a surprise, however. It doesn't feel as solidly planted as the quattro, but instead it feels light and sportier in its demeanor, even if the smaller engine lacks the full punch of the quattro's 2.0 by about 50 horsepower.
A true sports sedan feels tossable, as though you could come into a tight curve fairly hot, and pretty much fling the car through the curve. That's the way the A3 with the 1.8 and fwd feels. No question, when you're pulling onto a highway from a side road, the 2.0 turbo has more immediate power, but the 1.8 isn't far behind; you just have to run the revs up a little more. The torque comes on at low RPMs, so you need only to step on it hard enough to get into that power and the A3 is well away.
One other comparison was amplified a few weeks after the introduction, when I got the chance to spend a week with the A3 1.8T. The EPA fuel economy estimates for the car are 23 city, 33 highway, for a combined 27 miles per gallon estimated average. But I drove it around in city traffic for three days, then drove from Duluth, MN., to Belle Plaine, in southwestern Minnesota, before the fuel tank ran low. I had gone 400 miles when I filled it, and the zeroed on-board computer showed 38.4 mpg on the freeway at a sustained 70-75 mph. Calculating the refilled tank for half city, half freeway driving, it showed 34 miles per gallon.
There are subcompact strippers with tiny engines that won't get 38 mpg at highways speeds, or even 34 mpg, and few of them can approach the comfort and interior class of the A3.
Some may find the interior stark and not fancy enough, with its black, soft-touch pebbly stuff all across the dashboard. That's the way I prefer my interiors, with no need for glitz or distractions, and certainly no need for tacky fake wood. The expansive connectivity is accessed by a fairly simple layout of guidelines surrounding a control knob on the console between the front buckets.
When you start the car, an optional information screen rises out of the dash, much like Volvos used to do, and provides your choice of information, audio and climate controls right there at eye level. Leather seats are both attractive and physically supportive, although the driver's seat has full electric adjustment while the front passenger must make do with manual controls. An expansive, panoramic sunroof with a retractable sunshade is a nice feature.
The rear seat is cozy, lacking the spaciousness of the A4 and other midsize cars, but it's adequate for a young family with a couple young kids. The trunk, meanwhile, is enormous. Surprisingly large. It can house a couple of sets of golf clubs or a week's worth of luggage.
Next, we can look forward to trying the cabrio, and the hotter S3, and the TDI. And I can't wait for the 5-door, armed with the 1.4/hybrid. All of that almost is enough to make me forgive Audi for the lack of a manual transmission, and for a lack of steering wheel paddles on the 1.8 turbo sedan. We want it to be sporty, but not too sporty? And, I guess in the excitement of the full array of models, we'll have to overlook the fact that Audi still is not going to give us the 3-door hatchback!
By John Gilbert
Other than the engine, transmission, suspension, steering, safety technology, platform, exterior body panels, interior room and design, and latest safety and connectivity technology, there isn't really that much that's new about the 2015 Honda Fit.
It's still got the same old name.
Of course, even there Honda has a winner, because Fit was the perfect name when the popular subcompact was first introduced and revised for a second generation. Starting under $20,000, the versatility of the Fit handled whatever you were doing, whether climbing aboard to drive or ride, stashing groceries under the hatchback, or folding the rear seats flat for extra storage, everything in the car…fit!
It's risky to start redesigning an iconic car like the Fit, which is just as impressive among subcompacts as the Civic is among compacts or the Accord is among midsize cars. But in the case of the third-generation Fit for 2015, Honda has worked its magic to take a car that functioned so well in every way and improve it in every way.
My reservations about the first Fit, which made its debut in 2006, and the second-generation car as well, was that Honda seemed content to reach 30 miles per gallon with the car and its 1500 cc. engine. Honda, Toyota, Nissan, Mazda, Subaru and Mitsubishi, in my opinion, seemed to create a Japanese manufacturer's united front that 30 mpg was good enough, so they stuck with it. German manufacturers, and then the South Korean breakthrough by Hyundai and partner Kia, proved "40 is the new 30," and the Japanese were suddenly scrambling to catch up. Mazda was first, with the Skyactiv technology on its 2.0 and 2.5-liter engines. Honda followed by impressively redoing the 2.4-liter 4-cylinder for the Accord.
It was, therefore, with great anticipation that I attended the automotive media introduction of the 2015 Fit, in San Diego. We were stationed at the trendy Andaz Hotel, and our choreographed destination was to drive through the mountains to the Mount Woodson Castle.
The most recent Honda Fit I'd had for a week's test remained fresh for comparison: At 70 mph, the little single-overhead-camshaft engine was turning 3,000 RPMs through fifth gear of its 5-speed transmission, a high rev reading that resulted in 31 mpg. That was OK, but just OK for a subcompact. I figured a lot of revs were being wasted in fifth, doing the comparatively simple task of maintaining cruising speed.
The new third-generation Fit is on an entirely new platform, with more dramatic styling and with its 1.5-liter 4-cylinder drivetrain revised to come under Honda's "EarthDreams" scheme. The new engine has 130 horsepower (up from 117) and 114 foot-pounds of torque (up from 106), and three significant upgrades are: dual overhead cams (one for intake valves, the other for exhaust), direct injection, and a 6-speed manual transmission plus an upgraded continuously-variable automatic transmission (CVT).
The CVT adds steering-wheel paddles when you move up from the LX to the EX model, which also gets you 16-inch wheels, a moonroof, push-button start, lane-watch when you signal for a right turn, and a 7-inch screen rather than the basic 5-inch to display connective and internet features. The driver can shift the CVT by choosing D-Range downshifts which return to normal automatically, or an S-Range for almost-manual-feeling ratio adjustments that equate to a 7-speed, and requires the driver to execute ratio changes by paddle-shifting.
My partner and I eagerly set off charging through the Southern California mountains' most engaging curvy roads, pushing the stick-shift Fit to sports-car-like extremes. On our return trip, mostly on freeways, we cruised along at normal traffic-flow speeds. At that point, I noticed that at 70 mph, our car was turning 3,000 RPMs — same as its predecessor! We both expressed surprise and concern about that, but when we got back to the hotel, I clicked over the computer screen and saw our gas mileage readout as "41.1 mpg." That was for driving through city traffic, really hard up and down the mountains, and finally cruising back.
Adding an overhead cam, more power and sixth gear should bolster performance, but shouldn't necessarily improve fuel economy that much. Maybe that's what they mean by "earth dreams." Honda officials said that improved engine and transmission technology, plus using 27 percent ultra-high-grade steel helped increase torsional rigidity 15-percent in the car itself could account for the mileage increase. The EX model shows EPA estimates of 29 city and 37 highway with the stick and 33/41 for the CVT. The LX adds underbody panels for aerodynamics and boasts 25/41 EPA figures.
The new Fit comes in a basic LX model that starts at $15,525 ($16,325 with the CVT) and should account for 35 percent of sales; the fancier EX, starting at $17,435 ($18,235 with CVT) and aims at 55 percent anticipated sales; EX-L, starting at $19,800 in CVT only, and which is the EX with added leather and connectivity features aiming for 6 percent; and the EX-L Navi, based at $20,800 and shooting for 4 percent, which adds the navigation system.
Hiroaki Hamaya, the engineer charged with overall product planning for the new Fit, said that the LX has more than $1,000-worth of new features but costs only $106 more, while the top level EX has $1,800 in new features and costs only $250 more. "More buyers are moving up to the LX and EX," Hamaya said. That figures, with all the added features of the upgrades. But the most significant improvements are very Honda-like refinements. Along with making all its elements lighter and stronger, the CVT has 14 percent wider ratios to make it far more enjoyable than most CVTs, which drone there presence to you in boring monotone. The engine's direct injection has a side intake that creates a high-tumble fuel-air flow for better burning.
The reason the Fit felt better as we were flinging it around some mountain roadways is that the power increase is complemented by the suspension, which has been improved for angle and material in the front struts, and H-type torsion beams at the rear for improved stability and a more rigid feeling. Electrically boosted steering benefits by a quicker ratio. With vehicle stability assist, hill-hold assist, and torque-correction steering, the lighter but stiffer Fit body is quieter and firmer feeling.
Also, it should come as no surprise that packaging-master Honda has actually worked more magic. It shortened the Fit by 1.6 inches, to 160 inches in overall length, but increased all the interior dimensions for occupants.
Lengthening the wheelbase by 1.2 inches to 99.6 helped, but interior passenger volume is increased by 4.9 cubic inches, with front shoulder room increased by 2.1 inches, and — get this — rear seat legroom increased by 4.8 inches.
That aids Honda's claim of class-leading cargo capacity, against such notables as the Ford Fiesta, Nissan Versa, Hyundai Accent, and Kia Rio, Toyota Yaris, Mazda2, Chevrolet Sonic, and Kia Soul — all worthy competitors. In fact, it might be the considerable improvement of those competitors that helped motivate Honda to make sure the third-generation 2015 Fit would accept the challenges of making the car look better, ride better, handle better, accommodate people and cargo with more room, and quietly and forcefully improve power and fuel economy. Typically, it Fits right in.
By John Gilbert
Every auto manufacturer wants to convince customers that its cars are fun, and exciting to drive. Then there are the Italians. Say no more. There is never a need for an Italian car-maker to suggest that his car is emotional, or exciting. It comes with the territory.
That's the backdrop for the Alfa Romeo 4C, which Alfa Romeo plans to ride back into the U.S. auto market for 2015. We can call it a $55,000 thrill-making toy, and that's not a rip. That's basically what a Corvette Sting Ray is, or a Porsche Boxster S or Cayman S, or a Nissan GTR or 370Z. All are fun, and describe the genre, and all cost substantially more than $55,000. When you build a specialty sports car, you can charge a lot, but you'd better back it up with substance.
The 4C has, for substance: mid-engine balance, an extremely light (2,400-pound) mass that can be hurled 0-60 in the mid-4-second range, a top speed of 160 mph, an over-achieving aluminum 1,750 cc. turbocharged and direct-injected 4-cylinder, light and precise suspension and steering, and a high-tech body that owes its construction and heritage to contemporary Formula 1 technology.
The look and the performance rank in the exotic supercar class, but if that's not enough, Alfa is going to build in an exclusivity. Only 1,000 Alfa Romeo 4C cars will be distributed to anxious U.S. buyers in its first year, through selected Fiat dealerships. One of the 4C models I drove listed for $58,295 with racing exhaust and bi-xenon headlights.
If you're unconvinced that the 4C is emotional, and fun to drive, standing next to one is pretty good evidence of the former and starting the engine is convincing of the latter. The sound is exhilarating. It resembles the "sports-plus" settings for straight-through exhausts on Porsches or the new Corvette. The sound is part of the overall image, but it's best experienced somewhere like the road-racing circuit at Sonoma, California, which used to be known as Sears Point.
Shift the twin-clutch direct-sequential gearbox into first and pull out of the pit lane. The steering feels just a bit heavy at first, but that's because Alfa chose not to waste any energy on power steering. Once rolling, the light-front 4C steering is perfect, as is its precision. Build a little speed, as you exit the pits, and ease slightly up the slope toward Turn 1. Hammer it, and the sound gets better, and its reflexes seem to improve as well. The fantastic responses of the car react to every tiny steering, curving, braking or accelerating input you choose, and they conspire to create a sensory deadlock: It is impossible to calculate which is the best characteristic of just how emotional and exciting the Alfa 4C is. Read more
By John Gilbert
Any car can feel impressive to drive and live with when the weather is in the 70s and dry, but not too dry. The real test of road-worthiness is when you have conditions that give you trouble negotiating a road, or even seeing one — which made the winter of 2013-14 perfect. Only when we reached the end of May, 2014, did I dare to think winter might be over, because the 2013-14 winter was one of the coldest, harshest, most unrelenting I've witnessed.
It was bad elsewhere, I know, but in Duluth, Minnesota, we had both cold and snow in constant or alternating dosages. Records show 76 days when the temperature dipped below zero, with a record 28 of those days in one consecutive stretch. And we're talking actual temperature, none of this sissy "wind-chill" stuff. Various regional temperatures along the North Shore of Lake Superior — where I live — hit 25-35 below on several occasions, and 98 percent of the big lake's surface was ice-covered for a couple of months. But along with it, we had something over 130 inches of snow piling up as well on all the roadways and driveways in the area, starting out with the most significant single snowstorm I've ever witnessed.
It was in the first week of December, right after a pair of vehicles had been brought to my house for a week's road test. Talk about good timing! They were a Jeep Cherokee Limited and a Nissan Rogue, both fun to drive versatile compact crossover SUVs. The Cherokee is all-new from the wheels up, and the Rogue is a thoroughly revised vehicle on a platform that will lead Nissan into the future.
The official Duluth Airport snowfall was 29 inches in that 24-hour stretch, although an official weather-watcher who lives farther out on the same North Shore ridge as I do said her official measuring stake is 39 inches long, with a neon pink tip for easy spotting, and that morning she couldn't find the stake above the surface of snow. So I don't know how much we got at our yard from that one snowfall, but I'm estimating 42 inches. When I ventured outside the morning after the storm, the snow was hip deep, as I shoveled my way toward the thick white blanket that had been black asphalt just hours before. I climbed into the Jeep Cherokee, after clearing view-panels in the vicinity of the windshield.
I started it, and backed up as far as seemed reasonable, to point the nose toward our rural road. It was reluctant to move that far, and wasn't convinced moving forward was a good idea, either, making me concerned the whole vehicle might be hung up on the snow. About then, I heard a snow plow going by, and watched as it left about a 5-foot pile of snow as if to seal us into our 100-yard-long driveway.
I broadcast a live morning radio show on KDAL 610am, and I immediately realized that I could shovel or make it to the show, but not both. I climbed aboard again, made sure the Cherokee was in its 4×4 setting, and clicked the selection knob on the console from automatic, past rock, past mud, to "snow," which electronically assists the vehicle in determining what sort of power might be best for such conditions. Too much power, for instance, can make slippery conditions worse. I shifted the gear lever into low range. To my considerable surprise, the Cherokee churned ahead, with the undercarriage plowing little grooves, so I carefully increased speed near the end of the driveway, and then I hit the gas pretty hard.
A video might have looked like a speedboat bursting through a wave; I hit that pile of snow and blew through it, snow flying in all directions, as I kept churning out onto the rural road. I was free, and the Cherokee hadn't spun a tire, although our roadway was hardly clear of obstructing snow. I favored the Cherokee for North American Truck of the Year, and going anywhere and everywhere that week was convincing enough to get my official vote as a member of that jury. It finished second, but I'll guarantee the rest of the voters didn't match my extreme road-test. Read more
By John Gilbert
If you ran a pro football team and wanted to compete in the National Football League, you'd be well-advised to have a quarterback. Or if you were sending a Major League baseball team onto the field to start the season, you will need a solid starting pitcher.
Chrysler understands the analogies, by living the automotive equivalent — trying to compete in the auto business without a midsize car. Since one out of six new vehicles are selected from that largest segment in the United States, Chrysler can empathize with that football team without a quarterback or baseball team without a pitcher. (It's just coincidence that it might seem we're specifically comparing cars to recent seasons by the Minnesota Vikings or Minnesota Twins.)
The new 200, which will start with a base price of $21,700, has no resemblance whatsoever to the existing 200, representing such a departure that I asked why the same name was retained. They responded with a few market-speak lines about the value of "name recognition," similar to what Dodge officials said when their all-new vehicle was born under a resuscitated Dart name, after a previous but pretty much unloved compact sedan.
There is no question how impressive the Dart's styling and technology is, and how special the new 200 will be for Chrysler. The comparison to the Dart, incidentally, is well-founded, because the 200 shares the underpinnings with Dart of the Alfa Romeo Giulietta — a platform Chrysler officials have praised as the best and most versatile the company has ever used, and one which can be adjusted any direction for length and width.
When the style-conscious Fiat folks guided Chrysler into its midsize venture, they didn't mess around. The 200 is larger than the compact Dart, which takes on the Honda Civic, Mazda3, Toyota Corolla, Chevrolet Cruze, Ford Focus, Volkswagen Jetta, and Nissan Versa. The 200, meanwhile, is taking on the big boys, such as the Honda Accord, Toyota Camry, Mazda6, Ford Fusion, Chevrolet Malibu, Nissan Altima and Volkswagen Passat.
In order to wade into that competition, Chrysler was required to nail everything from design to comfort, to technology, to creature features, and to performance, not necessarily in that order.     If the plan was to hit one out of the park, Chrysler picked wisely in its location for the introduction: Louisville, Kentucky, home of the Louisville Slugger baseball bat company, with the actual presentation at Louisville Slugger Stadium, one of the neatest and best-designed minor-league ballparks.
Without question, the 200 is stunning to look at. As you approach it, you may not have any idea what it is, except that it is obviously wearing a fresh, contemporary version of the "four-door coupe" style, with a sleek, swept-back roofline. Read more