By John Gilbert
BARCELONA, SPAIN
     Driving in Spain is a colorful adventure that I had experienced once before, so I felt somewhat familiar during the global auto media's first opportunity to drive Volvo's new XC60, the all-new midsize derivative of its superb XC90 SUV.
    Volvo stressed the quick and agile handling of the smaller and lighter vehicle with the same powertrain as the larger XC90, which collaborated with Spain's freeway exits to  instantly become more concise than words could describe.
    On the North American side of the Atlantic, our freeway exits are usually pretty straightforward — you see the exit and veer onto it, heading for another freeway. In Spain, the freeway system was added to centuries-old cities and rural regions, so it's a little trickier. Often, you head onto an exit and find it immediately splits right and left. I learned this on my first driving trip to Spain, for the splendid S90 Volvo sedan.
   On this trip, our total test drive route was programmed into the navigation setting of our T6 all-wheel drive XC60, so we were informed of upcoming moves by a "Nav Lady," whom we shall refer to as a "Nav Seniorita" for the sake of geographic accuracy. I drove first, so my co-driver/passenger — a Californian who shall be called "Billy" — could check out the wonderful scenery along and just inland from the Mediterranean without worrying about directions.
   Our next exit was to the right and our Nav Seniorita said: "Prepare to keep right and take the next exit, then immediately keep left." As I pulled into the right lane, she said, "Take the next exit." Smoothly and at about 80 kilometers per hour I eased off onto the exit. Then with what seemed like urgency the Nav Seniorita said: "Now keep left!"
   You don't want to miss an exit in the Land of Roundabouts, so I abruptly swerved back to the left of the exit barrier, and as the XC60 easily cleared the barrier, but Billy said, "No! Stay right!"
   I swerved very abruptly back to the right, still missing the barrier with ease and getting back onto the exit, as the XC60 held its attitude with more poise than its driver, who might have been reflecting the adrenaline rush rising to max. I spotted the split immediately ahead and stayed left, making it smoothly.
   I was impressed that I had reacted instantaneously twice, with two very abrupt left-right swerves at highway speed, and more impressed that the XC60 got it right-on, even while our Nav Seniorita was a bit premature with her counter-direction. The vehicle carried out my impulses without any squeals of complaint or any hint of body roll.
   Inadvertent or not, it's always nice to get a real-world example of a vehicle's features rather than just to accepting marketing claims. We believed them when they talked about the lighter and smaller XC60 having better agility than the XC90, because in totally revising the XC60, Volvo took the XC90's SPA — Scalable Product Architecture — shortened it, and installed the same high-tech powertrains from the XC90 with all-new suspension stuff.
   Volvo had previously introduced the new S90 sedan, which shares the XC90's full-length platform, at a global media introduction in Spain, down the coast a ways in Malaga, which is closer to Gibralter, while Barcelona is around the coastal contours and northward, closer to Italy. The Miramar Hotel, located out by itself with a dazzling view out to the Mediterranean, was our home base this time.
   The XC90 has met with universal favor, and my evaluation was that it was the finest large SUV I had ever been in or driven. Period. The XC60 is smaller, about identical in size to the Audi Q5, the BMW X3 and the Mercedes GLC 300, to name three of the XC60's most challenging luxury SUV competitors. Looking like an artfully reduced XC90, the leaner XC60 is eager to run with the same powertrain outlay.
   Volvo's SPA is planted firmly on the shortened dimensions, so the XC60 exhibits the same firmness and ride stability. It is similarly built of much high-strength steel of maximum stiffness, and has, under the hood, the direct-injected 2.0-liter 4-cylinder engine that is either turbocharged to bring it up to speed, or pushed with both supercharging and turbocharging to put it over the top.
    A hybrid version will follow, with an improved LG electric propulsion system on the rear wheels for a unique all-wheel-drive plan.
Dean Shaw, vice president of corporate communication, sounded almost wistful when he described Volvo's transformation since leaving Ford's umbrella and being bought by the Zhejiang Geely holding company in China.  "We had nothing, 10 years ago," Shaw said. "Platforms, powertrains…We had to develop everything ourselves. The XC90, the S90 and now the XC60 are all on our larger vehicle platform, and we are all-in on our 4-cylinder, including Drive-E and hybrids.
   "We had 18 percent growth in the U.S. in 2016, and we expect to double that in 2017," Shaw added. "We are building our first U.S. factory, north of Charleston, S.C., aiming at 2018. Our new S60 sedan will be our first vehicle from that factory, which will build all our S60 and XC60 models." 
    The XC60 we drove was the T6, which is supercharged and turbocharged  to deliver 316 horsepower and 295 foot-pounds of torque. That's up from the T5 model's 250/250, but lower than the combined gas-electric kick of 400 horsepower and 472 foot-pounds in the top hybrid model.
   Those engines can be chosen by the buyer and placed in three basic models, with the well-equipped "Momentum" starting at $42,495 including destination, and which will comprise 50 percent of customers, Volvo figures. The top "Inscription" model starts at $46,295 and has a vast array of equipment. The middle model is the sporty R-Design, which starts at $45,795 and adds the flair of all sorts of sporty features.
   Those prices are almost right on the nose with the comparable AWD Audi, BMW and Mercedes competitors, and while, without a doubt, the XC60 looks at least as good as those German stalwarts, it has standard equipment that, if available, would boost the price of those rivals up by several thousand.
   Those competitors all have exemplary driving manners, but the XC60 was also impressive on freeways, through city streets, or around and through any and all mountain roadways, where mature trees were stationed like sentries where a shoulder might logically have been.
   All XC60 models start with a standard equipment list that includes remote start, run-off-road mitigation and off-road protection, lane-keeping aid, oncoming lane mitigation, driver alert control, road-sign information, rear parking assist camera, collision avoidance and City Safety ability to dodge or brake when an object appears ahead, automatic braking after collision, low and high speed collision mitigation, roll stability control.
   Then there are packaged options that include panoramic moonroof, LED headlights and taillights, rain-sensing wipers with integrated washers, leather upholstery, 10-way power front seats, Volvo 9-inch touchscreen, 10-speaker audio with 10 speakers and 330 watts of power, and smart-phone connectivity from Apple Car Play and Android Auto.
   All of this in a tightly designed midsize vehicle. "We knew exactly what we wanted for the car's behavior," said vehicle design manager Stepan Karlsson. "We call it 'Inspired confidence,' where we called the XC90 'relaxed confidence.' Safety is so ingrained in everything we do, and in the XC60 we installed double-wishbone suspension in front, for better grip and much better response. It's fun and safer when the car does what you intend it to do.
   "The rear suspension has antiroll bars and there is no compromise between ride and handling. You can get active dampers with the optional air suspension, but standard there is a transverse leaf spring made of composite running the full width. You can feel the harmony of movement in the coordination of the front and rear suspensions, and the speed-dependent electric steering tightens up as you go faster."
   All of those details made my friend Billy and me absorb much of the sensory overload as we switched off driving and passengering. The power was abundant, and the suspension responded without any hint of losing stability no matter how quickly we might swerve with the very precise and responsive steering.
   Listening to Graeme McInally, from Volvo's extensive safety laboratories in Gothenburg, Sweden, describe how computers combine lane mitigation, blind-spot detection and steering assist, it was easy to look ahead to Pilot Assist, which is a semi-autonomous driving assist on highways marked with lane and outer stripes, and can keep your Volvo in its lane with light to moderate pressure on the steering wheel up to 80 mph.
    "We are not striving for full autonomous driving," McInally said. "We think the driver should always be responsible."
   The compact size of the XC60 didn't seem to be a problem. As a dedicated believer that you should buy a vehicle that is big enough for your family's needs, but anything bigger than "big enough" is too big, the XC60 provides a well-designed possibility. I said that the XC90 was the finest SUV I had ever driven, but if you don't need the third-row seats and have enough cargo room, the XC60 might be even better.
   "The XC90 has established high expectations," said Volvo product technical spokesman Jim Nichols. Looking at the slightly convex grille, the stylish contours along the sides, and the tapered-in side windows, it seems clear that the XC60 has lived up to those expectations. 
By John Gilbert
      Maybe some engineer lost a bet, or maybe in a lighthearted moment the more rebellious side of Kia just wanted to do something out of the ordinary. Whatever, the feeling persists that when Kia first introduced the Soul it was intended to be more of a short-term, square gimmick car than a long-term player in the Kia automotive stable.
     But after seeming to almost hurry to get past the square one and on to more significant models like the Optima, Rio, Forte, Sportage and Sorento, the Soul has grown up and acquired a robust personality, and for 2017 it is finally getting some equipment that makes it far more than the square 4-door, which still holds four large adults and a lot of luggage.
   Would you believe the Soul is getting a hot turbocharged 4-cylinder with a 7-speed dual-clutch transmission as indications that it is living up to some sort of potential a lot of us never realized it had?
The Soul ! I test-drove had the Kia-Hyundai corporation's quick-revving 1.6-liter 4-cylinder, turbocharged, along with the corporate 7-speed dual-cutch transmission, which shifts automatically, as two internal clutches trade off instantaneously engaging the next gear up or down.
    It's the perfect transmission for the turbo 1.6, which has now become my favorite Hyundai or Kia engine because of its surprising potency, while retaining fuel economy in the mid-30s with gusts to near 40.
   The 1.6 turbo in the Soul ! jumps up to 178 horsepower and 195 foot-pounds of torque, converting the vehicle into a sleeper well-deserving of the exclamation point in its name. The basic Soul 1.6 has 130 horsepower and 118 foot-pounds of torque, adequate for a mall-runner maybe. Upgrade to the 2.0 and you get a healthy 164 horses and 154 foot-pounds. The turbo is another story.   
The test car also proves Kia remains unpretentious. It was gleaming white with black leather interior, and you have to be impressed with a company that could paint something that could be called "creamy vanilla metallic pearl" — and yet instead officially calls it: "clear white," while the interior is called "black."
     I recall the introduction of the first Soul, several years ago in Miami, where Kia officials allowed us to drive these small, square compact cars around the city's suburban regions. First, though, they showed us videos of the ad campaign, in which some large, stuffed, cartoonish hamsters drove along, bobbing their heads in rhythm as they did.
   The Soul itself was an interesting venture, definitely square everywhere, in overall dimensions and angles. Nissan and Toyota, through its late Scion branch, tried their hands at square little compacts, neither with much success.
   After the presentation, Kia officials acted apologetic, as though the large stuffed hamsters were beneath the dignity of the South Korean company. I disagreed; I thought the hamsters were the greatest potential car advertising "hook" I'd seen in years, and Kia should be stressing them.
    A couple of months later, Kia invited me to the introduction of the first Forte, a conventionally shaped compact, in Seattle. During the presentation, one official said, "Don't worry, there won't be any hamsters at this one" — still apologizing. I got the distinct feeling that some Kia executives let the designers have their day, but anticipated nothing approaching success for the Soul.
     Strangely enough, however, the car did pretty well, and continued to do better than expected as it turned into the funky everything-hauler in the Kia line, possibly succeeding because it was in a large field where a lot of competitors looked alike andc had no personality. The Soul had…well, "soul."
   The hamsters came back strong, rising in popularity as the car did, although the company has resisted letting the little furry critters become the corporate symbol, keeping them restricted to the Soul.
    For 2017, though, the breakthrough is here as the Soul gets redone for about the fourth time.  Casual car observers might not notice the subtleties of the changes. I did, this time, during a week-long chance to live with the Soul and drive it extensively. The Soul I drove was properly identified as the "Soul !" — with the exclamation point supplied by the company. There are different models of Souls now, and while they all retain that squarish shape, it has been refined, and elongated.
My initial fears were that the first Soul models could be air dams in high winds, because of their shape. The new car allays those concerns and feels more planted, as I drove through all kinds of crosswinds to try it out, and it felt stable always.
    It also felt quick, like the closet street-racer it could be. That's because the storehouse of powertrains that Hyundai and its partner Kia now have at their disposal includes several 4-cylinders, with the 2.4 and 2.0 being the most popular up until a couple of years ago, when the smaller 1.6-liter engine was revised and strengthened.  Adding a turbocharger option puts some models over the top.
   The slightly elongated nose is enhanced by foglights at the lower corners, flanking the low but businesslike grille. The interior, which always had been catchy in the Soul, is now redesigned to add a sporty flair, with full instrumentation and a flat-bottomed steering wheel with all the proper remote switches. You can adjust the mode for driving from normal to eco or the other way to sport, which holds the revs longer and firms up the steering and suspension a bit.
    That further aids the new personality of the sportier Soul ! and allows you to more appreciate all the driving aids built into the car, such as traction control, stability control, stability management system, and a hill-start assist to prevent the Soul ! from being tempted to roll back into the grille of the car behind you when starting up from being stopped on a hill.
    A full complement of airbags and curtains envelops the interior and the latest connectivity tricks adorn the inside, with Bluetooth and both Apple and Android faculties. With leather and cloth interior, and leather shift knob and steering wheel, plus push-button start with keyless door locks, the Soul ! shows a base price of $22,650, which is a great bargain for such a sophisticated vehicle.
    More impressive is that all the components are standard, so the total sticker is $23,620 after destination charges. Because of its size and shape, the Soul seats four adults with plenty of head and legroom, and still has a surprising amount of room under the rear hatch. With front-wheel drive, it should do fine in winter, with the right tires, but all its life I've been hoping Kia would put all-wheel drive in the Soul.
But we'll take what we can get. Performance is up, handling and pep and agility rise with it, and even aerodynamics. And I still like to go back to the down-to-earth official color scheme of the test car — white, and black. That's a major step backward from the hyperbole that is almost laughable in excesses at other manufacturers. But what else should we expect from a group that was too shy to promote its hamsters.
    Its shape can confuse you. Is it a mini station wagon, a downsized mini-minivan, or just a hatchback that happens to be squared off? We don't know. And neither, apparently, does JD Power, the outfit that tests and compares and awards all sorts of vehicles these days. The Soul for last year, 2016, won its second straight award for being the "highest ranked multi-purpose vehicle in initial quality."
    Multi-purpose might mean that the Soul can haul people, stuff, and even the occasional family of hamsters.
By John Gilbert
The automotive media is guilty, and I'm no exception. With all the new cars and SUVs hitting the market, it gets easy to look for the most whiz-bang new stuff and, in the process, wind up overlooking some very deserving new vehicles that do more than just a competent job.
Nissan falls into that category of being overlooked and underrated, so we need to set that straight, focusing on two specific vehicles — the hugely popular Rogue SUV and the vastly underrated Sentra compact sedan.
When it comes to crossover SUVs (CUVs), the Rogue is a favorite of both my wife, Joan, and me. It always has been a tidy design, where everything fits, competing right well against the CR-V and RAV4, and to some occupants fit people better and performed better.
And while the Sentra was only a favorite 20 years ago, when Nissan made a classic sleeper as a hot-rod SE-R, I find the new design a vast improvement, making the Sentra look more like a downsized Maxima-Altima than the soap-carving it used to resemble, and it has made a sly move back to bring to life the SE-R. For 2017, the test drive car I got defied Motor Trend's premature capsule that lists the listless 1.8-liter engine with 130 horsepower as the only available engine, and came as the SR, with a turbocharged 1.6 instead, boosting it to 188 horsepower and 177 foot-pounds of torque.
While regularly reading a couple of auto magazines, I noticed a comparison test Motor Trend ran last December, comparing the six top compact crossover SUVs now out on the market.
The magazine ranked the CUVs as follows: 1. Mazda CX-5, 2. Honda CR-V, 3. Hyundai Tucson, 4. Subaru Forester, 5. Toyota RAV4, and 6. Ford Escape. I'm not challenging those findings. I've driven all of those CUVs and I'm very impressed by all of them. But Motor Trend pointed out in that article that the 2016 Jeep and Nissan Rogue, and 2017 Kia Sportage, "but we cuit them from our finalist list because they didn't live up to our exacting Big Test criteria."
That's a slap in Nissan's face, and maybe undeserved.
A couple months earlier, Motor Trend ran its annual chart with brief capsules on every car available new for 2017 and when it got to the compact Nissan Sentra, it praised new safety features but noted the car was restyled for last year. It said drivers should choose "Any other compact over any Sentra with the standard engine; its lack of pep puts it at a driving-dynamics disadvantage." Then it pointed out that the Sentra had no alternative to its slow 1.8 base engine.
I must confess to being slow getting to my analysis of those particular vehicles, but I felt that these two capsules were unfair to a company that I had recently noted had risen dramatically in sales over the past year, while many other companies have struggled.
In January of this year, Nissan gained a sales record with an increase of 3.6 percent, as a 22 percent increase in truck and SUV sales offset an 11 percent decline in car sales for the month. But Nissan was perking along at an industry-best gain or 5.4 percent, month-to-month cimpared to 2016. The full-size pickup Titan had an enormous increase, but the Rogue had a 46 percent rise, which is remarkable.
Among cars, Nissan as a company has made stunning strides, particularly with its smaller engines. As a part of the joint Nissan-Renault alliance, the company has an arrangement with Mercedes, coordinating on joint building of small but potent 4-cylinder turbocharged engines. There is one engine Daimler designed that Nissan builds at its Tennessee plant, and another built by Nissan in its United Kingdom engine plant, with both of them used in various models, including the Mercedes C-Class sedans and GLA, and the Infiniti QX-30 SUVs and midsize sedans.
Both companies get substantial reward for the engine combine, as driving any of the cars from either company provides evidence of great performance and very high fuel economy. While Nissan's 1.6-liter 4-cylinder may not have any influence by Mercedes, obviously the building of those engines has put Nissan at the top of its engine-building game.
Nissan makes a line of high-performance vehicles clustered under the "NISMO" nametag. Nismo is short for Nissan Motorsports, and it guarantees satisfying acceleration, braking, steering, cornering, and even visual appeal. The key, of course, is the finely-tuned engine, and that's where we're heading today. The Sentra SR 1.6 Turbo has a few upgrades other than the engine, but it lacks the rock-hard ride and razor-sharp handling as the Nismo, which only makes it more tolerable as a family compact. With a smirk.
This car is aimed at the Honda Civic Si, or the Hyundai Elantra Sport, but it slides in at a base price of $21,990. The as-tested price was $25,940, including leather seats, blind-spot and rear cross-traffic warnings, navigation, power seats and a BOSE audio upgrade. That makes it a bargain in any company, particularly while still delivering 33 miles per gallon on the road — and I got over 35 in town on some trips.
The CVT (continuously variable transmission) works well and might be considered boring, except that the test SR had the Xtronic version of the CVT, which included paddles for controlling shifts manually.
Driving the pure white Sentra SR again proved Nissan's subtlety, with the tiny emblem on the rear the only indication that this car was anything but the normal, and possibly mundane, compact economy car. Traction control, vehicle dynamic control, active understeer control, and electronic brake force is all standard, as is a brilliant innovation on the normal tire-pressure monitor system.
As usual, a light comes on if one of your tires drops below specified minimum air, but unlike others, when you stop at a service station that has air, as you put air into the tire, the sensor beeps when you're reached the desired level. Brilliant. Particularly compared to the many times I've done a half-dozen trial and error attempts to get the blasted light to go out.
Going back to the Rogue, nobody complains about lack of power from the standard 2.5-liter 4-cylinder, which has 170 horsepower and 175 foot-pounds of torque, good for a 1,000-pound towing capacity. The SL version of the Rogue also gets to use the Xtronic version of the CVT with manual capabilities, and the electronic safety features of cross-traffic alert, dynamic control, and blind-spot detection.
Second row seats fold down independently and slide fore and aft, and a cramped but occasionally useful third-row seat is available. Base price of $24,000 can rise to over $31,000 if you check all the boxes, but the large sunroof and the 9-speaker audio are hard to pass up. The compact crossover segment is jammed, with over 35 vehicles battling for market share. And to repeat, I'm not issuing total disagreement with Motor Trend's ranking of the top six CUVs, I just think they shouldn't dismiss a vehicle as impressive as the Rogue so cynically.
Driving the Rogue offered the good familiar feeling I've always appreciated in the Rogue, and the vehicle feels more planted than ever with increased use of high-strength steel. And as for performance, some companies have revised their entire engine lineup, others have worked on refining and making their engines more efficient and more powerful. Using direct injection and, in the Sentra SR's case, the turbocharging, means Nissan engines are a standard of the industry.
If you don't believe me, ask Mercedes.
By John Gilbert
    If you are a cynic, or a hard-core traditionalist, you might view the Chevrolet Trax with some degree of scorn. I mean, for comparison sake, you have the Suburban, Tahoe, Equinox, Traverse, and assorted sizes of pickup trucks, and next to them, the Trax seems almost toy-like.
   In that frame of mind, you might look with careful scrutiny to find things that are objectionable about the Trax, which is Chevrolet's smallest, lightest, and probably least-haul vehicle. And yes, it's inexpensive, in the mid-$20,000 range, but it's got a tiny engine, so what good is it?
    However, in real life you can try to find fault in the size, but once you climb inside you find that there is a surprisingly adequate amount of room, both in the front buckets and the rear seats. It doesn't seem that anything that compact on the outside can be that roomy inside.
    You can't find fault with the instrument layout or the fit and finish of the dashboard or controls. In fact, they all seem laid out to perfection.
    And when it comes to design, the Trax looks good from the front, especially with that little ring of LED driving lights that outline the headlight enclosures. It looks good from the rear, with a nicely proportioned taper to the hatchback and rear corners, as they slope upward toward the roof.
    It also looks good in silhouette, rounded off nicely and proportioned just right all along the lines that sweep from stem to stern.
    The Trax is the brainchild of General Motors when it went over to South Korea and bought out the Daewoo factory, which had made stylish but marginal cars that were faltering in the marketplace, particularly alongside such outfits as Hyundai and Kia.
   The first Trax caught my attention, because I have always thought that any vehicle that's big enough needn't be bigger, and unless you have to haul a heavy trailer around, or make frequent trips with half a dozen or so occupants, then anything bigger than big enough is too big. Why should we haul around excess weight?
   So the latest trend toward compact crossover SUVs was instantly appealing to me, and I appreciate nearly all of the dozens of downsized, economical and agile performers amid the sea of crossover vehicles. But the Trax still is mind-blowing when it takes its place in Chevrolet's arsenal of medium to enormous SUVs.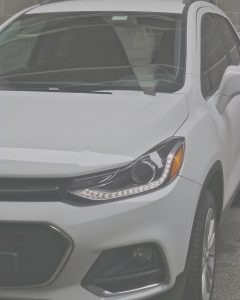 Then along comes the 2017 model year, and Chevrolet redesigns the Trax. It's not an all-car, but what they cal"refreshed" in the industry. Meaning the corners might be rounded off, the contours tweaked just a bit, and everything sort of tightened up.
   In the process, Chevrolet also upgraded the interior considerably, and what might have seemed a bit tacky in the original is now nicely padded and soft to the touch, as well as fitting together better.
   Under the hood, there beats a 1.4-liter 4-cylinder engine with a turbocharger mounted, for crying out loud. There is no optional engine, but the Trax doesn't need one. Chevrolet seems to have connected on the perfect group-think in plotting out the engine that will make the Trax perform the best, in either front-wheel drive or the all-wheel drive that folks in the snow-belt or who might face some foul weather should demand.
I had the chance to spend a week with a gleaming white Trax, and I thought it looked good in all circumstances. It also performed well on a freeway trip, and delivered fuel economy in the high 20s. EPA estimates range into the 30s, in fact, and you might reach the estimated 34 if you stayed under 65 or 70.
   Among the new features are a Premier trim level, which offers larger 18-inch wheels with your all-season tires, and Apple CarPlay or Android Auto are now compatible, boosting the Trax to the properly high level of connectivity.
    Lane departure warning and forward collision alert are now available, too, and, going back to the cynical big-truck guys, there can be no faulting the quickness of acceleration or the quick response of the steering, which is well-coordinated with the suspension.
    There is no recommended towing capacity for the Trax, although you might get away with a light fishing boat or extra light camping trailer with the AWD models.
    Trax continues to be a made-in-Korea vehicle, which is not an issue for anyone this side of our new president. And for anyone who has driven anything by Hyundai or Kia in recent years, we won't question the technology or quality control of the Trax.
   In fact, there are reports that the Trax has made its own impact on the new smaller compact-crossover segment by becoming the vehicle with a Chevrolet bow-tie emblem that is sold to the largest percentage of female buyers. Some estimates range as high as 60 percent female buyers, in fact, proving that women might be wiser than some of those cynical, macho types who think trucks have to be huge, hefty, poor in fuel efficiency, and twice as expensive as the basic $22,000 Trax.
   The facts that it's highly maneuverable, quick, attractive, and with all the improvements packed into the 2017 model make it worth evaluation for anyone looking for the security of weather-worthy AWD in a contemporary and high-style Trax.
By John Gilbert
   If you know folks who own a Honda CR-V, chances are they love it. And, chances are it might be four or five years old, or older, and they still love it.
   The CR-V has been an enduring vehicle for Honda, helping establish the trend toward compact SUVs, which proved immensely popular when gasoline was expensive, and have continued their upsurge in popularity even when gasoline became cheap.
   With the new 2017 CR-V, Honda has made so many changes that its left even popular auto magazines in the distance. Take Motor Trend, for example. That magazine runs annual editions that run little capsule descriptions of all the new cars, trucks, and SUVs. It is very helpful if you're looking at buying a new vehicle, because it helps with the research and cuts down the usual comparison shopping chore.
    That issue came out last October. In its capsules, it ran pieces on the all-new Ridgeline, the Pilot, the Odyssey van, the HR-V, and the CR-V. Under CR-V, it says: "The CR-V remains unchanged. All CR-Vs are powered by a 185 horsepower 2.4-liter inline-4…"
    I got the chance to spend a week with a new 2017 CR-V, and it was remarkably peppy and handled extremely well, and it had quite a different look to it. Unchanged? I think it is greatly changed.
  Believing Motor Trend, I didn't bother to look under the hood for several days. The CR-V ran well, handling all weather conditions, and seemed to uphold the tradition of being a new halo vehicle for Honda. Finally, I raised the hood. Sure enough, there was no 2.4-liter engine in sight — instead, it was a 1.5-liter 4-cylinder, with a turbocharger hanging onto the engine. 
    Honda is not new to turbocharging, and in fact has some progressive engineers who have established breakthrough technology with some previous turbos on vehicles such as the Acura RD-X. And Honda has used turbos to extremes while fiddling at the highest echelon of motorsports, places such as the Indianapolis 500 and Formula 1.  
Honda had resisted the temptation to add turbochargers to its mainstream production vehicles. Turbos take a stream of exhaust gases that are headed for the tailpipes, and instead channels the flow to spin a generator turbine wheel that, in turn, force-feeds a more potent airflow into the engine's intake. That air sucks in more fuel, and the result is more power and more efficiency.
   The new CR-V, changed quite dramatically, thank you, is also changed under the hood. Instead of a 2.4-liter that produces 185 horsepower, the comparatively tiny 1.5 develops a quite amazing 190 horsepower and 179 foot-pounds of torque, thanks to the turbo.
    While it feels light and agile (because it is!), the CR-V also has improved fuel efficiency, up to EPA ratings of 26 miles per gallon city, and 32 mpg in highway driving. All the while feeling quicker and more agile.
Other more subtle tricks include a more aerodynamic shape amplified by  an active-shutter grille, which closes at cruising speed, when cooling isn't needed, to form a barrier against air streaming in.
    Honda now has bracketed the CR-V with an all-new larger Pilot, which is a truly full-featured luxury SUV now, and a smaller and more basic HR-V, which I was slightly disappointed in, but only because I was accustomed to the CR-V and the high standards it had set and maintained.
   The new CR-V comes in various forms, starting with the LX at a base price of just over $26,000; the EX starting at $26,695; the EX-L (meaning leather upholstery) starting at $29,000; and the Touring model, starting at $32,000. The base LX starts with a front-wheel drive version, which should handled even Duluth type winter driving without difficulty. But the available all-wheel drive is the trick answer, because it is a "real-time" system that transfers torque away from any wheel where any tendency to spin is detected by the sharp-witted computer.
Stressing its safety and creature-feature style, the CR-V has Honda Sensing, which includes a suite of items such as lane-keep assist, collision mitigation, and road-departing mitigation which use computer aided technology to alert you if you wander across a lane-dividing line without signaling, and can be set to gently prevent you from wandering across that lane line.
   Honda also has added the trick first developed by Ford for its Escape, where you can walk up to the CR-V from behind, holding your sacks of groceries, and wave your foot under the rear bumper, causing the tailgate to unlatch and open. Very handy.
   The interior of the CR-V is upgraded too, although I'd like to make a strong suggestion to Honda to be careful how they "improve" their controls and switchgear.
     My favorite feature of all Hondas is that they tend to have ergonomically perfect instruments and controls, meaning that you reach for something and it's there. Even if you've never been in the vehicle, the lights are right where you think they should be, same with the wipers.
    In recent model changeovers, however, there seems to be the tendency to make some items a bit more complex. Don't do that! The CR-V still has logical redundant switches on the steering wheel, and you can pretty well operate everything from there.
    Otherwise, you can operate the audio system's technical complexities via the large navigation screen, which includes touch-screen operation. Personally, I'm not a fan of touch-screens. Seems to me, after three or four days, you need some high-tech stuff to clean the fingerprints off the touch-screen.
Especially if you've stopped by the Great Lakes! Candy Shop in Knife River, and got overly friendly with some of those home-made caramel things. Let's see you try to make it all the way home without sampling some of the goodies, after which you need some high-test washer fluid to clean the touch-screen.
    As for the prices of the CR-V stable, each model offers all the features of the previous model, plus some added stuff. So the prices go up commensurately and each level seems to be a relative bargain. And while the basic LX is in the mid-$20,000 range, the completely loaded Touring model might reach the mid-$30,000 level. My favorite is the EX-L, because I like leather seats, and I'd pay extra for them, as well as the other features that model adds.
    And so as not to embarrass anyone at Motor Trend, we'll keep it a secret as we jump at that 1.5-liter turbo with its CVT, accepting power increases over the 2.4, as well as delivering fuel economy of over 30 mpg on the highway.