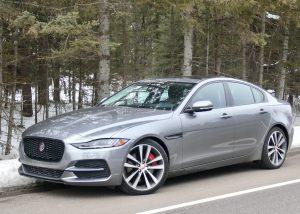 Ireland may be a long distance from Castle Bromwich, U.K., where the Jaguar XE is assembled, and maybe the Irish don't always embrace the British, but when the week of St. Patrick's Day coincides with the world closing up all our restaurants and pubs — and arenas, stadiums, movie theaters and other gathering places — for the Coronavirus pandemic in mid-March of 2020, we can still pause and give thanks, and hope, that there will always be a Jaguar.
We'll even pronounce it "Jag-you-are," as the British intended it to be, because, after all, they invented our language.
If you couldn't go to a St. Patrick's Day Parade, even, then maybe you could at least drive a Jaguar XE P250 S around for a while. Imagine it in a beautiful dark green — think traditional "British Racing Green," but anything an Irish shade of green would work to celebrate.
Turns out, the test car I was able to drive before St. Patrick's Day was a luxurious shade of "Eiger Grey" (with "grey" also being the preferred UK spelling) rather than green, but I could accept that, even though I happen to be about 75 percent Irish.
Times are tough in the auto selling business, all over the world, and Jaguar is among those hurting to sell more. But under the ownership of Tata Motors in India, the British pride is reflected in the newly restyled XE sedan, which I found dazzling to look at from every angle and to show off to anyone on my appointed rounds in and near Duluth, Minnesota. That includes the still-snowy and chilly North Shore of Lake Superior.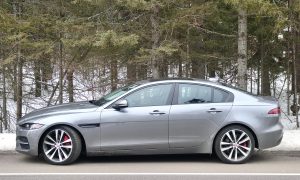 There are so many beautifully styled midsize sedans on the market that it is difficult to find any that aren't, any more, which is a good thing. But Jaguars still hold a special place in the hearts and minds of car fanciers the world over, and the new XE stands out as one of the best bargains in the luxury sedan market. That may be the "glass-half-full" version, compared to those lead-footed critics who complain about the obvious drop in power from the previous supercharged V6.
When you do your first walk-around, and admire the formal grille, the gently curving lines on the sides, the sporty rear with its protruding exhaust tubes, keep in mind that this is a 4-door sedan, not a sports coupe. Consider the whole fleet of Jaguars, up to and including the larger XF sedan, which costs between $50,000 and $75,000, and he XJ, which runs from the mid-$70,000 range up and over $125,000, you have to guess that the slightly more compact Jaguar XE must cost somewhere over $50,000.
Surprise. The base Jag XE P250 S lists for $39,900, and everything comes equipped on the car, which means adding on the destination and delivery puts it up to a mere $40,895 sticker.
If you have always admired Jaguars, you will find that modest price a bargain. There are some places Jaguar has cut back on expenses. For one, the powerful, extravagant supercharged V6 has been discontinued, taking its voluptuous sound and its 380 horsepower with it. But Jaguar has countered very effectively, with a 2.0-liter 4-cylinder, turbocharged to develop 298 horsepower and 295 foot-pounds of torque.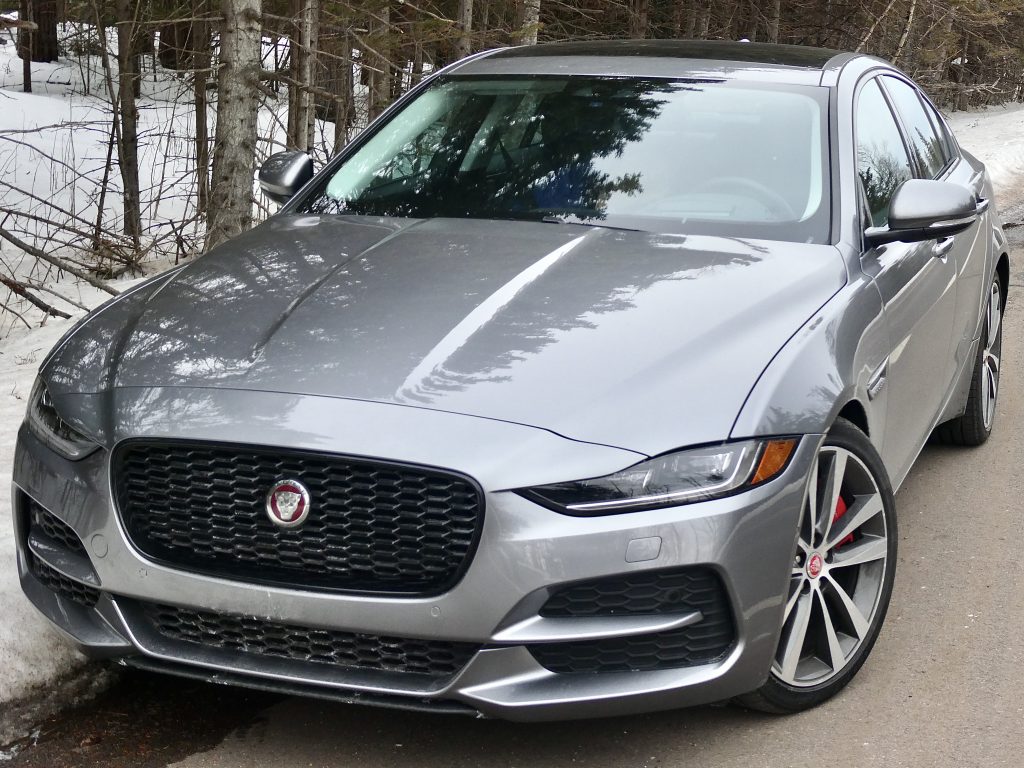 That's a solid and impressive amount of power coming from a 2.0 engine, proving again how effective turbocharging can be to extract power from a diminutive batch of displacement. No, it's not nearly 400, but in this era of economy, efficiency and expense — the "three E's" of modern car-building, it is more than adequate. I've had experience with that engine before — as well as the supercharged V6 — in smaller models of Jaguar sibling Range Rover SUVs, where it handles all duties efficiently. So in the XE sedan, it dots all the right letters.
The powertrain earns extra points for the 8-speed ZF transmission that shifts smoothly and helps extract and apply that power. That powertrain used to come in two doses of power, with 247 horsepower in base form. but Jaguar wisely gives only the 296-horse version to the XE.
One place I do wish Jaguar had not compromised is that the XE comes in both rear-wheel drive and all-wheel drive, and the test vehicle had rear-drive only. In Minnesota winters, especially on Duluth hillsides, AWD is much preferred, and if you're going to allow just two wheels to move your car, you're best suited to having it be the front wheels, not the rears, which can defy all sorts of electronic traction, stability and other safety and steering gadgets to still enjoy trying to pass the fronts when you're on ice.
Still, if you're shopping for a Jaguar, the AWD option isn't prohibitive in cost. And it probably doesn't detract too much from the EPA estimated fuel economy of 34 miles per gallon in highway driving. Try that on your supercharged V6!
The week I drove the Jaguar XE sedan, we got lucky and were free of blizzards and nasty ice patches, which allowed us to get wherever we wanted with rear-derive, thanks more to Mother Nature than the Jag's road-sticking tricks.
At $40,895, the XE hasn't left much else unchecked when it comes to driving features, to enhance both sporty driving and the traditional feel of a luxury car, including something called JaguarDrive, selectable driving modes you can click from comfort to eco, to rain/snow, to dynamic, with dynamic holding revs longer and firming up your steering feel.
All the contemporary connectivity stuff is on board, whether Apple Car-Play, or Android, and you have the also obligatory safety features, such as rear camera, parking assist, blind-spot detection, and lane-departure warning as well as lane-keeping assist.
There is also All Surface Progress Control. You've got to love the Brits for coming up with their own name for trying to make their car hold the road. Progress Control? Never thought of that. It also has torque-vectoring, which uses computerized braking to correct your steering vector if the system senses that you are not tracing your projected curve judiciously enough to stay in your lane.
I also liked the ebony Windsor leather seats, and those impressive front buckets are heated and cooled and adjust 18 ways for both driver and passenger, to assure your comfort. That includes your ears, which are embraced by an 825-watt Meridian surround audio system.
Build quality of the XE is impressive, and the body that is now 75 percent aluminum intensive — or "al-you-MIN-ee-um" as the Brits call it — is aided by the lightness and strength of the alloy. Under those curvaceous lines there are exclusive 19-inch alloy wheels controlled by double-wishbone suspension in front and Integral Link in the rear. Double wishbone is simply the best, and you will believe it with the quick agility of the steering and the stability without jolts in any cornering attitude.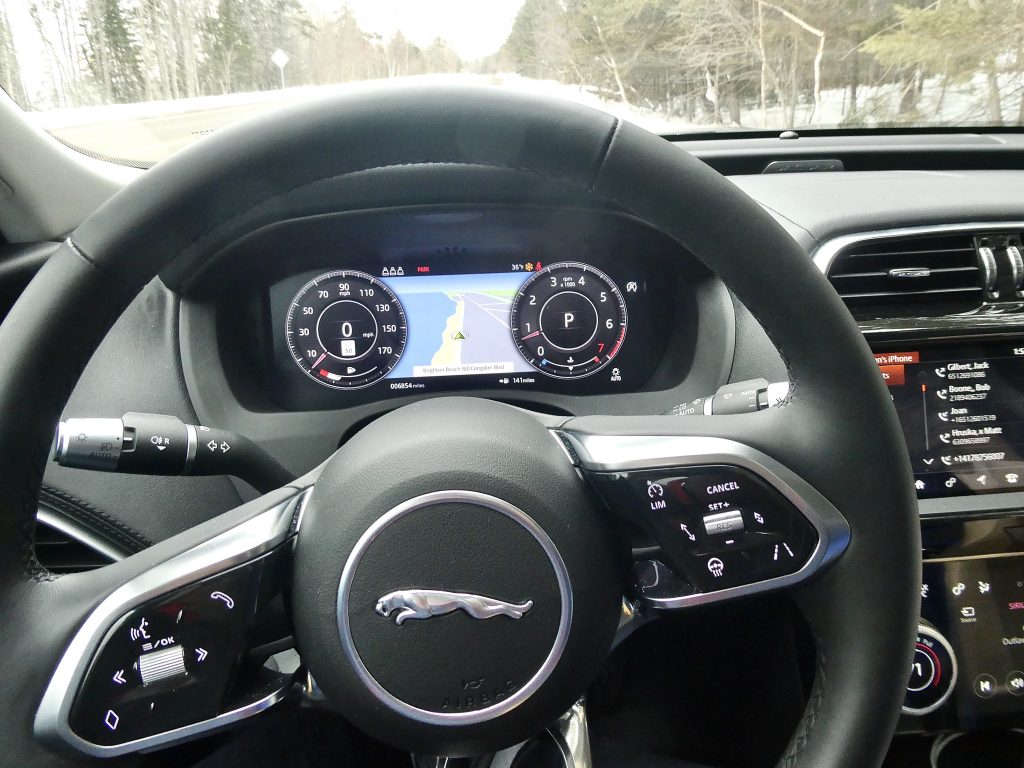 Inside, where you live after admiring your Jaguar XE upon approaching, the restyled exterior has been more than matched by the interior, where a new layout of instrumentation and fabrics cover every surface. Jaguar has even enhanced the 10-inch touch-screen by adding a redundant screen between the two large major instruments, the speedometer and tachometer, when you toggle up the assorted options to be located on your instrument panel. It is not as crisply sharp as Audi's, which uses Google Maps for true satellite showings of your territory, but it is soft and artistic to view, and frees up the touch screen for other things that need touching.
LED headlights light up the night and have auto-dimming, the outside mirrors are heated against ice and frost, the rear seats are split to fold down, while an impressive ambient light show accents the inside and as you get in and out. A wireless charger is impressive, also a head-up display visible through your windshield.
The more I think about it, the more I'd like to see an XE in luck-o'-the-Irish green. Of course, we hope that this goofy worldwide virus afflicting us all will vanish just as swiftly as St. Patrick's Day has come and gone. There will always be another St. Patrick's Day, thankfully, just as there will always be a Jag-you-are.
By John Gilbert
The stereotypical image conjured up is of big, regal sedans or low, sleek sports sedans or roadsters, whenever the name Mercedes-Benz is mentioned. But it's a new era, and while the Mercedes sedans and sports cars are sleeker and higher-tech than ever, the ideal vehicle for a changing world might be the GLC 300.
A year ago, Motor Trend named the GLC its SUV of the year, because the new vehicle was built up for a bit more interior room as a utility vehicle worth the name, combined with the sportiness demanded by contemporary drivers who want the extra panache of the Mercedes aura.
I got a chance to live with a 2020 Mercedes GLC 300 4Matic SUV for a week a while ago, and suddenly my memory came alive about why I decided I liked the small Mercedes SUV better than any of the fabulous cars from the Stuttgart specialists.
And that takes nothing away from the Mercedes cars, because how can anyone fault any of them? But as U.S. drivers prove their changing preferences with their checkbooks, Mercedes has a full batch of large and midsize SUVs for selection, and nestled in there, the company has placed the GLC.
The formula only makes sense. If buyers want the assets of front-wheel drive for maneuvering and handling in all weather, then why not trim the midsize model down to compact size, making sure there is adequate front and rear head and legroom, and storage space, then lighten it wherever possible and give it snappy, sporty handling and steering. Arm it with a high-performing but small engine, with a transmission that can make it sing, and maybe paddle shifters to allow sporty control of those shifts.
With that, here is the GLC 300, where the number doesn't relate to the engine displacement the way it used to with Mercedes. In this case, the GLC has a 2.0-liter 4-cylinder with a turbocharger. The turbo is tuned to reach 255 peak horsepower and torque peaking at 271 foot-pounds. That may not sound like much if it were a big, bulky vehicle, but in the lean and mean GLC it's plenty.
The 9-speed automatic can shift every well by itself, but also has those paddles to allow you to put it in the ratio you want for the situation. And with nine gears, it often might have shifted up too far too soon to give you toe-tapping torque when you need it. Paddle your left fingertip down a couple and you've downshifted from ninth to seventh for cruising down an exit ramp, and you can hold it in the lower gear with another couple flicks.
Up in the North Country, on the North Shore of Lake Superior, such controllable shifts are ideal for the packed snow ind slick ice that can cover the highways and hills. But I want to stress another feature of the GLC 300 that surprised me at first, then impressed me — a lot.
We were driving to the Chicago Auto Show, cruising in on Interstates through Milwaukee and then south to Chicago. I had set the destination for the hotel we had registered for, a Suite2 by Hilton, that was brand new and only a couple blocks by skyway from McCormick Place, where the show was. I wanted to skip the tollways that help Illinois folks pay for their highway repairs, even though I appreciate how smooth they are, compared to Minnesota's frost-heaved pavement.
As we got right to the Chicago area, we had to swing in on the freeway to get to our destination, but ahead, we saw a fog-like greyness that was puzzling. As we got closer, we also saw all kinds of taillights and brake lights. It was snowing, causing the dusky grey, I got over into the right lane of the five lanes we were on, and we were amused that so many people seemed terrified of what we considered a light dusting of snow. And we kept our eye on the nav screen, where a neat diagram of all five lanes showed us exactly where we were and where we should be. I was right there, second lane from the right.
But traffic was thickening and stopping in some lanes as we approached an exit still 5 miles from our destination. Suddenly, my son Jack, my assistant, photographer, and co-pilot, said, "It's telling us to exit here!"
At a glance, I saw he was right, with the solid blue line that was us, veering up that exit ramp. At a glance in the right side mirror, I realized we had a clear lane to our right, so I promptly swerved, and then swerved again to make it onto the exit ramp, smooth as if it had been planned. I was sure it was in error, but when we got up to the cross-street, we were greeted with flashing lights. A small accident had clogged the intersection a bit, but we were clear. I glanced one more time, and the nav screen did NOT say we should turn left, so having to decide in a millisecond, I continued straight across the street and back down the on-ramp.
As we entered back onto the congested freeway, I felt a little guilty that we had passed about 500 cars and easily merged back into the right traffic lane and continued smoothly to our destination.
Now, I would never suggest that anyone should drive that way, exiting and re-entering just to beat the system, but, hey! The nav lady told us to do it! After we got to our hotel, I started to wonder, and while I have no way to prove it, I believe the guidance system actually sized up the congestion and found a logical way to get around it.
Is that possible?
Well, whether intentional or not, we suddenly felt as though the feature-packed Mercedes GLC 300 had adopted us as its own.
Another surprise is that the sticker price shows $44,500 for the basic GLC 300, and adding virtually every available optional and safety package ran the price up to $60,575, it was still a bargain. The surprise to me was not that the vehicle cost $60-thou, but that you could get it for less than that if you took away some of the items, such as driver assistance, parking assistance, exterior lighting, or multimedia packages, and lower the price to nearly bargain proportions.
Included in those packages are a lot of impressive things, such as high-performance all-season tires, panoramic sunroof, active steering and distance control. active lane change, evasive steering assist, back-up camera with cross-traffic alert and warning.
In short, you can pretty much drive at ease, because your Mercedes is watching out for you. No, you can't relax, and it doesn't drive for you, but it allows you to focus on what's really important on the road ahead, confident that the GLC 300 will alert your, guide you and maybe prevent you from any mistakes that might cause a problem.
And if it suggest you are convinced to exit ahead of plans, and find you've cut off about 20 minutes of congested driving, well, you can live with that.
March 12, 2020 by
jwgilbert
·
Comments Off

on Minnesota's big show promotes Truck Summit
Filed under:
Features
,
Autos
By John Gilbert
Trucks, trucks and more trucks. The Minneapolis-St. Paul Auto Show has trucks of all shapes and sizes, from monster diesels to compact crossovers, and since the definition of a truck has been shattered by the new and expanded definition, we're going to have to concede that the show promoters were correct in claiming it deserved to hold its "Truck Summit" because 82 percent of all vehicles sold in Minnesota are trucks.
That can include the boatload of compact crossovers, which actually make the most sense as we transition fully from sedans to trucks, but the full array of trucks are pickups, SUVs, crossovers on down to tiny vehicles with all-wheel drive. But to many Minnesota buyers, trucks mean boat-hauling pickups.
They called it a Truck Summit, as if show promoters, who are operate the big Convention Center extravaganza through this weekend, March 14-15, have an exclusive here, with trucks taking over for cars in daily lives of normal consumers. Of course, trucks are taking over everywhere in the U.S., although that 82-percent figure is pretty compelling.
The fascinating part of our fascination with all things truck is that every manufacturer claims superiority, sometimes of the same statistic in the same critical area of comparison. You will hear Ford proclaim the F-150 the leading seller in the country, and you will hear Chevrolet claim the Silverado is the top seller in Minnesota, while the folks at Ram just sit back and smile about their own success in the marketplace and their new designation — by no less than the cars.com website, which declared the Ram 1500 pickup its "Luxury vehicle of the year" for 2020.
But the truck folks also all claim the unregulated advantage as having the most towing capacity, the largest hauling tally, and the most power of all. Now, they all can't be right of course, but we'll leave the hotly contested place up to the consumers who can come to the auto show, at the Minneapolis Convention Center, and kick the tires of every car and truck sold in the area, and make their own decisions.
We at NewCarPicks.com will just try to offer the guidance of having driven most, if not all, of the new trucks, and cars as well.
The National Truck Summit kicked off the auto show by putting on over three hours of discussions with industry executives. Jay Sacket talked first; he's the executive program manager of Toyota. A panel discussion followed with Sacket joining JATO Dynamics president Matt Weiss, and Erin Klepaski, senior vice president of Auto Sales Alliance. Next up was Tim Stoehr, regional product line manager of Ford, then Marjk Boyadjis, from Global Technology. And finally, interiuor designer Ryan Nagode from Ram.
The fact that trucks are taking over our hearts, as well as our bank accounts, is not news. It was news 10 years ago, and 5 years ago, when it was first challenging sedans in sales, and long before we see the figures that show the RAV4 now beats out the Camry and Corolla as Toyota's top seller, or that the CR-V tops the Accord and Civic as Honda's leader.
The news now is that while trucks — and SUVs — hold a clear majority over cars in total sales, the figure of 82 percent in Minnesota is shocking enough to surprise even my good friend David Boldt, from Texas, who is from a state where there are dealerships that sell only trucks, with no cars. Boldt wrote that no other state comes close to Texas in the purchase of trucks, with the Lone Star State selling over 100,000 Ford F-150s, in fact.
I've always maintained that our pickup culture is traditional. Chevy guys don't buy Fords, Ford guys wouldn't consider a Chevy, and while they've been arm wrestling, Dodge's Ram brand has made the biggest impact on the truck market in the past year.
The latest redesigned Ram 1500 stormed past the Silverado for the first time ever to stand a solid second only to the F-150 in pickup sales and stature, and since all of the Big Three's big trucks are similar enough in towing and hauling to all claim superiority, there must be something special about the Ram. And there is. It's the interior.
When Fiat took over Chrysler to form FCA, for Fiat Chrysler Automobiles, the Italian company pushed a stylish flair through the entire corporation, and while Jeep has benefitted greatly, Ram trucks have soared with interiors that rival luxury cars in their attention to detail and the refinement of fabrics and trim features.
There is still time to take a drive down Interstate 35 and take in the auto show, and to whet your appetite, we're supplying an array of photos of what you might want to check out.
First off, the Ford pickup remains the king, and we're showing the Super Duty, bigger than full size, as the king of the kingdom. The GMC 2500 DuraMax diesel — the one with the trick tailgate that features a drop-down step for easy access, the center-piece for folks in the TV commercials to have their jaws drop in amazement — meaning they haven't seen a Ford in the past decade, which has had that same tailgate feature and includes a locking upright post as a grip handle. Next up is the Ram, and we're showing the monster Ram with dallies and all and a 6.4-liter Hemi. With it, you'll see the rich leather interior of the Longhorn trim package, flanking the foot-tall navigation screen that is the size of a full iPad and just as useful.
The Chevy Silverado prances into view in bright red, looking good even if it has slipped to third place among the Big Three.
Midsize trucks have made a big comeback, too, and the reliable Toyota Tacoma remains a favorite for fitting just about anything you might need a truck for. This one is the TRD-Pro, which is a cut above the excellent TRD, and you can tell it by the huge snorkel that rises up along the right front pillar to remind you that when you thrash through desert sane, you needn't worry about sand
getting into the air intake. Of course, it also might work in snow, and whether it does or doesn't, I thought the picture after a snowstorm was worth it.But don't overlook the very competitive Honda Ridgeline, as well.
Where, in your truckscape, does the Jeep Wrangler fit? Is it a car, a truck, an SUV, or a unique vehicle capable of off-roading to places no sane driver would take another vehicle?
Cadillac brings out the XT6, a stylish SUV-like wagon with V6 power. For power, the Dodge Durango is a large SUV with SRT Hemi treatment for high power in a versatile vehicle. And Ford's newest versions of the Explorer SUV and the compact Escape SUV also make the show.
And just so you see we haven't forgotten traditional excellence, here are a pair of newly redesigned Range Rovers — the sleek-roofed Evoque, and the smooth Velar, both expensive, but loaded with interior features that prove, conclusively, that trucks have become the new luxury sedans.
By John Gilbert
A good friend of mine, let's call him Charley, had climbed the plateaus of journalism a few decades ago, and could afford the upscale family vehicle he had long craved. He wanted a midsize, luxury SUV, and he discussed his choices with me. After trying out several I recommended, he decided to buy a Lincoln Aviator.
Interesting choice, and not necessarily mine, but it checked all his boxes for being a cut above the more modest Ford Explorer, with some added features and classy appointments. Whenever I'd see him, he'd ask me about new vehicles I'd been test-driving, and then he'd tell me he still had his Aviator and loved it. I alerted him when the Aviator was discontinued, and when Lincoln itself seemed in jeopardy. Another decade has slipped past, and I'm not sure what Charley's driving these days.
But when I see him next, I'm going to recommend the 2020 Lincoln Aviator in the strongest possible terms. The recalling of the old name on an all-new vehicle, on an all-new platform, stands for a lot more than just nostalgia, and if Charley liked the old one, he will love the new one.
The Minneapolis-Saint Paul auto show runs through March 15 at the Minneapolis Convention Center. It's an interesting year for the show, because it comes immediately after the huge Geneva Auto Show has been cancelled because of the worldwide threat of the Coronavirus and its warnings about avoiding major gatherings of people. We aren't anticipating that major a threat in the U.S., but who knows? The upcoming New York Auto Show abruptly decided on March 10 to move its annual classic show to August 28-September 6, with media days August 26 and 27.  Major pro sports teams are planning to eliminate crowds for the time being as well, but the Minneapolsi show goes on..
The Twin Cities show is attempting a made-for-U.S. specialty niche this year by putting on a "Truck Summit," to explain and promote the nationwide swing to trucks over cars, which has reached amazing proportions in Minnesota, where reportedly 82 percent of sales are trucks or SUVs. The show will run through the first two weekends of March, and if you go, make it a point to check out the preponderance of trucks. In the process, you'll notice the high level of sophistication in the interiors on virtually all manner of trucks.
Naturally, the array of Range Rovers sets a high standard for luxury appointments, and if you look closely at the SUVs in the Jaguar, Volvo, Mercedes, BMW, Audi, and Lexus — and even the new pickup trucks, particularly the Ram — it will not seem surprising anymore how much the price of those vehicles has increased.
But when you get to the Lincoln display, climb inside an Aviator. The first thing you notice is the rich leather bucket seat and how it encapsulates your body from head to knee. I've always praised Volvo for having the best seats in the industry, and maybe there's a connection because Ford used to own Volvo, too. But the new Aviator bucket seats must now be ranked at the absolute top rung of any seat ratings.
There are something like 30 settings you can summon by switchgear to adjust your seat for optimum driving position. You can be excused, though, if you are tempted to stay in your parking space and take a short nap to fully take advantage of the comfort. Once you get the support right where you want it in the cushion, the lower back and the upper back, you can locate the switch that starts a massage process. It is a gently undulating thing, not the sort of massage to put you to sleep, but rather an invigorating stimulator that can enhance your awareness.
Base price of the Aviator Reserve with all-wheel drive is $58,700, but it's difficult to resist some of the excellent options. The test vehicle had the luxury package, and options such as trailer towing, the sunroof, 22-inch machined alloy wheels, to augment blind-spot detection, evasive steering assist, auto high beams, active park assist, adaptive cruise, adaptive suspension, lane-keeping, drive mode selector, a 28-speaker Revel Ultima 3D audio, and readouts of posted speed limits on the dash or head-up display.
On top of all that, and the obligatory Sync3 navigation and connectivity items, a dynamic handling package aids stability and such features as a full rear console is handy between the rear buckets. All of that boosts the sticker price on the test Aviator to $76,310. That may seem outrageously high, but if you examine all that is included, and compare it to other top-shelf luxury SUVs and trucks, the Aviator appears to be worth the tariff.
The Aviator's luxury starts long before you climb aboard, because the crisp contours of the accent sculpturing on both sides and the rear attract your attention and offer a pleasant aerodynamic appeal. From the front, the LED headlights, parking lights and foglights are all positioned in streamlined housings and surround the contemporary grille, which, thankfully, is understated in style and elegance. There are ingenious ways to turn the "puddle lights" and logo trim to make sure you remember what it is that you bought for a vehicle.
Opening the door on the test Aviator Reserve model, which was "silver radiance metallic" in color, avails you of the medium slate leather seats, which look much more than just inviting with their carefully crafted design. All the switches are within easy reach and have the anticipated redundant controls on the steering wheel. The console has room with the push-button shifter easy to get comfortable with. The sunroof is huge, and can let in a lot of sunshine even when closed for a winter day.
The large screen at the top of the center stack can carry several things at once. When you back up, you can summon the 360-degree surround view from up above to make sure there are no obstacles in the way of your movement. On top of the comfort and luxury, the Aviator drives easily, with stable cornering attitude and large doses of power for acceleration.
A 3.0-liter V6 is Eco-boosted to 400 horsepower and 415 foot-pounds of torque, programmed through a smooth-shifting 10-speed automatic transmission. The all-wheel-drive system is adjustable by modes for any type of driving, from blizzards to freeway cruising. It responds instantly to your throttle-foot input, although responding too eagerly can keep the fuel economy down around 17 or 17.5. The Aviator is heavy enough, so you can learn to appreciate the solidity more than the fuel efficiency.
The Aviator has larger siblings, such as the Navigator, but I find the Aviator to be the ideal size even for somebody who wants a large SUV. Open the rear seat and you see a couple more comfortable looking buckets, with a good amount of knee room. At a touch, the seat slides fore and aft to add more room, if you need it. Another touch and the backrest flops down, and the seat will tumble out of the way to allow easy access to the way-back, which is a third row seat. Room is less generous back there, but you'd want it mainly for young kids or agile teenagers.
There is also ample storage room, and you can greatly expand it by another switch, to fold the third-row backrests out of the way.
The Aviator weighs almost 6,000 pounds, but it drives smaller than that, with an agility and light-feeling demeanor that can make you forget you're driving a hefty vehicle and drive it as though it's a sporty machine. Maybe it's time to reconnect with Charley, just to see what he and his wife are driving these days, and suggest making an auto show stop. Because if you want to take a flyer on a new luxury SUV, my pick is the Aviator.
By John Gilbert
If Nissan decided to produce a book on its engineering, it might call it "From Here to Infiniti." That would put Infiniti, Nissan's upscale brand, front and center, which would be appropriate, because Infiniti seems to get first crack at all of Nissan's considerable engine-building ventures.
For example, Infiniti has a whole posse of SUVs, identified by the letters "QX," as opposed to its stable of cars, which are all designated by "G" and then a number. The SUVs range from the compact QX30, to the QX50, QX60 and QX80 at the excessively large end.
I recently had the chance to spend a week with the excessively sleek QX50, which might have lifted itself to my favorite status among all the Nissan/Infiniti SUVs. I'm not overlooking the smaller — some might say cramped — QX30, but the QX50 is roomier and armed with a couple of special assets I like a lot.
A month or so before my winter test week with the QX50, I also drove the QX60, which is larger and an excellent choice if you want or need a third row of seating for stowing kids or relatives or neighbors. At $48,150, the QX60 is only a couple thousand more expensive than the $46,100 QX50, until you load up with options. The sticker on the QX60 zoomed up to $61,930, although those options turned the interior from efficient to opulent in short order.
Comparatively, the QX50 topped out at $49,630 and wasn't nearly as feature-filled as the QX60, but I wouldn't need the third-row seat and I could think of a few options for the $1,200 difference. Both vehicles have LED lights and all the connectivity functions.
Both the QX50 and QX60 are sleekly styled and sporty, with the Infiniti corporate grille adorning both. The QX50 is lower, making it appear sleeker, and more sporty because of that stance. Read more