By John Gilbert
The relationship between South Korean partners Kia and Hyundai has been interesting, if a bit confusing in the decade or so they've been united in a move by which Hyundai took in the struggling Kia operation. For awhile, it seemed that Kia simply got its own version of various Hyundai vehicles, but in recent years, Kia has boldly stepped out onto its own path.
There is no better example than the new Kia Seltos, a compact SUV that seems to be about the same size as Hyundai's award-winning Kona. The Kona was named 2019 New Car Pick of the Year by newcarpicks.com, as well as numerous other evaluating sources. We are still evaluating our long-term Kona, which made it handy when a Neptune Blue 2021 Kia Seltos S Turbo showed up at our Duluth area home for a week's test.
Side-by-side, there are distinct differences, an objective the companies made a few years ago to use styling to differentiate, rather than copy. The Seltos is about 5 inches longer and about 2.5 inches taller, with those 2.5 inches used up by giving the Seltos about 7 inches of ground clearance, 2 more than the Kona. The Seltos also has the unique Kia grille, under which is a very noticeable skid-plate, offering protection if you decide to do a little light off-roading.KWe were both impressed and puzzled by the Seltos S. Impressive was the sticker price, $26,740 with all options included, and also impressive was the Seltos S had a lot of punch from its 1.6-liter turbocharged 4 — the same engine that we got in the Kona. It has 175 horsepower at 6,000 RPMs, and a whopping 195 foot-pounds of torque at only 1,500 RPMs —a very good balance between the torque's low-end punch and the horsepower's cruising credits.
The all-wheel-drive system has a mode knob on the console, right next to the shift lever that governs the 7-speed dual-clutch automatic, and you can set it for normal, sport or eco. Enormously impressive is a switch that engages a downhill control, causing the engine to stay in a lower gear and aid you when descending hills without using only your brakes. In Duluth, where every avenue is a mile-high hill climb, meaning also a mile-down grade, that switch was eminently useful. The full array of safety gizmos are there, including a lane-departure system that includes lane-following, which keeps you centered in your lane, although not obtrusively.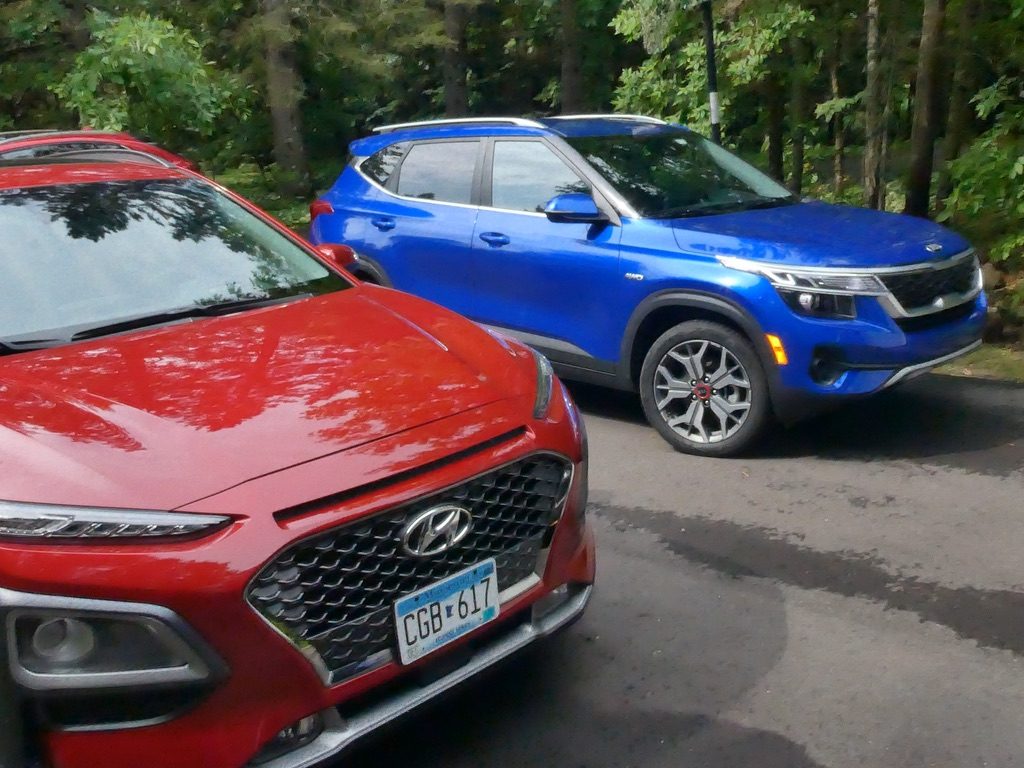 2021 Kia Seltos is about 5 inches longer than its cousin, the Hyundai Kona, in red.
With gadgetry like that, it seemed curious that the Seltos S did not have keyless entry, or keyless ignition, which mostly proves how spoiled we've become with all those push-button start systems. Still, for $26,000, the Seltos S seemed quite the bargain.
A few weeks later, we got a surprise visit from another Seltos, this one an SX Turbo, also with all-wheel drive, and also with the upgraded luxury features lacking on the Seltos S. It was Starbright Yellow, with black molding and trim, and it was striking. Different grille, departing from the Kia signature style, and LED lights all around. It also had the smart key, for entry and push-button start, and the interior upgrades were befitting the top line Seltos, priced at $29,485. Other additions were remote start, smart cruise control with automatic stop-start, a color instrument cluster, and 18-inch wheels, which were an option in the "S."
The upgraded SX, in its bright yellow paint, didn't have a sunroof, like its less-expensive sibling, and it had the same 1.6-liter turbo powertrain.
I made a call to James Bell, Kia's director of corporate communications, and a trustworthy source of information of all things Kia, because he used to be a very good auto journalist, before he went over to the "dark" side. Asked about the similarities with the Hyundai Kona, Bell explained that there indeed were some.
"They are on the same platform, even though the Seltos is longer," Bell explained. "The difference is that the Kona is a global car, and in Europe they like lighter, agile small SUVs. The Seltos is built specifically for the U.S. consumers, although it also will be sold in India, but not in Europe. It is aimed at being a little more rugged and capable. With the extra ground clearance, you could do light off-roading with it."
On the road, we got 28.5 miles per gallon in combined city-highway driving, although when I realized we were mostly set in Sport, I switched it to the Smart normal setting and was able to get 32 mpg, which is very good for any SUV with all-wheel drive.
The Hyundai-Kia partnership also has a smaller SUV in the Hyundai Venue, while Kia's counterpart to that, Bell said, is the Stonic, being sold in Europe.
Kia has also gone its own way with the Soul, which Hyundai doesn't have but it has the Veloster, which Kia doesn't have. The Kia Optima, a beautiful companion to Hyundai's mainstream midsize Sonata, shares the matching restyling both have enjoyed for 2021, and the Optima will drop its name and become the K5, again going more aggressive with two turbo engines and an all-wheel-drive option.
Hyundai came out with the impressive Ioniq sedan, which can be had as hybrid, plug-in hybrid, or pure electric. Kia didn't get that, but got the Niro, styled more like a compact SUV with an all-electric version that has nearly 300 miles of range on a charge.
"We think the demand for electric cars is only going to increase over the next couple of years," Bell said. "As it is, we're making all that we can make right now."
It may be that by going their separate directions, Kia and Hyundai will expand their already elite level of market share. And the Seltos will be the light off-roader in the mix.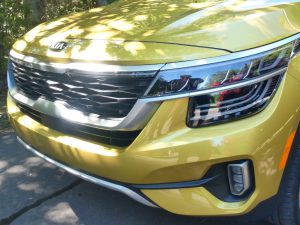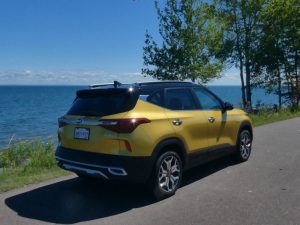 By John Gilbert
As purchasers of a vast array of automobiles, we in the U.S. have lost track of what passes for new technology. Some manufacturers spend more on advertising campaigns than on building better cars, because they are so addicted to bottom-line profits that they're content to try to convince a naive public that the low-tech equipment they've restyled is actually the high-tech cars we seek.
Then there's Mazda, a comparatively tiny manufacturer based in Hiroshima, Japan, but is loaded with brilliant engineers who not only stay on the cutting edge of technology but push the limits of what is possible to do with an automobile engine, while keeping its prices within reach of the average consumer, and also insisting that its cars maintain the simple belief that driving should be fun — embodied in the catch-phrase "Zoom-Zoom.".
I recently got a chance to test-drive a Mazda CX-30 compact SUV, and it had so many advanced technical goodies built into it that I wasn't sure what all it had.
Mazda already has an award-winning string of SUVs, from the compact CX-3, to the CX-5, and on up to the largest CX-9, and all of them over-achieve their targets. It didn't seem that there wasn't much of a gap between the smallest CX-3 and the CX-5 to squeeze another SUV between them, but Mazda thought differently. The CX-30 is right there, and sure enough, Mazda knew best, because the CX-30 relieves the concern that the CX-3 is almost but not quite big enough and that the CX-5 offers more room than a small family might need. The CX-5 is 179 inches long and the CX-3 measures 168 inches long, while the new CX-30 measures 173 inches in length — 5 inches longer than the CX-3 and 6 inches shorter than the CX-5.. The CX-30 wheelbase is 104.5 inches, 2.1 inches less than the CX-5.
I'm quite certain that anyone who considered either the CX-3 or CX-5 would find the CX-30 just right. Same with its pricer. It starts at the bargain rate of $21,900, although the test car was loaded up with what Mazda calls its Premium Package, which zooms the sticker up to $28,200 — still a bargain, particularly when you hear its ingredients.
It is fun to drive, quick and agile, and would probably be even quicker with only front-wheel drive. The test car had Mazda's exceptional all-wheel drive, which may aid handling in the dry and certainly will in the wet or snow.
A couple years ago, Mazda engineers completed a decade of plotting, planning and developing to make its Zoom-Zoom go around corners even better than its standard of excellence in handling. To over-simplify, the idea of turning abruptly to go around a left turn, for example, common sense tells us we want to stiffen the outside wheel's suspension and maybe give it an extra dose of power. Nay nay, says Mazda. Its engineers found exactly the opposite — if you start to turn in to the left and the power is reduced to the outside right front while its suspension is also softened just a bit, both for just a millisecond or two, you as the driver are emboldened that you've made the right choice to turn in at that spot.
You never feel anything because it's too quickly executed, but in fact, if you are a good and competent driver you will notice one astounding difference: You almost never, if not never, have to correct the steering wheel to get you back on the proper turning arc. You have become a much better driver, without doing anything. The turn-in point is attained with precision, the driver has more confidence, perhaps, but the big thing is that when you go around a race track 10 laps, or around two or three different blocks quickly to find a parking place, you shorten your routine from "turn, correct, over-correct, accelerate," to merely "turn and go."
My appreciation for Mazda's G-Vectoring is that I maintain most accidents happen with imprecise steering, when a driver turns, senses he's turned too far, and corrects to straighten out, which leads to possible over-correction and a challenge to controllability. But it doesn't take a genius to realize that if you never have to correct, then you definitely never over-correct.
A few years before that 10-year project found its way into all Mazda vehicles, the Hiroshima company's engineers decided that some companies were advancing with different methods of expertise, whether in combustion, valve-timing, tuning, or tolerances. So Mazda's engineers threw away their quite excellent little engines and started over with a clean sheet of paper, designing all-new methods for building high-tech engines from the ground up. The result was the "Skyactiv" technology, which took advantage of precise valve-timing and operation, and applied various types of high performance and high-economy tricks.
The engineers knew that getting maximum power and efficiency required high-compression, so they tuned their new 4-cylinder engines to attain 13.1:1 compression ratios. They also knew that if you made economy-minded buyers buy a car that required premium fuel, savings would be lost because of the 40-50-cent increase in cost per gallon. So they worked some sort of black magic to design 13.1:1 engines that pulled together all the best techniques and called only for regular fuel. The first upgrade of the Skyactiv is the Skyactiv-X engine, which deploys a spark-controlled compression-ignition technique for still more power and higher fuel efficiency.
Supposedly that will all be introduced on the CX-30 that will be introduced first in Europe as a 2021 CX-30 at the end of calendar 2020.
I also read a couple of introductory articles on the CX-30 in respected car magazines, and throughout the entire articles there was no mention of the extreme technology that is now commonplace on Mazda engines.
The jewel that was delivered to me in Duluth, Minnesota, was wearing the company's $595 optional Soul Red Chrystal Metallic paint. With proper restraint, I think that is the most dazzling factory paint job I've ever seen on a car. The red has such depth, you can look deep down into it to capture an almost-3D effect when the sun hits that metallic body.
Its engine has been enlarged to 2.5 liters, turning out 186 horsepower at 6,000 RPMs and 186 foot-pounds of torque at 4,000 RPMs. Sadly, to me, the high-revving 2.0 Skyactiv is no longer available on any Mazdas larger than the Mazda3 and CX-3. I've heard the corporate claims that the larger engine gets almost identical fuel economy to the 2.0, but in my tests, the 2.0 gets spectacular mileage and the 2.5 just OK fuel economy. On this test, the CX-30 gave me a high of 27 miles per gallon, and i would expect over 30 with the 2.0.
The 2.5 reportedly now offers cylinder deactivation too. But for the first time in my long test-reviewing career, I have so far been unable to secure information on whether the 2020 CX-30 has the intriguing spark-controlled compression-ignition.
So I tried to put all those details out of my mind and set out to just enjoy the classic sporty interior, with its black seats and trim, although I would suggest Mazda relook at the gloss black used so much for trim. Flat black reflects much less and leaves the drivers less-dazzled with style but also less bothered by the glare that can prevent you from making out the switchgear at a glance.
The test CX-30 came with all the safety and performance enhancements, such as dynamic stability with traction control, lane departure warning and assist, blindspot detection, radar controlled adaptive cruise control with stop-start, radar powered liftgate on the hatch — which opens to a large cargo area — and an impressive Bose Centerpoint 2 audio system with 12 speakers.
The seats are firm and comfortable, and the steering wheel not only feels just right in your grip, but the top arc of the wheel perfectly traces the curvature of the cowling over the instrument pod.
As usual, that all adds up to the parts all being tied together in a cohesive package of driving enjoyment, whether pushing it hard through some curves or cruising along the North Shore Drive of Lake Superior. Or find a cloverleaf and push it aggressively all the way around. You may not know, or care, about G-Vectoring, or Skyactiv-X engines, but you don't need to know any of those details to wring full driving enjoyment out of the CX-30. But if you ever take one for a test drive, at least push it hard enough around a corner and pay full attention to notice that you didn't have to correct your steering trajectory. It indeed makes you a better driver than you thought you were.
By John Gilbert
It's become ingrained among auto critics to call cars built by Toyota "boring" and likening them to appliances," which meant the Lexus luxury line models were probably "stylish appliances." It's going to take some adjusting, but those days have passed. When you examine the technical upswing of the 2020 models, it's obvious those long-suffering cocoons have released a whole range of  butterflies.
Toyota is such a huge company, with factories all around the world, building vehicles that were so trouble-free, the company reached the point of satisfaction. Everything Toyota built was basically bullet-proof as far as breakdowns were concerned, with strong, durable engines that would easily top 200,000 miles while housed in solid, safe vehicles.
Years slipped by, and competitors kept improving, but finally, a young man named Akio Toyoda became president of Toyota Motor Company. He is the grandson of Kiichiro Toyoda, the founder of Toyota Motors, but Akio is different. At age 64, he enjoyed sports and racing high-performance vehicles. And he determined that the boring title would be rendered to the scrap-heap, even if his company's cars never seemed to suffer that fate.
He sent some new model designs back to the drawing board, demanding sportier exteriors to accompany the resurgence back to the cutting edge of technology it had seemed to abandon, while Honda, Mazda, Nissan, and South Korean newcomers Hyundai and Kia went right on by. Without a doubt, the new Camry, Corolla, RAV-4, and other models, and their accompanying ad campaigns, indicate new recipes are boiling up on the menu.
The 2020 Lexus ES 300, for example, had always been a stretched Camry with bling, but the new car I got for a test drive was not just any ES 300. It was an ES 300h Ultra Luxury, where the "h" stands for hybrid, and which shows that the Japanese may still need to bring their naming concepts up to the car's new edge. This 300h is a long, low, slinky luxury liner, so "Ultra Luxury" is not inappropriate, if comparatively trite.
As you approach the car, the bold, sporty-car grille, sporting a new Lexus signature look, and blends into 6-headlight LED beams, and then that long, sensuous body. The grille itself, with its intricate fanning out of metal struts could probably hypnotize you if you stared at it long enough. It was placed on a new platform of its own one year ago, meaning the 2019 model got a head start on other Toyota and Lexus models making their way upward to new levels of stiffness and sophistication.
And while Toyota rules the world of hybrids with its ever-expanding Prius models, Toyota's "Hybrid Synergy Drive" has spent a decade using nickel-metal-hydride battery packs, but the test car has "Lexus Hybrid Drive" includes a slick Lithium Ion battery pack that sits low and flat under the rear seat to leave extra room in the rear seat and the trunk.
With a new platform and an appealing body, the ES 300 gets a new powertrain, with a 2.5-liter 4-cylinder gasoline engine coupled to that electric system. Together, they provide 215 horsepower, a commendable blend of power and fuel economy. It's one of those perception things — drive it, and use the paddle shifters on the beautifully designed steering wheel, and you will declare that the power is easily adequate for hauling your family around.
With front-wheel drive, the ES 300h handles with quick precision, and you also get a dashboard switch that allows you to click from Eco to Normal to Sport. Yes, paddle shifters and a Sport setting, encouraging you to add sporty driving to the mix, in a Lexus luxury sedan.
The transmission is an electronically controlled CVT (continuously variable transmission), but the paddles allow you to shift it as though you're using real gears on the other end of that cable. All working in concert, the car established EPA fuel economy estimates of 43 city and 44 highway. We didn't get out on the open roads enough, but we kept track and the computer indicated we got 42 miles per gallon in overall driving for a week.
New platform, new engine, new hybrid system, new controllable CVT transmission, perfectly tuned suspension, and all the proper electronic devices to prevent lane departure and sloppy parallel parking, and the rest of the attention can go to making sure the ES 300h lives up to its luxury heritage. Remember, this car began life as a fancy Camry for the Lexus line, and has now taken wing on its own.
The aniline-leather bucket seats are stunning when you first open the door, and the fine fabrics and trim of everything inside is just as impressive as you settle into that bucket seat. On the Ultra Luxury model — which boosts the base ES sticker from $45,660 to a still-reasonable $55,560 — the 17-inch alloy wheels are replaced by 18-inchers. The 2.0 Pre-collision warning system is in place, and there are countless other features that help you go, steer, and remain stable.
A dynamic handling suspension, radar cruise, lane-departure alert and lane-tracing assist, plus steering assist if you are too sleepy to stay centered in your lane are nice additions. There are 10 airbags scattered about the cabin, and an intuitive parking assist for parallel-parking-challenged drivers. The intelligent high-beam system has road-sign assist to alert you to the number you just overlooked, on the dash and on the head-up display.
The head-up display is enlarged to 10.2 inches, and the color display for multimedia is enlarged from 8.0 inches to 12.3 inches on the Ultra Luxury.
The basic sound system is probably real good, with 10 speakers and all, but the test car had been upgraded to the Mark Levinson surround system with 1,800 watts of power blowing your tunes through 17 different speakers, and simple duties like changing the station on your satellite radio system was complex enough that you should let your wife or chosen passenger bucket occupant play with it while you spend about a month getting acclimated.
Driving on the hillsides of Duluth, Minnesota, it was handy to use those paddles to direct the transmission to help contain your power going downhill, and we probably would have gotten better fuel economy if we weren't enjoying using the paddles to extract sporty performance and uphill acceleration quite so much. We got just over 40 miles per gallon, but decided the EPA estimates of 43 city and 44 highway would be reachable with a lighter right foot.
Lexus doesn't hesitate to wave some of its features in your face, either. The outside mirrors, for example, are "Electrochromatic Heated Outside Mirrors," and the front-seat buckets are "14-way aniline leather driver's seat, with the passenger seat 10-way power."
With the "Triple-Beam LED headlights" and stylish taillights announcing whether you're coming or going, if anyone refers to the Lexus ES 300h as an appliance, then my question is how can I get Toyota to build my refrigerator?
By John Gilbert
We were only a couple of days into our weeklong road test of the new 2020 Volkswagen Atlas Cross Sport when I turned south on 60th Avenue East from Superior Street toward London Road, and the Duluth gateway to the North Shore Drive. I was impressed by the Atlas, because pretty much everything is impressive with the SEL Premium model, and I hadn't yet closely examined what makes the Cross Sport different from the garden-variety Atlas.
There is a hiking/biking trail that crosses 60th, just about 10 feet before you cross a set of railroad tracks. I was going about 20 miles per hour, no hurry, and not fast enough to give us any jolts from the railroad tracks.
Suddenly, there was a terrible noise and the Atlas Cross Sport lurched to a stop. Very sudden. Fortunately, I had experienced the same jolt in previous road tests, so I recovered my decorum right away. What it was, was what the VW information refers to as "forward collision detection and assist," and this was definitely in the "assist" category. The finely discerning VW system with its radar, sonar, camera and computer system all coordinated, spotted the railroad tracks as a nasty enough hazard to help me decide that I shouldn't just sail over it. It helped me decide by deciding for me, that I should be stopped, and then maybe creep over the hazard.
Pretty impressive safety item, particularly for objects you might not see in the road ahead, and it could prevent you from hitting somerhing you and your VW would be better off not hitting.
There are a lot of other neat features in the new Volkswagen Atlas Cross Sport, which is an intriguing look at what VW is thinking these days, but none of them makes a more abrupt impression.
Volkswagen came out with the Atlas a couple years ago, as a vehicle that sits taller than the Jetta or Passat, and is up there amid the segment already populated by VW's two SUVs — the Tiguan and the Touareg — but which defies accurate description. Is it a wagon, or a bulky sedan, or a sleek SUV? The answer is: All of the above.
When you line up the Golf GTI, Jetta, Passat, Atlas, Tiguan and Touareg door-handle to door-handle, they all share the newly christened VW signature look, with their wide, sweeping grilles, blending stylishly into the headlight enclosures. Now add the Atlas Cross Sport, and you get yet another similar grille.
From the side, the Cross Sport looks sleek, because it has a nicely tapering rear roofline, with sloped-back rear pillars, where the Atlas itself is more upright. That tapering adds to style, but it also fools you into needing to look up the statistics. The Atlas is a pleasant, roomy vehicle with three-row seating capability, and a large amount of headroom. It sits well, meaning its body fits on its frame as though it belongs there. But VW realized a lot of people don't need three rows of seats, and usually leave the third row folded down, and by squeezing in room for the third row, the second row legroom is tightened.
So engineers carved nearly 6 inches off the length of the Atlas, leaving the wheelbase the same, but taking it all off the front and rear overhangs. The Cross Sport length is 195.5 inches, but it suddenly finding more room available inside the shorter body. The second row seat is fixed into the floor, and it is set back from the normal Atlas, which means nearly 3 inches more legroom for rear-seat occupants.
Our son, Jack, noted that there was an amazing amount of legroom, as well as the headroom he had assumed would be there.
Performance wise, the Atlas Cross Sport has the same powertrains as the regular Atlas, which means a couple of venerable standards — the 2.0-liter 4-cylinder, which is among my favorite engines in the world when turbocharged into the GTI, and the 3.6-liter V6, which is unique among all V6 engines in the world, because it is designed to be narrow, with actually the cylinders interwoven in a serpentine manner. That allows streamlining in the valve train, and it turns out a lot of power without turbocharging.'
The test Atlas Cross Country had the optional 3.6 V6 with its 4Motion all-wheel drive, and it delivers 276 horsepower with 266 foot-pounds of torque, good enough to accelerate strongly with its 8-speed Tiptronic transmission, or hitched up to tow 5,000 pounds of trailer weight.
Along with the forward collision assist, and the usual safety items, there is a hill-holding system and a hill descent control, plus park assist and lane-keeping assist A large, twin panel sunroof covers both rows of seats, and with a 15-way adjustable bucket seat, you can find a perfect driving position. Rain-sensing wipers, giant 20-inch wheels, and an 8-inch touchscreen for navigation and other audio and climate readouts.
A Fender Premium Sound system fills the cabin with sound, and the premium leather and appropriately soft-touch but durable feeling fabrics cover everything in the notably black interior. But those special little touches abound, too.
For example, whenever I get in a car, I lower the pillar anchor for the shoulder strap to its lowest possible position, simply because I believe you're safer with a low-set harness compared to a higher one. Well, on the Cross Sport, VW has installed lower anchors and tethers for the harnesses, the better to keep children properly restrained.
The SEL Premium has everything upgraded inside and out, and even park assist and lane-keeping assist are standard, so there were no options on the sticker price, which sits at $48,095 after destination.
As usual with every vehicle VW makes, there is a sturdy, solid feel to the Atlas Cross Sport, and it rides smoothly and then turns with poised agility when you make a sharp turn. It also will twirl a u-turn in an amazingly small distance. Just watch out for railroad tracks!
By John Gilbert
In the old days, Chevrolet took care of all the size requirements for SUVs by offering small (Blazer), medium (Tahoe) and large (Suburban). Of course, those intentions expanded to the 2020 model year, when Chevrolet stretches from the largest Suburban, to the Tahoe, then the midsize Traverse, down to the reimagined Blazer, the compact Equinox, the more-compact Trax, and the also-compact TrailBlazer.
There was a recent time when fuel economy restrictions caused a realistic elimination of the largest vehicles and a splurge of the compacts. But my memory was challenged recently, after I test-drove and reported on the new Chevrolet Equinox, which surprised me because it performed well and handled impressively in its latest form.
Most recently, I got a Traverse to test for a week, and when I first laid eyes on it, I was impressed by the shapely form that made it look modern and sporty, with a dash of luxury. When I climbed into the driver's seat, I was impressed with the amount of room, and when I hit the ignition button and stepped on the gas, it took off with a bit of a jolt, and it showed tendencies for power whenever I touched the gas.
Always looking for the reasons a company builds a certain vehicle, I thought it was curious that the new midsize Traverse seemed to have grown into something larger than midsize. In fact, I thought the Traverse might have been a flashback for Chevy, to the days when it built vehicles that were always a little bigger than last year's models, gradually luring us to buying bigger vehicles that were, yes, less fuel-efficient, while hauling larger groups of people.
Because of the difficulty I had estimating the dimensions whenever I tried to park the Traverse, and the way it seemed almost cumbersome whenever I tried to take a corner with a dose of performance, the Traverse's size bothered me. The old rule still works, that if you need more room you have to sometimes build the vehicle bigger, but the Traverse seemed to have grown large enough to intrude on the Tahoe's turf.
The Equinox, which I declared "big enough" for almost any family's duties, seemed like a compact sporty-car by comparison. True, the Traverse has a larger 3.6-liter V6 with 308 horsepower and 270 foot-pounds of torque compared to the Equinox, and it will haul seven, if you fill all three rows. But my curiosity had to do with comparisons to the larger Tahoe — which itself has grown in its all-new form to rival the gigantic Suburban.
After a little detective work I found that the Traverse is 204.3 inches long, with a wheelbase of 120.9 inches, and 98.2 cubic feet of cargo space if you fold the second and third rows down, which shrinks to 23.0 cubic feet if all the seats are in sitting position. The new Tahoe is 210.7 inches long, with a 120.9 wheelbase identical to the Traverse, but that is for a 2021 Tahoe. If we drop back to the current 2020 Tahoe, the overall length is 204 and wheelbase 116 inches.
So my hunch was correct. The Traverse is slightly longer than the current Tahoe, with a longer wheelbase. But Chevrolet, in order to make room for it, slyly increased the Tahoe by 6 inches in length for the 2021 model, boasting that it's bigger than ever, and staying larger than the fattened-but-sleeker Traverse, which is also "bigger and better."
In normal combined driving in and around Duluth, Minnesota, with its hills, the best we got in fuel economy was 23.7 miles per gallon, which is OK for the size of the Traverse, but leaves it at a deficit against some of the top Asian and European models, to say nothing of Ford's EcoBoosted 4-cylinders.
But if it seems as though General Motors might have slipped a cog in its advancement toward better economy, the Traverse has a lot of impressive features that can help justify the "High Country" test vehicle to rise from a $40,000 base price to a sticker of $54,395.
It has all-wheel drive, of course, and a 9-speed automatic that handled its power, even if it did seem to launch with a drag-racing jolt. The 20-inch wheels are polished aluminum, and the safety features are plentiful. Rear cross-traffic alert, lane change alert, blind side alert, forward collision alert, are augmented by lane-keep assist, enhanced emergency braking, front pedestrian braking, and forward collision alert.
A large, dual-pane sunroof and LED lights all around, plus a hands-free lift gate and remote starting are nice features. The seats are leather trimmed, and the front bucket are heated and cooled, and the second-row seats are also heated. The premium audio system and navigation and a 10-speaker Bose coordinates through an 8-inch diagonal touchscreen.
The second row of seats was comfortable buckets, and the sliding second row moved forward to allow easier access to the third row. Granted, the third row is a split bench best-suited for tiny people, like children, and will probably spend almost all its life folded flat into the floor. Still, if you have only occasional need for a third row to increase occupancy from five to seven, you could appreciate it. Same as the 5-star crash test stature.
Actually, there are no options for the $54,395 price tag. The base, front-wheel-drive Traverse starts at $40,000, but as you move up in features and conveniences, you get up to the top model in the fleet, which is the High Country, and that is $53,200. Final assembly is in Lansing, Mich., with the engine built in Mexico.
The Traverse has an attractive look, and might well appeal to everybody up to and including a Tahoe buyer, and my only cautioning idea is to also check out the more compact but surprisingly roomy Equinox. Especially if you take comparison test-drives around a cloverleaf.