By John Gilbert
We were only a couple of days into our weeklong road test of the new 2020 Volkswagen Atlas Cross Sport when I turned south on 60th Avenue East from Superior Street toward London Road, and the Duluth gateway to the North Shore Drive. I was impressed by the Atlas, because pretty much everything is impressive with the SEL Premium model, and I hadn't yet closely examined what makes the Cross Sport different from the garden-variety Atlas.
There is a hiking/biking trail that crosses 60th, just about 10 feet before you cross a set of railroad tracks. I was going about 20 miles per hour, no hurry, and not fast enough to give us any jolts from the railroad tracks.
Suddenly, there was a terrible noise and the Atlas Cross Sport lurched to a stop. Very sudden. Fortunately, I had experienced the same jolt in previous road tests, so I recovered my decorum right away. What it was, was what the VW information refers to as "forward collision detection and assist," and this was definitely in the "assist" category. The finely discerning VW system with its radar, sonar, camera and computer system all coordinated, spotted the railroad tracks as a nasty enough hazard to help me decide that I shouldn't just sail over it. It helped me decide by deciding for me, that I should be stopped, and then maybe creep over the hazard.
Pretty impressive safety item, particularly for objects you might not see in the road ahead, and it could prevent you from hitting somerhing you and your VW would be better off not hitting.
There are a lot of other neat features in the new Volkswagen Atlas Cross Sport, which is an intriguing look at what VW is thinking these days, but none of them makes a more abrupt impression.
Volkswagen came out with the Atlas a couple years ago, as a vehicle that sits taller than the Jetta or Passat, and is up there amid the segment already populated by VW's two SUVs — the Tiguan and the Touareg — but which defies accurate description. Is it a wagon, or a bulky sedan, or a sleek SUV? The answer is: All of the above.
When you line up the Golf GTI, Jetta, Passat, Atlas, Tiguan and Touareg door-handle to door-handle, they all share the newly christened VW signature look, with their wide, sweeping grilles, blending stylishly into the headlight enclosures. Now add the Atlas Cross Sport, and you get yet another similar grille.
From the side, the Cross Sport looks sleek, because it has a nicely tapering rear roofline, with sloped-back rear pillars, where the Atlas itself is more upright. That tapering adds to style, but it also fools you into needing to look up the statistics. The Atlas is a pleasant, roomy vehicle with three-row seating capability, and a large amount of headroom. It sits well, meaning its body fits on its frame as though it belongs there. But VW realized a lot of people don't need three rows of seats, and usually leave the third row folded down, and by squeezing in room for the third row, the second row legroom is tightened.
So engineers carved nearly 6 inches off the length of the Atlas, leaving the wheelbase the same, but taking it all off the front and rear overhangs. The Cross Sport length is 195.5 inches, but it suddenly finding more room available inside the shorter body. The second row seat is fixed into the floor, and it is set back from the normal Atlas, which means nearly 3 inches more legroom for rear-seat occupants.
Our son, Jack, noted that there was an amazing amount of legroom, as well as the headroom he had assumed would be there.
Performance wise, the Atlas Cross Sport has the same powertrains as the regular Atlas, which means a couple of venerable standards — the 2.0-liter 4-cylinder, which is among my favorite engines in the world when turbocharged into the GTI, and the 3.6-liter V6, which is unique among all V6 engines in the world, because it is designed to be narrow, with actually the cylinders interwoven in a serpentine manner. That allows streamlining in the valve train, and it turns out a lot of power without turbocharging.'
The test Atlas Cross Country had the optional 3.6 V6 with its 4Motion all-wheel drive, and it delivers 276 horsepower with 266 foot-pounds of torque, good enough to accelerate strongly with its 8-speed Tiptronic transmission, or hitched up to tow 5,000 pounds of trailer weight.
Along with the forward collision assist, and the usual safety items, there is a hill-holding system and a hill descent control, plus park assist and lane-keeping assist A large, twin panel sunroof covers both rows of seats, and with a 15-way adjustable bucket seat, you can find a perfect driving position. Rain-sensing wipers, giant 20-inch wheels, and an 8-inch touchscreen for navigation and other audio and climate readouts.
A Fender Premium Sound system fills the cabin with sound, and the premium leather and appropriately soft-touch but durable feeling fabrics cover everything in the notably black interior. But those special little touches abound, too.
For example, whenever I get in a car, I lower the pillar anchor for the shoulder strap to its lowest possible position, simply because I believe you're safer with a low-set harness compared to a higher one. Well, on the Cross Sport, VW has installed lower anchors and tethers for the harnesses, the better to keep children properly restrained.
The SEL Premium has everything upgraded inside and out, and even park assist and lane-keeping assist are standard, so there were no options on the sticker price, which sits at $48,095 after destination.
As usual with every vehicle VW makes, there is a sturdy, solid feel to the Atlas Cross Sport, and it rides smoothly and then turns with poised agility when you make a sharp turn. It also will twirl a u-turn in an amazingly small distance. Just watch out for railroad tracks!
By John Gilbert
In the old days, Chevrolet took care of all the size requirements for SUVs by offering small (Blazer), medium (Tahoe) and large (Suburban). Of course, those intentions expanded to the 2020 model year, when Chevrolet stretches from the largest Suburban, to the Tahoe, then the midsize Traverse, down to the reimagined Blazer, the compact Equinox, the more-compact Trax, and the also-compact TrailBlazer.
There was a recent time when fuel economy restrictions caused a realistic elimination of the largest vehicles and a splurge of the compacts. But my memory was challenged recently, after I test-drove and reported on the new Chevrolet Equinox, which surprised me because it performed well and handled impressively in its latest form.
Most recently, I got a Traverse to test for a week, and when I first laid eyes on it, I was impressed by the shapely form that made it look modern and sporty, with a dash of luxury. When I climbed into the driver's seat, I was impressed with the amount of room, and when I hit the ignition button and stepped on the gas, it took off with a bit of a jolt, and it showed tendencies for power whenever I touched the gas.
Always looking for the reasons a company builds a certain vehicle, I thought it was curious that the new midsize Traverse seemed to have grown into something larger than midsize. In fact, I thought the Traverse might have been a flashback for Chevy, to the days when it built vehicles that were always a little bigger than last year's models, gradually luring us to buying bigger vehicles that were, yes, less fuel-efficient, while hauling larger groups of people.
Because of the difficulty I had estimating the dimensions whenever I tried to park the Traverse, and the way it seemed almost cumbersome whenever I tried to take a corner with a dose of performance, the Traverse's size bothered me. The old rule still works, that if you need more room you have to sometimes build the vehicle bigger, but the Traverse seemed to have grown large enough to intrude on the Tahoe's turf.
The Equinox, which I declared "big enough" for almost any family's duties, seemed like a compact sporty-car by comparison. True, the Traverse has a larger 3.6-liter V6 with 308 horsepower and 270 foot-pounds of torque compared to the Equinox, and it will haul seven, if you fill all three rows. But my curiosity had to do with comparisons to the larger Tahoe — which itself has grown in its all-new form to rival the gigantic Suburban.
After a little detective work I found that the Traverse is 204.3 inches long, with a wheelbase of 120.9 inches, and 98.2 cubic feet of cargo space if you fold the second and third rows down, which shrinks to 23.0 cubic feet if all the seats are in sitting position. The new Tahoe is 210.7 inches long, with a 120.9 wheelbase identical to the Traverse, but that is for a 2021 Tahoe. If we drop back to the current 2020 Tahoe, the overall length is 204 and wheelbase 116 inches.
So my hunch was correct. The Traverse is slightly longer than the current Tahoe, with a longer wheelbase. But Chevrolet, in order to make room for it, slyly increased the Tahoe by 6 inches in length for the 2021 model, boasting that it's bigger than ever, and staying larger than the fattened-but-sleeker Traverse, which is also "bigger and better."
In normal combined driving in and around Duluth, Minnesota, with its hills, the best we got in fuel economy was 23.7 miles per gallon, which is OK for the size of the Traverse, but leaves it at a deficit against some of the top Asian and European models, to say nothing of Ford's EcoBoosted 4-cylinders.
But if it seems as though General Motors might have slipped a cog in its advancement toward better economy, the Traverse has a lot of impressive features that can help justify the "High Country" test vehicle to rise from a $40,000 base price to a sticker of $54,395.
It has all-wheel drive, of course, and a 9-speed automatic that handled its power, even if it did seem to launch with a drag-racing jolt. The 20-inch wheels are polished aluminum, and the safety features are plentiful. Rear cross-traffic alert, lane change alert, blind side alert, forward collision alert, are augmented by lane-keep assist, enhanced emergency braking, front pedestrian braking, and forward collision alert.
A large, dual-pane sunroof and LED lights all around, plus a hands-free lift gate and remote starting are nice features. The seats are leather trimmed, and the front bucket are heated and cooled, and the second-row seats are also heated. The premium audio system and navigation and a 10-speaker Bose coordinates through an 8-inch diagonal touchscreen.
The second row of seats was comfortable buckets, and the sliding second row moved forward to allow easier access to the third row. Granted, the third row is a split bench best-suited for tiny people, like children, and will probably spend almost all its life folded flat into the floor. Still, if you have only occasional need for a third row to increase occupancy from five to seven, you could appreciate it. Same as the 5-star crash test stature.
Actually, there are no options for the $54,395 price tag. The base, front-wheel-drive Traverse starts at $40,000, but as you move up in features and conveniences, you get up to the top model in the fleet, which is the High Country, and that is $53,200. Final assembly is in Lansing, Mich., with the engine built in Mexico.
The Traverse has an attractive look, and might well appeal to everybody up to and including a Tahoe buyer, and my only cautioning idea is to also check out the more compact but surprisingly roomy Equinox. Especially if you take comparison test-drives around a cloverleaf.
By John Gilbert
Deciding what vehicle to buy at a Mercedes-Benz dealership is a lot like making a menu selection at "Alice's Restaurant" — Arlo Guthrie's iconic song. The great line from the chorus — "You can get anything you want, at Alice's Restaurant" — can be duplicated when looking over the delectable selections from Mercedes, which includes assorted tasty cars and SUVs.
The SUV world is running red-hot these days, and something like half of all SUVs fall into the compact or small segment. That had to make it tough for Mercedes, that proud company from Stuttgart, Germany, that invented the first automobile back before the 20th Century, and remains greatly responsible for what has become the crazy automotive world. After establishing its plateau for luxury and class, it was one thing to branch into the large SUV market, but quite different to build a compact utility vehicle.
But Mercedes has made the leap, and the 2020 GLB 250 is a remarkable example of what a company — a great company, at that — can do to command a slot in a segment that has to be out of its comfort zone.
Mercedes, of course, in its uncompromising way, creates an internal battle for supremacy with the GLB. There might be a question of how inexpensive can Mercedes make an SUV, or how expensive it dares make it. Same with its size, can a compact SUV house three rows of seats with the accommodations Mercedes is known for?
The GLB 250 checks all the boxes. With larger SUVs like the GLS and GLE out there, the company also turns out the GLC, which won Motor Trend's SUV of the Year for 2017, so the intramural targets were in place and meant Mercedes engineers didn't need to look outside for competition, although it is plentiful.
At a glance, the GLB has smooth lines but with more of a blunt look to it, snub-nosed and fairly tall, which allows a lot of interior ingredients. That includes a third-row of temporary seats, which will probably spend most of their career folded down into a flat and convenient floor for storage. The second row also folds down flat, while also sliding and reclining to add to the occupants' comfort.
The 2.0-liter 4-cylinder engine performs well, and is part of a highly technical approach Mercedes has taken with the GLB. While other, larger Mercedes SUVs are built on a large-vehicle rear-drive platform, this one is built on a compact front-wheel-drive chassis, and the power of 221 horsepower and 258 foot-pounds of torque are applied via an 8-speed dual-clutch transmission, and the 4Matic all-wheel drive system operates normally through front-drive only, with the all-wheel-drive kicking in only when the system detects the tendency for the front wheels to spin.
You don't feel all that mechanical operation, of course. It drives smoothly and its shifts are close to imperceptible, but right on, for keeping you in a proper power band.
Now we get to the price discrepancy. The test GLB 250 had a base price of $38,600, and it comes equipped with a lot of convenient features: the 4Matic, automatic stop-start, keyless start as well as entry, power lift-gate, rain-sensing wipers, Bluetooth with Apple CarPlay or Android Auto, LED head and tail lights, active assists for braking, antilock, electronic stability, rearview camera, black and red leather seats, Linden wood trim, and multi way power front buckets. You could own this vehicle for a long time with only those features and be a very happy traveler.
But now tell me which of the optional features you would gladly do without: Exclusive AMG sport steering wheel, panoramic roof, adjustable damping suspension, Burmester audio system, wireless charging, 20-inch black alloy wheels, a Driver Assistance package with active braking assist, cross-traffic Distronic X braking, emergency assisted steering, blind-spot assist, lane-changing alert, lane-keeping assist, and active assists for emergency stopping and steering. Other options include parking assist, exterior ambient lighting and a navigation map that updates itself for changing road conditions.
That's nearly $20,000 worth of optional equipment, but all of it has great value in enhancing safety or comfort or convenience — even though it boosts the sticker price up to $57,800.
Adding to the enjoyment of driving the GLB 250, paddle shifters allow manual overriding of the 8-speed, and the suspension adjusts to comfortable firmness. Fuel economy is 23 miles per gallon city, 31 highway, and an average of 26 mpg. We found we got 28-32 even in city driving if we used the turbocharged power judiciously.
With its style and panache, the GLB will fit in well with its larger siblings in the Mercedes showroom, and more than most of the others, it can be bought as a "stripped down" economy SUV, or as a sporty-luxury SUV that you have to pay more to obtain. Maybe the best of both worlds, expanding the way you can get anything you want…at your closest Mercedes dealership.
By John Gilbert
With travel severely limited during the Covid-19 pandemic, there still are some gems available. One popped up while road-testing the 2020 Infiniti QX80 — yes, the big one — for a week in Duluth, Minnesota. Word made the national news that Vikre Distillery in Duluth had changed over its operation to make hand sanitizer, and it was giving away the stuff free as a public service gesture to anyone who stopped by with a modest sized vessel at their shop, located in the shadow of the famous Aerial Bridge.
My wife, Joan, is more of a neat and tidy type than I am. She's one of those who, on the rare occasion when I attempt cleaning something thoroughly, she will immediately complain how grungy it is. So she was enthused to accompany me downtown, driving through what seemed like a ghost-town via all the vacant roadways. She does share my feelings about SUVs and trucks that are too big — far too large for the person, couple, or small family that universally seems to be driving them, and as we drove, I pondered how big the QX80 really was.
It steers and handles well enough, for a large vehicle, and those 22-inch Bridgestone tires on stylish alloy wheels could probably crush a compact car if one got in its path. The big V8 and the enormity of the QX80 were well-matched, but I couldn't help thinking of the various smaller Infiniti SUVs that are among my favorites in the whole industry. Compared to those, the QX80 seems too tall, too hefty, too big, and like a huge block to house all it has.
I parked and walked around the rear of the QX80 with my 16-ounce jug in hand, past a couple of men talking to each other on the sidewalk. Being a non-drinker, it was my first time inside the Vikre shop, and I was greeted by a friendly staff person who filled my jug out of the spigot and sent me off, out of the one-customer-at-a-time restriction.
I walked back up the sidewalk, past the two fellows still talking there, and one of them said: "Hey, great-looking vehicle you've got there. Very impressive!"
"Thanks," I said, explaining that I was just test-driving it, before I climbed in the driver's door.
Now, regardless of its size, the QX80 was a dazzling metallic red that almost seemed to flow off its high stack of sheetmetal, and maybe the color inspired this fellow's comment, but he meant the vehicle itself, its shape and size, for being impressive. It made me realize, suddenly, that it takes all kinds to make up our car-buying society, and what might seem too big for some is just right for others. I must admit, I appreciated the contours of the QX80 much more for the rest of the week.
Over the years, I've watched the vast herd of sport-utility vehicles rise from only a couple to everybody's-got-one status, so I try to judge each one within the perspective of its own size, suppressing my original belief that if you need a big truck for hauling stuff, then get a big one, but don't get anything bigger than you need, because to drive an enormous SUV around for status, when you might need a lot of storage room twice a year, is a waste.
Among the 50 or so SUVs on the market right now, every manufacturer started out pretty big but then expanded downward after the competition discovered crossing over to car-based platforms that allowed continuous downsizing, suddenly attracting smaller families while also increasing performance and agility without heft.
Nissan is a big player in the SUV world, both on its own and under its upscale Infiniti line. Most recently, Nissan's compact Rogue has taken charge of all Nissan sales, leading the way ahead of some impressive sedans, such as the Altima, Maxima, Sentra and Versa. Nissan also has its sturdy Pathfinder midsize SUV, it also went after the large end of the spectrum about a decade ago with the Armada, a stout competitor for everybody else's big-body flagships.
When it comes to Infiniti, Nissan graced its luxury line with a fleet of sleek, swift, high-tech SUVs, some with high-performing turbocharged 4-cylinder engines, and most benefitting by actual transmissions instead of the sometimes annoying continuously variable transmissions found in most Nissans. Up at the top end of the Infiniti herd is the QX80 — the king of all it surveys in Infiniti-land, which is a lot, particularly if you happen to be standing atop its roof. The QX80 is, in a word, huge, at 210 inches long, 80 inches wide, and 76 inches high.
That's tall, folks. Taller than any owners and occupants, unless they are over 6-foot-3. That means climbing aboard is a chore, made easier by a variety of solid grip-handles located strategically at all four doors.
While driving the QX80, there are several impressive elements you can't escape noticing. One is the power — it takes off with the roar and punch of a 5.6-liter V8, and, typically, this piece of machinery has dual overhead camshafts on either bank of cylinders, and those pistons play an impressive tune, remindful of the good-old days when we could drive pony cars, or Z-cars, and coax that racetrack-like roar out from under the hood.
The QX80, like Nissan's Armada, of course, has benefitted by the corporate pickup truck venture. When they made the full-size Titan, the engineers wanted it to pull with the best of the competition, so it installed the big 5.6-liter V8 under the hood, helping it run away from competitors — except when it came to fuel economy. As an aside, while I've always been someone who pays close attention to fuel efficiency, I've always cut the Titan some slack because if a pickup buyer needs to haul or tow heavy things, paying a bit more for fuel probably is worth the tradeoff.
After a decade or so of refinement, that 5.6-liter V8 is better than ever, snarling and putting 400 horsepower down on the asphalt, with 413 foot-pounds of torque zipping you off from a standing start, with or without the maximum 8,500 pounds of towing trailing obediently.
QX80s come in various models, and the test-vehicle was the Limited All-Wheel Drive — top of the list. Equipped with everything Nissan could put on it from a performance, luxury, safety, comfort, and convenience standard, the QX80 Limited AWD lists for $93,795.
For that, you can shop all sorts of competitors, from the top Chevrolet Suburbans, Cadillac Escalades, Lincoln Navigators, to the best Lexus, BMW or Mercedes SUVs and not find yourself out of financial range. But $94,000 is a lot of money.
To reach that price segment, the QX80 has richly appointed leather seats for six, because it had the two captain's chairs in the second row, while a three-across bench is available to boost capacity to seven. The wood and metal trimmed dash and doors house an impressive navigation screen that tells all about the safety items that you've activated, as well as the frequencies of the high-powered Bose audio system, with its 17 speakers.
In the rear, the buckets flip forward with the touch of a lever, to assist the ease to climb into the third-row bench seat. It's not like your living room back there, but there is sufficient space to carry a couple adults on a trip. Sitting in the second row, you have large, 8-inch monitors imbedded into the front seat headrests, so you can independently watch your own thing or play your own game.
Quite the family hauler. Up front, the driver seat adjusts 12 ways, the passenger seat 10 ways. All the contemporary safety and security systems for handling and braking are in place, with lane departure warning and assist, blind spot alert, front sensors that detect anything in your path, including pedestrians, and rear backup warning with collision intervention. The QX80 also has hill-start assist to make sure you don't roll backward on a sharp hill.
Such items as remote start and high-beam assist are nice features, certainly not out of place on the QX80. And the Apple Car Play and other connectivity alternatives have a WiFi hot spot of its own.
Smooth cruising on freeways is also standard, and the 7-speed automatic transmission is adaptable through a manual mode, while operating the all-mode all-wheel drive, which can be switched form automatic to 4WD High and 4WD Low. Mode control helps go from snow to towing settings, in case you want to pull your neighbor's 8,500-pound rig out of a snowdrift.
Joan and I remain committed to lighter, more agile and smaller SUVs that can reach 30 miles per gallon — which would be double the 15 we registered on the hillsides of Duluth with the QX80. But we also can look past the beautiful paint job to appreciate the utility of the extra large Infiniti. Besides, we've gotten great use out of our dispenser of hand sanitizer, and every time I pump a dose of it, I can't help thinking about that fellow on the sidewalk who truly appreciated the size, shape and color of the QX80. Even if it was a bit large to use as a conveyance for a small jug of sanitizer.
John Gilbert
Maybe Cadillac is planning to give us all a quiz. Line up all the luxury car buyers and see if they can identify and distinguish among an ATS, a CTS, an XT4, an XT6, a CT6, an XTS, the XRS, and an XT5.
Then ask us all which ones are cars, which are SUVs, and which are a combination, sort of combining the station wagon of the old days, the crossover SUVs so popular today, and the luxury sedan that we used to know and love. So long, Coupe deVille!
The XT5, which I recently road-tested for a Coronavirus Pandemic week of social distancing around Duluth, Minnesota, and which is this week's subject, caught me my surprise. I've driven several Cadillac models, as General Motors' elite brand tries to pull itself up to compete with the best luxury vehicles from Germany, Japan, the UK, and even Korea.
As an aside, I am a purist for type-face fonts, wherever they appear and whatever they are supposed to identify. For example, I absolutely hate the futuristic font on the Minnesota Vikings uniform numbers, with serifs jutting up, looming down, or melting off the edges, everywhere. I want to be able to distinguish the numbers at a glance, and uniform numbers should be as simple and straightforward as possible — maybe make them italic, if you want to get daring. The numeral 5, for example, should have the top horizontal bar end, just end, as it ventures to the right. If you put a serif on the tip of it, now that bold bar turns downward, and at a glance you have no idea whether it's an S or a 5.
With that in my brain, when I saw I was going to get an "XT5" for a test, I was certain it was a mistake of tiny print and I was going to be an XTS — which I've driven, but is always pleasant to drive.
This time, howerver, Cadillac can celebrate scoring an "Aha moment" on me when the vehicle showed up as a quite sleek, station-wagon-wannabe, with nice lines and the dramatic grille Cadillac has featured recently. When I pulled out the equipment sticker, it said "2020 XT5 Sport AWD."
No serifs, so the 5 is a 5 is a 5, as it were. I had driven an XT4, which is similar and powered by a 2.0-liter turbo 4-cylinder. And I'd driven an XT6, which came with a 4, a V6, a V8, and turbo versions of most.
So I had to do a little research on the XT5 Sport. And then I figured the heck with it — let's drive!
Impressive interior, high-tech switchgear, comfortable bucket seats, in white leather, thank you, and only a requisite few minutes to make sure I realized how the shifter works.
With all the LED lights and accent lights and ambient identifying lights on the roadway below your doors and tailgate at night, the XT5 certainly signals when it arrives or departs or stops to let you in or out. A panoramic sunroof covers both front and back buckets, and the storage area in back has a neat, sliding, vertical aluminum barrier that you can use to isolate grocery bags or other items to prevent them from flying around.
Most impressive is when you get into the driver seat and pull the shift lever to "D" and pull out into traffic. Swift and sure, this thing has enough power to keep up with any of the luxury cars or SUVs, even if you're still not sure which category this belongs to.
The test car, being a Sport model, rises above the 2.0 turbo and was fitted with the venerable 3.6-liter V6, with direct injection, turning out 310 horsepower at 6,700 RPMs, and 271 foot-pounds of torque at 5,000 RPMs. The engine is mounted in front, and is either front-wheel-drive or all-wheel-drive, with a twin-clutch unit controlled by a 9-speed automatic transmission that can be manually operated via paddles on the steering wheel.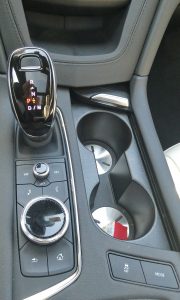 I may be one of the rare auto journalists who likes and uses paddles, because I'm a long-standing stick-shift guy, and being able to run the revs up and shift when you want, or using the left paddle to downshift — a huge advantage when you drive down one of the many ultra-steep avenues in Duluth, without any threat of sailing right on into the bay.
There is a luxury version above this Sport, but this one had enough high-tech options to boost the price from $55,000 to $59,340, including the advanced visibility and tech package. Oh, and the attractive "Shadow Metallic" paint is worth $625.
If you think the XT5 seems a little longer than you anticipated, it is. It came to life to replace the SRX two years ago, and it rides on the new redesigned Cadillac "global" chassis. That stretches the XT5 out 7 inches longer than the old SRX, with a wheelbase 2 inches longer, and the track 1 inch wider.
Modern building techniques and materials conspire to make the XT5 slightly smaller and sleeker-looking than the SRX was, yet with more interior room to play with. Most of that was spent on improving rear seat riding in the two-row vehicle, with 3.2-inches more legroom, and the added feature of reclining rear seats.
The ride is comfortable and the luxury of real wood, real carbon-fibre, and real leather makes a strong impression. The handling feel is good, too, and for a big vehicle, its agility is very good. For some reason, I found that in performance steering, there was a little looseness between the steering wheel and the agility. But that might be because I had the mode set to "Tour" rather than a higher performance Sport setting, which might have taken care of my nitpick.
All of the contemporary connectivity stuff is on board, and thankfully Cadillac has improved its "Cue" system to not go haywire every time you tried to change the station or go to a different screen on the dash unit.
One other catchy attraction is that the XT5 had the optional 20-inch wheels, mounted with 255-35/20 Michelin tires that helped keep us planted in every sortie.
Not sure how much importance buyers of a $60,000 Cadillac car-wagon-suv vehicle would put in fuel economy, but with EPA estimates of 18 city, 25 highway, we averaged 20-24 mpg in mostly city driving.
This might be among the most impressive vehicles Cadillac has brought out in a decade or two, but remember, if you go into a showroom to check one out, jot down the numbers and letters that matter most — "X," "T," and "5." Hold the serifs.