By John Gilbert
If you want to escape from the rigors of Northern U.S. wintertime, what better destination than sunny Italy? It doesn't seem as logical to go from Italy to Northern Minnesota's ice-locked clime in January, but that's what my little red Fiat 500x did for a week.
I knew it was not overmatched, when we got hit with a Duluth-quality blizzard of 6-8 inches of snow, followed by a bone-chilling 20-below-zero frigid spell. My wife, Joan, delivered a bowl of hot oatmeal in the dawn's early light, and as I finished a follow-up cup of coffee, I stood up, pulled out the Fiat 500x key fob and aimed it out the kitchen window. Push the  button twice, watch the lights blink, and notice the exhaust vapor streaming out of the tailpipes. Autostart. What a wonderful invention.
When it was time to leave, I bundled myself into my favorite down parka and headed out, climbing into an already soothingly warm vehicle. With all-wheel drive in the 500x, all was well. Well, almost. The only failure of the Fiat 500x is the inclusion of Nexen tires, which I'm sure are very smooth, round Korean-made tires for nearly every road surface. "Nearly every" does not include Duluth, Minnesota, avenues in wintertime.
Switching the 500x to all-wheel drive didn't help much, because the Nexens wanted to slither around dangerously anytime you applied throttle. I found, in fact, that leaving the 500x in front-wheel drive worked almost better, because you only had the front tires spinning and slithering instead of all four seeking their own direction.
We have a joint venture here, with an American company contributing a lot to the mix, an Italian company putting it all together, and a Korean company supplying the basic 2.4-liter engine design, and those Nexen tires.
If the 500x had some highly competent all-season or winter tires — my choice continues to be Nokian — the car would have been the greatest winter "sleeper" car on the planet. As it was, an AWD crossover shouldn't require white-knuckling inside your gloves.
When Fiat re-entered the United States market with the 500, it was roundly celebrated for being almost hopelessly cute. Much like the Volkswagen Beetle and the Mini Cooper, which brought plenty of memories and old-time charm a couple of decades ago, the Fiat 500 was rounded, small, definitely retro, and driving it with its modern but tiny engine was a kick. I used to write that it was impossible to drive a Mini Cooper without a smile on your face, and the same goes for the 500.
Fiat, which was in the process of taking over Chrysler-Jeep-Ram to form FCA — Fiat-Chrysler Automobiles — was in a hurry. So the 500 soon sprouted a semi-convertible, then an elongated 500L, and finally the 500x. Small "x" please. The 500x hit the market at the perfect time. Consumers in the U.S. had shifted their miogration to small compact SUVs — or CUVs, for crossover utility vehicles — and no manufacturer could make enough small utility vehicles. I'm not certain if Fiat read the tea-leaves to come out ahead of the trend, but more likely the timing was just coincidental.
But the 500x is that cute little 500 enlarged as though it had been fed steroids, and plunked onto an all-wheel-drive platform. And not just any AWD. As new owner of the outfit that produces Jeeps, it was time for Jeep to add a new small vehicle, and it came up with the Renegade, a small and cute little member of the Jeep family, smaller than the very competent Cherokee and smaller than the Compass and other models in the line. But it was extremely competent in off-road duties, willing to rock-climb with the best of them while also maintaining decorum in highway driving.
Unbeknown to most, the squarish, compact and contemporary Renegade is built in a Fiat plant in Melfi, Italy, because Fiat intended to sell the Renegades in Italy as well as ship them to the U.S. It was a convenient and logical move, then, to take that 500x body and enlarge every dimension into a larger but still pleasantly rounded form, and then plunk it down on the Renegade platform.
As if by magic, you can choose which "Jeep" you like best, the one with the 1.4-liter base 4-cylinder turbo, worth 160 horsepower and 184 forced-air foot-pounds of torque, or the optional 2.4-liter MultiAir 4-cylinder, putting out 180 horses and 175 foot-pounds of normally-aspirated torque. You can also select between front-wheel drive or all-wheel drive, although personally, anybody buying a Jeep of any color should only be considering the 4WD version.
But now you can also choose what exterior form you prefer — the trendy, cute, and squarish dimensions of the Jeep Renegade, or the super-cute sleeper version encased in the Fiat 500x body. Both of them come with your choice of a 6-speed manual, mainly in the FWD version, or the 9-speed automatic, which smoothly upshifts its way up to and beyond highway speeds.
Curiously, the Fiat gets better EPA fuel economy estimates, reaching to 34 miles per gallon highway, compared to the Renegade's 31 mpg. Sticker prices start at $21,000 for the 500x, and range from $19,000-$28,000 in the Renegade. The test 500x had the 2.4 and the 9-speed, and with satellite radio and other connectivity and safety upgrades it started at $24,635 with an as-tested tag of $27,430.
Small on the outside but surprisingly roomy inside, the 500x has adequate storage room behind the fold-down rear seats even when they're up. Handling is quick and precise, and it isn't an exaggeration to call it fun to drive. Except for those darn tires.
The test 500x was a wonderful shade of red. Why is it that Italians can come up with various red paint jobs that are all superb? This one isn't metallic, just flat red. It is called Rosso Passione, which is followed by the parenthetical explanation: Red Hypnotique Clear Coat. We'll stick with red, but you get the idea.
A neat touch is that the interior is well-appointed, and I really like the basic idea that the dashboard has a glossy red metal facing — same color as the exterior. Very classy.
The 9-speed automatic transmission sends the 500x on its way, revving smoothly and shifting without any jerks or irregularities. The rotating knob on the console needs to be switched to the right a third of a turn to engage all-wheel drive, and while it works fine, once you stop and shut off the engine, it defaults to front-wheel drive when you next start up. That caught Joan by surprise once, but it makes sense when you think about it; it's too easy to shut the vehicle off and start up again and leave it in all-wheel drive for long stretches of dry pavement, which is unnecessary and wastes a little gas.
Defaulting to FWD means if you feel any uneasiness, switch it back to 4WD and all is well. All the anticipated safety and creature features are present, although a friend in the auto-writing business wouldn't like the absence of a heated steering wheel.
The manually adjustable bucket seats were easy to operate and I never once wished it had power seats. Navigation, back-up camera and cross-traffic and blind-spot detection make the 500x fully equipped. Another option on the test vehicle were 17-inch alloy wheels.
I like the looks of them, but I have one redundant suggestion for Fiat: Put Nokian tires on all the 500x models you send to Minnesota, Wisconsin, Upper Michigan, North Dakota, and all other points across the nation's snow-belt states.
By John Gilbert
DETROIT, MI. — Self-driving vehicles, continued electrification of our global driving future, and an endless stream of sport-utility vehicles of all shapes and sizes are the indelible story of the 2017 North American International Auto Show, which consumed early January, 2017.
High-performcance and luxury vehicles were present also, of course, but nearly all manufacturers were either proclaiming or hinting about electric or autonomous (self-driving) cars.
Those of us who love to drive, to push a car to its limits with skill and dexterity — both yours and your car's — may recoil at the thought of computer gremlins taking over the operation of our future cars, but that's where we're headed and everybody wants to be leading the pack.
For that reason, a highlight of the Detroit show for me was the showing of the I.D. Buzz. Strange name indeed, but it's just the nickname of a Volkswagen concept vehicle that could well be the long-awaited emergence of the modernized Microbus, that hippie-happy minivan of the 1960s.
The Buzz is an eye-catcher, to be sure, and it's obviously a concept vehicle because it's hard to imagine it coming to life in production. But it ties together all of the ingredients for success on the auto show circuit of 2017 — an inventive and retro-flair people-hauler with an interior that could pass as a high-tech den, plus all-electric power with a range of 270 miles on a charge, and autonomous operation.
A surprise highlight is the new Rogue Sport from Nissan. I've always been a big fan of the Rogue compact crossover SUV, which now is an extremely popular star between the compact Juke and the larger Murano. After looking over the stylish new Rogue Sport at length, I was surprised to learn that it is a foot shorter than the Rogue, because it still seems roomy. Power is from a 2.0-liter 4-cylinder with 141 horsepower.
The same engine will power the concept V-Motion, a stylish new concept from Nissan with rear-hinged "suicide" rear doors and flashy lines that insiders suggest could indicate the direction Nissan will take with its next round of sedans.
Chevrolet Bolt, not to be confused with the Volt, also stands out, and Chevy's home-town clout with the media judges for North American Car of the Year adds to its impact. The Bolt is in its introductory year, much like the Volt was when it was named Car of the Year, and the Bolt also won the media jury award, as though jurors are unaware or have forgotten that before the Volt won, a car had to be in production, in showrooms, and available to the public to be eligible.
The Volt wasn't, but won; the Bolt isn't yet, and also won. Rumors are you can buy one, or put money down, but introduction might be a few months off. Very neat design, and the Bolt differentiates from the Volt, which has a separate gas engine that kicks in to transform it to a normal car when the battery runs out. The Bolt has no gas engine, just pure electric, but with an impressive range claimed at 238 miles before needing to be recharged.
Voting points gave the honor to Bolt with 364 to runner-up Hyundai Genesis G90 105 and Volvo S90 at 101. Truck of the Year was Honda Ridgeline's redesigned pickup with 305 vote points, to 193 for the runner-up Ford Super Duty, and 72 for the redone Nissan Titan pickup. The new category of Utility of the Year went to the Chrysler Pacifica minivan renovation at 300 points, to 135 for Mazda's CX-9 and 125 for the Jaguar SK.
The most mainstream of cars, the Toyota Camry, came out in eighth-generation form, but Toyota guarded the unveiling behind curtains and prevented most media from getting close enough to even see it in the flesh, reduced to watching on video cameras from outside guarded curtain openings. I didn't realize it, and just blundered through and got some photos on stage before stern-looking security types ordered us all out of there. New look, sportier, and with new 3.5 and 2.5 liter engines, plus a "next-generaton" hybrid. We are left to wonder what the next-generation hybrid will be like if we're already at the next-generation.
Ford countered its primary rival with a lengthy presentation and a very brief drive through of the new 2018 Ford F-150 pickup, and the announcement with no static display or prototype that it will bring back old names in new form with the compact Ranger pickup and the Bronco, Ford's first SUV.
KIA dazzled the media with introduction of the new Stinger, a very aerodynamic and sophisticated midsize sedan with a sporty flair. Made of 55 percent high-grade steel, Stinger has electronic adjustable suspension and power from a couple of 3.3-liter V6 engines ranging from 255 to 365 horsepower. An 8-speed transmission and available all-wheel drive and torque-vectoring steering control lift the Stinger above the norm.
Honda came out with a new-generation Odyssey minivan, with very angular, contoured-line styling, and it was pointed out that it is the largest-selling minivan on the same day Chrysler's Pacifica claimed Utility of the Year.
GM redid its mid-range SUVs, with new models of the Chevrolet Traverse, and the GMC Terrain, both looking much more modernized with revised styling. Curiously, you could make the case that the car-like Traverse is now more truck-like, while the more truck-like Terrain is now more car-like.
Audi brought out an upscale full-size SUV, the Q8, but in concept form, to top off its range of Q3, Q5, and Q7 SUVs.
Fellow-German companies also showed new versions of downsized SUVs, and Mercedes added the E-Class Coupe, a sleek sporty coupe with a twin-turbo 3.0 V6 with 392 horsepower to live up to those looks. BMW countered with a newly redesigned 5-Series sedan line.
And the grand-daddy of all utility vehicle makers, Jeep, commanded some attention with a restyled Compass compact crossover, and attracted even more attention with the disclosure that a long-awaited Jeep pickup truck is planned, as well as reprising the Wagoneer and Grand Wagoneer nameplates.
By John Gilbert
It seems as though Buick has never found a niche it didn't like in the automobile world.
In decades past, Buick and Oldsmobile were the two mid-luxury General Motors brands, wedged somewhere between Chevrolet and Pontiac below, and Cadillac above, and about even with Oldsmobile. Times have changed, obviously. Pontiac and Oldsmobile are gone, and Buick survives by becoming GM's utility player. Cadillac continues to build luxury-leaning cars, and Chevrolet tries to be everyman's car-maker, so Buick comes up with different ideas.
The Enclave SUV is one example, and the rejuvenated Regal sporty sedan is another. In a couple of recent trends, luxury buyers are returning to the show rooms, and the other is the trend toward more SUVs keeps expanding.
Buick, therefore, makes a a 2017 La Crosse that is much like those big, road-cruising sedans from years ago. The new La Crosse, is built for contemporary times, with a modern look and sleek, luxurious lines. At the same time, the Enclave is an impressive sales-leading SUV, and the compact Encore is a worthy smaller version. Does that leave a niche in between? Just in case you can envision such a niche,  Buick comes out with yet another crossover SUV — the Envision.
The La Crosse is all new for 2017, and starts out as a front-engine, front-wheel-drive sedan. The new La Crosse I got for a week-long test drive came equipped with all-wheel drive, and, by the way, auto-start — two welcome features in the Great White North of Minnesota, especially when negotiating the snowy regions of Lake Supesrior's North Shore and the icy hillsides of Duluth.
To do that, of course, you have to get started, and being able to click the key fob from the warmth of the kitchen and start the La Crosse remotely allows it to warm up just right before you venture outside into hypothermiaville.
The 3.6-liter direct-injected V6 engine responds well to the tap of your toe, and the 8-speed automatic transmission apportions the power to all four wheels well, particularly if you choose to use the little paddles on either side of the steering wheel. These paddles are so small you wonder if Buick was really reluctant to provide such a sporty feature, even while they aid agility. The La Crosse has learned the contemporary trick of switching to high-grade steel in order to trim 300 pounds with body panels that are thinner and lighter, yet stronger.
The exterior has a unique look for Buick, with its open grille and harmonic side contours that flow back to the rear wheel well, where there is a rising wave. Yes, the new Chevrolet Impala may have been the basis for that silhouette, but it's new for Buick. That look gives room for a lot of interior comfort, with luxury features front and rear.
And the light interior color contrasts in classy fashion with the stunning dark sapphire blue metallic exterior. Profit-seekers at GM are, of course, hoping for big profits from the La Crosse as well. The test car, a Premium model, had a base price of $43,265, and an as-tested sticker of $50,270. That's pretty steep company, and there are a lot of impressive vehicles available at that range. So Buick has tried to combine as many slick ideas as possible within.
Through history, Buicks have depended on heft for their foul-weather stability, and they've never been known as particularly great-handling vehicles. The AWD helps, although to handle extreme winter conditions you'd want to find better tires than the standard Bridgestones that are mounted on the test car's 20-inch painted alloy wheels.
Going to 20-inch optional wheels may please the designers, who love to make gigantic wheel openings, and then fill them up with tire-wheel combinations. But that doesn't always lead to improved winter-weather handling. The equipped all-wheel drive did well to churn its way out of snow-covered driveways and along residential streets during a couple of fairly heavy snowstorms, but going, stopping and steering on ice proved less confidence-inspiring.
Freeway driving after an ice and snow storm usually means staying in a single-file line in the right lane, which gets worn down to the pavement quickly. On the North Shore, there remained some patchy ice splotches in the left lane, and, in the interest of evidence-gathering, I tried to go in the left lane. It seemed pretty good, but then all of a sudden you'd feel as though you were floating just a bit. Great care could keep the La Crosse in line, but it felt better to get back into the right lane. Without a doubt, better winter tires, and possibly mounted on smaller wheels with a greater ratio of rubber to alloy would help considerably.
A quick glance at the features of the La Crosse require more than a "quick" glance. The test car had ultrasonic rear park assist, forward collision alert, rear cross-traffic alert, lane keeping assist, lane-change alert with blind-spot assist, rear-vision cameras, and heads-up display, along with the auto-start, and full adjustable bucket seats with heating and, we're advised, cooling. Then there are things like front seat massage controls, heated steering wheel, and all manner of audio controls and select Bluetooth streaming, Apple CarPlay and Android Auto, for compatible smartphones. The audio system has noise cancellation and the test car was upgraded from 8 to 11 speakers for the Bose centerpoint surround system.
The panoramic sunroof has a second row skylight. The car also boasts of an electronic precision shifter, which both my wife, Joan, and I agree needs more work.
You can shift up from drive to neutral and then over to the left from neutral to engage reverse, although you normally don't engage it for three or four tries, which can be maddening. Just make sure the "R" comes up on the dash panel. To get park you have to click a button on top of the shift lever, but make sure you check to see that the "P" is lighted.
It's difficult to click easily into the reverse or park notch you're seeking, and not finding it can lead to some spooky situations.
All of that only proves that Buick is on the right track, so to speak. Putting all-wheel drive on board and paddles and an electronic shifter are steps in the right direction, and now a little refinement is in order.
ENVISION
The Envision SUV is a very neat size for those who find their family is caught between the compact crossovers and the too-large models. I like both the Enclave and the Encore, but the Envision might be a compromise worth trying, even if it fills a niche we didn't know existed.
Envision is powered by a 2.5-liter 4 with 197 horsepower and 192 foot-pounds of torque, or you can select the 2.0-liter turbocharged 4 with 250/260 stats. Both those engines slot between the Enclave's 3.6-liter, and the Encore's pair of 1.4-liter engines.
The Envision starts out at a base price of $37,000, and has a large navigation screen and two trim levels. Plus it looks good from all angles, with some signature Buick trim. And it proves that Buick is now going world-wide to fill niches — the Envision is assembled in a GM factory in China. President Donald Trump will be enamored.
By John Gilbert
When you first spotted the Honda Ridgeline when it was introduced in 2005, you might have wondered what the heck it was, with its angular body panels and an appearance that was more like two-thirds of an SUV, with a pickup bed behind it.
There will be no such questions when you first see the new 2017 Ridgeline, which has been reintroduced with all of its popular and unique features updated, and the unusual angular body has been smoothed out into more conventional pickup truck shapes and contours.
It looks, simply, like a pickup truck, if less enormous than any standard full-size pickup. And that, presumably, is what Honda was after in this redesign of a truck that had been discontinued for three years, and possibly rendered to the antique lot.
In case you haven't noticed, Honda is on a major revision of its full product line. Having already redesigned its basic engines, Honda has boldly announced that its Accord, Civic, CR-V and Odyssey will all be top sellers in their segments to individual consumers. Never mind lucrative fleet sales, Honda doesn't sell to fleets, so it only counts individual sales because that is what individual customers purchase, rather than accepting a company car that might be nothing like what they wanted.
That specifically didn't mention the Ridgeline, which makes sense, because nobody can intrude on the fantastic sales of Ford, Chevy and Ram pickups, although Toyota and Nissan keep trying, with impressive entries.
The new Ridgeline fits more into what modern life-style types might want — soul of a pickup, appearance of a pickup, interior of 2/3 of an SUV, an SUV's versatility, maneuverability, foul-weather traction and comfortable ride and handling, but without the heft and enormity.
At a sticker price that ranges from $30,000 up to over $40,000, depending on how much connectivity and gadgetry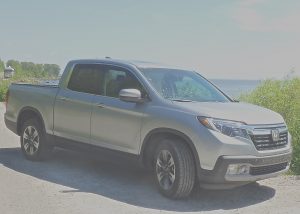 family requires, it might be the ideal second vehicle for a family that doesn't demand a large pickup.
When Honda came out with the Ridgeline in 2005, it was a revolutionary product for the usually cautious Japanese auto company. This, after all, was a pickup truck, a purely American vehicle, and most Japanese companies found it comfortable to build vehicles Japan likes and sell them in the U.S.
But the Ridgeline made its own trail, when it was introduced as an angular, unusual, almost-full-size pickup. It defied pickup logic in several ways. Mainly, it was a unibody construction instead of strict body on frame, and second, its full-time all-wheel drive could maneuver itself into delivering all its power to the front wheels only, and whoever heard of a front-wheel-drive pickup?
Typical Honda, the interior was crammed full of useful features. Full, roomy rear seat, with a bench that flips up and locks against the backrest to enhance storage room enough to stash a bike back there. The bed itself was something else. While every company was trying to get buyers to also buy scratch and corrosion resistant bedliners, Honda made the entire bed out of composite material that wouldn't scratch, bend or mutilate.
And then there was the rear of the bed, which opened with a normal tailgate, or could be opened from the side, right to left, for ease in loading certain items. That, too, was not all. At the rear edge of the bed's floor, there was a hand grip. Pull it and you could open it like a trap door down to the cellar.
The bin itself, also of bullet-proof composite, could be filled with any and all manner of stuff, from a set of golf clubs to any valuable tools, or tomorrow's lunch. Anything you considered too valuable to swipe you could lock away in that handy little hatch and still have the bed to fill.
OK, so why are we spending so much time dwelling on the 12-year-old original Ridgeline? After all, Honda discontinued making it, as though it was capitulating from the segment. Along about then, Chevrolet came out with the Colorado, and GMC with the partnering Canyon, and midsize trucks were in vogue again, and not just the Toyota Tacoma and Nissan Frontier.
So it's perfect timing for Honda to bring back the family-friendly Ridgeline, because it's not quite as big as full size, and maybe it's a tug longer than midsize.
It's also wise mainly because all of those captivating features from the original are duplicated on the newly restyled 2017 model Ridgeline. Except one: the unusual shapes, contours and body panels of the original are gone.
Strangely, only the buyers of the original Ridgeline might complain about the new look. I never thought the original looked bad, and it grew on me over the years, even while hard-core truck guys grumbled and criticized it for being a lightweight boxer entering a heavyweight slugfest.
When it comes to pickup trucks, many people need full-size for work, and many others want full size for towing/hauling. But probably 85 percent of all pickup buyers end up buying a bigger truck than they need, just because the big trucks are so macho, so impressive, so powerful and so feature-filled.
But the Ridgeline is 210 inches long — about two or three feet shorter than the main full-size pickups — and it weighs 4,510 pounds — basically 100-2,300 pounds less than its bigger adversaries. That means you don't need a big V8, or even a small V8, or a turbo-diesel to get your pickup moving. The Ridgeline will move all four wheels very smartly with a 280-horsepower, 262-foot-pounds of torque V6 engine, highly sophisticated as it powers all four wheels with computerized selectivity.
The less-squared, less-angular Ridgeline can be bought with either front-wheel drive or Honda's high-tech all-wheel drive, and it should deliver fuel economy in the mid-20s while working.
The term "working" means other things to a Ridgeline, also. It won't tow 9-11,000-pound trailers that full-size trucks can, but it does tow 5,000 pounds, which might take care of the fishing boat and trailer, and 90 percent of the workloads people buy bigger trucks to haul.
What I noticed most about the Ridgeline is that driving it is smooth and almost quiet, unlike most pickups. And through a slalom course, the Ridgeline would undoubtedly prove itself to be the best-handling pickup in agility drills.
I also noticed some distinct similarities to the superb Honda Pilot SUV, and with good reason. Its independent rear suspension features the same torque-vectoring control in curves that the Pilot and Acura MDX deploy, and the nose of the Ridgeline has a family resemblance.
If I were shopping for a pickup truck, I would want something that would haul the family in SUV-type comfort and class in most cases, but handle light hauling and-or light towing duties when necessary — never mind the heavy-duty stuff. The Ridgeline handles that challenge very easily.
And just so you don't overlook that cleverly designed trunk in the pickup box, consider going off on a family picnic. You simply load a couple buckets of crushed ice into the "trunk," and put your pop and food in with it. When you get to the picnic area, unload what you need from the watertight compartment, and when you get ready to leave, turn the petcock and drain the melting water out before you head home.
You could even check the draining water for any invasive species, although, come to think of it, that might be the perfect term makers of conventional pickups might call the Ridgeline.
By John Gilbert
Looking for a last-minute Christmas gift for a very close loved one, like a wife, or a husband, or maybe a mom or dad, or a deserving son or daughter?
A real surprise…how about a new car? Choose a red one, and put a big bow on it. Kidding? Of course I'm kidding. Or…maybe not. It could be a family gift, in fact. The new second — or third — vehicle the family has needed for a long time as it grows, and outgrows, the family truckster that always used to be sufficient.
If you really wanted to take such a plunge, you're in luck, because the SUV craze has died away, taking with it the big gas-guzzling SUVs of yesteryear. Replacing them are what they're calling CUVs — Compact or crossover utility vehicles. They make much more sense, if they're big enough, and often they are big enough. The key is that they have to haul some folks and some stuff, and they have to do it in all sorts of weather, so all-wheel-drive is a must.
In this effort, we are not going to make an all-out comparison, just a group of suggested alternatives that may or may not be surprising, just to lay out a few of the rapidly-expanding CUVs that have clogged the marketplace in the last couple of years. We're assuming we all know about the "regulars" — the Escape, CR-V, RAV4, Tucson, Sportage, Jeep Cherokee, Renegade types — and we're pointing out how the segment has expanded. Here are a few:
Buick Encore — The Buick Enclave is a large and luxurious midsize SUV that was the perfect alternative to the monster-truck SUVs, and Buick followed it up with the Encore, which is a much smaller, lighter and more economical crossover that still retains the trademark Buick look, but runs on a 1.4-liter turbocharged 4-cylinder tuned to either 138 or 153 horsepower. If this is big enough, fine. If you want something still lighter, you can go for a Chevrolet Trax, essentially the same vehicle with less luxury and sound deadening. The Encore and Trax show how global our auto world has become, both being built in the South Korea GM plant, with the engine and transmission coming from Korea as well, keeping prices in the mid-$20,000 range, and capable of reaching 30 miles per gallon. Buick is adding the Envision, placed between Encore and Enclave, with more room and less fuel efficiency.
Fiat 500x — Another example of global engineering, with FCA — Fiat Chrysler Automobiles — conspiring on a couple of neat all-weather vehicles. The Jeep Renegade is a cute ute that retains its Jeep qualities, and it is built by Fiat in Italy, where Fiat liked it so well it keeps some to sell in Europe. Then it took its own lovable little Fiat 500 and gave it a dose of steroids, which actually meant it was expanded and plunked down on the Renegade platform. Presto! The Fiat 500x, where "x" marks the spot for all-wheel drive and an expanded interior and rugged exterior. Fiat already was working with Chrysler on its 2.4-liter 4-cylinder, applying the Fiat MultiAir technology to make it perform better and more economically, so that's the engine in both the Renegade and the 500x. Not a bad choice, if you like the Jeep go for the Renegade, if you like the 500, you'll find the x model for $25,000, with 30 mpg capability and a fun to drive — anywhere — ability.
Infiniti QX30 — If Nissan has confused us all with its upscale Infiniti line and its new nomenclature, this one cuts through all the confusion and provides a fantastic sports car in CUV form with the QX30. (Remember, "G" is for sedans, and "Q" is for SUVs.) The QX30 is compact enough that some will find it cramped in the rear seat. If that's not an issue, you will love this vehicle priced in the mid-$30,000 range. Nissan's ability to make fine engines has been appreciated enough by Mercedes Benz that the two are actually working together on modern engine design and manufacture, with the same compact, high-performing 2.0-liter 4-cylinder turbo powering the GLA Mercedes and the QX30, with 208 horepower and 258 foot-pounds of torque. You will want the AWD version, which sits a tad higher but retains all the sportiness of the FWD model, and gets you up those icy hills. I have topped 32 miles per gallon with this rocket, in both the Mercedes and Infiniti models.
Jaguar F-Pace — Yes, even Jaguar has gotten into the crossover act, and why not? With Land Rover's expertise to partner up with, the F-Pace is low and sleek and more than capable, with your choice of a 2.0-liter 4-cylinder turbodiesel with 180 horsepower and a brazen 318 foot-pounds of torque, or the optional 3.0 supercharged V6 with 380 horses and 332 foot-pounds. Amazing luxury, performance and AWD in the same package, and price is moderate for what you get, at $42,000 up to $60,000, depending on your restraint at the option bin. Despite understated good looks, the F-Pace with either engine has the soul and personality of Jaguar's legendary lair of cats, and it drives with the same eye-catching flair.
Lexus 200t F-Sport — If Infiniti was going to go sporty on its new CUV, we just knew Lexus would be right there to defend its turf, the 200t F-Sport is more than just a capable competitor. The RX is the top-selling of all Lexuses, but the NX covers all the bases, with a 2.0-liter turbocharged 4 with 235 horsepower and 258 foot-pounds of torque, or an optional hybrid with a 2.5 gas engine and battery pack and 194 horses. The racy look, from the signature Lexus "spindle" grille back costs a bit, at right around $40,000 to start. With the AWD operated by either a 6-speed automatic or a CVT, the NX 200t F-Sport is more fun that we're used to getting in any Toyota vehicle, and can top 30 mpg too.
Lincoln MKC — This is the CUV Matthew McConaughy would choose and he wouldn't be wrong. You can spend more for the bigger brother MKX or MKT, but the MKC answers all the AWD questions you might ask. The others have 2.7, 3.5 or 3.7 V6 engines, but the MKC gets into Ford's EcoBoost 4-cylinders with 240 horse/270 foot-pounds with the 2.0, or 285/305 with the 2.3 turbos. Price ranges from $33,000 to over $40,000 depending on choices. Power is exemplary and fuel economy can be surprisingly good if you keep your foot out of the turbo boost. A little smaller and lighter than its more powerful brethren, it is more agile and gets clearly better fuel economy. Besides, I think it looks better.
MAZDA CX-3 — I've had the chance to drive the larger, but not too large, CX-5 on Mazda Laguna Seca road-racing track, and it blew me away, but the smaller and ligher CX-3 follows that up with one of the smallest and quickest and most fun compact CUVs on the market. Powered by a 2.0-liter Skyactiv 4-cylinder with 146 horsepower and torque, and a slick-shifting 6-speed in-house automatic transmission, the CX-3 with AWD is a jewel at a price that starts in the low-$20,000s. Only drawbacks are the extremely tight rear seat and a limited stowage area behind the fold-down rear seat. But if your kids are little, or large enough to be grown and gone, the CX-3 is a blast to drive and great to look at, with gas mileage in the mid-30s on regular gas.
Subaru Crosstrek — Subaru was making all-wheel-drive crossover-like vehicles before SUVs, and 'way before CUVs, so now they're claiming they started the segment. They didn't, but it's a coincidence Subaru can capitalize on. The Forester has grown up to be a surprisingly large and spacious SUV, and even the Outback, based on the compact Impreza platform, has expanded and loses its fuel-efficiency if you go for the 3.6-liter flat-6. But there is a little gem called the Crosstrek, which has a surprisingly curvaceous body that resembles Subaru's last concept vehicle more than its somewhat stodgy brethren. The base 2.0-liter flat-4 has 148 horsepoewr and 145 foot-pounds of torque, and you can find an optional hybrid that reaches 160 horsepower. But the price is right, running from $22,500, and other than the hot-rod WRX STi, the Crosstrek is my pick. Come to think of it, you can get the WRX without the STi power-surge and still get the turbo engine and AWD…Hmmmm.
There you have a batch of CUVs to whet your appetite. You also can find those 2.0-liter-turbo-powered crossovers in Mercedes, BMW, Audi and Acura dealerships, and they are truly impressive, state-of-the-art vehicles. But you will quickly get up and over the $35,000 range. Maybe we'll deal with a collection of them in a future column.