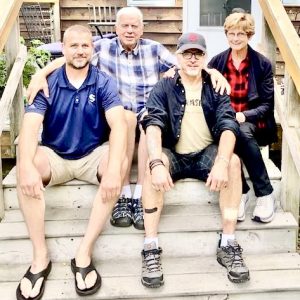 By John Gilbert
Maybe this should be more of an apology to loyal readers and followers of "New Car Picks," because this column of automotive reviews and all activity on this website has been missing for almost exactly one year. But I'm resuming it all now, 51 weeks after the fact, and my elongated pause deserves explanation. It has been a long and torturous trail to get to where the accompanying photo could be taken (Son Jeff, left; then me, then son Jack, wife-mother-guardian angel Joan) on my birthday and family reunion last September 1.
The story starts one year ago, on May 22, 2022, when I eagerly participated in the MAMA Spring Rally at Road America in Elkhart Lake, Wis. It is, without a doubt, the most fun and enjoyable opportunity its to test-drive the latest in new vehicles from all over the world. My older son, Jack, who assists me with photos and information, accompanied me, as usual, for the 7-hour drive from Duluth, Minnesota, to the Osthoff Resort in Elkhart Lake for two days of on-track, and on-road test drives of nearly 100 new vehicles.
After a morning breakfast meeting at the track, we all headed for the track in a cold, chilly, rainy day that was far from pleasant, and I cautioned my son that I wasn't feeling great, so maybe to start with I would ride while he drove a lap. We did that, and when we got back to the paddock, he suggested that he would go get a different car after bringing the Toyota Supra back to its location, and he would return and pick me up. As I waited, the drizzle got worse, and I spotted a tent canopy nearby where I could wait and stay dry.
As I walked toward it, I realized that my shortness of breath had worsened. I hesitated, bent over, but that didn't help. So I dropped down to one knee on the pavement. I was in that position, on one knee, for one minute — no more. And suddenly, I was in an ambulance. They gave me some oxygen and I felt a bit better, but the presence of the fantastic Road America emergency crew in the paddock, where they could be summoned immediately by a fellow who spotted me and guessed at the seriousness of my problem.
That, I realized later, was the first miracle that affected me that day. I had suffered a cardiac arrest, and if the ambulance had taken 5 minutes instead of 1 minute, I would have been dead. The mysterious thing to me, in retrospect, was that I had been given 100 percent clearance in a thorough physical examination I had undergone a year earlier.
The ambulance sped me 20 miles or so to a wonderful hospital in Fond du Lac, where the last thing I remember was being met by Emergency Room attendants, who wheeled me away. Jack followed the ambulance, and waited at the ER. Doctors found complete blockage of my main artery, down my chest, and partial blockages of two other arteries. They went to work immediately to install stents in those three arteries.
Of course, I was out so I knew nothing of all this, including the fact that my heart stopped during the surgery. They restarted it, essentially bringing me back to life. Then it stopped a second time, and the doctors restarted it again. After the surgery, I was placed in an Intensive Care Unit bed, where Jack was waiting. Suddenly, they threw Jack out of the room because my heart had stopped a third time. Once again, doctors got me jump-started. By my count, that was three more miracles — making it four in the matter of about three hours of my lifetime. As I've suggested since then, after four miracles, from now on, I'm playing with house money.
When I regained consciousness, I looked up and saw Jack, and also my wife, Joan, and my younger son, Jeff, all standing in a row with the ER attendant. My first thought was that it must be the next morning, which would be Wednesday, May 24. Instead, it was Tuesday, May 30. I had been out for seven full days! That gave Joan time to drive from Duluth to Fond du Lac, and for Jeff to jump in his pickup truck and drive 37 hours from Bellingham, Wash., to get to my bedside.
That probably goes as an "excused absence" for taking my first week off from writing my auto reviews, which I had written, unbroken, every week for 30 years at the Minneapolis Tribune, and continued creating for weekly and daily publications after moving "home" to Duluth for the past 20 years. I remained under the excellent care at the hospital in Fond du Lac for three weeks, until doctors could be sure all my internal components were functioning, including my kidneys, which required kick-starting through dialysis for three weeks.
Already, doctors expressed surprise that I had survived the whole ordeal, and that I showed impressive resilience in improving all my faculties through the start of physical therapy. Amazing that I needed to learn how to walk again, because my legs had turned to limp spaghetti noodles from losing 40 pounds and reclining there on my back without moving for seven days.
After Joan drove me home on June 13, 2022, I resumed therapy and dialysis, and I also started writing again, preparing sports columns and my automotive reviews for the Duluth Reader. I did not, however, resume installing my personal auto reviews on my "New Car Picks" website — which means I left the website in limbo while I continued to gain strength and try to push myself to get back to my acceptable functions.
I was able to resume test-driving fleet cars delivered from Chicago, with my trips to dialysis sessions and various doctors' appointments joining my appointed rounds. It was fully six months before my kidney functions improved to where I could come off the 4-hour sessions three times a week for dialysis, and as my physical lab tests kept improving, I was able to walk more and push myself more, although now, a full year later, I still have more to go.
During the time when I was out for the week following surgery, I had no idea that the officials at the Midwest Automobile Media Association had offered major assistance to my family. The MAMA officials and all the hundred or so media members had checked out of the Osthoff Resort on May 24, but they found a way to secure a suite where my wife and two sons could stay every night while they were spending full days with me at the hospital. Joan, in fact, was angry with me for not remembering that, before I told her that she and the boys might have discussed all that in my presence, but I was out and had never heard about it.
Since then, my reluctance to get back to normal and make my annual trips to the Chicago and Detroit Auto Shows my have caused some manufacturers to stop sending me test-fleet vehicles — which I now need, more than ever — and my invitations to attend the new vehicle introductions that have always been a valuable source of technical answers have ceased. But the column are running regularly in the Duluth Reader (and duluthreader.com), and as of now, they have revived the New Car Picks website.
So Jack and I are driving from Duluth to Elkhart Lake on Tuesday, test-driving an assortment of the newest models from all participating manufacturers, and driving back to Duluth. It will seem like the strangest feeling to attend the event that I think is the highlight of the whole auto year, but it also will set a personal standard of returning to normalcy.
By John Gilbert
All attempts to chronicle the truck war going on in the industry need to be agile just to keep up with the lively and extremely competitive vehicles being turned out in all shapes and sizes. The battle includes heavy-duty, standard full-size, compact, and niche vehicles that fill in the blanks.
As might be expected, Ram, Chevy, GMC, Toyota, Nissan, Honda, and even newcomer Hyundai are in the battle, but when you evaluate fully, you have to start with Ford. The standard of the truck business remains the Ford F150, which, on its own, comes in assorted sizes and powertrains with two or four doors of assorted sizes. My favorite is the Raptor, built for heavy off-road domination, but today we get to check out the Tremor, which is a compromise model between the Raptor and the normal truck.
I've written about the oversized F250 Tremor which seems capable of conquering just about any challenge, and also the compact Ranger, which comes in Tremor trim. Now we get a chance to try the Tremor application on the standard-issue F150 — the leading seller among all vehicles for somewhere north of 30 years.
But impressive as all that power is from the 3.5-liter twin-turbochaged V6, what in the name of $6-a-gallon gasoline is going on here?
Ford is taking all that into account, and while I've test-driven a couple of Ford's new more-compact Maverick vehicles and come away thoroughly impressed, I've also driven the F150 with hybrid technology, and it is the best thing to happen to big pickups until we get to the all-electrics that are fast-approaching.
The Maverick seems to be just as big as the midsize Ranger, but it isn't. It's considerably shorter, but it is wide enough to carry four or five occupants with plenty of room, and its 2.5-liter 4-cylinder turbo has plenty of punch to send the Maverick on its way — with good reason. This particular Maverick engine had the electric support from being a hybrid.
Ford has led the way among U.S. manufacturers in building some impressive hybrid powertrains, what the industry calls "mild" hybrids for the way the battery-operated electric motor both supplements the gas engine and allows it to deliver much-improved gas mileage and doses of extra power. The Maverick Hybrid does both of those things.
A couple days after the first Maverick was delivered out of the Chicago press fleet, we got one of our heavy snowfalls in the Duluth, Minnesota, area of the North Shore. I was less than thrilled that the Maverick, painted a beautiful dark blue called "Alto Blue Metallic" was 2-wheel-drive. The second Maverick I tested was bright red, and looked upper-level, although it was pretty basic. In the surge of truck buying in our society, I can understand getting a front-engine, rear-drive pickup down on the southwestern prairies, but if you're sending a pickup truck to the North Shore of Lake Superior in mid-to-late winter, send 4-wheel drive or nothing.
The Maverick was front-wheel drive, which made it an interesting compromise. I picked my spots during the snowy week, and we made it through OK, but we weren't hauling stuff in the bed, although we were spending inordinate time warming up the Maverick against some below-zero temperatures. The remote start gadget was greatly appreciated, although the lack of heated seats or heated steering wheel was less impressive, when it was 15 below zero. That was why we spent so much time warming up the Maverick.
Because of so much warm-up time, we didn't approach the high mileage we anticipated, but later in the week, we did spend time driving and focusing on hybrid driving techniques — slowing down ahead of red lights, avoiding jack-rabbit starts, etc. — we did get it up to a computer-registered 30.8 miles per gallon over a 142-mile stretch. Any pickup truck that can do pickup duties and deliver 30 miles per gallon can make a big impact on the marketplace as gas prices continue to soar.
The Maverick Lariat 4×2 had a sticker price of $29,340 with the automatic continuously variable transmission and the 2.5-turbo-hybrid powertrain, which made a solid combination.
Maybe in the future, two-vehicle families who love their pickup trucks can compromise and get a hybrid Maverick-sized compact pickup, and still satisfy their power cravings by adding the big F150 Tremor to the stable.
This F150 came in stone gray metallic, which set off the bright orange graphics that were subtle and not overwhelming, but looked good with the color and the blacked-out wheels and grille. This thing had 4-wheel drive and a 10-speed automatic transmission to distribute the power from the 3.5-liter twin-turbo V6 to all four extremities.
The base price of the F150 Tremor is a reasonable $49,505, although it becomes increasingly less reasonable — unless you have to feed your appetite for various options — as you add the impressive features on the way to the test truck's $70,095.
Snow didn't matter with this thing, and its force and stability were much appreciated. The appeal of the option list included a trailer-towing package, lockable storage areas in the bed's wheel wells, a power tailgate, a front-axle torsion differential, and a "Toughbed" Bedliner. The full crew cab, which Ford calls Super Cab, had enormous room, and flip-up storage under the rear seat, a feature the Maverick has picked up on.
The F150 Tremor also has a few Ford-first things, such as the tailgate, which is only now being copied by General Motors after Ford introduced it over a decade ago. The new truck adds a power operation to it. At the top of the tailgate, there is a form-fitted hand grip that means when you lower the tailgate you also unfold a secondary step that drops down, and next to the grip is a small knob that you pull out to reveal a heavy rail, which you can fold up until it clicks into place to give you a sturdy grip to aid in climbing up into the bed to make sure your stashed goodies are still secured. Climb down to go back to driving and you fold the stability pole down and slide it back into place, flip up the step, and use the power gadget to return the tailgate to its original position.
Another thing that makes the plush interior even more impressive to ride in is the B&O "Unleashed" 18-speaker audio system that fills the cab with sound from whatever device you choose to listen to. And, if you want to work while your wife spends an hour in Target, you can fold the gear shift lever flat into the console, then lift the console cover and fold it down to make a flat, desk-like surface. The rest of the console is for storing business sheafs or whatever you choose.
Our older son, Jack, rode with us a few times in the Tremor and commented on how remarkably smooth the ride was in the big Ford over winter-ravaged surfaces. We found Ford's better idea was to not go to the 20 or 21-inch wheels popular on some trucks and SUVs, but instead to use smaller 16-inch alloy wheels with much larger and thicker tires, meaning that to attain the same circumference, you have less alloy and more inches of rubber between you and the potholes you're lumbering over. The thicker rubber absorbs the impacts much better and makes you appreciate the level of comfort.
Not only that, but the Tremor also had electric seat-heaters and a steering wheel heater, which is worth plenty on those cold, winter mornings when autostart is a greater benefit with the supporting devices.
By John Gilbert
If you own a car of any type, or a truck or SUV, you might be wondering what all the conjecture is about the cultural and sociological shift to electric vehicles (EV). It might be a few years until you make up your mind about EVs — or you could head to the Minnesota State Fairgrounds through Sunday to catch the final days of the 49th Twin Cities Auto Show, which is being held in the great outdoors.
Once there, you can find your way to the Electric (Vehicle) Neighborhood, where various manufacturers will have their latest prize EVs gathered amid the various displays of all manner of new cars and trucks. But if you're curious about electric cars, that is the place to get a close-up look, and a brief test drive, in an EV of your choosing. Or several of them.
At the show's media preview, we got the close-up look, and a special opportunity to take a few spins in some specific EVs of my choosing.
The first was one of the two most spectacular vehicles on the face of the earth — a Polestar 2. The second one was the Audi e-tron, my nomination for the most spectacular vehicle available. Both are sleek, ultra futuristic and luxurious, and both are pure electric vehicles (EV), which are the primary attraction at the 49th annual Twin Cities Auto Show.
They accelerated briskly, showing off their capabilities to go 0-60 in about 4 seconds, accompanied by the sound of …absolutely nothing. Of course, we were adhering to the strict limit of 20 mph on the nearly deserted fairgrounds streets. The Polestar 2 and the Audi e-tron clearly live up to all the publicity and promotion, and are reason enough to attend the show. They both are, however, over $100,000, so it might be wise to check them out with that in mind.
But many EVs are priced within the range of normal folks, and those vehicles, from Ford, Chevrolet, Hyundai, Kia, Volkswagen, on up to Jaguar are there for perusal. Some start below $40,000, which, with the possibility of government aid, and the certainty of rising gasoline prices, make them more of a potential alternative sooner rather than later.
The thought occurred to me, as we made the drive from Duluth to attend the media preview last Friday for the Twin Cities Auto Show, that the show might be the only function that truly benefitted by the COVID-19 pandemic. A year ago, nobody was anxious to go out and mix it up with a crowd of people that could spread that horrible disease, which still threatens us with assorted variants. The only way to keep the show going last year was to move it outside.
Out of desperation, the new vehicles were put on display last year at the Minnesota State Fairgrounds, on Snelling Avenue in St. Paul, and it worked so well the show's organizers and dealerships decided to do it again this year, on purpose. The 49th annual runs through this weekend, ending Sunday, May 22nd.
There always have been good reasons to go to the show to evaluate future family vehicles where they can be compared to various others all in one location, but this year the show had gotten lucky with timing, because every car buyer is curious about the newest models, and particularly all the electric vehicles.
For example, we drove to the show in a new Chevrolet Equinox, an RS model, which is new for 2022, with trim and features. My older son Jack accompanied me, since he shoots photos and serves as my assistant for Newcarpicks.com. As I turned into the main entrance to the fairgrounds, and tried various streets searching for the media meeting place, called Electric Vehicle Neighborhood, I realized that as modern and up-to-date as the Equinox is, it, and all other conventional vehicles, seems old-fashioned next to the futuristic EVs being shown at the show.
The Twin Cities Auto Show has been an annual attraction in the Minneapolis Convention Center, and before that at the Minneapolis Auditorium, although weather can still resemble winter in the first week in March. We Minnesotans concede it can't compares to the global caliber of the Detroit, Chicago, Los Angeles or New York auto shows, and those "big four" in the U.S. are small compared to the Frankfurt, Germany, show, or Geneva, or Paris, or Tokyo.
The Twin Cities show relies on local and regional dealers to bring their latest vehicles for display to help consumers compare various vehicles in one location. For that reason it was always worth attending.
The media types gathered at the preview didn't seem too eager to check out the EVs the way we were, and after a catered batch of sandwiches and caramel rolls, they took their soundbites and departed, while Jack and I headed back to the accumulated EVs, with room to drive, rather than ride, around the proscribed course with professional driving instructor.
Gary Eick sat in the passenger seat and offered expert guidance and explanation. The great thing about these instructors is they also teach auto racing enthusiasts how to drive race cars at Brainerd International Raceway. I was just starting my career as a journalist and car enthusiast at the Minneapolis Tribune when BIR was built as Donnybrooke Speedway, and the drivers remembered me from those days. They also knew I had been road-testing and writing about new vehicles in an unbroken streak that now has reached 50 years. And counting.
Gary Eick was our personal guide, sitting in the passenger seat and offering valuable instruction about the varied driving controls, and warning us about how easy it is to go faster than you realize when there's no sound emitted from your stepping on the gas.
The Polestar is built by Volvo under that name, as its new EV arm, and while various Volvos are now electric powered — including the official "Car of the Show" Volvo XC-90 Recharge — the Polestar 2 is already the latest version all-electric concept of Volvo's Polestar 1, which has two electric motors at the rear, and Volvo's 2.0-liter 4-cylinder supercharged and turbocharged gas engine to combine for 619 horsepower. But it costs $155,000, which means the company had to scale it back into the real world, and forward, at the same time.
The Polestar 2 has a comparatively reasonable sticker of around $50,000, with no gas engine, and your choice of single motor or dual motor. The single develops 231 horsepower and 243 foot-pounds of torque through front-wheel drive, and the two-motor puts out 408 horsepower and 487 foot-pounds of torque through all-wheel drive. Compared to the Polestar 1, which looks like an exotic sports car, the Polestar 2 is more of a streamlined luxury SUV shape for hauling people. Swiftly.
Next, we did a brief drive in the Audi e-tron. Audi makes various e-tron vehicles, but the most exotic are a pair of GT models — the GT and the RS GT. The RS e-tron T is the first vehicle brought into the U.S. by Audi Sport, the high-performance arm of the Ingolstadt, Germany, company. It has 637 horsepower and 612 foot-pounds of torque, and, of course, all-wheel drive. The look and luxury are unmatched, if you want a sports car that is really a 4-door sedan. Cost is out of sight at $139,900.
The Audi e-tron GT has "only" 522 horses and 472 foot-pounds of torque. It shares the same stunning body shape. Going down the scale, Audi also has the Sportback and a Q4 Sportback that are priced down into the low $40,000 range. The e-tron I drove was so luxurious and solid you almost forgot that the sound you hear is — nothing. All EVs share the silence of electric power operation.
The Jaguar i-Pace is a sleek electric SUV, and Ford had its Mustang Mach E, while Jeep had the Wrangler 4XE and Volkswagen had its ID.4 in the mix. Several sleek Mustang Mach-E models are available to test. Chevrolet has the Bolt, but it was kept back in the Chevrolet display. Mercedes and BMW also have EVs to show. Mitsubishi has its just-introduced Outlander on display in PHEV (Partial Hybrid Electric Vehicle) form. Virtually every booth has an array of hybrids, if not pure electrics, and some of those are exceptional.
I gravitated to the most mainstream of all EVs, the South Korean pair of Hyundai Ioniq 5 and Kia EV6. They share drivetrain technology, but look completely different, and the EV6 is about a foot longer, although the Ioniq 5 has about a 4-inch longer wheelbase. The Ioniq 5 looks more like some sort of futuristic transportation module next to the sleek Kia EV6 shape.
The EV6 has a choice of 167-horsepower rear-drive, or 320-horse AWD, while the Ioniq 5 power choices are 225-horse/258-foot-pounds rear drive, or AWD with 320 horsepower and 446 foot-pounds of torque.
The shape of the Ioniq 5 is completely different from the returning Ioniq (without the 5), and its melding and overlapping creases make it a masterpiece of artistic design. Such angular shaping has carried the Sonata and Elantra sedans to new heights, and I anticipate the Ioniq 5 will make that sort of impact on the EV market — especially starting out under $40,000 and reaching up to as high as $60,000, and with the advanced technology to provide nearly 300 miles of range, and a high-powered charge capability that will regain 85 percent capacity in about 20 minutes.
The auto show is arranged for the car booths and stands gathered near each other for ease in walking among them. Also, an array of fair food is being featured, so you can get your corn dogs or Sweet Martha's Cookie fix right now, among other treats, and munch your way from display to display.
Adult tickets are $20, teenagers $5, and kids 10 or under free. Entry is through RAM Gate 16, and free parking is available in the Robin Lot, accessible via Hoyt Avenue off Snelling.
All sorts of sponsorship help makes the show a success, and when you open the front cover, you see a full-page ad to "Take on the world in style," with a 2022 Chevrolet Equinox with all-new RS trim, from Heartland Chevy dealers. The one in the ad is red; ours for the week from the regional test fleet was glistening white.
As we headed for home, up Interstate 35, we enjoyed listening to the Twins and a couple of NHL Stanley Cup games on the satellite radio system, and our Equinox cruised effortlessly at 70 mph in smooth comfort. No, it wasn't electric. Maybe next year, when my prediction is that the Twin Cities Auto Show will have made its outdoor, fresh-air presence a rite of spring that other auto shows will copy.
By John Gilbert
Just when we had good reason to question whether Ford would maintain the lead it first established in hybrids and electric vehicles with the original Escape Hybrid in the new era of transitioning to electrification of mainstream vehicles, they bend their own rules to produce the Mustang Mach-E.
Ford, of course, said it was going to stop making all cars other than the Mustang, so we now comprehend what they meant: Any new vehicle can fall under the expansive Mustang canopy, even it it's a 4-door, fairly-SUVish vehicle such as the new Mustang Mach-E, which has been in hot demand since its introduction.
The Mustang Mach-E is a pure, Ford-built, electric-powered vehicle (EV) that can perform with or better than virtually every other EV on the market, and it looks remarkably mainstream. Before we get hung up on automotive details, it was our luck to also drive the Mustang Mach-E from Duluth to Cloquet on the day of the new season's grand opening of Gordy's Hi-Hat, the indisputable best drive-in restaurant in the universe.
We may not be in total agreement with Ford, that not all of its "better ideas" are indeed better ideas, but the Mustang Mach-E is right up there among the best of the better ideas out of Dearborn in several decades.
The Mach-E doesn't really resemble the conventional Mustang, which remains alive and well among Ford's car productions. My guess is that Ford was caught in its own cross-hairs. The company had to squeeze the subcompact EcoSport in among its SUVs, and next up was the move to electric vehicles, so when Ford built a pure electric, from the ground up, and rather than give it its own identity Ford decided to call it a Mustang.
That led me to a few sarcastic remarks, suggesting Ford could continue to build the Taurus and the Fusion and the Escort, also, just call all of them models of the Mustang. We probably shouldn't suggest such ideas.
At any rate, the Mustang Mach-E comes in one body style, a fastback 4-door compact sedan — except that Ford is insisting it be classified as an SUV. So be it, although from the look of it, it more resembles a 4-door sporty sedan. You can. however, get it in two versions — a straightforward rear-drive model with a 68-killowatt-hour battery powering an electric motor, or a "Premium AWD" model with 88-killowatt-hour battery and a second electric motor driving the front wheels, to make it all-wheel drive.
My tester was a Rapid Red Metallic 4X Premium AWD model, and it came to me by trailer from the press fleet service in Chicago. At first glance, the closed-in grille catches your eye, because there really is no normal air intake in the closed grille. Fully charged, the vehicle showed a 270-mile range, and instruments on the gauge package keep you posted of remaining range, and what percentage of full-power you have remaining.
It is that "range anxiety" that causes potential buyers to be reluctant, because it certainly is not in the driving. The vehicle takes off swiftly, and silently, although you can switch a setting on the large center-dash panel screen to introduce a couple of piped-in sounds to alert pedestrians that something is coming, and perhaps because occupants of the Mach-E itself might feel uneasy at the eerie silence. Still guided by a dash of sarcasm, my suggestion is if you can pipe any sound through, let's pick a Ferrari Formula 1 engine from 1989, or a Ducati road-racing motorcycle roar. Why not make the "noise" music to motor-sound fans?
The interior is roomy for four, or five, with comfortable front buckets, although rear-seat headroom is compromised a bit by the slope of the rear roofline, which drops off in fastback form. You engage drive by turning a rotary dial on the dash, and with only a one-speed transmission, you needn't worry about any more shifting.
The power of the basic Mustang Mach-E is 290 horsepower and 317 foot-pounds of torque from the rear-drive electric motor, while the 4X Premium improves those impressive figures to deliver 324 horsepower and 428 foot-pounds of torque, with separate batteries driving the two electric motors, fore and aft. Power is smoothly delivered through the one-speed automatic, and you appreciate the silent force available at the tap of your toe. Steering is precise and adds to the feeling of overall safety.
The startling acceleration is best explained by realizing that with a gas engine, you rev the engine up as you move, with the RPMs building until you reach the torque peak at somewhere around 5,000 revs. With an electric motor, you are at maximum torque at zero RPMs. So when you take your foot off the brake pedal and hit the gas, the thing takes off as though shot out of a cannon.
Nobody who has ever driven a pure electric car questions the performance, and we can understand how Ford is next bringing out its F150 EV pickup. Handling agility matches the acceleration, and the silent speed is impressive once you get used to hearing conversation and audio music in the otherwise silent cabin.
There are a couple of things we'd want to check on if we were considering a purchase. There are charging devices spreading rapidly through the Twin Cities of Minneapolis and St. Paul, but the spread is a little slower away from the big metro areas. Duluth, for example, has a couple of sites with chargers, so you would probably want to buy a charging station to have a quick, high-power unit at your disposal. Otherwise, the smaller battery takes a long time to charge on normal household electricity, and the 4X Premium takes longer, so you'd find yourself plugging it in overnight.
We learned right about the time the car was delivered that a company called ChargePoint, which is building charging stations all around the country, has been accused of excessive charging — for money, not electricity — so Ford, Hyundai, and a couple of other companies have broken off their arrangements with ChargePoint. We were assured we could still use their chargers, however.
After paying only casual attention to the remaining range for a few days, we made our short trips, and enjoyed opening day at Gordy's, celebrating with burgers, fish 'n' chips, and a pineapple milk shake. We noticed the range was dwindling, so we hit the two charging locations in Duluth that I know of, and learned that it didn't like either of my two credit cards. You have to have a specific ChargePoint card, which I don't have, to get any electricity out of its plug-in hook up.
I contacted a Ford dealership in Two Harbors, and a salesman said they do have a charger, but he would have to ask his manager, who would call me back within the hour. Guaranteed. Two weeks later, I han't gotten the call. We plugged into our garage household electrical outlet and left the Mustang Mach-E charging overnight, for a total of about 10 hours, and it said our new range would be 65 miles. Not much return, for the time spent, I thought.
I gave a call to NorthStar Ford, and a very accommodating service manager named Kaylee arranged for me to drive up and use their quick-charging unit. I did that, and we left the car there for four hours, until their Saturday 6 p.m. service closing time. When I returned, I was dismayed to see that it showed only "46" on the dash. Then I noticed that was percentage of charge recaptured, which was closer to 77 miles of range.
We greatly appreciated the convenience and accommodating nature of Kaylee and her associates at NorthStar Ford, and we're guessing that Ford will work out a better arrangement with some other aftermarket quick-charge company for its customers.
The number of EVs on the market are growing, virtually by the month. I've driven several, from Hyundai, Kia, BMW, Volkswagen, Tesla, and Volvo's Polestar. Some are built onto existing platforms, some are on unique new platforms. The Mustang Mach-E was built all as one, on a new platform, and the tester listed at $56,200. There are government offers available to offset that initial cost, but it's still not bad, when you consider never again having to pay for gasoline, which has been hanging around the $4 per gallon figure for now, but we don't know for how long.
The "better idea" from Ford works, at $56,200, even if it does not include the stop at Gordy's. Come to think of it, as the Mustang Mach-E and other electric vehicles get more popular, Gordy's might be wise to install a couple of rapid chargers. Low on electricity? Plug it in and order the fish 'n' chips and a milkshake, and both you and your car could get charged up at the same time.,
By John Gilbert
Opinions mean everything when you're evaluating vehicles,  and that's OK, and long as those opinions are come by with honest objectivity. And, as long as you're flexible enougb to change your opinion. You could say I prefer most cars to most trucks, and I prefer most blue paint jobs to most red, yellow or any other.
And then, at the height (depth?) of this winter's heaviest cold and snow season in Duluth, Minnesota, I had the chance to test a new Ford Raptor pickup. The Raptor identity came on the full-size F150, and even though Ford is branching out with the popular stability and handling variations of the Raptor on other vehicles including the Ranger and the Bronco, this one was the newest versin of the vintage F150 full-sized vehicle.
It arrived on a nice, calm winter day to our home up the hill from the North Shore of Lake Superior, but it didn't stay nice or calm for long. As the wind carrie the storm out over the Big Lake, then circled back to hit and rehit our area, we wound up with an overnight snowfall of 14 inches. Then the temperature dropped below zero, as if to torment us because the snow itself was pretty light and fluffy, and we weren't destined to have it easy.
I hadn't really had the chance to drive the Raptor the first day, but the chance — and some pretty convincing evidence on its behalf — came on Day 2, when the true benefit of a full-size pickup truck hit me right between the eyes.
The evidence started piling up, you should pardon the expression, when I first climbed up into the Code Orange Ford Raptor. The color alone made the Raptor graphics stand out, and the truck is tall enough to stand out above the deepening snow in our driveway.
But for once, I had a cavalier attitude about the snow. I just didn't care, because I knew this F150 Raptor was raised, widened, and had beefed-up suspension to take on any task on or off road. Or in knee-deep snow.
It was an easy step up, out of the  fluffy white snow and onto the fixed cast-aluminum running board, while vaulting hips-first into the very stark and very wide, interior of Ford's hottest performance pickup. Looking ahead up my 100-yard driveway I could see the 3-foot high ridge of snow left by the county plow guy, I still didn't care, although my adrenaline started to rise at the obvious challenge, as I pushed the right button to bring the 3.5-liter twin-turbocharged V6 roaring instantly to meaningful-sounding life.
Instantly, the image came to mind of the Raptor saying, "This? This is nothing!" as it snarled to life in the 10-below temperature. I gave it a minute while I checked out all the controls. Then I shifted to "D" and away we went, breaking our own new trail through the snow and whumping through the plow's pile to blast onto our rural roadway. It's hard to believe the Raptor began life as a Ford F-150 before getting the Raptor treatment of a widened platform and all sorts of beefed-up, oversized suspension, exhaust, engine, transmission, ground clearance and other alterations to make it better suited to conquer the worst off-road conditions.
In Duluth, Minnesota, the definition of bad conditions needn't be just off-roading fun, because it can also mean treacherous driving to and on roadways because of large snowfalls that seem to be particularly common this winter of 2021-22.
That's why the revelation hit me. Yes, I like cars in most instances over the huge array of trucks and SUVs, but when you think about it, when five months of your year might face a dozen criticial wintry threats, having a truck makes a lot more sense than for city-dwellers who just "want" a truck. And if you're getting a truck, you might want the industry's standard killer truck for all purposes. And if that means you choose the Ford Raptor, then why not also get it in Code Orange, a bright, flashy paint scheme that is peppered with black decal styling items that indicate to all the world that your super truck is, indeed, a Raptor.
With specific running lights on the top edge of the big grille, with the huge letters "F-O-R-D" covering the full width, there's no chance anybody will mistake what's coming at them. Also, if somebody crashed into the Code Orange Raptor, they'd have to be trying to. No failure to see this beast approaching could be called accidental..
So many "locals" have big pickups that are justified by a tendency to tow a boat or snowmobile trailer up to the cabin, nobody questions the decision. Among all the adjustments possible is a mode switch to set at Normal, Sport, Baja and Quiet. If you suffer from an overdose of macho, going from sport to Baja focuses everything including the exhaust to declare your intentions, and if you have no macho tendencies, I guess you could select normal, but I'm not sure that anybody worth the $78,545 sticker price would click it into quiet.
It is interesting that Ford chose to build a new platform and arm the newest version of the Raptor with enormous off-road tires and a specially-designed Fox Shock absorber system to help showcase the new five-link coil rear suspension and long rear coil springs to all help getting the bolstered power delivery from an estimated 450 horsepower and 510 foot-pounds of torque to the ground, whether it be street or rocky terrain.
Part of the improvements at every part of the Raptor has to be the challenge from the Ram TRX, a new rival to Raptor's domain. But what is most impressive about the Raptor's obvious off-road capabilities are that they don't turn the Raptor into a heavy-duty pogo-stick on rough streets.
We found the seats very comfortable and supportive, but driving over weather-battered streets and construction zones never caused any harshness or discomfort, and we would have to say the new Raptor is over-built for normal trips to Target or the grocery store. Comfort, meanwhile, is everywhere for five occupants in the Super Crew 4×4 — the only version of the F-150 that can become a Raptor. Such features as a potent audio and a large information screen on the dash lead to the logical inclusion of all the connectivity and media features, as well as controls for the requisite camera views for parking and maneuvering aid.
For those who do work from their trucks, the Raptor has Ford's trick console, with a fold-down shift lever, and a flip-over lid that turns into a desk, and reveals a deep, cavernous bin for hanging files to organize your next construction job. With all that, the Raptor is maneuverable and easy to handle, even in congestion where the wider body might seem a problem.
Rumors persist that Ford is already planning for increased challenges, starting with building a Raptor version of the Ranger, and next supplying the new Maverick compact truck with a Raptor model, as well as the new Bronco, which has a half-dozen different models, so why not a Bronco Raptor? But the F-150 Raptor may be about to add a V8 just in case Ram or anybody else tries to outdo the current Raptor's power.
Me? The 3.5-liter twin turbo V6 is more than adequate, and it works well with the 10-speed automatic, and all those trick suspension pieces that help lift the beast higher than its ground clearance can handle. That would be a lot, because it currently has 14 inches of front travel and 15 inches in the rear.
That's plenty for conquering the biggest off-road challenge you might be able to locate.
And for sure, it makes a foot-deep snowfall or a waist-deep snowplow ridge no challenge at all.