By John Gilbert
ESTEPONA, Spain
Volvo took a roundabout route to developing its impressive new S90 sedan — first building the XC90 SUV, then making the S90 virtually a sedan-size derivative — and the introduction test drive of the carliterally took us on a roundabout route.
The area we visited, along the Spanish Riviera between Malaga and the resort city of Estepona, would seem to indicate that Spain might lead the world in "roundabouts," those intersection replacements that turn important roadway interchanges into forced-slowdown circles with various inlets and outlets. In congestion, of course, entering a rotary can be dicey and exiting can be more like an escape.
In southern Spain, it seemed as though nearly every exit from a freeway sent you into a roundabout, which in turn distributed traffic in any and all directions. We weren't aware of all that when we first arrived in Malaga, then rode a coach bus to our luxurious Kempinski Hotel Bahia in Estepona.
Our wave of auto journalists gathered to leave our for dinner at El Pescadoran, where we learned another Spanish tradition. You sit family style, and waiters bring out large platters or bowls of delectable food. Unwilling to leave any, we ate virtually every morsel, then the waiters took the platters away and replaced them with more platters of different delectable items.
The lengthy menu we had seen, briefly, was impressive, but the reason nobody asked us for our selections was they intended to bring us ALL of the selections. Next morning, we had some discussions, and then we were off on Leg 1 of our 4-Leg test drive. Three of the legs would be in S90 sedans, and the fourth in the V90, a slick and sleek station wagon that seems much longer than the sedan, but actually is 3 inches shorter.
My driving partner was Parks McCant, a tall fellow I'd met at the Malaga, Spain, airport, as we joined forces hoping to form a posse that might locate a person wielding a Volvo sign to direct us to a bus that might convey us to our hotel. We struck a quick and easy relationship, and, because he's 6-foot-6, I knew he would provide real-world evidence of adequate head and legroom in our test cars.
I got behind the wheel first, and after agreeing on the luxurious comfort enveloping us, and the impressive ergonomics of the controls and other features, we were off.
Our start was so intriguing we decided to repeat it three or four times — involuntarily, of course. Instead of the usual direction book, Volvo installed all the turns for the route into the navigation system, which is a great idea. A pleasant, soothing female voice suggested when to get into the right lane, prepare to turn, and then turn.
We only went a mile or so and were instructed to exit. At the top of the exit ramp we found our first roundabout. The Nav Lady told us to take the third exit from the roundabout, which we did. We should have taken the second, but we didn't know that, so we trusted the instructions.
The highly efficient Nav Lady, with proper Scandinavian courtesy, didn't tell us we had fouled up, but merely directed us back on course. So we thought we were merrily on our way, following a sequence of directions to cross a bridge to another roundabout, followed by directions to another roundabout, then a third roundabout. That got us back near our starting position, and because it was all pretty unfamiliar, we sailed off again. We followed the same instructions the second time, and it wasn't until partway through the third lap around the same sequence of roundabouts that we realized we were repeating our mistake.
Somehow, the wrong instruction trapped in a sequel-with-roundabouts of the Bill Murray movie "Groundhog Day," where the star is destined to repeat everything, day after day, trapped in some cosmic vortex.
The upside is that I learned quickly how best to take those roundabouts. You enter, look for a yield sign, and if you see one, pause to let blending traffic go by. If you don't see one, assume the other guys have the yield, and barge directly into the rotary to take your rightful spot.
The only times the dozens of roundabouts bogged down were when some cautious, or logical, driver hesitated without the yield, plugging up the right-of-way lane and signaling the other traffic to zoom in out of turn.
Amazingly, there was a second similar mistake on our navigation's directions, meaning we spent another half-hour wild-goose-chasing on weird tangents from another rotary on our way to lunch. That one was in a small town, and I trusted my innate sense of direction to bail us out and we zipped around the block and onto our proper course. A third occasion came when we were advised to take the second exit off a roundabout and I did that, only to find that we had sped into the parking lot of a business, because the second "exit" was actually a driveway, and didn't count.
Those were only minor interruptions in what otherwise was some enjoyable cruising through the rural hillsides, where new housing developments seemed to be reaching into some centuries-old areas. Naturally, we favored the older areas, knowing some buildings might have dated back a couple of centuries. Or more. Even though the correct exit differed from our Nav-Lady's polite suggestion a few times, our "Scandinavian Sanctuary" brought us to the proper lunch site, and then back home, with some great roadways and a lot of laughs behind us.
The S90 displayed great reserves of power, and with its interior comfort and the car's structural silence of a bank vault, our biggest debate was whether it was a luxury car with sporty overtones, or a sporty sedan with luxury features.
We had a fine courtyard dinner afterward at the Kempinski Hotel, slept well, then arose to an endless breakfast buffet and checkout time, followed by the opportunity to do some more test-drivin. We drove the V90 wagon for a while, then it was time to board a large bus for the ride to Malaga, where we got the chance to play tourist.
A guided tour of an ancient castle-like fortress, the Alcazaba de Malaga, built for 11th century Moslem rulers of the coastal city, with a view of the harbor to the Mediterranean, and its own Romanesque coliseum out back, was memorable. A stroll to the hometown museum of Pablo Picasso's private work was fascinating, and left us only a short stroll to the Vincci Pasada Hotel.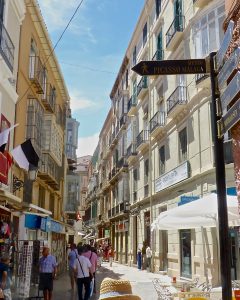 That evening, we had another group-stroll to another outdoor restaurant with exceptional food served family style. A pleasant evening of casual conversation was the perfect climax to a memorable trip to drive a car that appears destined to make major inroads, so to speak, on the German, Japanese and American luxury car-makers, and buyers.
I'll always remember the Volvo S90 as the most comfortably accommodating large sedan to drive around a dayful of roundabouts, or to a vacation trip to Malaga and the Spanish Riviera.
By John Gilbert
ESTEPONA, Spain — A year ago Volvo replaced its aging XC90 with an entirely new SUV that ran the table of SUV-of-the-year awards. Bolstered by proper financing from its Chinese owners, plus a new plant in China and a planned one in the U.S., the iconic little  Swedish company has grown far beyond its home in Gothenburg.
Only a few months after the consensus proclaimed the XC90 as perhaps the finest SUV ever built, we find ourselves searching for superlatives again, this time about where the all-new S90 plugs in among the hotly contested luxury sedan segment.
Competition includes such luminaries as BMW 5-Series, Audi A6, Mercedes E-Class, Lexus GS or LS, Acura RLX, Infiniti Q70, Jaguar XF or XJ, and Porsche Panamera. After only brief driving stints in the new S90, there seems no question it can compete with all of those established stars in performance, features and spacious comfort, and the new Volvo is unexcelled when it comes to safety, of course, and maybe also to technology.
Despite the acclaim given the XC90, Volvo knows the auto media is filled with cynics, so nothing was left to chance when the time came to introduce its all-new S90 sedan. Volvo summoned selected auto journalists to Spain, and more precisely to the Spanish Riviera. My thought is the cynics must have stayed home, because everybody I talked to was as impressed as I was about the new car.
Volvo designers took the XC90 — their "Swedish Sanctuary" — and lowered it down to sedan size, keeping the new signature grille and nose, but wrapping the same superb platform in a stylish shape with pleasing contours. It looks absolutely nothing like any previous-generation Volvo sedan, but retains a familial appearance with the XC90, while further establishing the corporation's new direction for style.
Officially, the S90 replaces the outgoing S80 in Volvo's lineup. A V90 station wagon accompanies the S90, with smooth lines on what is, surprisingly, 3 inches shorter than the sedan.
Under the hood and body is the same powertrain as the XC90, which means a potent, high-tech 2.0-liter, dual-overhead-camshaft 4-cylinder, which feels much larger armed with a turbocharger, and MUCH larger when fitted with both a supercharger and turbocharger for all-wheel drive.  Still to come is the T8, with supercharger, turbo, and a sophisticated hybrid system running the rear wheels.
Volvo engineers stress that Mercedes, BMW, Audi, Ford, and others are also building small 4s and using turbos to bolster the power of larger displacement. True, but Volvo caught the world by surprise by vaulting to the forefront of such impressive technology.
In the S90, the optional supercharging gives the little turbo 4 startling acceleration off the line, and turbocharging allows it to mimic V6 or V8 power at higher RPMs.
"Of course we had some the normal issues during development," said Lutz Stiegler, a high-level German engineer hand-picked to move to Gothenburg three years ago and become senior director of Volvo powertrain controls and calibration. "Since we launched the car, nothing happened to worry us any more than any previous engine.The complexity increased, but our quality also increased, and even under extreme conditions, we've gotten similar or better results in reliability than in our previous engines."
Different models with different packages start with the 250-horsepower, front-wheel-drive T5 at $47,945, while the all-wheel drive 316-HP T6 version is $53,945. Volvo officials anticipate 50-50 sales between the two. Moving up to the best-appointed Inscription model fills the S90 with features and luxury and boosts the T5 sticker to $51,445 with FWD, or $57,145 for the T6 AWD.
All engine varieties are coordinated to either front or all wheels by an Aisin 8-speed automatic, which Volvo engineers claim is better for efficiency than those with more or fewer speeds, or CVT, continuously-variable transmissions. It has second-generation shift paddles mounted on the steering wheel for manual operation.
"We use an Aisin 8-speed transmission from Japan, which Volvo has been using for 41 years now," Stiegler said. "The transmission is so important in combination with our engine, and we need extremely fast torque-reduction."
The turbo-4 in the T5 model has 258 foot-pounds of torque with its 250 horsepower, and runs 0-60 mph in 6.5 seconds, while the supercharged and turbocharged T6 has 295 foot-pounds along with its 316 horsepower, and can burst 0-60 in 5.7 seconds. All Volvos will be powered by that 2.0 engine, and Stiegler said, "We will never again make a normally aspirated engine." He did indicate that a new replacement for the compact S40 will be powered by a turbo 3-cylinder, which will be the 2.0 with one cylinder lopped off.
Volvos always are unexcelled when it comes to seats, and the S90's are improved, if that's possible, with thinner backrests but still orthopedically designed for optimal comfort and also to minimize injuries and prevent the occupant's body from being compressed in an accident.
We were anxious enough without any distractions, but we had them, for certain. As the old Hoyt Axton song goes, "I've never been to Spain," so with great eagerness I flew from Duluth to Minneapolis, to New York, and then nonstop to Malaga, Spain. There, we hopped on a charter bus and rode for an hour toward the southwest, arriving at a place called the Kempinski Resort Spa. Another hour and we'd have been at Gibralter.
When we walked into the huge Kempinski lobby, there was a new S90, parked as an indoor display to entice us a bit more. The rooms were fabulous, with balconies looking out to a courtyard with swimming pools and small food and beverage stands. Walk down another row of stairs, past the lounge chairs, and you are about 50 feet from sticking your toes into the Mediterranean. Another thing I had never done before.
A week would not have been sufficient for enjoying all that the Kempinski had to offer. We had a downtown sidewalk dinner of never-ending family-style courses that were delectable, if sometimes unidentifiable.  A night of sound sleep fought off jet-lag, and the next morning, after an expansive breakfast buffet looking out on the blue-green Mediterranean, we were off in our fleet of Volvo S90 Inscriptions.
The car performed admirably, with surprising speed and cornering agility, especially while handling the Spanish freeway system and, even better, the mountain roads laid out for our prescribed course. The firmness of the new platform the S90 shares with the XC90 added to the secure, solid feeling, and the new suspension with double wishbones up front and transverse leaf or optional air-suspension at the rear aided handling.
The solid feel is part of Volvo's traditional safety focus, a constantly evolving focus on occupant safety. The S90 is made of high grade steel, with over 30 percent of it made of ultra-high-strength steel, which is better than "very high strength," or merely high strength. After making the car as safe structurally as it can be, Volvo now is focused on making the driver safer and easing the interaction between driver and car.
"This car has the latest active safety," said Thomas Broberg, who is in charge of Volvo's elaborate safety facility in Gothenburg. "With our sensors, radar, cameras and computers, this car can see and feel what the driver is doing. It is prepared for the next step of connectivity, too, and is an enabler for what you want and what you'll need in the future."
On our final day, we went by bus to Malaga, which is the birthplace of Picasso, and we were able to tour an old castle as well as walk through Picasso's own hometown museum. We learned that all those weird Picasso paintings with two different-looking faces juxtaposed, represent relationships between lovers, where they blend into one unified person. I may have to take a new look at Picasso's work — including the one we have hanging in our house!
John Gilbert
The rich memories of my childhood include our family drives, usually on Sunday afternoons, in the rural areas north of Duluth, Minnesota. From the back seat of our black, 1951 DeSoto sedan, my sister and I would join my mom and dad playing word games, usually picking some everyday object and trying to prevent the rest of the family from identifying it. While asking for clues, the common starter was: "Is it bigger than a breadbox?"
There's no time for family drives anymore, it seems, and our own two sons are adults, growing up before current electronic connectivity, videos and smartphones replaced guessing games. And what the heck is a breadbox, anyway?
Chrysler LLC has done its best to recapture that nostalgic era of family drives and possibly rekindle the demand for the family utility of minivans when it introduced the 2017 Pacifica, a totally renovated version of its once and present — and maybe future — premier family hauler. The Pacifica is Chrysler's new minivan, a vehicle which might best be described as the automotive version of a breadbox; it stores people the way breadboxes used to store assorted loaves of fresh-baked bread.
In a unique idea, Chrysler invited auto journalists to The Resort at Pelican Hills, just south of Los Angeles, and to bring our families along. No limit on how many kids in a family, but they they had to fit into one room. However, The Resort at Pelican Hills offers more than just a room. More of a series of individual 3-bedroom condos complete with three bathrooms, a living room, dining room, kitchen, and enormous space, including outside decks, overlooking over a golf course with the Pacific Ocean just beyond.
How sophisticated was The Resort at Pelican Hills? The condo immediately next to us housed Ben Roethlisberger, the gigantic Pittsburgh Steelers quarterback, with a revolving assortment of friends. Ben usually left the garage door open, giving us a good view of his gleaming white Ferrari, and a more symbolic view of why big-time quarterbacks need multi-million-dollar annual salaries.
For the auto journalists, there was no age limit on the "kids." Unfortunately our younger son, Jeff, couldn't join his older brother, Jack, and my wife, Joan, and me. Joan and Jack always have contributed opinions to my reviews for Newcarpicks, so it was sort of like a field trip for the three of us. Joan always has helps me evaluate test cars at home, and Jack provides views, and supplements my passion for photographing cars at car shows or Midwest Auto Media Association rally events.
As we first approached the Pacifica, and before we had even climbed aboard, Joan said: "I like the design. It's really beautiful and sleek — especially for a minivan."
The plan included each family getting a Pacifica for a full day of free time, either on your own or following planned trips itineraries in Los Angeles, Hollywood, or on down the Coast to San Diego — the perfect way to learn first-hand all the Pacifica could offer as a contemporary family hauler.
The striking appearance of the exterior led to some questions for chief designer Brandon Faurote, because while designing the Pacifica, it was an all-new breadbox, but a breadbox nonetheless. "There's no better way to move people and cargo than a minivan," he said. "If you have three kids, there's nothing better."
On the road, we drove south, and then through the Southern California mountain curves inland from San Diego to the Safari affiliate location of the world-famous San Diego Zoo. It was plenty twisty, but the tight steering allowed us trace perfect arcs around the tightest, more like a sports sedan. As if to provide a subtle analogy, the Safari staff provided a speed test with a cheetah, which sped past in an elongated cage, chasing a spring-loaded bait and nearly catching it, with a 0-70 mph burst that eluded the naked eye, but, fortunately, was caught on camera.
Later we cruised to Laguna Beach, various coastal towns and shops, restaurants and other attractions, always in spacious comfort. Jack, mostly encased in the rear seats, enjoyed the flexibility of the Stow 'n Go arrangement to fold the second-row buckets flat into the floor. He didn't get as much time as he'd have liked to watch the video screen and use the wireless speakers on the optional Infinity sound system, but he could appreciate the tight stability and handling from back there.
"It's the perfect vehicle," said Jack, a confirmed 2-door coupe zealot who once played guitar in a rock band. "It handles like a sports car, with enough room for the whole band. The Wi-Fi on board is one of the most useful things ever.
"It's extremely quiet, for as rigid as the suspension is. Maybe it's because we're driving on roads without potholes. We're just not used to that in Minnesota. And the Stow 'n' Go seats are now power operated."
Joan was the ideal scrutinizer for the finer interior touches, such as the large and stylishly finished nav screen, flush with its border. She liked the soft-touch material that covered the whole dash and gave it an extra feel of luxury.
"Inside, I like everything, including the layout of the instruments and things like the rotating shift dial on the console," said Joan. She was more impressed the second day, when we moved up from the fully competent base model to the Limited. "Back seats are not always comfortable in minivans, but this one is," she said. "The front seats are more comfortable in the Limited, too. If we had a family of young kids, I'd get one of these, because there is not one thing to not like.
"The way it's set up for baby seats is great, and the Stow 'n' Go gives you a place to put your purse or other valuables. Every car should have that. They must have a mom on the design staff."
That was all part of the plan, said Faurote, the designer who created a vehicle that most resembles an amalgamation of a minivan, SUV, and station wagon. "We wanted to appeal to both side of the brain, both the rational and emotional sides. We started from the ground up and changed the proportions by stretching the wheelbase, enlarging the wheels and tires, and widening the track significantly to give it a really strong presence on the road. We tried to round the corners off the box, to make it more appealing to the emotional side, versus the rational side. Something people really wanted to buy, rather than just needed to buy."
In this connective age, we all know that features such as the Pacifica's video screens in the backrests of the front buckets, and the larger rear-seat ceiling screen, have become the modern method for eliminating the constant "Are we there yet?" questions from kids who have lost their patience.
That, in fact, was perhaps Joan's only criticism. We know that video games have become the pacifier/babysitter for a new generation. Can we imagine kids from today someday reminiscing about how they can't remember anything about the family trip to the Grand Canyon, but that was the trip where they recorded their highest score in (insert name of favorite overused video)?
"I wouldn't want the back video screens," said Joan, recalling some great memories from actually looking out the windows at the real world speeding past, the way we used to do when our sons were kids.
By John Gilbert
What would happen, I hear you ask, if all the slick new styling, interior features and attractions of SUVs and CUVs were combined with the family-friendly spaciousness and efficiency of a contemporary minivan, in one all-new vehicle? The result would be the 2017 Chrysler Pacifica — a brilliantly designed and finished family transportation module that could recapture the popularity once enjoyed by minivans.
A lot of the changes are subtle, and from a distance the Pacifica certainly looks like a minivan. But make no mistake: The Pacifica is entirely new, from its platform on up to its panoramic sunroof, and from its sleekly aerodynamic nose to its bob-tailed magnesium and aluminum liftgate. More than that, it drives brand new — more like a sports sedan than a soccer-mom-mobile, while pampering its occupants in quiet luxury.
The minivan as a U.S. automotive craze apparently ran its course in the three decades since.the sibling Dodge Caravan and Chrysler Town & Country created, expanded, and then dominated the segment that once sold about a million units per year. That number has dropped by about 50 percent as consumers become more and more infatuated with sports utility vehicles and now CUVs. But a half-million potential sales are still a lucrative target, and demographics indicating more kids are on the way might foretell a comeback for a vehicle that never really went away. Read more
By John Gilbert
SAN DIEGO
Hyundai has been on an impressive upwardly-mobile roll ever since the 2011 model year, reaching levels of achievement in design and technology that couldn't have been predicted. The Sonata has become a midsize mainstay, the Santa Fe and Tucson dependable entries in the sports-utility segments, the Genesis among sports-luxury sedans, the Accent as a subcompact, and the Veloster as a quirky specialty coupe.
There also is the compact Elantra, which was restyled for 2014, amid major upgrades to all the other vehicles coming from the South Korean manufacturer, and the Elantra surprised many even at Hyundai by winning the North American Car of the Year award in 2014, when it was last redesigned, right there among the world-class competition such as Civic, Mazda3, Corolla, Sentra and Jetta.
But now Hyundai has done it. The newest redesign of the compact Elantra for 2017 is so good it might be TOO good! I suggested to Hyundai officials that if the Sonata wasn't one of my favorite vehicles in the automotive world, I would say the new Elantra is so good I'm not sure the Sonata is still needed.
The Sonata looks good, and the new Elantra looks like a slightly downsized Sonata, so the comparison begs to be made. A bit longer than the current model, considerably stiffer, stunning in its exterior restyling, and with driveability that is vastly improved in engine performance, steering and suspension, the new Elantra rates a "10" in every aspect, including a level of quietness that is startling for a compact. Read more