By John Gilbert
It is impossible to not be impressed with all that Nissan has been doing in the past few years, and the new 2015 Murano luxury SUV is one of the more recent examples.
Strong engines, more engaging designs, much improved handling and sportiness, and constantly increasing sales from its lowest priced economy cars up through its costliest SUVs and its superlative Infiniti upscale line have conspired to lead Nissan to expanding popularity.
But I have a confession. As a long-time auto journalist, I have disciplined myself to be completely objective about the ingredients that go into each car, and I am thoroughly impressed with the latest technology, whatever company offers it. But I retain the right to have my likes and dislikes. Could I buy a car that has mediocre technology if I really liked the styling? Probably. Could I buy a car that has fantastic technology if I disliked the appearance? Probably not.
My confession is that I never liked the Murano. There. I've said it.
When it comes to Nissan SUVs, I have always felt like the Pathfinder midsize SUV might have been custom-built to fit me. The huge Armada is impressive, and angular, although it's too large to appeal to me.
The compact Rogue, meanwhile, is a favorite of mine, and my wife Joan's. It works in all weather, it's big enough for us — and most SUV and crossover customers — and everything works, particularly when it's time to go from front-wheel to all-wheel drive, and you can lock it in 4×4. It will roll happily in good weather and churn through the occasional 40-inch-plus snowfall we've come to know and love in Northern Minnesota.
Even the tiny, and decidedly weird, Juke has considerable appeal, because you can get it with all-wheel drive and it performs like it rather enjoys its identity crisis that makes it both a sports car and an SUV. I particularly liked the active-lifestyle Xterra, although it didn't sell well enough to survive.
Amid that flurry of SUVs, the Murano showed up and attracted some friends of mine amid its customers. They loved it's luxury and its features. I liked everything about it, except its styling. It looked to me as though Nissan might have taken the rugged, off-road-aimed Pathfinder and left the clay model of it too close to the fireplace, causing it to melt until it drooped down inelegantly at the front and rear. I like aerodynamics when they cheat the wind, but less when they are just droopy.
Some of those sloped-nose and rounded rear lines found themselves onto much costlier Infiniti models, and I wasn't enamored with them,  either. I know, also, that I might be unfair in my assessment, and I never let it intrude on my analysis of the mechanical wonders and creature-comforts of those vehicles so-afflicted. The reason this is the right time to come clean is this all-new Murano for 2015.
It has been thoroughly redesigned as third generation, and it looks nothing like the outgoing Murano. I like the looks of the new Murano, and I like the way it drives, with good power and impressive handling, and a firm, road-holding capability that puts it on the upper strata of moderately priced SUVs. We first drove the Murano up the Pacific Coast in California, stopping to appreciate the crashing surf and the occasional sea lions.
From the side, the new Murano is all contours and pleasing bulges, first lifting over the large front wheelwell, then meeting up with a line coming off the top of the fender, from which that contour rises gracefully back to the taillight. Meanwhile, a chrome strip underlining the side windows, kicks up into an interesting but style-only bulge that comes back down to also meet at the taillight.
From the front, the Murano looks all new, much more like a sibling of the Pathfinder and Rogue. The interior is stylishly luxurious, with a 7-inch color readout panel between the speedometer and tachometer, and a larger (8-inch) touchscreen at the top of the center stack. I have always admired Nissan's navigation, particularly the maps, which can be adjusted to a 3D "birds-eye" view of the road ahead. However, I have grown to dislike touch-screens, only partly because one of my favorite stay-alert tricks on longer trips is a large sack full of popcorn, with butter and salt, please.
Eating popcorn slowly, one kernel at a time even, provides a steady crunch that is a welcome aid to alertness, but a little butter residue on the fingertips is not the proper recipe for operating a touch-screen. Even without the butter, it doesn't take many fingertip-taps to pretty much cover the touch-screen with funny little fingertip marks — annoying enough to make you happy that Nissan also provides a couple of push-buttons to operate audio controls.
Other neat changes are in aerodynamics, where the coefficient of drag has been reduced impressively, and in creature features such as a large moonroof, and zero-gravity seats, which decrease stress and fatigue. The heated and cooled front seats and heated rears have more support for the lower femur and hips. Enlarged rear storage capacity offers expanded area behind the second row of seats.
A remarkable feature of the new Murano is the quietness inside, thanks to wider acoustic laminated glass in the windshield and hood insulation.
Use of high-grade steel helps lower the weight by 146 pounds on the Murano, which stays on the same platform, and maintains the 111.2-inch wheelbase, while lengthening by 3 inches to 192.8. Width is also increased by 1.3 inches.
While nobody quarrels with Nissan's ability to build engines, there is an interesting philosophical thing going on with Japanese automakers. Apparently inspired by higher-powered and more-efficient engines from South Korea's Hyundai, Mazda and then Honda redid their engines, modernizing them with direct injection and improving both power and fuel economy. Toyota and Nissan, on the other hand, have stayed with their engines, with port injection, which, good as they have been for over a decade, may leave them a jump behind in the technology game.
The 3.5-liter V6 in the Murano is familiar, refined to 260 horsepower and 240 foot-pounds of torque. The transmission verifies Nissan's world-leading devotion to CVTs — continuously variable transmissions — which adjust engine speed by a variably enlarging set of pulleys rather than planetary gears. That can seem boring, because the engine tends to drone rather than rise to a peak, but it is efficient, and there is a manual-override capability that allows the driver to manually step up the cables to simulate a seven-speed automatic transmission.
Thicker stabilizer bars and improved steering make the new Murano corner and handle much better, and we swept around some twisty curves with smooth stability just to prove it. EPA fuel efficiency estimates are 21 city, 28 highway. Advanced safety items such as blind-sport detection, forward warning and emergency braking, and along with the full 360-degree monitoring system shown on the nav screen, many of the features can be ordered separately or by class.
The base Murano S starts pretty well equipped, and you can move up to SV, SL, or Platinum. The base vehicle starts at $29,995 with front-wheel drive, and works up to $40,000 for the Platinum with all-wheel drive and the Navigation package. Nissan foresees a 50-50 split between front-drive and all-wheel drive.
If you liked the looks and features of the current second-gen Murano, you're sure to be impressed with this new third-generation model for 2015. And if you never did like the Murano, there's a fighting chance you'll still like the new one.
By John Gilbert
After driving the revolutionary 2015 Ford F-150 pickup truck at its introduction in the Texas Hill Country west of San Antonio, I knew I would need more. Such as, the opportunity to try various models of the F-150 on my "home turf" in Northern Minnesota to get the true feeling of the new truck's significance.
Several SuperCrew versions, with the two most-powerful engines, worked well during fall, winter and spring sessions, then I finally got an F-150 almost the way I would order one: The SuperCab, with the new 2.7-liter EcoBoost V6.
My theory always has been anything bigger than big enough is too big, and there's no advantage to hauling extra weight around, losing fuel economy, and finding parking spots for lengthier models.
Going with the lighter theme, the new 2.7 member of Ford's EcoBoost family is unrelated to the 3.5, which began life built to withstand the fast-revving forces of turbocharging. Ford enlarged it to 3.7, then brought it back to 3.5 this year.
The concept of downsizing in number of cylinders and displacement size is to gain fuel economy, and jacking up the power with turbocharging bridges any gap to provide better towing and hauling numbers than the trusty and traditional V8s. The 3.5 EcoBoost proves it, with increases of over 80 horses and about 130 foot-pounds by adding the turbos.
All versions of the new F-150 seem to reflect the broader base and stronger framework of the pickup, as well as improved suspension and maybe the lighter weight. The trucks feel stable and planted on the highway, and they carve into curves smoothly with the well-balanced power steering, with the standard 6-speed automatics handling the power assortment.
When I first got the 2.7 EcoBoost-powered model, I mentioned to my wife, Joan, that it must be the most powerful engine, because of the way it dashed up some steep hillsides in Duluth. When I got home and unfolded the information sheet, I was surprised and impressed to learn it was the smallest 2.7, performing with potency because of the twin turbos, and with what felt like added agility from the smaller cab and lighter weight.
I also was able to coax 23 miles per gallon from the 2.7, but you have to be careful — take it easy on the hot starts and go light on the gas and you can get mid-20s, but if you kick it down to enjoy the potential of the turbos, you will drop quickly to 20 or less.
The test vehicles varied in price as much as in style and equipment. Figure if you're going to get the trailer-towing package, spray-in bed-liner, the latest Sync connectivity, and a few other options, you're going to be up over $40,000 in a hurry, and probably over $50,000.
As has become customary in the full-size pickup business, all the terms stress superlatives, because nobody wants to be assessed as inferior in any way. Ford's list of names goes from XL to XLT, then up to Lariat — it's apparently also mandatory to name the top-of-the-line models with some sort of ranch or cowboy euphemism. But wait — there's more! Above and beyond the Lariat is the King Ranch, and above that is the Platinum, as Ford acknowledges that truck customers are not only willing but eager to pay over $50,000 or $60,000 to get their pickups loaded up with fancy interiors and all sorts of creature features.
There used to be base, extended cab, and crew-cab pickups, and that has advanced from the basic up through various cab sizes, to full, double-length SuperCrew, which installs luxury-sedan features into trucks. The SuperCab sounds big enough, but it's actually what used to be called extended-cab.
It has a second row seat that is spacious enough to carry passengers, but instead of a huge pair of rear doors, it
has narrow rear doors that open from rear hinges. On my test truck, opening those doors reveals no B pillar separating it from the front doors. The rear seat can fold up, revealing a fair amount of storage space.
And in a trick swiped from Nissan's Titan, the SuperCab rear doors open 170 degrees, folding back almost flush to the body, which is handy for parking lots and for ease in loading passengers or items.
It was bold for Ford to take the nation's top-selling vehicle and daringly changed everything. Underpinning the cab with a majority of ultra-high and high-strength steel, Ford went to a body and box of high-grade aluminum. While the switch to aluminum has dominated the news about the 2015 North American Truck of the Year, the addition of a comparatively tiny EcoBoost 2.7-liter V6 engine to power the lightened truck might be almost as significant.
Altogether, the new F-150 comes in about 700 pounds lighter than its predecessor, and while the usual dizzying array of cab configurations and box lengths are available, the powertrains provide big power in smaller packages as they fly in the face of the Chevrolet, GMC, Ram and Toyota competitors and their huge V8s.
The biggest Ford engine a year ago was the 6.2-liter V8, and it no longer is available. Biggest now is the Mustang-based 5.0 V8 which has a wonderful audible report to being stomped on. The 2.7 is the wild-card added to Ford's array, which ranges from the naturally-aspirated base 3.5-liter V6, with 283 horsepower and 255 foot-pounds of torque; then a large step up to the 3.5 EcoBoost, twin-turbocharged up to 365 horsepower and 420 foot-pounds of torque; and the 5.0-liter V8, with 385 horsepower and 387 foot-pounds.
Augmenting that trio, the all-new 2.7-liter V6 also gets the EcoBoost treatment, which includes direct injection and twin turbochargers, and it generates 325 horsepower and 375 foot-pounds of torque. That's not as much as the 3.5 EcoBoost or the V8, but surprisingly close, and if you try it, it might be enough.
Surprisingly, a lot of publications, columnists, and some voters dismissed the F-150 in Truck of the Year assessments. There are some other impressive trucks, including the new mid-size Chevrolet Colorado and its sister ship GMC Canyon. But the switch to aluminum construction, and the expansion of powertrains to include a smaller and second EcoBoost with amazing power, sets the F-150 on a pedestal by itself.
It won the North American Truck of the Year, and will be the focal point for the next-generation Ram, Silverado, and whatever else is in the segment. The new F-150 has cross-member beams of heavy-duty aluminum bars encircled with high-strength steel.
Steel in vehicle construction can be in a half-dozen different levels of strength, and expense, so Ford used a lot of the lightest and strongest high-grade steel, and the strongest aluminum, to assure the F-150 would be lighter, but also tougher than the very challenging competition. The square structure under the front end, and the "A" pillars are hydro-formed for added strength.
Colleen Hoffman, one of the many engineers focused on the transition, talked about reinforced fenders and important parts beyond the body panels that are both lighter and stronger by the transition to aluminum, allowing the F-150 to come in 700 pounds lighter than the 2014 model.
"Panels are heat-treated for strength, and every component comes out 20 percent lighter, and yet stronger by weight than normal steel," said Hoffman, explaining the compromises on weight and strength. "Aluminum is more expensive to work with, but it can be down-gauged."
Three years ago, Ford put the 3.5-liter V6 EcoBoost in the F-150 and proved it could out-accelerate and out-pull its V8s, while also getting improved fuel economy, simply by having two fewer cylinders. Quickly, the EcoBoost 3.5 became the top-selling F-150. This year, the 2.7 is likely to be the top seller. For the top-selling truck.
By John Gilbert
When Hyundai redesigned its midsize Sonata for the 2011 model year, a trusty and useful caterpillar was transformed into a stunning and award-winning butterfly, and the overall success of the Sonata gave the South Korean company an instant signature vehicle.
Boasting a sketchpadful of curvaceous contours, it also was blessed with new levels of high-grade steel — from its own steel plant — for lightness without compromising safety, and an all-new 2.4-liter 4-cylinder engine that bristled with sporty power, thanks to a futuristic high-pressure/low-temperature but costly direct injection system. Hyundai hooked it up to its own corporate 6-speed automatic transmission that was built in-house and was lighter and smaller than the less-efficient aftermarket 5-speed transmissions used by other companies.
All those features gave the Sonata a technical edge on its competition almost before suddenly the Accord, Camry, Mazda6, Fusion, Malibu and Altima knew that more than midsize room and sportiness were being challenged. Despite the edge in technology and fuel efficiency, the Sonata also came in several thousand dollars lower in sticker price. As if to prove that everything could be star-crossed into one vehicle, the 2011 Sonata was U.S. built, in a new plant in Montgomery, Ala., while its engine plant was 50 miles up the freeway.
I thought the Sonata was the most significant car introduced for 2011, and I mentioned to a Hyundai engineer back then that the car had all the ingredients to be the perfect contemporary vehicle. The only thing lacking, I suggested, was in steering and suspension, both for firmer handling, and also because they could be coordinated for the true sporty handling the car deserved. Those would be the toughest achievements, and take the longest to attain.
Still, self-teaching itself to create the ingredients was substantial enough that Hyundai could spread its new-found technical wealth around to its other vehicles. Within a couple of years, all its smaller 4s, larger V6es, and new V8s benefitted by direct injection and the in-house transmission.
A new entry-luxury Genesis was another part of Hyundai's upsurge, which is a factor in the new-for-2015 scenario. A thoroughly renovated Genesis has just arrived for 2015, with smoothly flowing refinement and the proper room and features of a luxury sedan, with proper handling, having learned a few suspension tricks from consultation with Lotus engineers. It all works amazing well.
But before anyone could suggest the bargain-luxury Genesis had become Hyundai's new signature model, the redesigned 2015 Sonata arrived. On the outside, the Sonata trades in the polarizing contours for a more formal look, which Hyundai calls "Fluidic Sculpture." The new Sonata actually resembles the new Genesis more than it does the outgoing Sonata, leaving those curvy contours to remain distinctive for the 2011-14 Sonata, and replacing them with sweeping lines and a new, upright, Genesis-like grille.
"Instead of adding more flair, we put straighter lines on the sides, so it looks more like an athlete in a tight suit," said Christopher Chapman, chief designer of the car.
The resemblance is striking if you park a Sonata alongside a Genesis. You could easily mistake one for the other, although the Genesis never looks like a bargain-priced midsize, even if the new Sonata takes on entry-luxury stature. Inside, the Sonata's interior has been refined and restyled to appeal to every taste. But the real trick is underneath that exterior and interior.
Hyundai will never say that Lotus helped design the suspension of the new Genesis, but from vastly tightened and responsive steering and the far more coordinated suspension of both cars, we can theorize that Hyundai engineers applied some Lotus ideas to the rear-drive Genesis, then reconfigured it to revolutionize the front-wheel-drive Sonata's feel.
In the corporate scheme of things, Kia gets joint-venture use of Hyundai engines and transmissions. Kia builds the Optima, a very slick parallel to the Sonata. The Optima has always had the benefit of more sporty touches, while the Sonata has been more, uh, pedestrian.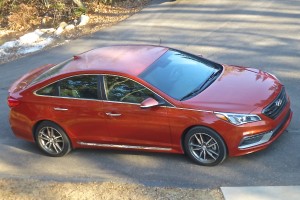 But the new Sonata, which starts with the same reliable and peppy 2.4-liter 4 standard, adds a couple of variants for 2015. A Sport version has the reduced-displacement 2.0-liter engine, which is turbocharged and direct-injected for a large boost in power, and the 6-speed automatic gets steering-wheel paddle controls for manual shifting. The steering wheel has a flat-bottom shape, similar to the Volkswagen Golf GTI, for those who might not push the Sonata Sport hard enough to appreciate its improved dynamics.
In addition, the Sonata is offered with Hyundai's very peppy little 1.6-liter 4, lifted from the Accent, Elantra, and even the newly revised Tucson SUV in a hyper-economy model. Turbocharging makes it more than just an economy car. In a matter of weeks, Hyundai also will present a new hybrid Sonata.
After driving several models at the Sonata introduction, I spent a week with a glistening white Sonata Limited, and more recently was able to spend a week with a Sonata Sport. It was a unique off-red color, called "urban sunset," and it came with the 2.0 turbocharged engine that produces 245 horsepower at 6,000 RPMs, and 260 foot-pounds of torque, which is not only a lot of punch, but peaks and remains constant all the way from 1,350 to 4,000 RPMs.
The car carved through curves and tight corners with precision, amplified by the paddle-shifting, which gives the Sonata part of its new personality. Greatly appreciated, too, is the coordination between the refined power steering and the new suspension — both tweaked to sport settings.
With stability management and traction control, the latest brake-force distribution and brake assist, plus all the high-tech features, such as blind-spot detection, rear cross-traffic alert, leather seats, automatically dimming rearview mirror, and Bluetooth and Blue Link connectivity, the Sonata Sport listed at $29,510. Definitely a bargain, considering the features and refinement contained within.
"More horizontal architectural lines create the reality of more control," said Chapman, inadvertently describing the juncture of appearance with reality. "It's built with safety, but it's intuitive and comfortable while being safe. If we can turn safety into something sexy, the whole industry will be better off."
Hard to quarrel with that. It's all part of living up to its new image, although the explanation, impressive as it is, might still fall short of explaining how the previous generation Sonata had all the ingredients to be a great car, while the new one puts all those ingredients in place to reach that plateau of being a truly great car.
By John Gilbert
REYKJAVIK, Iceland
Often when you take a trip, the proper cliche is "getting there is half the fun."
Not this time. When Land Rover invited auto journalists for a first test-drive of its new Discovery Sport, it chose Iceland. Maybe I was the only person in snowy and icy Minnesota to be excited about making a January trip to snowy and icy Iceland, but being there was ALL the fun. Only a weather-delayed flight proved disappointing, compressing my group's time from three days to two.
To be the trip's prime attraction, the Discovery had to compete with amazing visual sights that included primitive roadways, a lack of traffic, towns, and alternative routes. There was not a lot of snow, and, by the way, not a single day from January through March passed when Reykjavik didn't have warmer temperatures than Duluth, Minnesota.
After finally arriving in Iceland's main city, where about three-fourths of the country's less-than half-million people reside, we checked in at the Design Hotel 101 in downtown Reykjavik, but didn't have time to unpack. We were fitted with "66-degreeNorth" down jackets, gloves, hats, and other severe-weather-beating apparel, just in case, and then we were off to the product presentation. Promptly, we hit the road for the designated circuit of several hundred miles on mostly narrow, 2- lane roads that passed by mountains, volcanos, hot-spring pools, and terrain that includes tectonic plates, which shift every year and are gradually splitting Iceland in a equally toward North America on the west and Scandinavia on the east.
At one point, we seemed to be bunched up, caravan-style, at an outpost. A Land Rover guide explained the fissure between tectonic plates that are causing gradual continental split dividing Iceland. He added that the roadway ahead was clear, and with studded tires mounted, we should try to pick up the pace to 60 miles per hour or so. Easily done.
The ideal way to tour the rugged countryside proved to be the Discovery Sport. It is the entry-level compact SUV from Land Rover, a British company that builds larger and more luxurious engineering marvels under the names Range Rover, Evoque, Defender, LR-4, and previously the LR-2, which will be supplanted by the Discovery.
The company, formerly owned by Ford, is now owned along with Jaguar by Tata Motors in India. But it's never lost its identity, nor its pride in building the most capable off-road vehicles without ever compromising on comfort, safety and luxury.With the top Range Rovers listing for nearly $150,000, it is impressive to see how the company combines all those standards into a Land Rover Discovery that starts out at $38,000. Regardless of price or perceived stature, the Discovery Sport over-achieved in every way, no matter how desolate the roadways.
At another outpost, we were ordered to turn left, down a bank toward the Hvita River, rushing along between the rare connection of two parallel roads. We were crossing, hood-deep in rushing, chilly water, to prove the Discovery Sport's 24-inch wading capability. No problem.
As vehicle program director for Discovery 4, Paul Cleaver has been with the car since the first sketches and clay models. "I've taken it from the early concept stage with designers, to production," said Cleaver. "It's absolutely like giving birth. The proudest moment of my life was the birth of my son, Archie, and the second proudest is the birth of this Discovery Sport."
Tata is based in India, but it has left Land Rover, and cousin Jaguar, with well-financed backing to stay in England. "This is the entry level Land Rover product. This is a lot smaller than the LR-4, but the space in the interior shows the team has done a fantastic job of versatility," said Cleaver. "The third row and the sliding second row are class-leading. I think we're the best now at making the exterior compact but having a large interior space."
The class-leading interior volume includes a second row that slides 6.3 inches, and reclines. There is 27.8 cubic feet of storage behind the third seat, or 31.75 cubic feet with the third seat folded, or up to 60 cubic feet with both seats folded.
The Discovery Sport has permanent all-wheel drive, and, Cleaver explained, Land Rover has engineered a new rear suspension system to strike a balance between on-road dynamics and off-road capability, yet still provide the driver with all sorts of comfort. Designed from scratch, the rear suspension has a unique integral link and an aluminium lower control arm.
For a powertrain, Land Rover borrowed from its more-luxurious brother, the Evoque, and uses the same 2.0-liter turbocharged 4-cylinder engine which came from Ford, Land Rover's previous owner. It develops 240 horsepower, and its 9-speed ZF automatic transmission is at its best swapping gears for optimum ratios mid-range, with top gear designed for highway cruising, and first gear aimed at serious off-roading. The Discovery Sport will hit a 125-mph top speed, and still deliver 28 miles per gallon highway, with an EPA estimated 23 mpg combined city-highway.
Structurally, Discovery Sport also borrowed from the Range Rover Evoque, using a steel monococque body, with aluminum — "aluminium" to the Brits — in selected areas, such as the bonnet (hood), roof, and tailgate, and magnesium cross beams are used for strength and reduced weight, compared to the high-strength and ultra-high-strength steel of the rest of the structure.
Before I ever laid eyes on the Discovery Sport, the trip was certainly an adventure. It was going to be long, flying from Duluth, MN., to Minneapolis, then to Toronto, from where I would board an IcelandAir flight to Reykjavik. It got suddenly longer when I was contacted by Land Rover officials who said the trip would be delayed because a winter storm would prevent any aircraft from landing in Iceland for 24 hours. Everybody else in my group was connecting through Boston, so I was alone camping out in the Toronto Airport Sheraton's fine accommodations, because the one-flight-per-day trip to Iceland wouldn't depart until 7:30 p.m. the following day. I envisioned a snowstorm that only a Minnesotan might appreciate burying Iceland, but it turned out there was very little snow — just winds blowing at up to 100 miles per hour from west to east across Iceland, eliminating any possibility of seeing across the country, much less landing from the sky.
Once on the road, I was surprised we saw no wildlife, and I asked a resident if there was any. "Horses," he said. I told him back in Minnesota, we didn't refer to fenced-in horses as wildlife. "And some foxes and mink," he added. We never saw any, but, whatever, the lack of traffic and wildlife was offset by breathtaking scenery, everywhere we looked.
We paused at another road-side stop, where another Land Rover guide in another aging but beautiful Range Rover Defender awaited us. Ahead, off to the left in the fading sunlight, was a magnificent white mountain peak. "That's the Baula Volcano," he said. "It's so well-known that the road you're on is called Volcano Road."
The models we test-drove were all loaded up with features, and were priced at about $45,000. The HSE Luxury Pack includes expansive sunroofs, an 8-inch nav and information screen that rivals an iPad in size, and with surprisingly adequate three-row seating inside that compact silhouette. Stadium seating means those in the second row sit an inch or so higher than row 1, and row 3 sits higher than row 2, aiding visibility for the occupants. Flip a switch and the second row folds down electronically. There are seven USB charging sites, taking care of everyone, even if you squeeze in seven occupants.
The Discovery Sport proved more than worthy, even when I gave it that special test beyond anything Land Rover folks might have imagined. The experience gave me a better idea than even Paul Cleaver had about how stable and responsive their new vehicle is. Sophisticated electronic aids work seamlessly. The HDC driving command computer responds to a pitch-rate sensor that detects corners and reduces speed without driver intervention. The terrain response system has push-button control of four modes: general driving, mud and ruts, sand, and snow and ice, and also affects the electric power-assisted steering. The mode shown on the screen notes DFC or HDC, where the powertrain is directing its torque, and which direction the front wheels are pointed, which is vital in off-road driving.
Late in the drive, I was approaching a small rise on Hwy. 1, Volcano Road, going about 60 on a clear road, and I hit the rear window washer and wiper. I glanced in the rear-view mirror for a millisecond to see that the window was cleaned sufficiently, and looked back ahead. To my horror, the unmarked road atop the small rise looked a lot like a skating rink. Solid glare ice. Worse, there was an unmarked "T" intersection 100 feet ahead. I yelled to my partner: "Hang on! This isn't going to be pretty!" Without question, I was going too fast to make the 90-degree turn, studded tires or not, but I stabbed the brake pedal hard, and edged left hoping the slightly dished left edge might help convince a tire to make the turn. It didn't. Our Discovery Sport skidded sideways, crossed the intersection, and went almost gently right off the road. My instincts from scaling Duluth's cliffside avenues took over, and as we settled off the intended road, I hit the gas. The responsive turbo churned straight ahead, until I could pull the steering wheel left. Amazingly, we simply climbed back up onto the road — and kept going! No damage, no break in schedule.
"Going from the clay modeling in the studio, with all the different concepts and schemes, and taking it through to production, has really been exciting," said Cleaver, the product manager who has been with Land Rover for 20 years. "Now, to see the cars rolling around Iceland, it makes the hair stand on the back of my neck."
Imagine if he had been riding with us!
By John Gilbert
Press preview days at Detroit's North American International Auto Show have become a battle to exhaustion of trying to find a decent vantage point for the numerous new-vehicle presentations that run about every 20 minutes for 10 hours.
At one point, Acura was about to introduce the long-awaited renewal of its NSX, which has been used to tease the media for several years now, but appears just about ready for prime-time. As I grappled briefly then yielded to the mob scene, I chose to circle around behind the back of the media cluster, trying to find a place where I could get a glimpse of the NSX, one of the most stunning and flashy sports coupes at the show, now with over 500 horsepower from the combination of its potent V6 and three electric motors. It's a knockout hybrid, at $150,000.
Just then, someone behind me said: "Excuse me, sir, would you move? We've got a car coming through." Sure enough, a car was driving along the carpeted walkway, slowly. It was daring that some manufacturer would be moving a car right near that segment of an estimated 5,000 auto journalists trying to find one of about 100 seats at the Acura display, but it was astounding when I realized what it was. It was the surprise of the show, actually — the 2016 Ford GT.
Ford had brought back a slightly enlarged version of the original GT-40 LeMans race car about a decade ago, and it was absolutely beautiful as a replica, called simply the Ford GT. They took it off its selected market in 2006. But it is coming back, and it doesn't pretend to be a replica of the GT-40 race car any more. As it drove slowly along the walkway, the scene was almost cartoonish; it passed us and was trailed by a turbulent gang of several dozen crazed media-types, grappling for a close-enough vantage point to get an unobstructed photo of the car, chasing it all the way to the Ford display, where it would be mounted on a twirling turntable.
"That wasn't timed to be an intentional distraction from the NSX," said Chris Svensson, the design director of the GT and leader of the small cluster of zealots who met in a cloistered studio within the halls of Dearborn. But he had to chuckle about the coincidental good luck of the timing.
"We had a small crew, usually about six of us, never more than 12, and we had limited reviews from management,' Svensson said. "Management had very little input on our design. It took us just over a year, and the best thing is that people keep coming up and saying, 'Nice concept car.' But it's not a concept car. The car on the stand is a production car. We'll have these in production shortly." Read more