By John Gilbert
The 2011 Hyundai Sonata was a breakthrough vehicle for the South Korean manufacturer, proving it could out-flank even the Japanese for such technical assets as dramatic contoured styling, a world-class engine with variable valve-timing and other-worldly direct injection, and a new home-built transmission.
Cutting-edge technology, to be sure, but cutting-edge mainstream stuff. Hyundai improved on that model with the 2015 Sonata, but even those advancements couldn't prepare us for the high-tech leap to the 2016 Sonata Hybrid and Plug-in Hybrid models.
Discussing technical assets can make consumers, and some journalists, take on a glazed-over gaze, but all the technology would be meaningless if the Sonata — or any hybrid — didn't approach normal-driving capabilities. In that regard, the 2016 Sonata Hybrid sets new standards.
You might even think you've gotten in the wrong car when you select "Sport" from the three drive modes, then manually command the Shiftronic transmission to rally the combined forces of the gas-engine and electric-motor and transmission for surprising potency.
"Our development goal was to combine the features of economy and fun-to-drive," said Yong-Seok Kim, project manager for the Sonata Hybrid. "you can set the manual shift mode for Eco, Norm, or Sport. Our research shows that 45 percent drive in Economy, 35 percent in Normal, and 20 percent drive aggressively.
"With our selective control, you can set it for whichever style you want, then adapt, or let the car adapt to you. We've reduced the gap between driving and aggressive driving. Whichever way you drive, as you come up to a stop light and release the gas pedal to coast, you can reduce your fuel consumption by 3 percent."
Without question, first drives of the Sonata Hybrid on the Los Angeles freeways and through the hills around Los Angeles, proved that the car's performance is easily as good as the hottest-performing Sonatas.
The hybrid models are virtually a separate class from the normal Sonatas. You can choose a base Sonata Hybrid for $26,000, and add features and capabilities to rise to the Limited, or go upward again to reach the Limited Ultimate.
There are more differences between the Hybrid and the Plug-In Hybrid than merely using Clean and informative dash layout shows current fuel economy over 54 mpg in the Sonata Hybrid.plug-in power to fully recharge, and the Plug-in Hybrid starts at $30,100 as a Limited model, moving up to Limited Ultimate for an extra $4,500. Those prices are only moderately more expensive than the non-hybrid Sonata, and they can fetch you a $4,919 tax credit as well.
While the normal Sonata does well with engines ranging from the 2.4 to the 1.6, including a 2.0-liter turbo, the hybrids make use of the same engine, a newly refined 2.0-liter without the turbocharger.
All hybrids depart from the normal Sonata's styling, with a more aggressive front grille opening, and revisions to the headlight and taillight housings to aid fuel-economy. In the process, the Sonata Hybrid winds up with a segment-best 0.24 coefficient of drag, lowered from the normal Sonata's 0.27. Fuel economy can venture beyond the EPA estimated 40-44 miles per gallon highway, by altering heavy-footed driving habits.
By cheating to overuse electric-only power when fully charged, we started out registering 99.9 miles per gallon — because the gadget wouldn't measure three digits. Continuing beyond about 24 pure-electric miles, we still averaged 68.8 mpg for the first leg. My partner, whose right foot always seems closer to the floor, reached as high as 59.6 mpg at a sustained 70 miles per hour.
The current Sonata had a hybrid model, but it wasn't about to challenge the industry leading hybrid sedans from Toyota or Honda. The new car challenges everything on the market. To start with, Hyundai will aim sales at the West Coast, where there are an abundance of quick-charge stations. But buyers farther inland can order the Hybrid or Plug-in Hybrid and find their own way to capitalize on all the features.
The secret of advancing hybrid technology is that car companies aren't in the battery-making business, so coordinating with battery companies is vital. Hyundai has a fellow-South Korean ally in LG Industries, and a newly created LG Lithium-polymer battery pack feeds Sonata's permanent magnetic synchronous motor and clutch arrangement, with is located where the 6-speed automatic transmission's torque converter normally would be. That unique coupling is the ideal way to blend the electric power with that new 2.0-liter gas 4-cylinder engine.
Taking away the turbo reduces the power of the normally-aspirated 2.0, but it gets more than sufficient power with the added power surge from the electric motor. In fact, the power assist comes in two doses, depending on whether you have the normal or the plug-in hybrid.
The 2.0 gas engine by itself has 154 horsepower peaking at 6,000 RPMs, and 140 foot-pounds of torque at a high 5,000-rev peak. The LG battery unit with its vertical plates in a more compact alignment, adds 51 horsepower from a 1,770-2,000 RPM peak in the Hybrid, or 67 added horsepower from 2,330-3,330 RPMs in the Plug-in Hybrid. Both benefit from the boost of 151 foot-pounds of torque from the electric motors, which operate at that peak all the way from 0-1,770 RPMs.
Doing the math, the Sonata Hybrid has 193 horsepower, and the Plug-in Hybrid has 202 horsepower. A larger battery pack is needed for the added power, and that boosts the weight of the Hybrids (3,497-3,560 pounds) to the Plug-in's 3,787-3,810 pounds. But starting out in the morning with a full charge means you can drive the full 24 miles on pure electric, which exceeds the prime contenders, the Fusion Energi and the Accord plug-in hybrid.
Getting to that full charge offers an interesting choice, too. If you plug into a normal household outlet of 110/120 volts (Level 1), you'll need 9 hours to reach full charge. If you have the 220/240 Level 2 outlet, you can reach full charge in only three hours. Using the normal internal charging system that takes power from the gas engine and regenerative braking means an owner could drive the Sonata Hybrid "normally" and not realize it's a hybrid from performance, unless the over-40 mpg made the driver curious.
Hyundai's John Shun, who oversees Sonata Hybrid production, said, "You can maximize miles per gallon over fun-to-drive, or vice versa. For example, in Sport, you get immediate throttle response, in Normal you get normal response, and in Eco, there's more hesitation when you use regular throttle pressure."
For the curious, you can coax the Sonata Hybrid up to 75 miles per hour on pure electric, although that might drain the battery's power quicker. Shun said all the latest safety tricks are on the Sonata Hybrids, including blind spot detection, lane departure warning, a rear parking sensor, and forward collision warning, and so anxious are Hyundai engineers to make the Sonata safe, a "virtual" engine sound system will be coming next, to alert pedestrians who might not hear the electric-powered hybrid approaching while doing their text-walking maneuvers.
Other neat features include a 5-inch touchscreen and an 8-speaker audio, an upgraded 8-inch screen and a 9-speaker, 400-watt audio, or an electroluminescent instrument light show that can replace the tachometer with a power-consumption gauge, and includes a 4.2-inch trip computer. Buyers can choose an energy gauge that indicates battery charge, range, and the energy flow the way you are currently driving, and with the Blue-link smart-phone app, you can seek out high-speed charging stations.
In the rear, the Sonata boasts of being the only midsize hybrid with a flat cargo floor. Combined with the split fold-down rear seat, cargo volume reaches 13.3 cubic feet, decreased to 9.9 with the larger battery in the Plug-in. Those things might be more important in marketing than such items as the motor-driven, RPM-sensing, rack-and-pinion power steering.
But with the 2016 Sonata Hybrids, buyers have to accept both — creature features and high-technology advances.
By John Gilbert
MILAN, Italy — When Italians decide to do something, they tend to do it wearing their emotions on their sleeves. Or at least their fenders. That unrestrained optimism accompanied the world introduction of the new Alfa Romeo Giulia, a sport-luxury sedan that is a perfect example of living up to the hyperbole accompanying that legendary Italian passion.
There is no argument about how important the new Giulia sedan is to "resurrect" Alfa Romeo, just as there is no way to overstate the importance a healthy Alfa Romeo can have for Fiat, and therefore Fiat-Chrysler Automotives, on the world automotive stage. As a midsize sedan, the Giulia is not shooting at Accord, Camry, Fusion, Malibu type sedans. It is aimed directly at the top German performance sedans, such as the BMW M3, the Mercedes AMGs and the Audi S4.
In order to run with, and ahead, of such luminary competitors, governing FCA built an entirely new platform and an entirely new 3-liter V6 with Ferrari engineering. While similar to a Ferrari designed engine used by Maserati in the Ghibli sedan, some media types assume that is the Giulia engine — a point Alfa officials refuted almost to the point of confrontation. We will believe that the Giulia V6 is all new.
Alfa built the mid-size sedan in almost total secrecy, engaging what it calls a "skunk-works" of devoted and single-minded engineers to design and build the car. That term dates back to World War II, when Alfa engineers wanted to hide their latest prize from the Fascist Italian government, and joined the secret Lockheed project to develop the F80 Shooting Star jet fighter that helped hasten the end of the war.
For the Giulia introduction, Alfa summoned several hundred automotive journalists from all over the world to come to Milano where the car shared the spotlight with the opening of the Alfa Romeo museum, with its display of hundreds of vehicles that trace the 105-year history of Alfa car-building.
In the museum's auditorium, Alfa Romeo president Harald Hester started the show, followed by chief engineer Philippe Krief, and design chief Lorenzo Ramaciotti. When Ramaciotti talked about the passion that is an Italian hallmark, he mentioned how it is similar to Italian classical music, such as that performed by brilliant tenor Andrea Bocelli. At that moment, Bocelli was escorted onstage. He read a love poem he had written, and then he sang "Nessun Dorma," and when he hit the operatic crescendo, a stunning red Giulia sedan was driven out on the stage behind him.
Theatric overkill? More like colorful Italian tradition.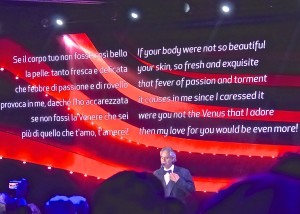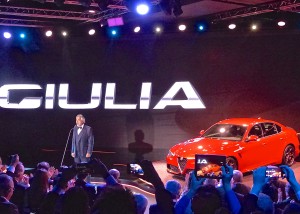 Sergio Marchione, chairman of Fiat Chrysler Auto, was next at the podium. "Over two years, we developed a quintessential example of all that made Alfa Romeo a car coveted by passionate drivers the world over," said Marchione. With 510 horsepower and 0-100 [kilometers] acceleration in 3.9 seconds, we have created a car that has no need to be compared to others.
"This is one of the most impressive cars I've ever been associated with," Marchione added, noting that the "skunks" at the skunk-works were able to think outside the box, starting with a clean sheet of paper, and "unimprisoned by barriers we sometimes build for ourselves."
It's easy to see why Marchione is the head man at Fiat Chrysler Auto, which includes all things Fiat, Alfa, Ferrari, Maserati, Lancia, Chrysler, Dodge, Ram and Jeep. Fiat returned to the U.S. only after the parent company took over the faltering Chrysler LLC, and is just now reintroducing Alfa Romeo to the U.S. Those old enough to remember might best recall Alfa for the sleek little roadster Dustin Hoffman drove to try to interrupt Katherine Ross's wedding in the timeless movie, "The Graduate."
While Alfa has slipped in popularity, almost to extinction, its heritage has remained strong, and new models like the 4C sports car and the Giulia are just the beginning of the planned resurrection.
"Alfa Romeo has a legendary place in automotives," Marchione added. "It has so many admirers throughout the world, but it has not been reflected in commercial success. Other than Ferrari, and maybe Jeep, I don't know of any other car capable of expanding so much of its core tradition."
We couldn't drive the cars, yet, so we had to be satisfied with their stunning appearance, and the deft descriptions by Alfa executives. Hester opened the program describing the uniqueness of the brand and said, "Making and creating are not the same thing. We wanted to create something different, to put the driver back at center stage. An Alfa Romeo is never just a car, just a machine. It is beyond the scope of being just a machine."
Chief engineer Krief explained the rear-wheel or all-wheel platform, housing the all-aluminum 6-cylinder bi-turbo engine, featuring Ferrari technology and engineering skill. "Turbo lag is nonexistent, and it has excellent torque at all RPMs," Krief said. "It also has cylinder deactivation, and Alfa invented that technology in the early-'80s. We then worked to get the engine to sing, as it should. The Giulia has 50-50 weight distribution, and our level of driving enjoyment depends on the suspension, which has 'Alfa Link' at the rear for maximum movement control, and double wishbone in front with a new steering system that is the most direct on the market. It has carbon ceramic brakes, and the best torsional rigidity in its class.
"Electronics are used to increase performance, not cover up shortcomings, and it has real torque-vectoring, with a double clutch system to separate the torque going to each wheel. Rear-wheel drive can be a problem on slippery roads, which is why we also offer all-wheel drive. The response is quick and it has the lowest coefficient of drag in the segment, with a front aero splitter, so it is safe to drive, even at very high speed."
The interior is filled with classic features, real wood and real leather surrounding everything, including a console that has two round knobs. The left knob is smaller, thankfully, and it directs the driver to N, A, D, and Race. The N is for normal operation, the A is for Advanced, the D for Dynamic — which is more advanced — and the Race is for a full-out race-smooth performance setting. That control governs the direct-sequential gearbox as well as the suspension firmness and the amount of effort necessary to send the Giulia down the road.
Design chief Ramaciotti said the organically shaped car "challenges time, passion and space with its tension — part of the culture at Alfa Romeo. The short overhangs, long wheelbase, compact body, and simplicity" is the feature of the exterior, with its Alfa-emblem nose and elegant silhouette. Inside, he said, "all you see is leather, wood and carbon fiber. The whole package is a coveted object of desire, not an ornament."
Marchione said FCA plans a rapid expansion for Alfa, which reportedly includes a crossover SUV/van, a larger sedan, and enough other models to sell 400,000 vehicles worldwide by 2018. The museum, filled with classic vehicles dating from the 1910 model and on up to the current era, including 1937 and '38 Giulia and Giulietta models, and a Gran Primo race car that had two Ferrari V12 engines — one in front and one behind the cockpit.
"It will be easy to rediscover Alfa Romeo's identity," said Marchione, "because Alfa has lived through, and often written, so much history."
By John Gilbert
Since my first turn in a 1968 2800 CS Coupe, I've driven virtually everything BMW has produced, which includes the 1600 and 2002, continues on through the 3-Series, 5-Series, 7-Series, the newest 1, 2 and 6 models, assorted X-model SUVs, and a couple more I've overlooked.
A couple of certainties follow: 1. All of them were and are impressive from an engineering and utilitarian standpoint, and 2. None of them could possibly prepare you for a drive in the i8.
The 2015 BMW i8 is the ultimate dream car. A reason-bending concept car brought to life, fulfilling fantasies and adding futuristic ideals that reach beyond those fantasies. We all have been reading about the latest global-warming, climate-changing, high-risk trends of today's world, and the most logical conclusion is that our driving machines are going to become electrified in some manner. So why not make a lifestyle statement and make your next car a hybrid?
Also, if you live in a Northern climate, rich with snow in the winter, all-wheel drive is a nice feature. Let's further imagine that you could buy any car on the planet — although that might be a bit harder to grasp. The i8 price tag is $136,650. If you hear the price while gazing at the car, it doesn't seem as shocking. Especially if you have any idea of the price sticker for a Ferrari, Porsche, Maserati, Jaguar, McLaren, or Aston Martin.
As far as other subjective characteristics you and your co-driving wife might embrace, you'd obviously prefer something visually striking, maybe a great looking sporty car with the added emotional investment of performance that's up there with the elite top exotics. The BMW i8 can meet and exceed all those fanciful ideas.
It is built of carbon-fiber, that magical material that is, they say, three times lighter and several times stronger than steel. The car weighs in at 3,378 pounds, all of which are distributed front to rear at a nearly ideal 49/51 ratio.
I hadn't bothered to investigate the i8's details fully since it started making the auto-show round, because I suspected it might just be a design exercise. When one appeared in my driveway in Duluth, Minnesota, however, it was time to either learn about it or find a respirator. I knew BMW had come out with an electric i3 subcompact sedan, but I still couldn't believe the i8 had been brought to life.
For visual impact, there may be nothing else that approaches the stunning looks of the i8. If there is, it would have to be a $300,000-range super-car named Ferrari, Lamborghini, or McLaren.
The i8 is a glistening metallic silver, with a black roof panel, and black lower sides tastefully set apart by an electric-blue borderline that varies in width. That lower black wraps around the lower front end, and rises up to fully set off the rear end's dramatic curves and layers. The i8 is so low that you feel that with a couple of hard strides you could quite easily hurdle it.
At the time, and maybe still, there had never been another i8 in Duluth, or anywhere else in Northern Minnesota — even passing through. It's important to look cool when you're approaching a car like this, but any semblance of patience disappeared when I popped the driver's door, which swings upward, hinged in front, and displays the low bucket seats. You might at first overlook the fact that there are two jump seats behind those buckets, and overlooking them is probably a good idea, because a human would have to be tiny to even attempt to squeeze back there.
Never mind all that. You're in the driver's seat, and you have fired up the ignition and moved the shift lever into its drive slot. That takes a bit of ingenuity, just getting it out of park and past reverse. The indicator says I've successfully engaged first, so we're off. The car shoots forward, instantly gaining your full respect with its super-car-like acceleration. Sounds good, too, although you ain't heard nothing, yet.
Handling is incredible. The car is so low, with such a low center of gravity, that you feel you might become part of any road irregularities. You are encased in the bucket seat with excellent support, and snaking around turns on the curviest smooth roadway you can find is a joy to experience in the i8. Imagining it on a road-racing track is automatic, but so is straight-line acceleration.
Less attractive is planning to extricate yourself from the cockpit. Getting in is no problem, because you learn ways to go in backwards or sideways and pull in your legs later. Getting out, though, requires some gymnastic agility. I developed a partial-Western-roll, much like high-jumping form. Start to roll on your side, fling a leg out, and do a little hop-step, hoping that you land on your feet.
Driving through town is an interesting experience, because unless you're a complete show-off, you try to avoid glancing in either direction, where everybody on either sidewalk has stopped, frozen in their tracks, to stare wide-eyed and slack-jawed at this apparition.
The only folks who might take action are those in other vehicles — even sensational other vehicles — making u-turns and following you to wherever you're going. Pull off onto an exit ramp and the mirrors indicate you're the lead car of a parade. You stop, and you are immediately surrounded by a herd of folks who just want to know about the car.
The i8 will shoot 0-60 in 4 seconds; maybe a couple ticks less. I have no idea what the top speed might be, although someday I'd like to find out, if a road-racing track or an autobahn becomes accessible.
It has 362 horsepower and 412 foot-pounds of torque, and we haven't even gotten to the surprises yet.
First surprise: The engine is a 3-cylinder, measuring 1.5 liters. Huh? BMW is one of the world's leading proponents of making engines smaller and more potent, and it makes modular sense to build engines that measure a half-liter per cylinder. A 6-cylinder measures 3.0 liters, and the 4-cylinder measures 2.0. Taking off one more cylinder leaves you with 1.5 liters.
Surprise No. 2: The tiny engine is turbocharged, making those 4-valves-per-cylinder pistons churn up and down in well-choreographed harmony.
Surprise No. 3: The i8 is a hybrid. Two electric AC-induction motors operate off a 7.1 kilowatt-hour, lithium-ion battery pack.
Surprise No. 4: The i8 has all-wheel drive. That helps it handle so dramatically well, but required precise calibration back in the factory laboratory.
Surprise No. 5: The coordination approaches miraculous. The gas engine develops 228 horsepower and the electric motors add 129 horsepower for a combined 362. The gas engine alone develops 236 foot-pounds of torque, while the electric motors add 184 more, reaching that 420 figure. The turbo gas engine powers the two rear wheels through a 6-speed automatic transmission; the two electric motors push the two front wheels via a 2-speed transmission. Coordinating it all is seamless and smooth to the driver.
As with any hybrid, a careful driver can coax a certain distance on silent electric power alone, but it takes patience. Ideally, you'd want to plug your i8 in for an hour on a 240-volt, 80-amp charger, or a bit longer on normal household 110, to get it fully charged. if you drive away and step lightly on the gas pedal, you can go silently and effortlessly for about 25 miles on pure electric. Stepping on the gas hard, or trying to accelerate quickly, brings the gas engine on to join the electric, which might be more satisfying, but cuts into your green-ness.
Gauges tell you when you've about exhausted the electricity, after which you'll go on gas-engine only.
Then there's Surprise No. 6: Pull the shift lever over to the left, into "Sport," and you immediately get a surge both in power and in exhilaration, because the sound — helped by amplification through the speakers — is almost other-worldly with its snarling roar. It is in that Sport mode that the engine uses the gas engine's power to help regenerate the battery pack. Recharging never sounded so sweet.
You won't ever reach full charge with just the gas-engine input, so plugging in the i8 makes the best sense. Still, all-electric cars run impressively for a limited distance, then need to stop for several hours of recharging, no matter what time the game starts. You can keep driving on gas in the i8, and driving also juices up the battery pack enough to enjoy more full-electric driving, though for briefer stretches. Just like a "normal" hybrid.
If you owned an i8, you would develop some tricks to keep it charged and increase your effective fuel economy up to lofty heights, like maybe 75 or so miles per gallon.
Just remember that ace in the hole, for justifying such a large chunk of the family budget. Come home and announce that you've made the decision to help the world and your winter challenges by getting a car that is both a hybrid and an all-wheel-drive vehicle. Then let her get a glimpse of the i8 parked outside. Chances are she'll be so blown away she won't even ask you how much it cost.
By John Gilbert
It is impossible to not be impressed with all that Nissan has been doing in the past few years, and the new 2015 Murano luxury SUV is one of the more recent examples.
Strong engines, more engaging designs, much improved handling and sportiness, and constantly increasing sales from its lowest priced economy cars up through its costliest SUVs and its superlative Infiniti upscale line have conspired to lead Nissan to expanding popularity.
But I have a confession. As a long-time auto journalist, I have disciplined myself to be completely objective about the ingredients that go into each car, and I am thoroughly impressed with the latest technology, whatever company offers it. But I retain the right to have my likes and dislikes. Could I buy a car that has mediocre technology if I really liked the styling? Probably. Could I buy a car that has fantastic technology if I disliked the appearance? Probably not.
My confession is that I never liked the Murano. There. I've said it.
When it comes to Nissan SUVs, I have always felt like the Pathfinder midsize SUV might have been custom-built to fit me. The huge Armada is impressive, and angular, although it's too large to appeal to me.
The compact Rogue, meanwhile, is a favorite of mine, and my wife Joan's. It works in all weather, it's big enough for us — and most SUV and crossover customers — and everything works, particularly when it's time to go from front-wheel to all-wheel drive, and you can lock it in 4×4. It will roll happily in good weather and churn through the occasional 40-inch-plus snowfall we've come to know and love in Northern Minnesota.
Even the tiny, and decidedly weird, Juke has considerable appeal, because you can get it with all-wheel drive and it performs like it rather enjoys its identity crisis that makes it both a sports car and an SUV. I particularly liked the active-lifestyle Xterra, although it didn't sell well enough to survive.
Amid that flurry of SUVs, the Murano showed up and attracted some friends of mine amid its customers. They loved it's luxury and its features. I liked everything about it, except its styling. It looked to me as though Nissan might have taken the rugged, off-road-aimed Pathfinder and left the clay model of it too close to the fireplace, causing it to melt until it drooped down inelegantly at the front and rear. I like aerodynamics when they cheat the wind, but less when they are just droopy.
Some of those sloped-nose and rounded rear lines found themselves onto much costlier Infiniti models, and I wasn't enamored with them,  either. I know, also, that I might be unfair in my assessment, and I never let it intrude on my analysis of the mechanical wonders and creature-comforts of those vehicles so-afflicted. The reason this is the right time to come clean is this all-new Murano for 2015.
It has been thoroughly redesigned as third generation, and it looks nothing like the outgoing Murano. I like the looks of the new Murano, and I like the way it drives, with good power and impressive handling, and a firm, road-holding capability that puts it on the upper strata of moderately priced SUVs. We first drove the Murano up the Pacific Coast in California, stopping to appreciate the crashing surf and the occasional sea lions.
From the side, the new Murano is all contours and pleasing bulges, first lifting over the large front wheelwell, then meeting up with a line coming off the top of the fender, from which that contour rises gracefully back to the taillight. Meanwhile, a chrome strip underlining the side windows, kicks up into an interesting but style-only bulge that comes back down to also meet at the taillight.
From the front, the Murano looks all new, much more like a sibling of the Pathfinder and Rogue. The interior is stylishly luxurious, with a 7-inch color readout panel between the speedometer and tachometer, and a larger (8-inch) touchscreen at the top of the center stack. I have always admired Nissan's navigation, particularly the maps, which can be adjusted to a 3D "birds-eye" view of the road ahead. However, I have grown to dislike touch-screens, only partly because one of my favorite stay-alert tricks on longer trips is a large sack full of popcorn, with butter and salt, please.
Eating popcorn slowly, one kernel at a time even, provides a steady crunch that is a welcome aid to alertness, but a little butter residue on the fingertips is not the proper recipe for operating a touch-screen. Even without the butter, it doesn't take many fingertip-taps to pretty much cover the touch-screen with funny little fingertip marks — annoying enough to make you happy that Nissan also provides a couple of push-buttons to operate audio controls.
Other neat changes are in aerodynamics, where the coefficient of drag has been reduced impressively, and in creature features such as a large moonroof, and zero-gravity seats, which decrease stress and fatigue. The heated and cooled front seats and heated rears have more support for the lower femur and hips. Enlarged rear storage capacity offers expanded area behind the second row of seats.
A remarkable feature of the new Murano is the quietness inside, thanks to wider acoustic laminated glass in the windshield and hood insulation.
Use of high-grade steel helps lower the weight by 146 pounds on the Murano, which stays on the same platform, and maintains the 111.2-inch wheelbase, while lengthening by 3 inches to 192.8. Width is also increased by 1.3 inches.
While nobody quarrels with Nissan's ability to build engines, there is an interesting philosophical thing going on with Japanese automakers. Apparently inspired by higher-powered and more-efficient engines from South Korea's Hyundai, Mazda and then Honda redid their engines, modernizing them with direct injection and improving both power and fuel economy. Toyota and Nissan, on the other hand, have stayed with their engines, with port injection, which, good as they have been for over a decade, may leave them a jump behind in the technology game.
The 3.5-liter V6 in the Murano is familiar, refined to 260 horsepower and 240 foot-pounds of torque. The transmission verifies Nissan's world-leading devotion to CVTs — continuously variable transmissions — which adjust engine speed by a variably enlarging set of pulleys rather than planetary gears. That can seem boring, because the engine tends to drone rather than rise to a peak, but it is efficient, and there is a manual-override capability that allows the driver to manually step up the cables to simulate a seven-speed automatic transmission.
Thicker stabilizer bars and improved steering make the new Murano corner and handle much better, and we swept around some twisty curves with smooth stability just to prove it. EPA fuel efficiency estimates are 21 city, 28 highway. Advanced safety items such as blind-sport detection, forward warning and emergency braking, and along with the full 360-degree monitoring system shown on the nav screen, many of the features can be ordered separately or by class.
The base Murano S starts pretty well equipped, and you can move up to SV, SL, or Platinum. The base vehicle starts at $29,995 with front-wheel drive, and works up to $40,000 for the Platinum with all-wheel drive and the Navigation package. Nissan foresees a 50-50 split between front-drive and all-wheel drive.
If you liked the looks and features of the current second-gen Murano, you're sure to be impressed with this new third-generation model for 2015. And if you never did like the Murano, there's a fighting chance you'll still like the new one.
By John Gilbert
After driving the revolutionary 2015 Ford F-150 pickup truck at its introduction in the Texas Hill Country west of San Antonio, I knew I would need more. Such as, the opportunity to try various models of the F-150 on my "home turf" in Northern Minnesota to get the true feeling of the new truck's significance.
Several SuperCrew versions, with the two most-powerful engines, worked well during fall, winter and spring sessions, then I finally got an F-150 almost the way I would order one: The SuperCab, with the new 2.7-liter EcoBoost V6.
My theory always has been anything bigger than big enough is too big, and there's no advantage to hauling extra weight around, losing fuel economy, and finding parking spots for lengthier models.
Going with the lighter theme, the new 2.7 member of Ford's EcoBoost family is unrelated to the 3.5, which began life built to withstand the fast-revving forces of turbocharging. Ford enlarged it to 3.7, then brought it back to 3.5 this year.
The concept of downsizing in number of cylinders and displacement size is to gain fuel economy, and jacking up the power with turbocharging bridges any gap to provide better towing and hauling numbers than the trusty and traditional V8s. The 3.5 EcoBoost proves it, with increases of over 80 horses and about 130 foot-pounds by adding the turbos.
All versions of the new F-150 seem to reflect the broader base and stronger framework of the pickup, as well as improved suspension and maybe the lighter weight. The trucks feel stable and planted on the highway, and they carve into curves smoothly with the well-balanced power steering, with the standard 6-speed automatics handling the power assortment.
When I first got the 2.7 EcoBoost-powered model, I mentioned to my wife, Joan, that it must be the most powerful engine, because of the way it dashed up some steep hillsides in Duluth. When I got home and unfolded the information sheet, I was surprised and impressed to learn it was the smallest 2.7, performing with potency because of the twin turbos, and with what felt like added agility from the smaller cab and lighter weight.
I also was able to coax 23 miles per gallon from the 2.7, but you have to be careful — take it easy on the hot starts and go light on the gas and you can get mid-20s, but if you kick it down to enjoy the potential of the turbos, you will drop quickly to 20 or less.
The test vehicles varied in price as much as in style and equipment. Figure if you're going to get the trailer-towing package, spray-in bed-liner, the latest Sync connectivity, and a few other options, you're going to be up over $40,000 in a hurry, and probably over $50,000.
As has become customary in the full-size pickup business, all the terms stress superlatives, because nobody wants to be assessed as inferior in any way. Ford's list of names goes from XL to XLT, then up to Lariat — it's apparently also mandatory to name the top-of-the-line models with some sort of ranch or cowboy euphemism. But wait — there's more! Above and beyond the Lariat is the King Ranch, and above that is the Platinum, as Ford acknowledges that truck customers are not only willing but eager to pay over $50,000 or $60,000 to get their pickups loaded up with fancy interiors and all sorts of creature features.
There used to be base, extended cab, and crew-cab pickups, and that has advanced from the basic up through various cab sizes, to full, double-length SuperCrew, which installs luxury-sedan features into trucks. The SuperCab sounds big enough, but it's actually what used to be called extended-cab.
It has a second row seat that is spacious enough to carry passengers, but instead of a huge pair of rear doors, it
has narrow rear doors that open from rear hinges. On my test truck, opening those doors reveals no B pillar separating it from the front doors. The rear seat can fold up, revealing a fair amount of storage space.
And in a trick swiped from Nissan's Titan, the SuperCab rear doors open 170 degrees, folding back almost flush to the body, which is handy for parking lots and for ease in loading passengers or items.
It was bold for Ford to take the nation's top-selling vehicle and daringly changed everything. Underpinning the cab with a majority of ultra-high and high-strength steel, Ford went to a body and box of high-grade aluminum. While the switch to aluminum has dominated the news about the 2015 North American Truck of the Year, the addition of a comparatively tiny EcoBoost 2.7-liter V6 engine to power the lightened truck might be almost as significant.
Altogether, the new F-150 comes in about 700 pounds lighter than its predecessor, and while the usual dizzying array of cab configurations and box lengths are available, the powertrains provide big power in smaller packages as they fly in the face of the Chevrolet, GMC, Ram and Toyota competitors and their huge V8s.
The biggest Ford engine a year ago was the 6.2-liter V8, and it no longer is available. Biggest now is the Mustang-based 5.0 V8 which has a wonderful audible report to being stomped on. The 2.7 is the wild-card added to Ford's array, which ranges from the naturally-aspirated base 3.5-liter V6, with 283 horsepower and 255 foot-pounds of torque; then a large step up to the 3.5 EcoBoost, twin-turbocharged up to 365 horsepower and 420 foot-pounds of torque; and the 5.0-liter V8, with 385 horsepower and 387 foot-pounds.
Augmenting that trio, the all-new 2.7-liter V6 also gets the EcoBoost treatment, which includes direct injection and twin turbochargers, and it generates 325 horsepower and 375 foot-pounds of torque. That's not as much as the 3.5 EcoBoost or the V8, but surprisingly close, and if you try it, it might be enough.
Surprisingly, a lot of publications, columnists, and some voters dismissed the F-150 in Truck of the Year assessments. There are some other impressive trucks, including the new mid-size Chevrolet Colorado and its sister ship GMC Canyon. But the switch to aluminum construction, and the expansion of powertrains to include a smaller and second EcoBoost with amazing power, sets the F-150 on a pedestal by itself.
It won the North American Truck of the Year, and will be the focal point for the next-generation Ram, Silverado, and whatever else is in the segment. The new F-150 has cross-member beams of heavy-duty aluminum bars encircled with high-strength steel.
Steel in vehicle construction can be in a half-dozen different levels of strength, and expense, so Ford used a lot of the lightest and strongest high-grade steel, and the strongest aluminum, to assure the F-150 would be lighter, but also tougher than the very challenging competition. The square structure under the front end, and the "A" pillars are hydro-formed for added strength.
Colleen Hoffman, one of the many engineers focused on the transition, talked about reinforced fenders and important parts beyond the body panels that are both lighter and stronger by the transition to aluminum, allowing the F-150 to come in 700 pounds lighter than the 2014 model.
"Panels are heat-treated for strength, and every component comes out 20 percent lighter, and yet stronger by weight than normal steel," said Hoffman, explaining the compromises on weight and strength. "Aluminum is more expensive to work with, but it can be down-gauged."
Three years ago, Ford put the 3.5-liter V6 EcoBoost in the F-150 and proved it could out-accelerate and out-pull its V8s, while also getting improved fuel economy, simply by having two fewer cylinders. Quickly, the EcoBoost 3.5 became the top-selling F-150. This year, the 2.7 is likely to be the top seller. For the top-selling truck.