By John Gilbert
Press preview days at Detroit's North American International Auto Show have become a battle to exhaustion of trying to find a decent vantage point for the numerous new-vehicle presentations that run about every 20 minutes for 10 hours.
At one point, Acura was about to introduce the long-awaited renewal of its NSX, which has been used to tease the media for several years now, but appears just about ready for prime-time. As I grappled briefly then yielded to the mob scene, I chose to circle around behind the back of the media cluster, trying to find a place where I could get a glimpse of the NSX, one of the most stunning and flashy sports coupes at the show, now with over 500 horsepower from the combination of its potent V6 and three electric motors. It's a knockout hybrid, at $150,000.
Just then, someone behind me said: "Excuse me, sir, would you move? We've got a car coming through." Sure enough, a car was driving along the carpeted walkway, slowly. It was daring that some manufacturer would be moving a car right near that segment of an estimated 5,000 auto journalists trying to find one of about 100 seats at the Acura display, but it was astounding when I realized what it was. It was the surprise of the show, actually — the 2016 Ford GT.
Ford had brought back a slightly enlarged version of the original GT-40 LeMans race car about a decade ago, and it was absolutely beautiful as a replica, called simply the Ford GT. They took it off its selected market in 2006. But it is coming back, and it doesn't pretend to be a replica of the GT-40 race car any more. As it drove slowly along the walkway, the scene was almost cartoonish; it passed us and was trailed by a turbulent gang of several dozen crazed media-types, grappling for a close-enough vantage point to get an unobstructed photo of the car, chasing it all the way to the Ford display, where it would be mounted on a twirling turntable.
"That wasn't timed to be an intentional distraction from the NSX," said Chris Svensson, the design director of the GT and leader of the small cluster of zealots who met in a cloistered studio within the halls of Dearborn. But he had to chuckle about the coincidental good luck of the timing.
"We had a small crew, usually about six of us, never more than 12, and we had limited reviews from management,' Svensson said. "Management had very little input on our design. It took us just over a year, and the best thing is that people keep coming up and saying, 'Nice concept car.' But it's not a concept car. The car on the stand is a production car. We'll have these in production shortly."
The car is, in a word, breathtaking. It is above and beyond the Mustang, or the Corvette. It is up there in the heady stratosphere of car design with Ferrari, Lamborghini, McLaren, and other top exotic cars. It looks for all the world that you could drive it home, or, if you lived in France, you could take a wrong turn on your way home and wind up on the race track at LeMans.
"It's a technical tour de force," said Svensson. "It was a design challenge to the extreme. The first Ford GT-40 was beautiful in '65, when it went to LeMans and beat the Ferraris. In essence, the survivor is this car, it's the Ford GTR of the future, All the scoops are functional. We spent a long time in the wind tunnel, and working with carbon fiber for the body."
The two-seat sports car is created of all the best stuff, with a twin turbocharged EcoBoost V6 located as a mid-engine engine, developing over 600 horsepower. Because so many of the new vehicles being displayed at Detroit, ranging from the neatest to the most mundane, have been tipped by spy photos or shown at previous auto shows, the hard-core media was less than totally surprised by many of them. But the Ford GT made it a huge day for Ford, which had opened the forst media preview day by capturing North American Truck of the Year honors early that morning with the aluminum-bodied F-150, and placing second to the Volkswagen Golf for Car of the Year, to the surprise and disappointment of many.
Ford followed up with the first major press conference as well, gathering the media in Joe Louis Arena, which is adjacent to Cobo Hall, in order to display a new Raptor version of the F-150, and the anticipated Mustang Shelby GT-350. Then they brought out the GT, dazzling even the hardest of the hard-core journalists. After that display, the GT was moved to the center spot in the large Ford encampment inside Cobo Hall, with timing that impressed all but a few Acura public relations types.
If the 2016 Ford GT was the flashiest, it was far from the only big news on display at the show, which opened to the public on the weekend of January 17-18. High performance and luxury were prevalent, but so was alternative energy in the form of imaginative hybrids and fuel-cell cars, and the trend toward smaller-displacement engines that can become powerful with turbocharging.
Virtually all avenues, so to speak, are covered by something on the Cobo floor. The biggest story is the onrushing popularity of compact crossover SUVs, which are expanding at such a rate that is seems every company has them in multiples.
Among just a few of the other highlights:
Chevrolet has a new redesigned Volt, with its LG-produced battery pack system improved for less weight and longer-lasting power, and the adjacent — but not linked — gas engine is a much better 1.5-liter small gasoline engine that improves power and driving range. In addition, Chevy also showed off a stubbier subcompact called the Bolt, a pure plug-in electric car that is reported to have a driving range of 200 miles.
Chrysler's Ram division, splintered off from Dodge, is making a departure in the tradition of the crosshair grill on its 1500 pickup, and leads with the Rebel model that is a bit bigger and more muscular, aimed at the Ford Raptor.
Chrysler affiliate Alfa Romeo rolled out its slick 4C sports coupe, then brought out a roadster version of it that should prove popular on the little mid-engine two-seater.
Toyota follows up the Chevrolet Colorado's truck challenge to its decade-old mid-size Tacoma pickup by rolling out an all-new Tacoma that is vastly redone and offers new power. It could be a tough target for the Colorado-Canyon twins.
Nissan reintroduced its full-size pickup, the Titan, adding the power of a 5.0-liter Cummins diesel that should set new standards for power and could lead a rise up from diminishing sales that rendered it almost nonexistent last year.
Volkswagen, fresh from winning North American Car of the Year, on top of Motor Trend's Car of the Year, has a new hybrid SUV, the Cross Coupe GTE, powered by a 3.6-liter V6 and two electric motors. The plug-in, all-wheel-drive vehicle — shown as a 5-passenger, but coming also as a 7-passenger — has a range of 70 miles on pure electric.
Buick and Cadillac are aiming at expanding their markets, Buick with a new Cascada convertible and a new and long luxury sedan, and Cadillac by going over the top with the CTS-V, which will come out as a 2016 model with the supercharged 6.2-liter V8 and its 640 horsepower from the Corvette Z-06.
Lincoln, which reached the Truck of the Year final three with its new compact MKC, unveiled its big brother, the MKX, with the standard 3.7-liter V6 joined by the slick, new 2.7-liter EcoBoost V6.
BMW, expressing pride in becoming the global premium market leader, with 345,000 sales in the U.S., has 15 new models in the coming months. Shown at the show is a new plug-in electric X5 SUV, and a redesigned 6-series that includes a 6-Series convertible and a high-performance M6 coupe, and the prize new 6-Series Gran Coupe 4-door, with its rakish rear slope and hawk-like front both mellowed a bit. Under the hood, the mellowing is blown away with a new turbocharged 4.4-liter V8, which will have 445 horsepower in the 4-door coupe sedan, and 560 horsepower in the M6.
Mercedes has acknowledged the upsurge in SUVs worldwide, and particularly in the U.S., and augments its traditionally large and somewhat boxy utilities with the new GLA, a low, sleek utility version of the CLA sedan. Now it adds an even sleeker GLE, a fastback compact SUV, which Mercedes said will be one of 10 new SUVs the company will bring out by 2017.
Audi just brought out its very neat Q3 compact crossover SUV, but seems to be going the other styling direction with its new full-size Q7. With a more blunt nose and a quite-formal squared-off rear, the Q7 is reduced by 716 pounds through revisions to its frame and the use of lighter high-strength steel. Actually a bit shorter and narrower than the current model, the Q7 remains at the top of Audi's SUV grouping, and will offer a plug-in hybrid version.
An ocean or two away, South Korea's Hyundai innovators came up with a striking concept pickup truck, called the Santa Cruz — not to be confused with the Santa Fe or late Vera Cruz, two other Hyundai nameplates, present and past.
Stylishly angular, the Santa Cruz has four doors and a small but useful box in the rear, reminiscent of the Honda Ridgeline. Hyundai also has renovated its Sonata plug-in hybrid, with an upgraded 2.0-liter 4-cylindere that complements its new and more powerful electric motor unit. As a plug-in, the more potent battery pack can go 22 miles on pure electric, and can recharge its more powerful electric battery-pack system in 2.5 hours.
Jaguar and Land Rover, both owned by Tata Motors of India, continue to enrich and expand their impressive models. A new Range Rover Discovery is about to be unveiled, and as if to keep up with their SUV-based sibling, Jaguar (Jag-You-Are, thank you) is adding a crossover SUV to its stable of luxury sedans and sports cars. The stunning F-Type Coupe and Roadster will add all-wheel drive.
Volvo, owned by a Chinese holding company these days but still based in Gothenburg, Sweden, has done an impressive job of redesigning the S60 midsize sedan. And while Volvo has car-making facilities in China, where its safe and now-stylish cars are selling well, Volvo announced it would be sending China-made S60s to the U.S.
Nissan again showed the Infiniti Q60 concept that was at the Los Angeles show in November, and with a coupe model and upgraded twin-turbo V6 engines, it seems closer to reality.
By John Gilbert
A car-buyer who strolls into a Volkswagen dealership to check on the 2015 Golf compact hatchbacks can be excused for feeling curious, impressed, confused, and overwhelmed — all in the space of several minutes. It's like attending a dinner party, noting that available entrees includes your favorites, such as steak, pork chops, lamb chops, halibut, walleye, and salmon– and then you realize you have to select only one.
At the VW dealership, examining the Golfs used to be pretty easy. If you were seeking basic transportation you'd pick the base car with that pretty dull but smooth 5-cylinder engine. If you wanted the hot one, you'd pick the GTI with jacked up power, suspension and trim. And if you wanted the ultra-high-mileage version, you chose the TDI turbo-diesel and set off to pursue 50 miles per gallon. For the 2015 model, all versions of the Golf are improved, and with an electric version, a wagon, and a higher high-performance model, the decisions get more confusing but also more rewarding.
First glance may not betray any major change. The car looks pretty much the same, although a discerning eye can detect some rounding off of the squarer corners to streamline the aerodynamics of the boxy vehicle. You can't tell that it's mounted on VW's new MQB platform, which will underpin all VW sedan models and a few Audis as well, and sits an inch lower, 2 inches longer and a bit wider than the 2014 Golf. Or that the new car is built of 80-percent high-grade steel, making it lighter and with an obvious improvement in torsional rigidity.
That squarish 4-door shape houses 52.7 cubic feet of interior room, an increase over the 2014 model, and more than many midsize cars. Inside, the appearance is mostly black in, with a little satin-finish trim here and there. Pleasant and straightforward, something that will be prized by those, like me, who have grown weary of fake woodgrain and/or bright chrome-like trim that gathers reflections and driver's-eye distractions.
It's understandable that the top models, such as the GTI and TDI, might have neat interiors, but perhaps most impressive is the base car with the new TSI turbocharged 4. Not only does it have nicely bolstered bucket seats, and the soft-touch material on its no-frills dashboard, but it also has a 5-speed stick shift in basic form, and you only miss the preferred 6-speed until you live with the 5-speed and its wide-ratio ease of operation.
If the 5-speed ratios are set right, all you miss is shifting more for limited benefit. Driving one for a week in Minnesota in December, we continually found ourselves cruising easily on the freeway for miles before realizing we were still in fourth. Not only were there no high-rev sounds of complaint from the engine, but the electronic page on the big center console indicated we were getting 39.5 miles per gallon for a composite average, despite our inattention to top-gear details.
It's that basic TSI that starts at $18,000 and can be had, well-equipped, for just over $20,000. And much as I enjoy attaining over 40 mpg with a turbo-diesel or a hybrid, when the base car has this much punch and reaches 40 mpg this easily, you wonder how shrewd it is to spend more in quest of a couple more miles per gallon.
Getting back to the dealership, though, if you think you can avoid the confusion, notice right away that you can start with the base S, and choose Sport or Autobahn versions as with every model, moving up to the GTI and TDI. And you can choose different trim levels of each.
I was able to track down Marc Trahan, who is just retiring as Volkswagen's chief engineer-in-public who is unmatched at explaining the technical aspects of all things VW and Audi. He acknowledged VW's objective at becoming the largest company in the world at selling cars. "And not just volume, but quality," Trahan said. "We are No. 1 in many markets now, but the U.S. is more challenging.
"The Golf is an icon, like the 911 Porsche," Trahan said. "From a technical perspective, it is completely new, stronger and safer. It depends on what a person wants, but whatever you choose, you're getting one of the best cars in the industry."
Trying a round of test-drives is the best way to compare different models. Start with the base model, and you may guess they mistakely gave you a hotter version — maybe even a GTI. That's because the unloved 5-cylinder engine, which was neither particularly responsive nor particularly economical, is no more, having been replaced by an all-new base engine more high-tech than almost any other car company's upgraded engines. It is a 1.8-liter 4-cylinder with direct injection and a turbocharger, turning out 170 horsepower and 200 foot-pounds of torque. That's plenty of horsepower, but the key figure is the torque — an increase of 23 foot-pounds over the outgoing 5-cylinder 2.5.
The 1.8 TSI doesn't have nearly the high-end speed capability of the GTI and its 2.0-turbo, but the 1.8 turbo's torque reaches its peak at a mere 1,600 RPMs, barely more than idle speed. It is torque that thrusts cars to their low-end surges, not horsepower, so having all that torque available at so few RPMs makes the basic Golf feel almost as swift as the GTI hot-rod up to, say, 40 or 50 miles per hour. That's enough to zap the sedan or SUV in the next lane for a merger. You also get a significant boost in miles per gallon, with highway estimates of 37 mpg. It means the base car that used to lack performance and fuel economy, now offers both at a bargain price — under $19,000 for the base three-door — and its chain-driven dual-overhead camshaft engine is designed to run on regular fuel.
"The new 1.8 uses a small turbo, with a long stroke, for improved torque," Trahan said. "It's better than the old 2.0, with a lot more power and a lot more fuel-efficiency."
The "old" 2.0 is the turbo that made its name powering the GTI, which is next up for a trial run. It is now powered by a new 2.0, also improved in every way.You have to try the GTI, to see if it can still fly above and beyond the more normal Golf models. And it does. Firmer stance, more responsive steering, and more agile handling, all the benefits of that new and stiffer platform, and those super-low-profile 225-40/18 tires on special alloy wheels.
The upgraded 2.0-liter turbocharged 4 makes you appreciate that the sportier interior, including racy steering wheel with its flat-bottom design and the much firmer Recaro bucket seats, are only tip-offs to the heightened performance waiting to turn you on. With 210 or 220 horsepower and 258 foot-pounds of torque, the GTI never disappoints. The original "hot hatch" is still hot, and even though there are competitors that might be hotter, few are as compliant, comfortable and totally satisfying to drive as the GTI. Loaded, if you choose to add the 6-speed direct-sequential transmission instead of the excellent 6-speed stick, you rise to about $32,000.
The GTI has a standard 210 horsepower, or the performance-package 220, although it will take premium fuel to make it sing properly, and yet it has highway fuel estimates of 34 mpg, better than many economy-only compacts. When I had a red GTI with a 6-speed stick for a week, we had no trouble clocking 32 mpg even while running the revs up.
Finally, and maybe even hesitantly, you climb into the TDI Golf, with the 2.0-liter turbo-diesel 4-cylinder engine. You have heard much about how this engine, whether in a Golf, Jetta, Passat, or even assorted Audi models, is a durable, high-mileage gem. And it was, as the last generation turbo-diesel just finishing its splendid run. Now the 2.0 TDI is an all-new 2.0 TDI. What other company would take a state-of-the-art 2.0 turbo-diesel, which was the envy of the rest of the industry, and replace it with an entirely new 2.0 turbo-diesel?
When it comes to performance, the new "clean diesel" TDI takes off as if to prove it is an esteemed relative of the GTI. That tremendous low-end acceleration has nothing to do with its modest 150 horsepower, but is directly attributable to its 236 foot-pounds of torque, which reaches that peak at a mere 1,750 RPMs. Highway EPA estimates are 47 mpg, and there are documented tests of traveling up to 550 miles on a tankful of fuel.
Diesels, which fire by compressing the fuel until explosion in each cylinder rather than igniting it by a direct spark, don't rev particularly high, because they don't need to. Once you get to 3,500 revs, you might as well shift because you're well past the torque's reach and shifting will puts you back near peak torque. So it won't beat its siblings to 60, but from 0-40 and whenever you need a dose of mid-range power to pass, it is amazingly proficient.
The new diesels that burn clean-diesel fuel betray none of the loudness, clattering, smokiness and generally oily liabilities of old diesels. Before we cleaned up our diesel fuel in the U.S., our oil companies made inferior diesel fuel with something over 400 parts per million of sulfur, which was the true culprit for all the smoke and smell. Our clean diesel is restricted to 15 parts per million sulfur, eliminating the smell, clattering and sooty, greasy residue, although we're still behind the Europeans, which have lowered allowable sulfur from 12 to 7 parts per million.
It takes much less refining to make diesel fuel than to make gasoline, so fuel companies can regulate how much of their petroleum they make into diesel fuel, and create an artificial shortage, thus charging whatever they want for it. That's why diesel fuel, which used to cost 20 cents less than regular, now might cost in excess of a dollar more than premium at the pumps. That price has prevented some companies from bringing in their best diesel-powered cars. If diesel fuel was priced where it should be, more companies would bring in their best diesels, and we'd all be breathing better and getting phenomenal mileage.
The Golf models provide perfect evidence of fuel efficiency. I tend to go by a car's highway EPA estimate, because that provides the best target to shoot for. The 1.8 TSI has a maximum EPA estimate of 36 highway mpg, the 2.0 GTI turbo shows 34 mpg, and the 2.0 TDI a highway estimate of 45 mpg. The U.S. restrictions on diesel emissions are unfairly strict, and help prevent companies from bothering to certify their cleanest diesel engine models from U.S. entry. But clean-running diesels might surprise consumers, as well as EPA officials.
In a recent issue, Motor Trend posted a comparison of the CO2 emissions from different engines, and found that the 2.0 turbo gas engine in the GTI emits 0.68 pounds of CO2 per mile, while the 1.8 TSI turbo emits 0.67 pounds per mile. The 2.0 TDI turbo-diesel — which most might guess was the foulest of the three — emits only 0.63 pounds of CO2 per mile.
Of course, if you want rock-bottom emissions, by the end of spring, 2015, we will have a plug-in, zero-emission choice , the e-Golf — an all-electric model that costs a modest $35,000. I've driven all the Golfs, including the e-Golf, and the electric model is a strong performer, with the equivalent of 115 horsepower and 199 foot-pounds of torque. The torque from the permanent-magnet electric motor, as in all electric car operation, comes on fully at 0 RPMs.
The e-Golf acceleration is similar to the TDI, but the emissions are 0.00 in levels of CO2. With plug-in electric cars, the biggest factor is how far you can go between recharging, and the e-Golf claims 83-90 miles from its high-tech 264-cell lithium-ion battery pack, made by Panasonic. VW also claims that its new charging device can recharge 80 percent of the e-Golf's full charge in only 30 minutes.
The full fleet of Golf models won Motor Trend's 2015 Car of the Year award, and the family joins the Ford Mustang and the Hyundai Genesis among the three finalists for 2015 North American Car of the Year. The Golf family will get bigger after January of 2015, when the new Golf SportWagen shows up. And later, the Golf R, which has nearly 400 horsepower from a super-tweaked 2.0 turbo gas engine, with all-wheel drive, will rise to a new level beyond the GTI.
The Golf total family won Motor Trend's Car of the Year award for 2015, and I am one of 57 jurors pondering our final vote for the North American Car of the Year. It's a tough decision, with the Mustang and Genesis, although the Golf clearly outnumbers its rivals.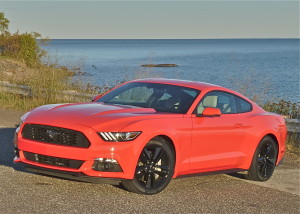 By John Gilbert
Much like the college football season, the nation's top automotive journalists have finished the "regular season" of evaluating the newest 2015 cars and truck/utility vehicles, and now the focus is on choosing the "national champions." The Volkswagen Golf, Ford Mustang, and Hyundai Genesis are the three finalists for 2015 North American Car of the Year, selected after each of 57 jurors distributed 25 points among their choices.
                                                                                                                  Mustang adds lean look, improved technology.    
The top three vote-getting vehicles for North American Truck/Utility of the Year are the Ford F-150, the Lincoln MKC, and the Chevrolet Colorado.
Having earlier voted to cut the field of all-new or thoroughly redesigned vehicles down to 10 or 12, jury members voted to determine the top three, with a maximum of 10 points allowed to one, and only one, in each category and all 25 points required to be distributed. That vote determined the top three, which were revealed December 8 in Detroit.
After a mad scramble to drive and evaluate all the cars on the original and shortened lists, the jury members  (including this writer) next reevaluate the three finalists in both categories, then distribute 10 points, which are compiled to determine both the 2015 North American Car of the Year and the North American Truck/Utility of the Year. The winners will be named at the Detroit International Auto Show on January 12, preceding the show's first media preview day.
Ford Motor Company, with the Mustang and the F-150 and MKC, stands as the only one with a chance to duplicate the 2014 sweep by Chevrolet, which won both awards with the Chevrolet Corvette and the Chevrolet Silverado. Ford's Mustang has been completely redesigned, adding independent rear suspension, and offering a new EcoBoost 2.3-liter 4-cylinder engine to join the 5.0 V8 and the 3.7-liter V6 and the 5.0-liter V8. Prices range from $25,000-$50,000, with all three engines delivering over 300 horsepower in the rear-drive coupe.
Volkswagen's seventh-generation Golf retains its familiar boxy shape, but has several significant upgrades to its front-wheel-drive package in a variety of models that cover the compact segment as well as its price range ($20,000-$35,000). VW's impressive new 1.8-liter turbocharged 4 replaces the boring and unloved 5-cylinder with more power and better fuel economy. Included in the Golf family is the TDI — turbo-diesel — which is a newly revised version of the already world-class 2.0-liter 4-cylinder diesel and can approach 50 miles per gallon. On top of those models is the GTI, a sporty version with the 2.0-liter turbo gas engine that has sportier suspension, wheels, tires, seats and interior appointments.
The Genesis won the award when it was first introduced as the first mid-luxury model from South Korea's Hyundai. The new-generation Genesis is improved in every way, from the flowing design with a much more distinctive grille, to the choice of direct-injected 5.0-liter V8 and in-house 8-speed transmission or a 3.8-liter V6, which adds the availability of all-wheel drive to its front-engine/rear-drive siblings. Hyundai chassis engineers consulted with Lotus to improve steering and handlng from dull to sporty. While the Genesis competes with far costlier German sports/luxury sedans at prices from $35,000-$50,000, one of its biggest challenges to become a finalist came from its sibling, the inexpensive and similarly redesigned Sonata.
The car finalists represent the U.S., Germany and Korea, all parts of the globe, and left behind a highly competitive group that included the Honda Fit subcompact, the Acura TLX, Audi A3, Chrysler 200, Mercedes C-Class, and Toyota Camry, as well as the Sonata — all of which were entirely new or technically redone.
Meanwhile, the truck/utility finalists are all from the U.S., as voters lifted the F-150, MKC, and Colorado above the field of mostly SUVs and compact CUVs (crossover utility vehicles). Left behind were candidates such as the all-new Audi Q3, Mercedes GLA, Lexus NX, and Porsche Macan, plus redone models of the Subaru Outback, Nissan Murano, Toyota Highlander, and two domestics — the Chevrolet Tahoe and the GMC Canyon.
The Ford F-150 has been the early favorite, because its technical breakthroughs include a high-grade aluminum frame and body, replacing considerable amounts of steel with lighter aluminum in chassis beams and body panels, and upgraded engines that add an all-new 2.7-liter EcoBoost V6 to the 3.5 EcoBoost V6 and normally-aspirated 5.0 V8. Significant weight reduction promises improved fuel economy.
Base models start at about $25,000 and various models with numerous packages and options can about double that sticker.
The Lincoln MKC is evidence of what Lincoln can do with a basic compact utility vehicle, such as the Escape, by adding all sorts of features and luxury upgrades. The big feature under the hood is the same 2.3-liter EcoBoost 4 that is so impressive in the Mustang, above and beyond the basic 2.0 EcoBoost, with the MKC's front-wheel drive or all-wheel drive admirably. Priced from the mid-$30,000 range to over $40,000 with a lengthy option list.
The Chevrolet Colorado is a new half of GM's midsize twins, joining the GMC Canyon, with only interior and trim feature differences. With extended or crew-cab bodies, the Colorado is big enough for most truck jobs but significantly smaller than the Silverado. A 3.6-liter V6 is an upgrade to the basic 2.5-liter 4, and gives the rear- or 4-wheel drive Canyon plenty of power. Curiously, the Colorado switches from 2wd to 4wd low or 4wd high, while the Canyon has those three choices, plus a 4-auto notch that is AutoTrac electronic control, engaging 4wd when needed. Price ranges from a low near $20,000 to $30,000 for fully equipped 4wd.
Except for the MKC, the jurors ignored compact utility vehicles, the hottest trend in automotives. The Lexus NX, Audi Q3, Mercedes GLA and the Porsche Macan are new entries, while the Tahoe, Murano and Highlander are redesigned. The GLA and Q3 are both compact, and offer turbocharged 2.0-liter 4 cylinders with good power and either front- or all-wheel drive for prices under $40,000. The competition among trucks was almost as intense as on the car side, and decisions were difficult.
But the results speak for themselves. The regular season is over, and the championship playoffs are poised to commence.
By John Gilbert
The Ford Mustang takes the term "icon" to new dimensions. Amid very successful pickup trucks and various sedans and SUVs, the Mustang earns icon status by standing out as the very personality of Ford Motor Company. And for 2015, the Mustang takes its own image, as well as Ford's, upward to new heights of styling, performance and technology.
The totally redone Mustang has an enormous responsibility, being the sixth generation of the car that first hit the streets of Dearborn in 1964. That's a long time ago — 50 years ago, to be exact. And the new car seems to have reached all the high points befitting its 50th anniversary.
"Fast, fun and affordable," is the way Mustang vehicle engineering manager Tom Barnes put it. I wasn't sure if that was a new corporate motto or if Barnes was describing the combination of all the new Mustang's attributes, but if it's not the Mustang Motto, it should be. The Mustang will start in the mid-$20,000 range and run upward, depending on the restraint buyers show at the upgrade and option checklists.
Since its inception in 1964, the Mustang has grown bigger, then smaller, then almost disappeared, before being revived in the last decade as a retro model that brought everyone back to the heyday of its first and most classic years. For 2015 the evolution continues and the Mustang sets new standards as a sleeker, quicker and more maneuverable sporty coupe that is a little bit retro and a large bit contemporary, with a dose of Ford's most futuristic EcoBoost technology.
Ford introduced its 2015 Mustang to auto media in Los Angeles, stressing it as a finished product more than simply for its improved power. But the two are intertwined impressively. Under that long and curvaceous hood you choose one of three engines. A surprising new EcoBoost 4-cylinder joins the returning V6 and the bolstered V8 in a versatile arsenal. All three engines reach or surpass 300 horsepower, yet promise economical operation through a pair of 6-speed transmissions, a Getrag manual, or the automatic, which has steering wheel paddles for a sporty touch on all applications.
The base engine is the 3.7-liter V6, with 300 horsepower and 280 foot-pounds of torque, while the top engine is the 5.0 V8, with its sophisticated chain-driven dual overhead camshaft design spinning to a whopping 435 horsepower and 400 foot-pounds of torque, with a top speed of 155 miles per hour. But the spotlight shines brightest on Ford's newly redesigned EcoBoost 2.3-liter 4-cylinder, thoroughly upgraded and reinforced to handle the twin-scroll turbocharger's force-fed demands. In the Mustang, it delivers 310 horsepower and an amazing 320 foot-pounds of torque. From a 4-cylinder.
"The new 2.3 has more horsepower than our V8 did 10 years ago," said Barnes, pointing out the power is complemented by an advertised 32 miles per gallon.
"We had hundreds of people working on this Mustang for the last four years to make sure we had everything from the powertrain to the stiffer structure, to ride comfort, and to improve response and handling, as well as the appearance, inside and outside. We had a lot of input from people and a lot of debates and discussions, because we had to live up to the heritage of the car but also move forward.
"I think we absolutely nailed it."
Small engines that over-achieve always have been my preference, and the EcoBoost 2.3 proves that large displacement isn't the only route to performance potency, while that potency and good real-world fuel-efficiency needn't be mutually exclusive. German manufacturers such as Audi/Volkswagen, BMW and Mercedes all have 2.0 turbos as their primary base power, and the 2.3 EcoBoost proves that small-displacement, high-performing engines with great fuel economy isn't an exclusive domain of the Germans.
When Ford first decided to go with the turbocharging technology it calls EcoBoost, it began with the 3.5-liter V6, built from the ground up to withstand the rigors of rapid surges of RPMs produced by turbocharging. The 2.3, meanwhile, first came to Ford with its smaller 2.0 brother from previous affiliate Mazda, when the two companies had some joint ventures. Refined through the years, they became known as the Duratec family of engines, with no connection to the smaller Sigma family that includes the 1.6, 1.3 and 1.0-liter units. Over the years, the Duratec as come a long way.
"The only thing this engine has in common with that original 2.3 is the placement of the cylinders and the displacement," said Scott Makowski chief engine architect on the EcoBoost fours. "It's pretty streamlined, with the turbocharger and direct injection mounted low, on the side, and the exhaust manifold integrated on the other side. It wasn't cheap to do things like put a steel crank in it , but all along, we looked for anything we could do to strengthen the engine."
That includes a die-cast (instead of sand-cast) block, and camshafts, a forged steel crankshaft, special piston rings and connecting rods, cooling jets on the aluminum pistons, and other modifications to reinforce the 2.3 for the rigors of being force-fed by the Honeywell-built turbocharger.
"We wanted 300 horsepower, and we got 310, with 320 foot-pounds of torque," Machowski said. "We never chased horsepower at the expense of torque, and we never sacrificed gas mileage, horsepower or torque. We were able to get 240 horsepower out of it with a single-scroll turbo, with great power but no low-end. We went with the twin-scroll turbo because it has more pulses, which give faster response. Our emphasis was on getting the torque right because we knew the horsepower would come along later.
"The torque peak is 2,750 RPMs, but 90 percent of it comes in at only 1,750. The 310 horsepower means we got 137 horsepower per liter, which is one of the highest figures in the industry."
The obvious competitors for the Mustang are the Chevrolet Camaro and the Dodge Challenger, both of which have just been reintroduced with huge power outputs. But all that power necessitates enormous pushrod engines — the. Camaro has an optional 7.0-liter V8, and the Challenger offers Hemi V8s of 6.2, 6.4 and a supercharged 6.2-liter with 707 horsepower. The price for those top-performing models is equally astronomical. That connects back to Ford's "fast, fun, affordable" concept.
The V6 base car will start under $25,000 when it hits showrooms, and it will be the choice of many who love the style and substance and want to get a bargain first and foremost. The base price for the GT, with its neat-sounding 5.0-liter V8 reaches up to a $36,100, although you can find another $10,000 of options to add without difficulty. The 2.3 EcoBoost model steals the thunder again, however, with a starting price of $29,170, still armed with all the technical upgrades from the twin-scroll Honeywell turbocharger on up.
There are those who will demand a V8, just for tradition's sake. Makowski, in fact, might have been one of them, until he proved himself perfectly suited to directing the new engine project, combining the new technology with an appreciation for Mustang heritage.
"I have an old V8 Mustang that I built," said Makowski. "And while I like all three of these models, the 2.3 EcoBoost is my favorite. We haven't chased horsepower at the expense of torque , and we haven't chased power at the expense of fuel economy."
New suspension at all four corners is highlighted by independent rear suspension, which replaces the solid-axle rear axle that has served the Mustang from the start. Engineers said that Ford considered both rear-end systems on the first Mustang, but chose the solid axle, and stuck with it. The improved steering, as well as the handling and power, must be driven to be appreciated. We proved it on our test runs up and down the San Gabriel Mountains east of L.A., driving the GT with its 5.0 V8 and the 6-speed stick on the way up, and then the 2.3 EcoBoost with the 6-speed automatic and its steering wheel paddle shift controls over similarly winding mountain roads on our return. We were impressed with both.
The GT's V8 sound and punch is so good that I joked with Ford engineers that it essentially was a "1-speed" on those roads, because I was able to fly up around all the curviest mountain roads by simply leaving it in third gear. When approaching a tight curve, third could harness all the power sufficiently to slow the GT down entering the turn, yet lower-end torque was more than enough to pull us out of those curves with smoothly accelerating bursts, and letting it rev merely improved the sound.
I would also have liked to try the non-GT with the 2.3 EcoBoost and the stick shift, but in the available time, I also wanted to give the paddle-shifting automatic a strong try, so that's what we chose. Shifting it manually and sailing around the similar curvy roads, the Mustang's agility not only reflected the car's improved weight distribution but, when we got to the bottom, its computer showed 31.4 miles per gallon. Imagine if I had driven it easy, rather than pushing it to handling limits.
A subtle element of fuel economy goes beyond miles-per-gallon figures. It is whether a car requires premium fuel, which often costs 30 or 40 cents more per gallon than regular, or whether it is merely recommended. Makowski didn't make a big issue of it, but explained that the 2.3 EcoBoost was designed to run all day on 87 octane regular.
"We developed the 2.3 EcoBoost to run on 87 octane regular, all day," he said. "You might get a little better horsepower with premium, but we made sure we met the minimum levels of performance on 87."
That is just another plus for the Mustang-on-a-budget buyers. If you can blast it off the line once in awhile, and push it through turns or around cloverleafs, but have enough restraint to get 30 mpg, you can consider donating an extra $3 to $5 toward the car payment every time you fill the tank. And you could still fill up with premium every once in a while, such as for track day.
Most buyers may be unconcerned about the impressive technology that went into making the new Mustang world-class; they'll be reeled in by the lure of the Mustang mystique and its great new look. That became clear when I was driving a gleaming white Mustang GT on a test drive, and I pulled into a strip mall parking area, not realizing I had been followed by an eager young fellow who parked and ran over to me.
"What kind of a car is this?" he asked, as I climbed out. I told him it was the new 2015 Mustang GT, and he couldn't stop smiling and offering praise as he circled the car, gazing and shooting cell-phone photos every few steps.
Now, the 2015 Mustang has revised lines and a bit more sinister look compared to the current model, but it never occurred to me it looked like anything other than a Mustang. Nonetheless, spontaneous surveys are fascinating, and add evidence to the evaluation. For me, it confirmed that the new Mustang, with its lower and sleeker styling, balanced with the polished technology under the skin, is ready to go galloping off into an unbridled future.
By John Gilbert
Hyundai faced a pretty tall order when it revised its Genesis sedan for its second generation in the U.S. sports-luxury sedan class. After all, when the first Genesis hit these shores as a 2009 model, it won North American Car of the Year honors, and its engine was named to the Ward's Top Ten engine list.
It was a bit sporty, but mostly a venture by the South Korean manufacturer to prove it could enter the luxury segment with a stately, if conservative, vehicle, coming out after the breakthrough midsize Sonata had startled the auto world by being distinctly not conservative.
The new Genesis, coming out as a 2015 model, is a stunning over-achiever in both technology and appearance and it seems that Hyundai decided to make its upscale sedan the company's new icon — safely below the super-luxury Equus but a large stride ahead of the current Sonata. As an intriguing footnote, Hyundai came right back to introduce an all-new Sonata, which is also much refined, and resembles the new Genesis more than the current Sonata. Maybe Hyundai intends to have two halo cars.
If looks matter most in luring customers away from the Mercedes-BMW-Audi German trio and Japan's Lexus, the Genesis moves boldly from functional to flashy by comparison. In first examination, I couldn't forget that when Hyundai affiliate Kia hired Peter Schreyer away from Audi to coordinate some fantastic designs, such as the last Kia Optima, parent Hyundai suggested that Schreyer take over as design chief for the whole operation, meaning both brands. If that makes it less of a coincidence than Hyundai might suggest, the Genesis grille is a stylish new shape, sort of a wide shield that bears a resemblance to the front-dominating grille on every Audi sedan.
The difference is enough, of course, but it wears well on the Genesis, tapering up from the bottom to catch the contour that comes off the headlights in a stylish juncture that makes the entire front end seem wide and impressive. From the side, the Genesis sweeps back along an upper character line that runs just under the window sills and incorporates the door handles.
The roofline tapers down and then kinks forward, not unlike the BMW luxury sedans, and at the rear, well, it's back to resembling the Audi sedans the way the horizontal taillights catch that character line and send it across under an integrated spoiler.
"We pulled the cabin rearward," said John Krsteski, design manager of the Genesis. "The car is wider, too, and has a striking character feature. The grille is shaped like a winged hexagon."
A hexagon, of course, has six sides, and if you count the gentle curve at the top of either side of the grille as two, then it could transform itself from a winged four-sided opening to a winged six-sided thing. "I can't tell you how many sketches we did on the rear end," Krsteski added. "We pulled the rear corners back and we did hundreds of different sketches on the taillights."
Back when the new Genesis was introduced at The Sanctuary in Phoenix, it was made clear that Hyundai proved it could build comfortable and smooth luxury sedans with the first Genesis and the Equus, but Hyundai officials also acknowledged that the company still had what it calls a "perception gap" that separates it from BMW, Mercedes or Audi. As for Lexus, Hyundai's luxury sedans started being sold cheaper than Toyota's prize upscale sedans. The new models will sell for about the same price as the comparable Lexus cars, and is aimed at closing the perception gap as quickly as possible by offering more value for the money. It may take longer for the Equus to close the premium gap on the BMW 7-Series, Mercedes S-Class and Audi A8, so Hyundai is aiming to do it with the Genesis, aimed at the BMW 5-Series, Mercedes E-Class, and Audi A6.
Hyundai officials stress that it isn't something that can simply be achieved, but must be engineered into the new car. With that, the new Genesis bristles with technology and refinement when compared to the award-winning current car. It rides on a new platform, nade significantly more rigid for handling and crash-performance with some aluminum and an increased amount of over 51 percent high-grade steel. At that, the body is only 0.2-inches longer overall at 196.5 inches, on a wheelbase that measures 3 inches longer at 118.5. At 74.4 inches wide and 58.3 inches tall, it is both wider and lower. That means shortening the overhangs front and rear by pushing the four wheels out closer to the extremities and stretching that sleek sheetmetal to cover it.
Inside, all the goodies now expected of luxury sedans abound, such as lane-departure warning, lane assist to keep you inside those lines, Google connectivity, and an impressive all-wheel-drive system called HTRAC. There are also all sorts of settings for sport, eco, snow, and normal — virtually any situation a driver can encounter. Improved seats and attention to detail on all the soft-touch dashboard and door panel material.
Engines are the revised 3.8-liter V6 Lambda, or the upgraded 5.0-liter Tau V8, which is enlarged as the replacement for the award-winning 4.6. The Tau V8 has 420 horsepower through its driven rear axle, while the Lambda V6 delivers 311 horsepower and can run the AWD system.
The potency of the aluminum V8, with direct injection and dual variable valve-timing and those 420 horses, will be the favorite of the power-hungry or the rear-drive traditionalists. And it is an impressive package, with its homebuilt 8-speed automatic transmission, at $51,509. It rises to $55,700 by adding the Ultimate package, which gives you a premium navigation system with a 9.2-inch high-def display, a 17-speaker Lexicon audio, continuously adjusting damping control, heads-up display, and dual vent control with CO2 sensors, plus a power trunk lid.
Now, the power trunk lid is something I need to test more. Ford brought out the idea on the 2014 Escape, where someone carrying arms-ful of groceries can, with the key fob still in pocket or purse, can sweep a foot under the rear bumper and the tailgate magically opens. On the new Genesis, you merely have to be standing by the rear end of the car with the fob in your pocket and the trunklid pops open. I suggested that might be a problem if someone was merely hanging out back there and the trunk kept opening.
For significantly less money, starting under $40,000, the Genesis with the V6 and all-wheel drive will be the clear choice for those living in the winter-driving belt. It also runs through the 8-speed automatic, and its HTRAC was demonstrated graphically out in the desert, where it was placed on a portable set of rollers under three of the tires, meaning traction could only get through to the fourth.
The system, we're told, uses electro-mechanical control of its actuator, a worm-shaft with its own clutch to control torque. The system monitors all four wheels, of course, and for the purpose of our demonstration, on startup the right front, and both rears, might have spun merrily on their rollers, but with HTRAC, the torque is sent to the left front, the only wheel with traction, and the Genesis launches straight ahead.
The HTRAC directs a 40/60 front/rear split in normal circumstances, but can adjust for up to a 90/10 split in slippery conditions, or switch 100 percent of the power to the rear wheels during Eco highway cruising. The Intelligent Drive system on Normal sets the throttle and shift schedule for decent response and efficiency for average driving. In Sport, the system adjusts to sportier response and shift points. In Snow, throttle response is reduced to lessen the risk of wheelspin on starting up.
The sophisticated safety system includes emergency braking aids that apply full braking force if a crash is detected as imminent from 5-50 mph. From 50-112, you get a collision warning and partial braking force. It's the same in revers for smart cruise, which paces the car ahead and will even make a complete stop if the car ahead stops in your path — then it will start up again when the car ahead starts, and regain your interval and pace.
Hyundai is calling the new design of the Genesis "Fluidic Sculpture 2.0" and indicates it will establish guidelines for future Hyundai vehicles. With the Sonata following the look, that plan is evident. On the Sonata, it may look more conservative, but on the Genesis, it is luxury with a flair, turning a nice, conservative design into something far more dynamic.