Always room for bargain Jag-you-are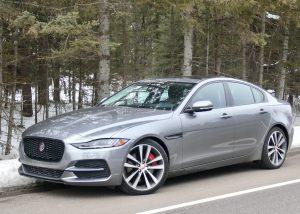 Ireland may be a long distance from Castle Bromwich, U.K., where the Jaguar XE is assembled, and maybe the Irish don't always embrace the British, but when the week of St. Patrick's Day coincides with the world closing up all our restaurants and pubs — and arenas, stadiums, movie theaters and other gathering places — for the Coronavirus pandemic in mid-March of 2020, we can still pause and give thanks, and hope, that there will always be a Jaguar.
We'll even pronounce it "Jag-you-are," as the British intended it to be, because, after all, they invented our language.
If you couldn't go to a St. Patrick's Day Parade, even, then maybe you could at least drive a Jaguar XE P250 S around for a while. Imagine it in a beautiful dark green — think traditional "British Racing Green," but anything an Irish shade of green would work to celebrate.
Turns out, the test car I was able to drive before St. Patrick's Day was a luxurious shade of "Eiger Grey" (with "grey" also being the preferred UK spelling) rather than green, but I could accept that, even though I happen to be about 75 percent Irish.
Times are tough in the auto selling business, all over the world, and Jaguar is among those hurting to sell more. But under the ownership of Tata Motors in India, the British pride is reflected in the newly restyled XE sedan, which I found dazzling to look at from every angle and to show off to anyone on my appointed rounds in and near Duluth, Minnesota. That includes the still-snowy and chilly North Shore of Lake Superior.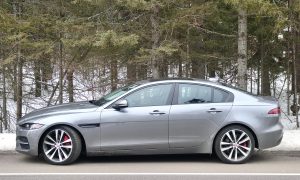 There are so many beautifully styled midsize sedans on the market that it is difficult to find any that aren't, any more, which is a good thing. But Jaguars still hold a special place in the hearts and minds of car fanciers the world over, and the new XE stands out as one of the best bargains in the luxury sedan market. That may be the "glass-half-full" version, compared to those lead-footed critics who complain about the obvious drop in power from the previous supercharged V6.
When you do your first walk-around, and admire the formal grille, the gently curving lines on the sides, the sporty rear with its protruding exhaust tubes, keep in mind that this is a 4-door sedan, not a sports coupe. Consider the whole fleet of Jaguars, up to and including the larger XF sedan, which costs between $50,000 and $75,000, and he XJ, which runs from the mid-$70,000 range up and over $125,000, you have to guess that the slightly more compact Jaguar XE must cost somewhere over $50,000.
Surprise. The base Jag XE P250 S lists for $39,900, and everything comes equipped on the car, which means adding on the destination and delivery puts it up to a mere $40,895 sticker.
If you have always admired Jaguars, you will find that modest price a bargain. There are some places Jaguar has cut back on expenses. For one, the powerful, extravagant supercharged V6 has been discontinued, taking its voluptuous sound and its 380 horsepower with it. But Jaguar has countered very effectively, with a 2.0-liter 4-cylinder, turbocharged to develop 298 horsepower and 295 foot-pounds of torque.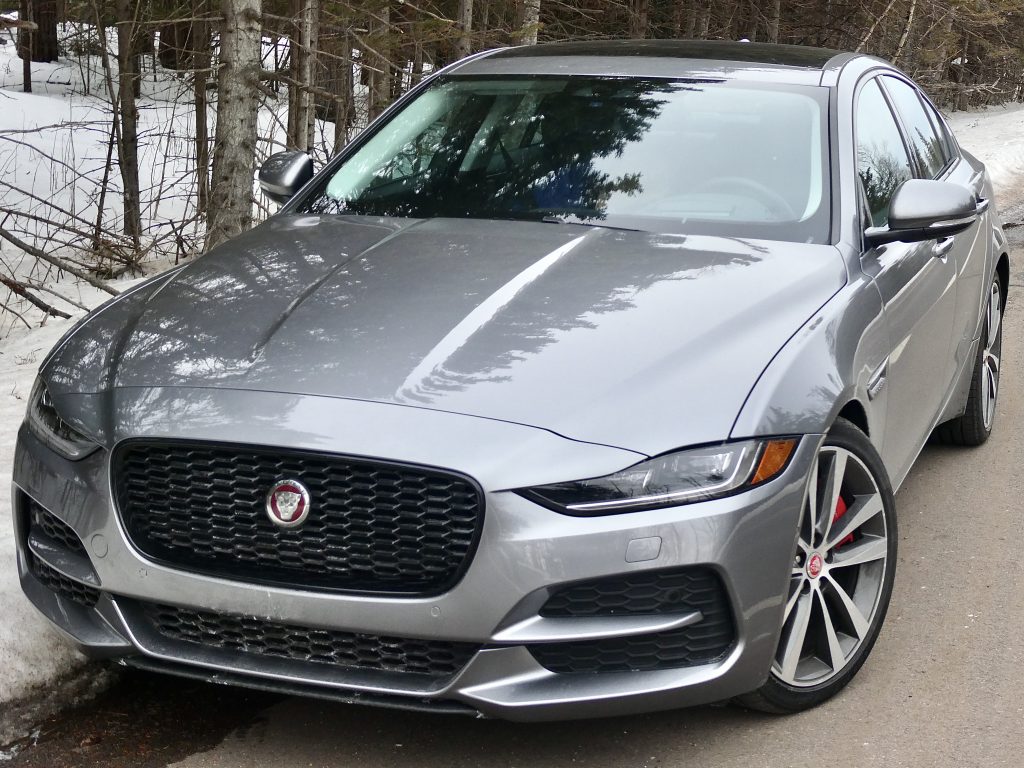 That's a solid and impressive amount of power coming from a 2.0 engine, proving again how effective turbocharging can be to extract power from a diminutive batch of displacement. No, it's not nearly 400, but in this era of economy, efficiency and expense — the "three E's" of modern car-building, it is more than adequate. I've had experience with that engine before — as well as the supercharged V6 — in smaller models of Jaguar sibling Range Rover SUVs, where it handles all duties efficiently. So in the XE sedan, it dots all the right letters.
The powertrain earns extra points for the 8-speed ZF transmission that shifts smoothly and helps extract and apply that power. That powertrain used to come in two doses of power, with 247 horsepower in base form. but Jaguar wisely gives only the 296-horse version to the XE.
One place I do wish Jaguar had not compromised is that the XE comes in both rear-wheel drive and all-wheel drive, and the test vehicle had rear-drive only. In Minnesota winters, especially on Duluth hillsides, AWD is much preferred, and if you're going to allow just two wheels to move your car, you're best suited to having it be the front wheels, not the rears, which can defy all sorts of electronic traction, stability and other safety and steering gadgets to still enjoy trying to pass the fronts when you're on ice.
Still, if you're shopping for a Jaguar, the AWD option isn't prohibitive in cost. And it probably doesn't detract too much from the EPA estimated fuel economy of 34 miles per gallon in highway driving. Try that on your supercharged V6!
The week I drove the Jaguar XE sedan, we got lucky and were free of blizzards and nasty ice patches, which allowed us to get wherever we wanted with rear-derive, thanks more to Mother Nature than the Jag's road-sticking tricks.
At $40,895, the XE hasn't left much else unchecked when it comes to driving features, to enhance both sporty driving and the traditional feel of a luxury car, including something called JaguarDrive, selectable driving modes you can click from comfort to eco, to rain/snow, to dynamic, with dynamic holding revs longer and firming up your steering feel.
All the contemporary connectivity stuff is on board, whether Apple Car-Play, or Android, and you have the also obligatory safety features, such as rear camera, parking assist, blind-spot detection, and lane-departure warning as well as lane-keeping assist.
There is also All Surface Progress Control. You've got to love the Brits for coming up with their own name for trying to make their car hold the road. Progress Control? Never thought of that. It also has torque-vectoring, which uses computerized braking to correct your steering vector if the system senses that you are not tracing your projected curve judiciously enough to stay in your lane.
I also liked the ebony Windsor leather seats, and those impressive front buckets are heated and cooled and adjust 18 ways for both driver and passenger, to assure your comfort. That includes your ears, which are embraced by an 825-watt Meridian surround audio system.
Build quality of the XE is impressive, and the body that is now 75 percent aluminum intensive — or "al-you-MIN-ee-um" as the Brits call it — is aided by the lightness and strength of the alloy. Under those curvaceous lines there are exclusive 19-inch alloy wheels controlled by double-wishbone suspension in front and Integral Link in the rear. Double wishbone is simply the best, and you will believe it with the quick agility of the steering and the stability without jolts in any cornering attitude.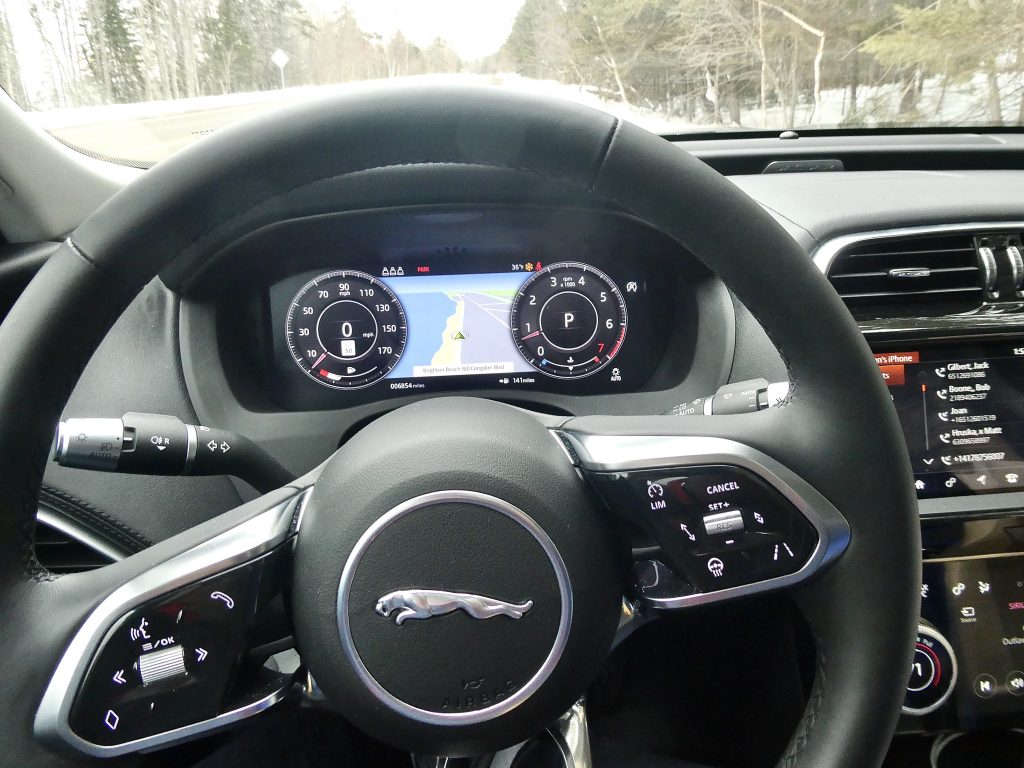 Inside, where you live after admiring your Jaguar XE upon approaching, the restyled exterior has been more than matched by the interior, where a new layout of instrumentation and fabrics cover every surface. Jaguar has even enhanced the 10-inch touch-screen by adding a redundant screen between the two large major instruments, the speedometer and tachometer, when you toggle up the assorted options to be located on your instrument panel. It is not as crisply sharp as Audi's, which uses Google Maps for true satellite showings of your territory, but it is soft and artistic to view, and frees up the touch screen for other things that need touching.
LED headlights light up the night and have auto-dimming, the outside mirrors are heated against ice and frost, the rear seats are split to fold down, while an impressive ambient light show accents the inside and as you get in and out. A wireless charger is impressive, also a head-up display visible through your windshield.
The more I think about it, the more I'd like to see an XE in luck-o'-the-Irish green. Of course, we hope that this goofy worldwide virus afflicting us all will vanish just as swiftly as St. Patrick's Day has come and gone. There will always be another St. Patrick's Day, thankfully, just as there will always be a Jag-you-are.
Comments