Best Prius yet adds AWD, Lithium-ion battery
By John Gilbert
Over the past couple of decades, the opportunity to test-drive the latest Toyota Prius has become a requirement in the auto-writing business, but for the upcoming 2022 model year driving the new Prius XLE is an absolute attraction more than a duty.
Nobody has done more to build, promote and sell hybrid vehicles than Toyota, and in its decades of long-range plotting and planning, two things have happened for Toyota. One is that for the first time, Toyota has become the No. 1 corporation in U.S. car sales. The second is that while the Camry midsize sedan, Corolla compact, and RAV4 SUV are all enormous sellers, but without attendant fanfare the Prius has supplanted all of them to become the most identifiable icon of Toyota.
If you have withstood the urge to buy a pickup or SUV and still want a sedan, the most logical segment might be to seek a compact 4-door sedan with sleek aerodynamics, which will house four adults, have sporty acceleration and handling, and can achieve fantastic fuel economy. And, oh yes, see if you can find one with all-wheel drive, too, and include the technology to take us into an electrified future.
The 2022 Prius XLE AWD-e checks all those boxes, and for a surprisingly reasonable price sticker of $32,084, climbing from a base price of $29,575.
The idea of a hybrid being a stodgy and boring ride is long-gone, in Toyota's world. The company, after almost stubbornly staying with Nickel-metal hydride battery units for most of its Hybrid Synergy Drive vehicles, has made the major transition to the higher-tech and more convenient Lithium-ion battery packs. You first appreciate the difference when you open the hatch and see a large, almost cavernously deep storage space — right where previous Priuses had a high shelf covering the old and bulkier battery pack and leaving precious little room. The Lithium-Ion battery pack fits low on the floor, where it can efficiently feed the electric "traction motor" that powers the rear wheels in the clever all-wheel-drive system.
Up front in the bright "Supersonic Red" vehicle there is a familiar and dependable 1.8-liter gasoline engine, which creates the electrical energy for the main battery pack, which moves the vehicle, and to supplement the main battery's drive system when you need more power to accelerate or scale a hill. The rear wheels are driven in perfect coordination with the conventional front-wheel drive up to 43 miles per hour, when the rears quit helping. Not bad, and seamless, although I'm wondering how Duluth winters will challenge that plan.
Presumably, if it's extremely slippery a sane driver won't be going over 40 mph so there will be no question; I just wonder about cruising at 65 on a wintry but clear freeway and hitting some ice where AWD would be more than welcome. My guess is that it would engage as you suddenly slow down.
The attractiveness of the Prius XLE is that it doesn't look like the "science project" many first hybrids did. It is shaped like an arrowhead — a sleek wedge rising up from the low front to the rooftop, and then dropping at the rear, after it clears head-space for rear-seat occupants. It looked tight to me, so to prove that 6-foot adults could fit in the rear, I climbed aboard and found that after getting in, my head was clear of the ceiling, and my knees didn't have to be pressed against the contoured rear of the front buckets.
Driving the new Prius is enjoyable and — dare we suggest? — exciting. You get in, with the key on your person, and push the button. An indicator says "Ready," and you get used to looking for the information on the wide center-display atop the dash, while there is no instrument panel directly in front of the driver. That becomes an easy adjustment, and besides, you have a head-up display to give you vital information displayed on the windshield, so you simply have to get used to having fantastic forward visibility.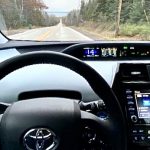 If you have driven judiciously, using the various instruments to tell you where your power is coming from, and how you're doing for fuel economy, you might have fully charged the battery pack, and if you want, you can push the button and lock it into EV mode, which means you can drive silently on electric power only for about 20 miles. Obviously, that might get most of us to work and back, but there is no "range anxiety" with the hybrid, because once you've used up the electric power, that gas engine kicks in to immediately start recharging the electrical system and make it power the car.
Below the information screen, at the lower edge of the center stack, the gearshift lever allows you to go from park to reverse, to neutral and to drive. To the right of that is a mode switch, letting you select Eco, Power or EV modes. The Prius runs swiftly in normal, and it becomes a pocket racer if you choose power.
Of course, a heavy foot will use more gas-engine power, and when you finish your drive to the shopping center, or back home, shutting off the engine gets you a screen that indicates how long your trip was and what your gas mileage was. Interesting, that with an EPA estimate of 49 highway, and 51 miles per gallon city, for a combined 47 mpg, it is challenging to see if you can put the regenerative braking to use and drive wisely enough to brake lightly as you approach a stop, and avoid hot-rod starts.
My best was 56 miles per gallon for a full day, and the graph gives you a readout of what your daily usage was for each day. Obviously, you also can zero it at any time to record a specific trip. The significant thing is that while there are times you need full power to scale a steep hill, you realize after a couple of days that the most efficient way of driving the car is also the smartest way to drive anyway.
While Toyota is the clear industry leader in hybrids, both for itself and its Lexus premium brand, it also is not hiding from the inevitable electric vehicle future. In fact, word is that Toyota is just about to announce its plans for EVs to come in the next year or two, and we can pretty well bet that it will be something to impact the industry's next trend.
However, if you want to get the best of both worlds — dependable gas engine and futuristic hybrid power — the 2022 Prius XLE AWD-e is already out and awaiting customers.
Comments