Diesel pushes Wrangler above mere icon
By John Gilbert
It used to be that the arrival of a Jeep Wrangler to the Western tip of Lake Superior for a test drive promised equal parts adventure and nuisance. But the 2020 Jeep Wrangler Unlimited Sahara 4X4 has altered that dual description. It's still adventurous, but the nuisance factor has been pretty well left in the dust and rubble by technology and refinement.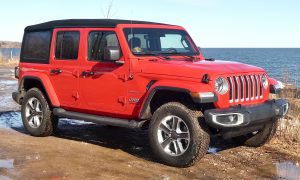 The test vehicle arrived in Firecracker Red paint that was so red that it was almost red-orange, bright enough to cause passers-by to take another look and to offer the occasional thumbs-up.
When automakers return to full production if and when this Coronavirus shutdown ends, it might be the perfect time to take a look into the expanding FCA line — which stands for Fiat Chrysler Automobiles, but also includes Jeep.
Especially Jeep.
The hearty all-American utility family was perhaps the prime jewel in the deal, when Fiat bought out Chrysler and all its appendages, and with Fiat's enthusiasm behind it, Jeep has risen steadily in an industry climate that has been notably stagnant. As time has evolved, I found myself appreciating the Grand Cherokee and everything on down to the Renegade, always cautioning myself to not overlook the Wrangler — that rugged, war-born all-out utility vehicle that you can find climbing ridiculous obstacles wherever ridiculous obstacles can be found to drive over.
Then, a couple years ago, the Fiat-pushed refinement hit the Wrangler, adding various options to the suspension and drivetrain, coupled with some outstanding interior upgrades that have pretty much ruined Wrangler's life-long reputation of being rugged and tough in all circumstances, even if it means being a little harsh to the uninitiated. That disclaimer is no longer needed, because the refinement has turned the rugged off-roader into an on-roader that is actually pleasant to drive, even on long trips.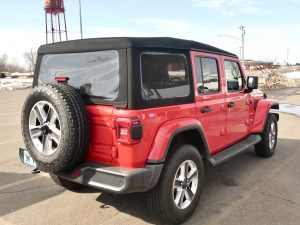 The biggest news about the new Wrangler is…well, it's several things. First, the diesel engine is a 3.0-liter V6 turbodiesel, which FCA calls "EcoDiesel." It is built in Italy, and the 8-speed automatic transmission handling the versatile 4-wheel-drive beast is made in Germany by ZF. The Wrangler itself is assembled in Toledo, Ohio. Talk about a citizen of the world.
The turbodiesel is not huge, at 3.0-liters, but it turns out huge power. It has 260 horsepower and a whopping 442 foot-pounds of torque. That allows the Wrangler to tow up to 3,500 pounds, which is a large haul for a tightly made 4-door Wrangler that still appears to be made to challenge rocks and hillsides off-road, where you wouldn't be towing any trailers.
Beyond the powertrain, which shows EPA fuel estimates of 22 city and 29 miles per gallon highway, the diesel is quiet and hurls you off the line with quick power. The 8-speed shifted smoothly. The Wrangler now offers buyers a very difficult decision, coming with a tried and true 3.6-liter V6, or the outstanding new 2.0-liter turbo 4, or the turbo-diesel. Those fans who have had diesels know of their strength and durability, and won't flinch at the option tag of $4,000 to add this Fiat-sourced 3-liter V6 turbodiesel, which is as quiet as the 3.6 gas V6 and about doubles the torque.
The suspension is heavy duty, with gas shocks, and the Command-Track part-time 4-wheel-drive system worked efficiently and without flinching. The part-time thing means you can shift it into 4×4 or 4-wheel-drive high, or 2-wheel-drive. In Minnesota, you're still in 2WD most of the time if the highways are free of ice, but there aren't many things more conducive to a secure feeling than to be in a Jeep with the system in 4WD, and the Dana front axle means it will also work over rough terrain, while hill-descent control will ease you down even the mile-high hills of Duluth, Minnesota.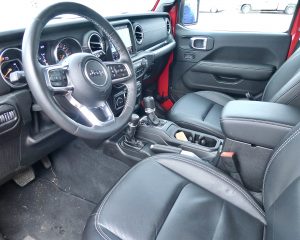 The interior's straightforward and efficient instruments, its shift levers on the console, a navigation screen in easy view atop the center stack all are without criticism, but what sets the new Wrangler Sahara's interior apart is the remarkably classy soft-leather front bucket seats, heated for the harshest weather and embossed with a Sahara logo.
With all the connectivity and satellite audio and remote-start capability, you look around and feel as though you're in a typical 4-door SUV. It's almost easy to forget that the roof you're looking at is heavy-duty fabric, and you also can fasten a 3-piece fiberglass roof firmly in place, simply by sliding it out of its easily-stowed case. The fabric top was fine in some very chilly weather, and it left behind the recollection of flapping fabric tops on Jeeps from the old days.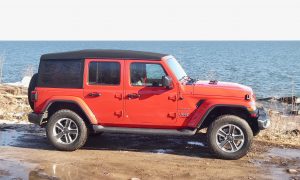 That is another old Jeep "tradition" that won't be missed. Add in backup camera, and the safety security cross-traffic controls, and keyless entry and remote start puts this Jeep into its own realm.
But the most important thing is the overall package, which, when you combine all the high-tech features with the plush leather seats, make the Unlimited Sahara a vehicle that demands a comparison drive, even amid all those other Jeep models joining it in the showroom. Its base price of $38,645 quickly jumps to $55,925, diesel and all, but the lost tradition that will be missed the least is that after handling all sorts of rugged off-roading or even Duluth streets, it rides smoothly on the highways. No more 200-miles-on-a-pogo-stick treks for Wrangler lovers.
KEEP WATCH WITH SANDS
A month ago, I began a brief introductory if offbeat "test drive" that is certain to keep me on time. I have been selected to a trial run of a new Szanto ICON Roland Sands signature series wristwatch. This prize timepiece is designed to have the sporty flair of a motorcycle racer, which Sands was, in motocross and road racing, before he turned to designing motorcycles and accessories.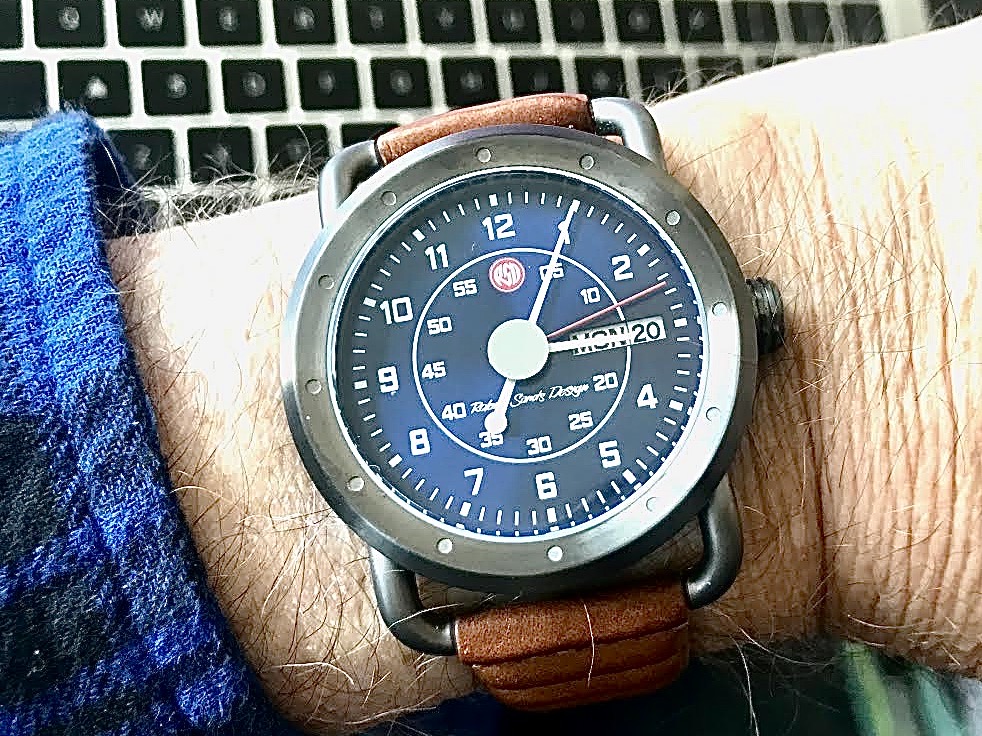 I've spent most of my career covering motorsports, with motorcycle road-racing among the highlights, everywhere from World Superbikes from Brainerd in Minnesota to Hockenheim in Germany on a very rainy weekend in 1989. So who better to evaluate a wristwatch designed by a bike racer?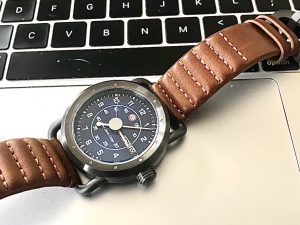 Among his prizes are leather motorcycle jackets, which are hinted at in the leather ribbed bands of his watches. He helped with the actual design of the watch, itself, otherwise designed by Time Concepts, LLC., which has built outstanding Swiss watches. lt has a mineral crystal with 100-meter water resistance, a satin brushed stainless steel screw-on back, and a design that looks like the sort of watch a rider or racer might wear, both in the handlebar-like attachment bars and the watch face itself. It comes in assorted face colors and bands, starting at $225, and can be seen online at time concepts.net.


Comments