XT5 spells crossover highlight for Cadillac
John Gilbert
Maybe Cadillac is planning to give us all a quiz. Line up all the luxury car buyers and see if they can identify and distinguish among an ATS, a CTS, an XT4, an XT6, a CT6, an XTS, the XRS, and an XT5.
Then ask us all which ones are cars, which are SUVs, and which are a combination, sort of combining the station wagon of the old days, the crossover SUVs so popular today, and the luxury sedan that we used to know and love. So long, Coupe deVille!
The XT5, which I recently road-tested for a Coronavirus Pandemic week of social distancing around Duluth, Minnesota, and which is this week's subject, caught me my surprise. I've driven several Cadillac models, as General Motors' elite brand tries to pull itself up to compete with the best luxury vehicles from Germany, Japan, the UK, and even Korea.
As an aside, I am a purist for type-face fonts, wherever they appear and whatever they are supposed to identify. For example, I absolutely hate the futuristic font on the Minnesota Vikings uniform numbers, with serifs jutting up, looming down, or melting off the edges, everywhere. I want to be able to distinguish the numbers at a glance, and uniform numbers should be as simple and straightforward as possible — maybe make them italic, if you want to get daring. The numeral 5, for example, should have the top horizontal bar end, just end, as it ventures to the right. If you put a serif on the tip of it, now that bold bar turns downward, and at a glance you have no idea whether it's an S or a 5.
With that in my brain, when I saw I was going to get an "XT5" for a test, I was certain it was a mistake of tiny print and I was going to be an XTS — which I've driven, but is always pleasant to drive.
This time, howerver, Cadillac can celebrate scoring an "Aha moment" on me when the vehicle showed up as a quite sleek, station-wagon-wannabe, with nice lines and the dramatic grille Cadillac has featured recently. When I pulled out the equipment sticker, it said "2020 XT5 Sport AWD."
No serifs, so the 5 is a 5 is a 5, as it were. I had driven an XT4, which is similar and powered by a 2.0-liter turbo 4-cylinder. And I'd driven an XT6, which came with a 4, a V6, a V8, and turbo versions of most.
So I had to do a little research on the XT5 Sport. And then I figured the heck with it — let's drive!
Impressive interior, high-tech switchgear, comfortable bucket seats, in white leather, thank you, and only a requisite few minutes to make sure I realized how the shifter works.
With all the LED lights and accent lights and ambient identifying lights on the roadway below your doors and tailgate at night, the XT5 certainly signals when it arrives or departs or stops to let you in or out. A panoramic sunroof covers both front and back buckets, and the storage area in back has a neat, sliding, vertical aluminum barrier that you can use to isolate grocery bags or other items to prevent them from flying around.
Most impressive is when you get into the driver seat and pull the shift lever to "D" and pull out into traffic. Swift and sure, this thing has enough power to keep up with any of the luxury cars or SUVs, even if you're still not sure which category this belongs to.
The test car, being a Sport model, rises above the 2.0 turbo and was fitted with the venerable 3.6-liter V6, with direct injection, turning out 310 horsepower at 6,700 RPMs, and 271 foot-pounds of torque at 5,000 RPMs. The engine is mounted in front, and is either front-wheel-drive or all-wheel-drive, with a twin-clutch unit controlled by a 9-speed automatic transmission that can be manually operated via paddles on the steering wheel.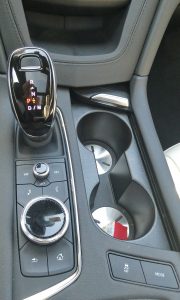 I may be one of the rare auto journalists who likes and uses paddles, because I'm a long-standing stick-shift guy, and being able to run the revs up and shift when you want, or using the left paddle to downshift — a huge advantage when you drive down one of the many ultra-steep avenues in Duluth, without any threat of sailing right on into the bay.
There is a luxury version above this Sport, but this one had enough high-tech options to boost the price from $55,000 to $59,340, including the advanced visibility and tech package. Oh, and the attractive "Shadow Metallic" paint is worth $625.
If you think the XT5 seems a little longer than you anticipated, it is. It came to life to replace the SRX two years ago, and it rides on the new redesigned Cadillac "global" chassis. That stretches the XT5 out 7 inches longer than the old SRX, with a wheelbase 2 inches longer, and the track 1 inch wider.
Modern building techniques and materials conspire to make the XT5 slightly smaller and sleeker-looking than the SRX was, yet with more interior room to play with. Most of that was spent on improving rear seat riding in the two-row vehicle, with 3.2-inches more legroom, and the added feature of reclining rear seats.
The ride is comfortable and the luxury of real wood, real carbon-fibre, and real leather makes a strong impression. The handling feel is good, too, and for a big vehicle, its agility is very good. For some reason, I found that in performance steering, there was a little looseness between the steering wheel and the agility. But that might be because I had the mode set to "Tour" rather than a higher performance Sport setting, which might have taken care of my nitpick.
All of the contemporary connectivity stuff is on board, and thankfully Cadillac has improved its "Cue" system to not go haywire every time you tried to change the station or go to a different screen on the dash unit.
One other catchy attraction is that the XT5 had the optional 20-inch wheels, mounted with 255-35/20 Michelin tires that helped keep us planted in every sortie.
Not sure how much importance buyers of a $60,000 Cadillac car-wagon-suv vehicle would put in fuel economy, but with EPA estimates of 18 city, 25 highway, we averaged 20-24 mpg in mostly city driving.
This might be among the most impressive vehicles Cadillac has brought out in a decade or two, but remember, if you go into a showroom to check one out, jot down the numbers and letters that matter most — "X," "T," and "5." Hold the serifs.
Comments