Corsair joins Lincoln SUV realm
By John Gilbert
Two or three years ago, if Ford Motor Company eliminated its luxury Lincoln brand we might not have been surprised, because only the king-sized Navigator seemed to be successful for Lincoln, and it was basically a Ford Expedition with bling.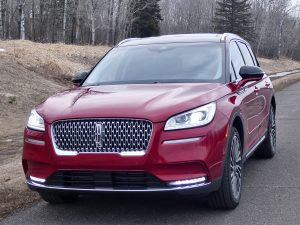 But in the space of one year, here we are evaluating — and praising — the third of three Lincoln SUVs all of which have carved out prominent places in the hierarchy of U.S. luxury sports-utility vehicles.
The new Navigator was deserving of high praise, and it was followed, barely a month ago, by a review of the entirely new Aviator, which I declared might be the best of U.S. luxury SUVs with its exceptional 3-row luxury as well as performance, tucked inside an extremely stylish exterior. And now, along comes the Corsair — Lincoln's stylish example of what a compact, 2-row SUV can be, when a company puts its unrestricted mind to it.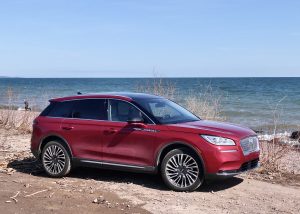 As someone who tries to be as objective as possible in evaluating any and all new vehicles, I had to admit the Navigator was bigger and heftier than I would choose, but its upscale luxury features made me realize why high-buck buyers would be drawn to it. The Aviator came wrapped in sheet metal that was attractively styled and the interior was loaded to the hilt with luxury pieces that made it expensive, but reasonably compact for a family that needed a 3-row SUV and still wanted something sporty and with surprising performance.
The Lincoln Corsair, on the other hand, fits like a glove my personal preferences for a compact SUV with adequate room for four or five and some baggage in its 2-row configuration, and it puts its tight and sleek styling to work in a sporty package that maneuvers easily, turns in a tight-circle u-turn, and will scat and run with the quickest of the compact SUVs. The competition is ferocious in the compact SUV realm, where Ford's Escape is one of the standard bearers, and faces the likes of the Toyota RX4, Honda CR-V, Chevrolet Equinox, BMW X3 and numerous others, from virtually every manufacturer.
Since everybody seems to want an SUV these days, it makes sense that the majority of buyers might want to keep it compact when choosing, hoping to get improved fuel economy and making it easier to lure some performance out of smaller powertrains. The Corsair meets both ends of that bargain, delivering nearly 30 miles per gallon and still delivering some starch when you hit the gas.
Turbocharging is responsible for the compromise, with both Corsair engines, Ford's 2.0 and 2.3-liter 4-cylinders gaining power from the forced-air feed of the turbos. The test-vehicle I drove was the loaded model, with a 2.3-liter turbo delivering a potent 295 horsepower and 310 foot-pounds of torque. That gives it about a one-second edge over the 2.0, with its 250 horses and 280 foot-pounds, in a 0-60 dash.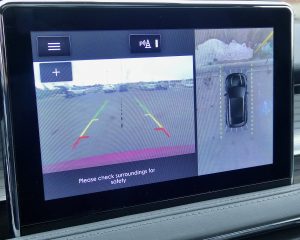 Taking a page out of Aviator's book, the Corsair doesn't have as flashy a dashboard design, but it does have similar bucket seats, with excellent support and 24-way power adjustability, with a curvaceous design that puts it up at the top of its class for comfort. The smooth leather seats have push-button heating and cooling ventilation, and add the therapeutic massage feature of its bigger siblings.
Lincolns have traditionally swiped the best features from Ford vehicles, and the Corsair wasn't about to let the flashy new Escape get away with all its stuff, starting with its new and unique platform. The Corsair rides comfortably on the Escape chassis, which is firm in design which aids stability and sporty but safe handling. In its previous round of vehicles, Lincoln had the MKC sedan, which was nice, attractive, but was not an SUV.
The Corsair has the slightly taller stance and all-wheel drive, with all that high-end interior equipment and it is an SUV, retaining its flair for utility, even if compact and eye-catching.
One thing that takes a bit of getting used to is the shifter. Eliminating the console stalk to select gears gives occupants a bit more room, and Lincoln resists the temptation to go with the current and trendy norm of a rotating dial. Instead, on your first time inside and behind the wheel, you might spend a few minutes searching before you spot the location, just under the ledge of the center stack, where push buttons can activate reverse or drive or neutral to control the 8-speed automatic. Only problem, you can't really see the buttons, so it helps if you know where they are.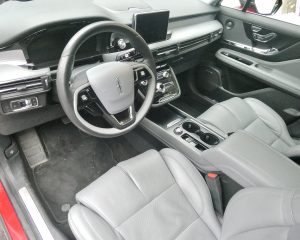 If the front buckets are supremely comfortable, and encapsulate you as if in a cocoon, the rear seats will slide to add to the quite roomy comfort in the rear. And it helps all the seats that the sunroof is one of those full, panoramic roofs that seems to open the whole ceiling to the outside.
Both models of the Corsair offer all-wheel drive, with the more basic model starting at about $39,000 and the upgraded Reserve model starting at almost $46,000. My test vehicle came loaded up with nearly $15,000 in optional equipment and packages, reaching over $62,000, which maintains its $6,000-$8,000 price status above the base model.
Among all those upgrades are some serious luxury touches, such as LED lights for added brightness in every application. Headlights, taillights and foglights are all LEDs, and it even has what are called approach lights, which give you a little lighted grid on the ground outside the doors to make sure you realize you're getting into the right vehicle.
I've always been an advocate of getting the smallest vehicle that is big enough, and the Corsair is the perfect example of what I was getting at. It will do everything larger SUVs will do, but with the added convenience of agility and maneuverability in traffic and congested driving.

As for the styling, the Corsair has a lot of cues from the larger Aviator, with that distinctive Lincoln grille fitted in between the headlight fixtures, and a side view featuring contour lines blending into the sheet metal on both sides, and large, stylish alloy wheels, with dual exhausts. A nice added touch on the rear is a horizontal taillight that runs the full width of the vehicle and makes a distinctive impression on anyone approaching from the rear, or coming upon a parked Corsair.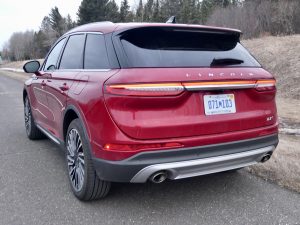 Built to slide, the rear seats offer comfort and added fold-down storage flexibility.
Maybe most people choose more compact SUVs because they cost less, but if things keep going the direction of the Corsair, we might have to start paying more to get all that styling into a smaller package.
Comments