By John Gilbert
Two or three years ago, if Ford Motor Company eliminated its luxury Lincoln brand we might not have been surprised, because only the king-sized Navigator seemed to be successful for Lincoln, and it was basically a Ford Expedition with bling.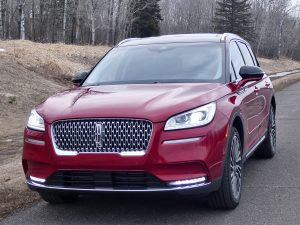 But in the space of one year, here we are evaluating — and praising — the third of three Lincoln SUVs all of which have carved out prominent places in the hierarchy of U.S. luxury sports-utility vehicles.
The new Navigator was deserving of high praise, and it was followed, barely a month ago, by a review of the entirely new Aviator, which I declared might be the best of U.S. luxury SUVs with its exceptional 3-row luxury as well as performance, tucked inside an extremely stylish exterior. And now, along comes the Corsair — Lincoln's stylish example of what a compact, 2-row SUV can be, when a company puts its unrestricted mind to it.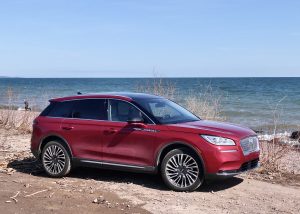 As someone who tries to be as objective as possible in evaluating any and all new vehicles, I had to admit the Navigator was bigger and heftier than I would choose, but its upscale luxury features made me realize why high-buck buyers would be drawn to it. The Aviator came wrapped in sheet metal that was attractively styled and the interior was loaded to the hilt with luxury pieces that made it expensive, but reasonably compact for a family that needed a 3-row SUV and still wanted something sporty and with surprising performance.
The Lincoln Corsair, on the other hand, fits like a glove my personal preferences for a compact SUV with adequate room for four or five and some baggage in its 2-row configuration, and it puts its tight and sleek styling to work in a sporty package that maneuvers easily, turns in a tight-circle u-turn, and will scat and run with the quickest of the compact SUVs. The competition is ferocious in the compact SUV realm, where Ford's Escape is one of the standard bearers, and faces the likes of the Toyota RX4, Honda CR-V, Chevrolet Equinox, BMW X3 and numerous others, from virtually every manufacturer.
Since everybody seems to want an SUV these days, it makes sense that the majority of buyers might want to keep it compact when choosing, hoping to get improved fuel economy and making it easier to lure some performance out of smaller powertrains. The Corsair meets both ends of that bargain, delivering nearly 30 miles per gallon and still delivering some starch when you hit the gas.
Turbocharging is responsible for the compromise, with both Corsair engines, Ford's 2.0 and 2.3-liter 4-cylinders gaining power from the forced-air feed of the turbos. The test-vehicle I drove was the loaded model, with a 2.3-liter turbo delivering a potent 295 horsepower and 310 foot-pounds of torque. That gives it about a one-second edge over the 2.0, with its 250 horses and 280 foot-pounds, in a 0-60 dash.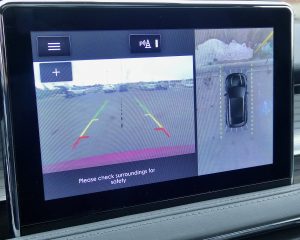 Taking a page out of Aviator's book, the Corsair doesn't have as flashy a dashboard design, but it does have similar bucket seats, with excellent support and 24-way power adjustability, with a curvaceous design that puts it up at the top of its class for comfort. The smooth leather seats have push-button heating and cooling ventilation, and add the therapeutic massage feature of its bigger siblings.
Lincolns have traditionally swiped the best features from Ford vehicles, and the Corsair wasn't about to let the flashy new Escape get away with all its stuff, starting with its new and unique platform. The Corsair rides comfortably on the Escape chassis, which is firm in design which aids stability and sporty but safe handling. In its previous round of vehicles, Lincoln had the MKC sedan, which was nice, attractive, but was not an SUV.
The Corsair has the slightly taller stance and all-wheel drive, with all that high-end interior equipment and it is an SUV, retaining its flair for utility, even if compact and eye-catching.
One thing that takes a bit of getting used to is the shifter. Eliminating the console stalk to select gears gives occupants a bit more room, and Lincoln resists the temptation to go with the current and trendy norm of a rotating dial. Instead, on your first time inside and behind the wheel, you might spend a few minutes searching before you spot the location, just under the ledge of the center stack, where push buttons can activate reverse or drive or neutral to control the 8-speed automatic. Only problem, you can't really see the buttons, so it helps if you know where they are.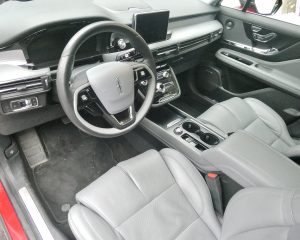 If the front buckets are supremely comfortable, and encapsulate you as if in a cocoon, the rear seats will slide to add to the quite roomy comfort in the rear. And it helps all the seats that the sunroof is one of those full, panoramic roofs that seems to open the whole ceiling to the outside.
Both models of the Corsair offer all-wheel drive, with the more basic model starting at about $39,000 and the upgraded Reserve model starting at almost $46,000. My test vehicle came loaded up with nearly $15,000 in optional equipment and packages, reaching over $62,000, which maintains its $6,000-$8,000 price status above the base model.
Among all those upgrades are some serious luxury touches, such as LED lights for added brightness in every application. Headlights, taillights and foglights are all LEDs, and it even has what are called approach lights, which give you a little lighted grid on the ground outside the doors to make sure you realize you're getting into the right vehicle.
I've always been an advocate of getting the smallest vehicle that is big enough, and the Corsair is the perfect example of what I was getting at. It will do everything larger SUVs will do, but with the added convenience of agility and maneuverability in traffic and congested driving.

As for the styling, the Corsair has a lot of cues from the larger Aviator, with that distinctive Lincoln grille fitted in between the headlight fixtures, and a side view featuring contour lines blending into the sheet metal on both sides, and large, stylish alloy wheels, with dual exhausts. A nice added touch on the rear is a horizontal taillight that runs the full width of the vehicle and makes a distinctive impression on anyone approaching from the rear, or coming upon a parked Corsair.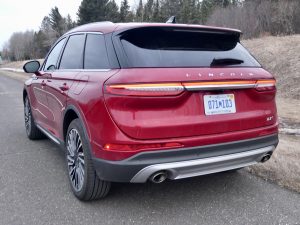 Built to slide, the rear seats offer comfort and added fold-down storage flexibility.
Maybe most people choose more compact SUVs because they cost less, but if things keep going the direction of the Corsair, we might have to start paying more to get all that styling into a smaller package.
By John Gilbert
If you are able to attend any of the world's major auto shows — such as Frankfurt, Geneva, Paris, Japan, or the Big Four in the U.S., Los Angeles, Chicago, New York and Detroit — the magnitude is amazing. But that doesn't mean the smaller population centers are any less intense in their interest. And most of them aren't that small.
That interest in Minnesota will ride a new idea, armed with an impressive economic impact study that shows the auto show may have a financial impact on the region of $19 million every year, with a nine-day run that makes its earnings greater than the Super Bowl or the Final Four.
If you don't care about the huge congestion at the Big Four shows, you might be able to calm down and enjoy the Twin Cities show., which runs from March 7-15.
My fondest memory of the Twin Cities Auto Show came a few years ago, while taking a pre-opening run through the displays at the Minneapolis Convention Center. There was a Jeep display, where a huge hill had been formed and rides were given to show how steep an incline, and descent, the new Jeeps could handle, which was better than some state fair thrill rides. As I watched the demonstration, there in the foreground was a kid, exactly the kind of kid who might spend his spare time playing with a model truck in his backyard sandbox, and he stood there, transfixed as he gazed at the Jeep going up and over.
That was a couple years ago, and I should have realized then exactly why our country, and particularly our state, had started on a transition from cars to trucks.
It has happened, of course. And when the Twin Cities Auto Show opens March 7, 2020, the focus will be on its Truck Summit on March 6 to break down the reasons for the shift.
There are a lot of other significant vehicles that will fill the huge site, with particular emphasis on the emerging electric car phenomenon that could change the world's auto industry. But there also will be dozens of trucks, from Ford, Ram, Chevrolet, Toyota, Nissan, Honda for pickups and all the newest SUVs and crossovers being shown by virtually all manufacturers.
We are fast closing in on the start of the U.S. major auto show season, which begins later with the Los Angeles show in late November, and continues with Chicago in February, New York in April, and Detroit in June. The Detroit date is the major departure, because it always has been in early January, but has shifted to summertime.
A lot of people in the auto industry are curious and anxious about that shift, moving the traditional mid-winter Detroit exposition to summer, and the anxiety is because a number of hard-core auto observers are concerned that the once-heralded major shows have faded in the intensity of interest by both auto makers and consumers. The question for us in Minnesota is, where does all that leave us, here in flyover land?
What happened last night in sports up north.
Podcast: Play in new window | Download
By John Gilbert
   If you know folks who own a Honda CR-V, chances are they love it. And, chances are it might be four or five years old, or older, and they still love it.
   The CR-V has been an enduring vehicle for Honda, helping establish the trend toward compact SUVs, which proved immensely popular when gasoline was expensive, and have continued their upsurge in popularity even when gasoline became cheap.
   With the new 2017 CR-V, Honda has made so many changes that its left even popular auto magazines in the distance. Take Motor Trend, for example. That magazine runs annual editions that run little capsule descriptions of all the new cars, trucks, and SUVs. It is very helpful if you're looking at buying a new vehicle, because it helps with the research and cuts down the usual comparison shopping chore.
    That issue came out last October. In its capsules, it ran pieces on the all-new Ridgeline, the Pilot, the Odyssey van, the HR-V, and the CR-V. Under CR-V, it says: "The CR-V remains unchanged. All CR-Vs are powered by a 185 horsepower 2.4-liter inline-4…"
    I got the chance to spend a week with a new 2017 CR-V, and it was remarkably peppy and handled extremely well, and it had quite a different look to it. Unchanged? I think it is greatly changed.
  Believing Motor Trend, I didn't bother to look under the hood for several days. The CR-V ran well, handling all weather conditions, and seemed to uphold the tradition of being a new halo vehicle for Honda. Finally, I raised the hood. Sure enough, there was no 2.4-liter engine in sight — instead, it was a 1.5-liter 4-cylinder, with a turbocharger hanging onto the engine. 
    Honda is not new to turbocharging, and in fact has some progressive engineers who have established breakthrough technology with some previous turbos on vehicles such as the Acura RD-X. And Honda has used turbos to extremes while fiddling at the highest echelon of motorsports, places such as the Indianapolis 500 and Formula 1.  
Honda had resisted the temptation to add turbochargers to its mainstream production vehicles. Turbos take a stream of exhaust gases that are headed for the tailpipes, and instead channels the flow to spin a generator turbine wheel that, in turn, force-feeds a more potent airflow into the engine's intake. That air sucks in more fuel, and the result is more power and more efficiency.
   The new CR-V, changed quite dramatically, thank you, is also changed under the hood. Instead of a 2.4-liter that produces 185 horsepower, the comparatively tiny 1.5 develops a quite amazing 190 horsepower and 179 foot-pounds of torque, thanks to the turbo.
    While it feels light and agile (because it is!), the CR-V also has improved fuel efficiency, up to EPA ratings of 26 miles per gallon city, and 32 mpg in highway driving. All the while feeling quicker and more agile.
Other more subtle tricks include a more aerodynamic shape amplified by  an active-shutter grille, which closes at cruising speed, when cooling isn't needed, to form a barrier against air streaming in.
    Honda now has bracketed the CR-V with an all-new larger Pilot, which is a truly full-featured luxury SUV now, and a smaller and more basic HR-V, which I was slightly disappointed in, but only because I was accustomed to the CR-V and the high standards it had set and maintained.
   The new CR-V comes in various forms, starting with the LX at a base price of just over $26,000; the EX starting at $26,695; the EX-L (meaning leather upholstery) starting at $29,000; and the Touring model, starting at $32,000. The base LX starts with a front-wheel drive version, which should handled even Duluth type winter driving without difficulty. But the available all-wheel drive is the trick answer, because it is a "real-time" system that transfers torque away from any wheel where any tendency to spin is detected by the sharp-witted computer.
Stressing its safety and creature-feature style, the CR-V has Honda Sensing, which includes a suite of items such as lane-keep assist, collision mitigation, and road-departing mitigation which use computer aided technology to alert you if you wander across a lane-dividing line without signaling, and can be set to gently prevent you from wandering across that lane line.
   Honda also has added the trick first developed by Ford for its Escape, where you can walk up to the CR-V from behind, holding your sacks of groceries, and wave your foot under the rear bumper, causing the tailgate to unlatch and open. Very handy.
   The interior of the CR-V is upgraded too, although I'd like to make a strong suggestion to Honda to be careful how they "improve" their controls and switchgear.
     My favorite feature of all Hondas is that they tend to have ergonomically perfect instruments and controls, meaning that you reach for something and it's there. Even if you've never been in the vehicle, the lights are right where you think they should be, same with the wipers.
    In recent model changeovers, however, there seems to be the tendency to make some items a bit more complex. Don't do that! The CR-V still has logical redundant switches on the steering wheel, and you can pretty well operate everything from there.
    Otherwise, you can operate the audio system's technical complexities via the large navigation screen, which includes touch-screen operation. Personally, I'm not a fan of touch-screens. Seems to me, after three or four days, you need some high-tech stuff to clean the fingerprints off the touch-screen.
Especially if you've stopped by the Great Lakes! Candy Shop in Knife River, and got overly friendly with some of those home-made caramel things. Let's see you try to make it all the way home without sampling some of the goodies, after which you need some high-test washer fluid to clean the touch-screen.
    As for the prices of the CR-V stable, each model offers all the features of the previous model, plus some added stuff. So the prices go up commensurately and each level seems to be a relative bargain. And while the basic LX is in the mid-$20,000 range, the completely loaded Touring model might reach the mid-$30,000 level. My favorite is the EX-L, because I like leather seats, and I'd pay extra for them, as well as the other features that model adds.
    And so as not to embarrass anyone at Motor Trend, we'll keep it a secret as we jump at that 1.5-liter turbo with its CVT, accepting power increases over the 2.4, as well as delivering fuel economy of over 30 mpg on the highway.
By John Gilbert
If you want to escape from the rigors of Northern U.S. wintertime, what better destination than sunny Italy? It doesn't seem as logical to go from Italy to Northern Minnesota's ice-locked clime in January, but that's what my little red Fiat 500x did for a week.
I knew it was not overmatched, when we got hit with a Duluth-quality blizzard of 6-8 inches of snow, followed by a bone-chilling 20-below-zero frigid spell. My wife, Joan, delivered a bowl of hot oatmeal in the dawn's early light, and as I finished a follow-up cup of coffee, I stood up, pulled out the Fiat 500x key fob and aimed it out the kitchen window. Push the  button twice, watch the lights blink, and notice the exhaust vapor streaming out of the tailpipes. Autostart. What a wonderful invention.
When it was time to leave, I bundled myself into my favorite down parka and headed out, climbing into an already soothingly warm vehicle. With all-wheel drive in the 500x, all was well. Well, almost. The only failure of the Fiat 500x is the inclusion of Nexen tires, which I'm sure are very smooth, round Korean-made tires for nearly every road surface. "Nearly every" does not include Duluth, Minnesota, avenues in wintertime.
Switching the 500x to all-wheel drive didn't help much, because the Nexens wanted to slither around dangerously anytime you applied throttle. I found, in fact, that leaving the 500x in front-wheel drive worked almost better, because you only had the front tires spinning and slithering instead of all four seeking their own direction.
We have a joint venture here, with an American company contributing a lot to the mix, an Italian company putting it all together, and a Korean company supplying the basic 2.4-liter engine design, and those Nexen tires.
If the 500x had some highly competent all-season or winter tires — my choice continues to be Nokian — the car would have been the greatest winter "sleeper" car on the planet. As it was, an AWD crossover shouldn't require white-knuckling inside your gloves. Read more