By John Gilbert
Auto companies can baffle us with the manipulation of introductions, and the most recent example is the highly popular Ford Bronco, which revives the name of the company's original SUV workhorse, loaded up with modern technology. If I didn't know better, I might have thought Ford created more questions than it answered when it brought out a string of the versatile and useful Bronco, although I enjoyed all the different versions I drove.
How could you not enjoy the Bronco Sport, a tight little 4-door SUV capable of handling all your objectives for family SUV duties or light off-roading? And then I got a second one, also a Bronco Sport, and also fun to operate. And later still, I got one with a stick shift that was a bit more work/off-road oriented, with a slick-shifting 7-speed manual. After all that, I got the bigger Bronco, not the Bronco Sport, and in 2-door fashion.
I knew that Ford also was bringing out a larger Bronco a bit later than the Bronco Sport, with more interior room, and the ability to haul more people and stuff. So about the time I figured out the 4-door Bronco, I got a couple different 2-door models, and they also were fun to drive, and felt sportier.
If you aren't slightly confused by now, maybe you haven't been paying close attention. I eagerly hopped into the most recent Bronco, realizing immediately something was different. That was because it was a 2-door, after all the earlier ones of both were 4-doors.
The 4-door is well made and takes care of business efficiently. But, c'mon — don't we all harbor secret fantasies about having a 2-door SUV? I know I have.
The first 2-door model I had was the stick shift! Ford has equipped some Broncos with a 7-speed stick, and that gives you the ability to keep it right where you want it no matter what your intentions are. Fortunately, the second one I got came equipped with the 10-speed automatic, a smooth-shifting unit that is perfectly set up for the equipment at hand and offered a comparison.
The Bronco 2-door Advanced 4X4 was the "Black Diamond" model and felt light and quick, and came with a 2.3-liter EcoBoost twin turbocharged 4-cylinder engine. The stick was remarkably smooth to shift and accelerated out of trouble with ease. It has 275 horsepower and 315 foot-pounds of torque.
The hill-start assist is a neat feature, with a stick, because it puts you at ease when you stop on a hill, sure that the vehicle won't start rolling backward while you're heel-and-toeing at a stoplight short of the crest.
That's particularly handy if you've gotten a little rusty in your heel-and-toe skills with a stick and a clutch. It also had what Ford calls "full vehicle steel bash plates."
The 2-door gives you a spacious rear seat, although getting into it requires some agility.
The Black Diamond trim is neat and gives you some dded features, including an optional removable roof. Ford wants the Bronco to tackle the same off-road projects as the Jeep Wrangler, so it starts out by making it available with doors that pop off, in addition to the roof, so you can go cavorting around doorless and topless, if that suits you. Also in the concept of stripping it down for hardy use, the side mirrors come affixed to the frame itself, rather than on the door, which always seems to cause more vibration and need for adjustment. No adjustment needed, in this case, even if the doors are back home in the garage.
The Bronco 2-door with the 10-speed automatic was equipped with the Wildtrak package, which means, in my tester's case, a 2.7-liter EcoBoost V6, with lots of excessive power, compared to the 2.3-liter 4. The V6 lists 315 horsepower and 410 foot-pounds of torque, at a sticker price of $53,650.
Curiously, the larger engine with the automatic didn't feel as quick as the four with the stick.
One of the features that attracts folks to the Bronco is the array of gadgets that make it seem like a good deal, such as the cargo area protectors, the black roof rails, and the neat LED headlights that shine in a tight pattern even though appeareing to be squinting just a bit. The heavy duty floormats can be hosed off for cleaning if your off-roading includes acquiring a bit of mud inside and out.
When I first saw the array of Broncos, I wasn't sure where I stood. But the stick-shift 2.3-liter version lists for $42,720, as equipped, while the 2.7 V6 model lists for $53,650. Both have distinct personalities, after you realize there are some differences.
The smaller Bronco Sport, with four doors, makes any selection a tough choice. Among the impressive advancements in modern cars is that some of the new 4s perform right up there with the usual V6es, and some of the new automatics seem to work as efficiently as the best stick shifts. Such modern automatics work so smoothly that they can relegate the stick shifts to the discard pile. Unless, that is, you like stick shifts as much as I do.
In the case of the Bronco family, the stick can make the 4-cylinder feel quicker and deliver better fuel economy than the V6. In that manner, the stick makes the 4-cylinder function like old-time off-roaders, even ones originally called Broncos.
That is especially so if you take the doors off and let it all hang out, so to speak.
By John Gilbert
For nearly 40 years, Toyota has been building a midsize SUV known to the world as the 4Runner. Great name, because while it may not have been as all-out off-road-capable  as the Jeep, its name alone means it is verifiably "the" 4Runner.
Every manufacturer of SUVs wants to take a shot at the Jeep's incredible off-road heritage, even those that do a reasonable job of but  light off-roading, fall far short of those Wranglers and other members of the Jeep family. But the 4Runner is different, and the 2022 version of the 4Runner — part of the fifth generation — lets its performance and reputation carry it beyond where mere public relations might go.
If you talk to a Toyota dealer, you might get its salesmen to agree with you that there isn't a great deal of new stuff on the 4Runner. But ask him which vehicle is in the greatest demand among all things Toyota, and he might say the 4Runner. And in the same breath, if he knows his business, he might tell you the 4Runner will climb mountains and challenge any terrain the Jeep Wrangler will take on, and not finish second.
We can't verify that, but the new 4Runner is impressively equipped for rugged duty and it is designed to stand the test of time, and it is not just another body-on-frame truck. The other fact in 4Runner's favor is that while the new models may seem expensive, they hold their value so well that demand for two or three year old 4Runners is off the scale. A Toyota salesman I know said buyers seeking recent-year used 4Runners is right up there with the Tacoma midsize pickups on which it is based, and the full-size Tundra pickups.
The new 4Runner now can offer seating for seven, and it comes in over a half-dozen varieties. The model I test drove was the "TRD Sport," a newcomer to the family.
If you list the 4Runners, you start with the SR5, SR5 Premium, TRD Off-Road, TRD Off-Road Premium, and the Limited Pro, and the Special Edition. That's six, and adding the TRD Sport borrows from some of its siblings in expanding the brand to provide pretty much the specific vehicle anyone might want.
The TRD Off-Road is the most rugged, probably, and it has seriously upgraded suspension and suspension, with the Premium version getting the cross-pattern adjustable suspension, which adjusts the suspension in a cross pattern — left front-right rear or right front-left rear — to offer better cornering and off-road stability. The TRD Off-Road Premium has that, and that alone gives the new TRD Sport something beyond the scoops and specialty logos and badges and special seat surfaces to justify its price tag of the tester's $48,199.
Painted "Magnetic Gray," the TRD Sport has a base price of $44,620, and adding in such things as th kinetic dynamic suspension system, running boards and the moonroof jacks the price.
As seems to be the case in virtually all new vehicles these days, less is said about the powertrain, which used to be the main focal point of promotion. In the 4Runner, you get Toyota's 4.0-liter V6, which delivers 270 horsepower, and 278 foot-pounds of torque, which is certainly enough to climb your neighborhood avenue, if not cliff. And it also will tow a maximum of 5,000 pounds.
Transmission is a 5-speed automatic, operable with paddles for manual control, and with a part-time 4-wheel-drive system and Toyota's ActivTRAC, it seems as though five gears are enough, since you can double them by shifting back and forth from 2-wheel to 4-wheel drive, and choose high or low ranges.
We found that we pretty well matched the EPA fuel economy figures of 16 city and 19 highway miles per gallon, which is OK for a rugged vehicle that has such consumer-aided assets, although a lot of competitors will get from 25 miles per gallon and upward toward 30. Maybe it's just a matter of time until Toyota bolts one of its hybrid systems into it.
If Toyota has been subtle about toughening the 4Runner for all off-road capabilities, now it is just as subtle about sophisticating the whole package to work more smoothly and be more civilized on normal roads. Those are the assets the refinements make on the TRD Sport, and the comfort inside is evidence that it works. The seats are covered with SofTex, which is some sort of bullet-proof material that is pleasing to the touch and obviously rugged.
It was just a matter of luck that in the week I had the 4Runner TRD Sport, my Duluth-area was hit by a pretty healthy snowstorm, which meant I could fiddle around with the settings and churn through the plow-left snow-piles with ease.
If you are a serious off-roader, this TRD Sport would work well, and if you're not into off-roading, you can actually enjoy spending your winter months taking on blizzards and foul-weather conditions. It is also fascinating to observe the new Jeep Grand Cherokee go from being off-road tough to on-road sophisticated, but even there, the Toyota 4Runner TRD Sport gives that brand an equal competitive stance either on or off the road.
By John Gilbert
Ever since Jeep decided brought out the popular Cherokee and then Grand Cherokee, it's been the most universally appreciated member of the Jeep family. The Wrangler is great fun for those who like to do some off-roading, the old Wagoneer was a whale that could haul whole families, and then others, such as the Patriot, Compass, Renegade, and various others came along to fill niches, but the Grand Cherokee was consistently there.
For 2022, the Grand Cherokee enters its fifth generation, and it is not a stretch to say it's the best of all Cherokees. Along with its normal Grand Cherokee model, it will add an "L" which stands for "Long." As in, long enough to house a third-row seat.
Jeep has decided to add the Grand Wagoneer back into the 2022 mix as an expensive, high-end model with an interior that sets new standards for basic people haulers. That caused  the significant upgrade to the Grand Cherokee line to almost be overlooked during during the 2021 model year. The upgrades just keep on coming for 2022, however, and we can catch up to all things Grand Cherokee for the new year.
In overview, it seems that competitors throughout the industry are striving to toughen up their SUVs to compete with the popular Jeep line, so now we can appreciate that the already-rugged Grand Cherokees are being refined to meet the fanciest trimmings of those competitors.
I had a chance recently to test drive the Grand Cherokee, and was very impressed with the refinement, and later we got into the Grand Cherokee L, which is sure to satisfy the most discerning Jeep buyers. Both share the same new grille, which modifies the familiar and dominant seven vertical bars by filling them in with little metal bars to make it look slicker while also shortening the heights of the grille itself.
The real difference between the base 4-door and the L is not in the drivetrain, because both use the Pentastar 3.6-liter V6 as base power, with 295 horsepower and 260 foot-pounds of torque, running through an 8-speed automatic transmission. You also can choose the 5.7-liter V8, or the fire-breathing 6.2-liter supercharged Hemi with over 700 horsepower.
During our week with the Grand Cherokee L, I did respond a couple of times to the urge for hard acceleration. Both my wife, Joan, and my older son, Jack, remarked about how the muscular sound of that big V8 is exhilarating, and I had to agree, and that it sounds like a Trans-Am racer from the 1970s.
Then I discovered that the quick, rich-sounding engine was indeed the 3.6 Pentastar V6, which is aging, but can still perform, with its dual overhead camshafts, four valves per cylinder, and variable valve-timing. The 295 horsepower peak is at 6,400 RPMs and the 260 foot-pounds of torque reach their peak at 4,000 revs. And the power is impressive enough that I would suggest anyone interested should try out the V6 before ordering the V8; unless you're pulling a house trailer, you might find the power is easily adequate.
Perhaps the only disappointment was that I only got about 16 or 17 miles per gallon around town, and never managed to get it up over 20 mpg in my combined but mostly city driving. These days, with the onrushing array of hybrids and electric vehicles, sub-20-mpg may not cut it.
If the larger, tow-capable "L" performed that well with the V6, you can imagine how much better the shorter, lighter and more agile Grand Cherokee non-L operates with the same powertrain.
At a glance, you may not notice much difference between the appearances of the two, but look closely and you will see that the L is extended aft of the rear doors. Not unbalanced, just extended — enough to house that quite useful third row seat.
It felt big, too, in city and shopping center parking, and the extra agility of the normal Grand Cherokee could be another good reason, besides the price, to choose it over the elongated L, which rose from a base price of $59,660 to an as-tested sticker of $67,090.
The L test vehicle was the loaded "Summit Reserve" version, with every luxury amenity Jeep could pack into it. The standard leather seats are Palermo leather, which are listed among options, as though it's an upgrade but they come standard on the Summit. Seat surfaces have tiny pinholes to allow efficient cooling and heating. Since I was test-driving it in Duluth, Minnesota, in December, I used the heated seats a lot and never did click on the cooling function. Both have three levels.
The dashboard is trimmed in open-pore wood, and it is very classy. The front bucket seats not only are comfortable, heated and cooled, but offer an adjustable back massager that really works to add to the luxury image. Second-row buckets also are also heated and ventilated, and they fold down to allow easier access to the third row, which is a fold-down bench.
The audio system also is upgraded in the Summit Reserve, from very good up to stupendous., It is a McIntosh system, with 19 speakers instead of "only" 9, and a 950-watt amplifier. If you step out of the vehicle and leave the door open, the throbbing sounds escaping from the system shake the vehicle, if not the ground.
If the Grand Cherokee L color looks striking, maybe that's because it's not just silver, but "Silver Zynith." As it turned out, the normal sized Grand Cherokee was also silver, and with the same drivetrain it felt more agile in traffic and certainly has an advantage in your friendly neighborhood Target parking lot.
In fact, I really preferred the less-luxurious but classy dark leather in the Grand Cherokee.
Both vehicles have console switches to alter driving modes, with QuadraTrac four-wheel drive and Selec-Terrain, and air suspension assuring you that in any setting, you will glide comfortably over railroad tracks and whatever surprises your neighborhood streets will offer.
The full array of safety measures and connectivity also aid the driver in everything from remote calling to staying in your lane. It properly warns you of objects ahead or behind when you're parking. I like the overhead view on the backup camera, which helps in all parking situations, and the night vision feature spots pedestrian and animals in the dark before you might notice them in the glow of the brilliant LED headlights.
The Grand Cherokee always has been a solid, sturdy SUV, not too big but big enough for a small family. The new L might be considered too big by some, but urging the company to add a third-row seat has been one of the most intense requests. If you don't need it, fold it down and extend the storage space. Or, you can fall back to the normal Grand Cherokee and still get the versatility you want.
By John Gilbert
You've got to love this time of year, the Christmas break, when you scurry around thinking of a million things, or nothing, you could buy, most of which cost more than you can afford. In the car-testing business, there are numerous possibilities as a late family gift, in every imaginable price range.
We should start at the top. For example, you could buy a luxury SUV, and of you don't want a gigantic 0one, there are several that might be the perfect gift size, such as the 2022 Cadillac XT5 or XT6. They look a lot alike, but they are two different vehicles. They cruise in the $60,000-$75,000 range, which could dissuade a lot of us.
Before looking those two over, let's consider something a lot less glamorous, but maybe the best winter insurance available for your family — a set of four "Nokian one" all-season tires. They will astound you at how they make any vehicle run smoothly and quietly in the dry, yet also work well to stick to the road and grab traction in the worst winter storms.
Car-owners in or around Duluth, Minnesota, by the way, should be cautioned to ignore the syndicated story from Detroit that ran a couple of weeks ago in various publications, including the usually reliable Minneapolis Star Tribune, in its weekly automotive page. Now, Detroit doesn't have hills like Duluth does, so we can cut the guy some slack because maybe he's never driven to the Upper Peninsula, and never needed true winter tires. But he wrote that the newest winter tires are not all that beneficial, and they are what used to be called "snow tires."
No. Not true. There are summer tires, there are all-season tires, and there are snow tires, and you get to choose what you want or need. Tire companies make tires for all circumstances, and the newest top all-season tires can handle the duties of winter driving better than more basic summer tires, which run long and smoothly but lack the ability for foul-weather traction, and better than snow tires used to.
But there also are major differences in how different tires work on snow and ice, which is as critical to stopping and cornering as to going forward.
Companies can put whatever designation they want on their tires, it seems, but not many have mastered the technique of making tires that work in snow and on ice in the real world, and also run smoothly when you're not on snow or ice, which is 90 percent or more of the time, even in severe winters. Plows come out promptly, and a day or two after a storm, you're back on pavement.
But we're talking tires for the critical moment when you are cruising along on a winter night, or day, and nearing the apex of a curve when you hit some black ice glazing the pavement, and you start to skid toward the ditch, or abutment. Instantly, your heart is in your throat and your adrenaline goes to overload.
If you know how to hold your poise and steer into the skid with light and careful braking, good for you. But sometimes it's hopeless because your tires just won't stick.
In that moment of crisis, how much would you pay to have that situation not exist? Certainly a lot more than $500, because it's going to cost you a lot more than that to fish your car out of the ditch and to repair the dents you have just installed.
Nokian tires — based in Finland and which used to be "Nokia" but gained an "n" on the end after the Nokia cell phones became worldwide big-sellers — have convinced me from 50 years of test drives in Minnesota winters, and they are the best way to handle the toughest winter conditions.
I first discovered N0kians from a fellow named Dave Erickson, who once ran Bloomington Tire Center in that Twin Cities suburb. He was a racer and knew every detail ab0ut tires, and when he got me to try Nokia tires, it was a revelation. They had the unique ability to go year-round, last a long time, and still alleviate anxious moments on wintry roads.
Nokia designed and built tires for winter rally racing north of the Arctic Circle, and has continued to make tires with a compound that retains its flexibility no matter how cold the weather is. The company's all-out winter beater is the Hakkapeliitta, which preceded the Bridgestone Blizzak and remains a superb tire today. Blizzaks are excellent on ice and snow, but not as good on normal pavement because their tread decomposes as part of the principle that the remaining tiny concave shapes aid grip, so they wear out faster on dry pavement.
I replaced the super-aggressive-looking Michelin XAS asymmetric-tread tires that came on a beloved Saab 900 we purchased. Impressive as they looked, the XAS tires were excellent in rain, but hopeless in snow and ice, where they slipped and slithered when they should have been gripping and holding course. I went with the Nokia all-season, and found them to be so good I never saw the need to go to the Hakkapeliittas, despite Dave Erickson's urging.
Dave got out of the tire business a few decades ago, and we moved from the Twin Cities to Duluth since then, where I knew of a place called "Foreign Affairs" that does auto repair and also sells tires.  Jeff Hofslund owns Foreign Affairs — great name — and he is similar to Dave Erickson in trying to make sure each customer ends up with the best tire for specific needs. He sold a lot of tires over the years, but mostly prescribes Nokian tires. His always-busy little shop on 7th Av. E. and 8th St. on Duluth's East Hillside, became the No. 1 U.S. outlet for Nokian sales. He's not sure if he still holds that honor, but while he can obtain any tire by overnight delivery, he has a separate connection with Nokian, which insists on avoiding large tire shops for what they believe is superior personal satisfaction from smaller companies.
A set of Nokian WG3 tires are serving us well on the family Mini Cooper, and they have directional tread design and a compound that still sticks to the road effectively after five or six years. We bought a new set last year for our older son and they are the new "Nokian one" tires, which don't look as aggressive as the WG3, but sticks just as well. The new ones are not directional, which makes it easier to rotate them, and are designed to run for significantly more miles, and in amazing silence when running on dry pavement.
As a potential Christmas gift siuggestion, I called Jeff Hofslund and asked how much a new set of Nokian one tires would cost. "It depends," he said, "on what size, what kind of car, front-wheel, rear-wheel or all-wheel drive, and what type of use would the tires get. I like to try to suggest tires that fit into a family's lifestyle and vehicle usage."
Such personal service is right up Nokian's alley. The new "Nokian one" somehow bridges the compromise between working on icy avenues in Duluth and being just as impressive in year-round driving without the need to switch to summer tires. A new set of four, in 17-inch size for example, would be about $120 apiece, mounted and balanced. That's nearly $500 for four, which is already a lot, but it's inexpensive in my concept of eliminating those moments of terror when you lose traction.
It was more than Christmas that caused me to
think of  suggesting a set of Nokian tires as a Christmas gift. It was brought to mind by the close-order proximity of test-driving both the high-end Cadillac XT5 SUV and  XT6 SUTVs. Both are perfect compromises between sedans or station wagons and midsize SUVs, as far as people-hauling goes. Appropriately, the XT5 is a bit smaller, with two rows of seats, and therefore is priced fr0m a $50,795 base, to a test-vehicle high of $67,965.
The XT6 is just enough longer to fit in foldable third-row seats, which don't come in the XT5, but the roomier XT6 starts at $54,995 and rises, via the option list, to an as-tested $70,965.    If you can afford the $3,000-$5,000 difference, then you can decide. I had the XT5 and XT6 close enough together at the advent of snow and ice season up in the Great White North, offering me the opportunity to compare the all-wheel-drive vehicles.
The XT5 was black, which in Cadillac-ese "Stellar Black Metallic." It also was lighter and felt a bit sportier — although both vehicles were powered by the same high-end 3.6-liter dual-overhead-cam V6 with 9-speed automatic transmission. The XT5, I must say, slithered around a bit when the roadways got slippery from the snow and ice coating. I got out and checked and noted Michelin Primacy tires, which fit my theory that Michelin takes pride in tires that will endure high speeds and last a lot of miles, two traits not necessarily good for slippery winter conditions.
The XT6, meanwhile, was the "Premium Luxury" version, and was painted "Rosewood Metallic." It had enlarged 20-inch alloy wheels, on which were mounted Continental all-season Cross-trek tires, with a lot of cross-tread sipes designed to flex just enough to spit out snow and grip slippery road surfaces better. They did that, as we proved when we had more snow in the XT6's week. It handled it all with no problems.
Both vehicles were loaded with creature features, and the XT5, which is targeting those who might want to do some light off-roading, had an additional mode switch that allowed you to select from tour, AWD, sport, and off-road. Frankly, I can't see it as an off-road vehicle, but the power is there and the AWD system works.
You can also change modes with the XT6, but not quite as aggressively, as though Cadillac knows the difference between country club and rock-climbing..Both Cadillacs are sized right, above the now-popular compact SUVs but well below the giant SUVs like the Escalade, which is at the top of the Cadillac pecking order.
With all the safety and connectivity features included with both, the price difference basically remains whether you want the pure luxury of the fine leather and wood in the XT6 or the also-nice leather and wood trim in the XT5.
Just make sure, for the price, you take into account what tires you're buying. They all look good in the showroom, but remember that your total contact with any roadway is less than one square foot at each corner of your car, and making sure your tires share your insistence on staying in contact of those four patches.
By John Gilbert
When Kia introduced the Niro a couple of years ago, I got a chance to drive one for a week and review it. The Niro was available in hybrid, plug-in hybrid, and electric — although the electric version was not out yet. It was an impressive vehicle in every way, with the same powertrain options as its partner, Hyundai, had put into its Ioniq sedan.
But this time, when I got a 2022 Niro to live with for a week, it was different. This time the vehicle delivery service in Chicago brought the Niro to me in an enclosed trailer, rather than driving it as they did with the first hybrid Niro. This time, the prize showed up and looked the part, in gleaming Snow White Pearl, and I couldn't wait to drive it.
We've heard all the predictions and speculation about electric vehicles, and we all share the primary concern, called "range anxiety." No, we won't be using an extremely long extension cord. EVs run on battery packs, and every battery company is racing to build better battery packs, with quicker charging and more power delivery to allow us to drive for far more distance than the short-range of the original electric cars.
Face it, we are going to be buying and driving electric cars instead of internal-combustion-engine cars sooner than later, and I am one of those convinced advocates about going electric. But I have some questions of my own.
Having driven a few electric vehicles — or EVs — I understand that the efficiency of electric power means your maximum torque occurs at zero RPMs, so when you hit the gas, you virtually blast away in a flash. The Niro did exactly that. My major question is what happens to all that sweet electric power when you have to park your EV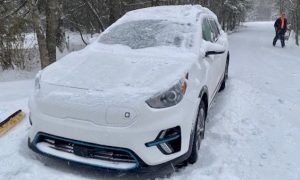 outside in Duluth, Minnesota, when the temperature is single-digit cold overnight? It is similar to camera batteries, which tend to go from fully charged to warning you the battery is drained in minutes, when it's cold out.
Now I could find out first hand, because this Niro was totally electric, with the electric motor under the hood where the engine used to be, and it powers the front wheels. Rolling out of its trailer, the Niro showed 237 miles of range. That's a lot, and is a tribute to the LG Chem company in South Korea, which has worked closely with Hyundai/Kia to develop the lithium-ion-polymer battery pack that is cutting edge on charging, range and power output, and also is conveniently flat for packaging ease.
The lithium-ion-polymer battery pack has 64 kWh (kilowatt-hours) of power, and drives a 150 kW electric motor, and a 7.2 kW on-board charger. The battery pack itself lies flat, under the rear seat, making the Niro handle even better than it should, because it's front-wheel drive but with the weight balance of a mid-engine vehicle.
I drove down our hill and a short way up the North Shore of Lake Superior to shoot a few photos, and a bit more, just experimenting with the throttle and the silent potency. When I got back in, I pushed the button, knowing the response would be silent, and looked for the "Ready" indication on the instrument cluster. I was surprised to see that the range number had actually increased from when I left. I'm a strong believer that you slow down a good distance from your stop, and you descend hills knowing you can add regenerative electricity to the battery pack by braking lightly.
What I didn't realize at first was that the paddle shifters affixed to the steering wheel are not just for up and downshifting the continuously variable transmission to a better range. When you pull on the left paddle to downshift, you also are intensifying the regenerative operation, so when I instinctively downshifted with the left paddle coming the mile down Duluth's Lake Avenue, I inadvertently added to the battery's power without even touching the brakes.
We were thoroughly impressed with the comfort and feel of the Niro, and with the power and efficiency. We don't have a high-speed 480 outlet at home, although we would obtain one if we had an EV, so I plugged into normal household current overnight, from about 6 p.m. until 8 a.m. the next morning. The range-gauge told me I would have 213 miles before needing a recharge, and I was going to drive to the Iron Range and back, so 213 miles should be sufficient.
You need to be aware though, that the battery pack delivers the equivalent of 123 miles per gallon in town, and 102 miles of highway driving, so cruising on a trip at 70 miles per hour will use up your electric energy faster than if you were just driving to work and back. When I started my return trip, it showed I had 110 miles of range. Another neat little item on the information screen shows where the nearest high-speed charger is located with an arrow and distance. I learned from the car itself that there was such a charger in downtown Virginia. I already knew there were others in downtown Duluth and at UMD's campus. I also knew I wasn't that far from home, so I went for the long-range experiment.
As I drove back and through Duluth, noting the range was decreasing, I headed up the mile-long hill toward our house. A little notification informed me I should be looking for a charge, because I only had 11 percent of my total remaining. No problem. It was cold out, and I pulled out the self-contained cord from the trunk, and plugged one end into our outside electrical outlet and opened the little trap door in the front body panel to plug the other end into the car's receptacle.
That short-term charge was enough to improve our range, and we were going to see a UMD-Ohio State women's hockey game at AMSOIL Arena down by the harbor, and about four blocks from the arena a row of parking meters includes high-speed charging stations. I pulled into one of those spots and activated the charger by plugging its cable into the front end receptacle, and we walked to the game. When we returned, it was chilly, with a nasty wind, but we got there promptly. When I unplugged the cable, the charging meter notified me that I had only gotten a partial charge because I was supposed to prepay with a credit card to get more, which I was unaware of.
I got into the Niro and hit the starter button: Silence, but life. And the instrument cluster said I had 184 miles of range. Impressive, especially since I hadn't ordered a full charge. Parking outside again 10 miles away at home, where the temperature went down to about 9 degrees overnight, the car showed 172 miles of range. Not bad, considering the frigid weather hadn't nicked it for much more than the drive home.
The next day, our final full day with the Niro, a snowstorm hit and kept coming through the night, reaching a total of about 7 inches up on our ridge. That gave us the full scope of what we might expect with an EV in Duluth winter. The Niro handled driving in the snow adequately, although the Michelin tires mounted were more for long-wear and high mileage than winter traction, which is a tendency of all Michelins except the company's all-out winter tires.
Interior comfort was excellent, with roomy bucket seats and a rear bench covered with what Kia calls SynTex, which seems to be a tough but comfortable material. They are more comfortable when electrically heated, as the test vehicle's seats were. A sunroof with a shade, all the company's many safety lane-keeping and fore and aft parking warnings are in place, and so is smart cruise-control with stop-and-go, and a Harmon Kardon audio system that was extra impressive because there was no engine sound to interfere with the satellite music.
The $44,650 price tag for the EX Premier model was increased to $47,080, by the addition — thank you very much — of a "Cold Weather Package," consisting of a battery heater, a heat pump, plus a heated steering wheel. The heat pump is greatly responsible for our interior comfort in the Niro. You could get everything going with auto-start, but I kept thinking it would warm up quickly, being all-electric, and I didn't want to lower the range any more than necessary.
The week-long test was interesting, if too brief. I want more time with the Niro EV, and it would be fun to try the Niro Hybrid for comparison. With the hybrid or plug-in hybrid, of course, the 1.6-liter 4-cylinder engine works to recharge the battery pack and eliminate all the range anxiety, as well as the intrigue of daily cold-weather testing. But the pure-electric Niro was fascinating, and the Duluth weather, which can be harsh, was for once appreciated so we could give it a sun-cold-snow-long-range test within our week's trial.