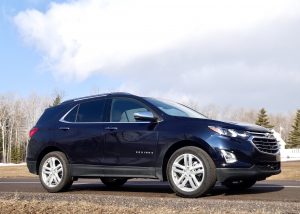 By John Gilbert
As the dreaded Coronavirus was about to foul up our springtime of 2020, I was just getting ready to enjoy the start of the NCHC college hockey playoffs, where the University of Minnesota Duluth was about to start its bid for a third straight NCAA title. I also had just finished a week-long road test with a 2020 Chevrolet Equinox Premier, a nicely styled and nicely sized SUV that is aimed at challenging the best of the compact SUVs — the RAV4, CR-V, Escape, Rogue, Cherokee, Tucson, Forester, and — my favorite — the Mazda CX-5.
Several things happened that caught me by surprise between my test drive week and the actual writing of this review. First, I was very impressed with everything about the Equinox, surprising because Chevrolet has seemed powerless to avoid fading away from the best of the rest. Second, I had read a couple reviews in car magazines, and my impressions of the previous Chevy SUVs and those test reports combined to make me apprehensive at best about the Equinox.
Another thing that happened was that the Federal Government has been very harsh — at least in its "Fearless Leader's" dealings with General Motors. GM chief Mary Barra seems to have become one of President Trump's favorite targets for his hit-and-run twitter/press briefing cheap-shots, dating back to his early days in office when he assumed all U.S. car-makers could simply shutter their overseas manufacturing plants and return to Detroit.
The most recent hit came after the last weekend in March, when the Coronavirus was tightening its deadly grip on all corners of the U.S., and Trump was live on television saying that GM had been dragging its feet when it came to aiding the nation, which was something he had become accustomed to in dealing with Barra.
It struck me as curious, because in the week before that outburst, I had read an account of how GM had worked out a partnership with Ventec Life Systems, a small company that makes ventilators, which have become so vital to helping afflicted patients keep breathing. GM engineers collaborated with Ventec on how they could convert a GM plant and find the materials to help Ventec make 10 times more than the 200 ventilators it normally makes each month.
In a matter of four days, the plan had been mobilized. And then Trump took his private little stage on Friday, March 27, 2020 and said he had activated an emergency plan that would force GM to help.
To their credit, although reportedly outraged, GM officials made the judicious move to keep on working around the clock to create ventilators without any comment on the accusation, and resisted making the link that Trump might have been hustling to attain his daily dose of praise, figuring if he hurried, he could take credit for forcing General Motors to start doing what it had already been doing for most of a week. Shortly after criticizing difficulties with GM "under Mary," Trump cut off a daily press conference question about GM's involvement and praised the company and its chairman for a "great job" of helping, stopping predictably short of apologizing for his awkward statement three days earlier.

Ford and FCA (Fiat Chrysler Automobiles), incidentally, also have been helping the cause. Ford, for example, has partnered with Minnesota's 3M, and respirator-maker GE Healthcare, to simplify the process by which GE Healthcare can greatly increase its production of respirators, aiming at 100,000 per week.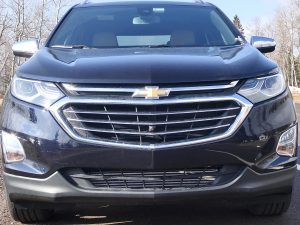 Meanwhile, back out on the road, I found the Equinox a far more worthy family hauler than a Motor Trend review of it indicated. Those car magazine hot-rodders tend to pound cars much harder than normal consumers might, so when they ripped the Equinox for not cornering like a Miata, I took it with a grain of salsa.
In testing a vehicle's handling, what one driver might find too-soft in corner swaying is another driver's comfortable ride; just like one driver's firm and solid cornering might be another's harsh and uncomfortable ride. The Equinox came in eighth and last in the Motor Trend comparison, but Chevrolet needn't feel too bad; the magazine didn't even bother to include a Ford Escape — another compact SUV I like a lot.
In the magazine's test, the CR-V was first, the Mazda CX-5 second. Without question, the Equinox is no race car, although the magazine's criticism of the car's safety devices and poor-quality interior ingredients might be mostly due to the fact that it was not up to the standards of my test vehicle — which was the optional Premier, with its top-of-the-line features.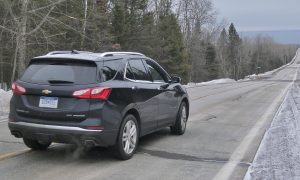 It was far better equipped to corner and display directional stability, and its numerous other interior and safety parts were much appreciated. The leather seats, lane-departure alert, lane-keep assist, rear-park assist and camera, heated and ventilated front buckets, heated steering wheel and adaptive cruise control are significant upgrades for a loaded, as-tested sticker of a reasonable $38,545.
Power in the test Equinox came from Chevrolet's new-age 2.0-liter turbocharged 4-cylinder engine with a smooth-shifting 9-speed automatic transmission, while many competitors have a CVT (continuously variable transmission) that tends to drone and frustrate in equal parts. The 9-speed worked smoothly in coordination with the all-wheel drive in the Equinox.
The LED head and tail lights and the keyless start system are also nice things sometimes rare on compact SUVs.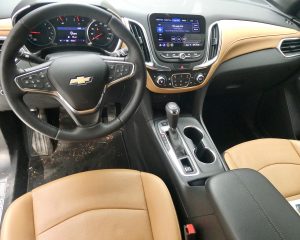 Each time I walked up to the Equinox, I was impressed by its styling, with its swept-back lines that blend the rear pillar into the rear of the vehicle. and I think it stands out from the pack because of that.
Chevy also makes the Traverse, which is a little bigger, but very similarly styled, with a V6 for power and three rows of seats. That makes it your choice: if you want and need a larger vehicle with a larger engine, or can get by with the agility of the smaller Equinox and appreciate improved economy. It was perfect timing that put the Equinox Premier with its push-button-activated all-wheel drive came into my hands at the precise time when it seemed that General Motors and Chevrolet needed and deserved some defending from unfair criticism from the White House, coupled with my impressions of the vehicle itself.
It has been a Chevrolet tradition when it makes cars to offer a top-of-the-line model, a mid-range model for features and expense, and a less-expensive bargain model that may be without a lot of appreciated features. Other companies cut corners similarly, but nobody else is guilty of stripping the true value items from its less-expensive models. That's one area where the Japanese, Germans and Koreans are far ahead.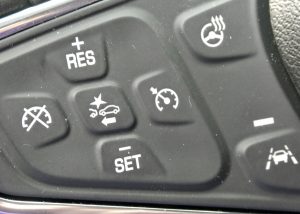 The Premier version of the Equinox matches most competitive compact SUVs, although the audio system was nothing special. It did have wireless charging for cell phones, and the optional OnStar system adds security. In its quest to load up remote switchgear on the steering wheel, though, I found that every time I cranked the steering wheel to get into or out of a parking spot, I inadvertently hit the little switch above the grip location and became conditioned to cancelling out the OnStar lady as she attempted to plan my rescue.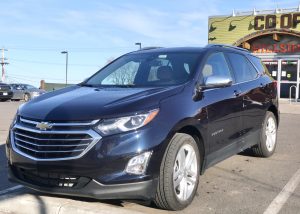 Over the weekend, various car dealerships hurting for sales came out with enormous ad campaigns. I caught a Chevrolet ad that screamed out about the 2020 Equinox being offered for 0-percent down, and 0-percent interest for 80 months, with the company paying the first four months-worth! That made the timing still better, because it seems as though Chevrolet is virtually giving away its Equinoxes.
Just remember, you may like it a lot or dislike it completely, but it all comes down to a driver's opinion. And keep in mind that not all compact SUVs are created Equinox-ly.
March 12, 2020 by
jwgilbert
·
Comments Off

on Minnesota's big show promotes Truck Summit
Filed under:
Features
,
Autos
By John Gilbert
Trucks, trucks and more trucks. The Minneapolis-St. Paul Auto Show has trucks of all shapes and sizes, from monster diesels to compact crossovers, and since the definition of a truck has been shattered by the new and expanded definition, we're going to have to concede that the show promoters were correct in claiming it deserved to hold its "Truck Summit" because 82 percent of all vehicles sold in Minnesota are trucks.
That can include the boatload of compact crossovers, which actually make the most sense as we transition fully from sedans to trucks, but the full array of trucks are pickups, SUVs, crossovers on down to tiny vehicles with all-wheel drive. But to many Minnesota buyers, trucks mean boat-hauling pickups.
They called it a Truck Summit, as if show promoters, who are operate the big Convention Center extravaganza through this weekend, March 14-15, have an exclusive here, with trucks taking over for cars in daily lives of normal consumers. Of course, trucks are taking over everywhere in the U.S., although that 82-percent figure is pretty compelling.
The fascinating part of our fascination with all things truck is that every manufacturer claims superiority, sometimes of the same statistic in the same critical area of comparison. You will hear Ford proclaim the F-150 the leading seller in the country, and you will hear Chevrolet claim the Silverado is the top seller in Minnesota, while the folks at Ram just sit back and smile about their own success in the marketplace and their new designation — by no less than the cars.com website, which declared the Ram 1500 pickup its "Luxury vehicle of the year" for 2020.
But the truck folks also all claim the unregulated advantage as having the most towing capacity, the largest hauling tally, and the most power of all. Now, they all can't be right of course, but we'll leave the hotly contested place up to the consumers who can come to the auto show, at the Minneapolis Convention Center, and kick the tires of every car and truck sold in the area, and make their own decisions.
We at NewCarPicks.com will just try to offer the guidance of having driven most, if not all, of the new trucks, and cars as well.
The National Truck Summit kicked off the auto show by putting on over three hours of discussions with industry executives. Jay Sacket talked first; he's the executive program manager of Toyota. A panel discussion followed with Sacket joining JATO Dynamics president Matt Weiss, and Erin Klepaski, senior vice president of Auto Sales Alliance. Next up was Tim Stoehr, regional product line manager of Ford, then Marjk Boyadjis, from Global Technology. And finally, interiuor designer Ryan Nagode from Ram.
The fact that trucks are taking over our hearts, as well as our bank accounts, is not news. It was news 10 years ago, and 5 years ago, when it was first challenging sedans in sales, and long before we see the figures that show the RAV4 now beats out the Camry and Corolla as Toyota's top seller, or that the CR-V tops the Accord and Civic as Honda's leader.
The news now is that while trucks — and SUVs — hold a clear majority over cars in total sales, the figure of 82 percent in Minnesota is shocking enough to surprise even my good friend David Boldt, from Texas, who is from a state where there are dealerships that sell only trucks, with no cars. Boldt wrote that no other state comes close to Texas in the purchase of trucks, with the Lone Star State selling over 100,000 Ford F-150s, in fact.
I've always maintained that our pickup culture is traditional. Chevy guys don't buy Fords, Ford guys wouldn't consider a Chevy, and while they've been arm wrestling, Dodge's Ram brand has made the biggest impact on the truck market in the past year.
The latest redesigned Ram 1500 stormed past the Silverado for the first time ever to stand a solid second only to the F-150 in pickup sales and stature, and since all of the Big Three's big trucks are similar enough in towing and hauling to all claim superiority, there must be something special about the Ram. And there is. It's the interior.
When Fiat took over Chrysler to form FCA, for Fiat Chrysler Automobiles, the Italian company pushed a stylish flair through the entire corporation, and while Jeep has benefitted greatly, Ram trucks have soared with interiors that rival luxury cars in their attention to detail and the refinement of fabrics and trim features.
There is still time to take a drive down Interstate 35 and take in the auto show, and to whet your appetite, we're supplying an array of photos of what you might want to check out.
First off, the Ford pickup remains the king, and we're showing the Super Duty, bigger than full size, as the king of the kingdom. The GMC 2500 DuraMax diesel — the one with the trick tailgate that features a drop-down step for easy access, the center-piece for folks in the TV commercials to have their jaws drop in amazement — meaning they haven't seen a Ford in the past decade, which has had that same tailgate feature and includes a locking upright post as a grip handle. Next up is the Ram, and we're showing the monster Ram with dallies and all and a 6.4-liter Hemi. With it, you'll see the rich leather interior of the Longhorn trim package, flanking the foot-tall navigation screen that is the size of a full iPad and just as useful.
The Chevy Silverado prances into view in bright red, looking good even if it has slipped to third place among the Big Three.
Midsize trucks have made a big comeback, too, and the reliable Toyota Tacoma remains a favorite for fitting just about anything you might need a truck for. This one is the TRD-Pro, which is a cut above the excellent TRD, and you can tell it by the huge snorkel that rises up along the right front pillar to remind you that when you thrash through desert sane, you needn't worry about sand
getting into the air intake. Of course, it also might work in snow, and whether it does or doesn't, I thought the picture after a snowstorm was worth it.But don't overlook the very competitive Honda Ridgeline, as well.
Where, in your truckscape, does the Jeep Wrangler fit? Is it a car, a truck, an SUV, or a unique vehicle capable of off-roading to places no sane driver would take another vehicle?
Cadillac brings out the XT6, a stylish SUV-like wagon with V6 power. For power, the Dodge Durango is a large SUV with SRT Hemi treatment for high power in a versatile vehicle. And Ford's newest versions of the Explorer SUV and the compact Escape SUV also make the show.
And just so you see we haven't forgotten traditional excellence, here are a pair of newly redesigned Range Rovers — the sleek-roofed Evoque, and the smooth Velar, both expensive, but loaded with interior features that prove, conclusively, that trucks have become the new luxury sedans.
By John Gilbert
If you are able to attend any of the world's major auto shows — such as Frankfurt, Geneva, Paris, Japan, or the Big Four in the U.S., Los Angeles, Chicago, New York and Detroit — the magnitude is amazing. But that doesn't mean the smaller population centers are any less intense in their interest. And most of them aren't that small.
That interest in Minnesota will ride a new idea, armed with an impressive economic impact study that shows the auto show may have a financial impact on the region of $19 million every year, with a nine-day run that makes its earnings greater than the Super Bowl or the Final Four.
If you don't care about the huge congestion at the Big Four shows, you might be able to calm down and enjoy the Twin Cities show., which runs from March 7-15.
My fondest memory of the Twin Cities Auto Show came a few years ago, while taking a pre-opening run through the displays at the Minneapolis Convention Center. There was a Jeep display, where a huge hill had been formed and rides were given to show how steep an incline, and descent, the new Jeeps could handle, which was better than some state fair thrill rides. As I watched the demonstration, there in the foreground was a kid, exactly the kind of kid who might spend his spare time playing with a model truck in his backyard sandbox, and he stood there, transfixed as he gazed at the Jeep going up and over.
That was a couple years ago, and I should have realized then exactly why our country, and particularly our state, had started on a transition from cars to trucks.
It has happened, of course. And when the Twin Cities Auto Show opens March 7, 2020, the focus will be on its Truck Summit on March 6 to break down the reasons for the shift.
There are a lot of other significant vehicles that will fill the huge site, with particular emphasis on the emerging electric car phenomenon that could change the world's auto industry. But there also will be dozens of trucks, from Ford, Ram, Chevrolet, Toyota, Nissan, Honda for pickups and all the newest SUVs and crossovers being shown by virtually all manufacturers.
We are fast closing in on the start of the U.S. major auto show season, which begins later with the Los Angeles show in late November, and continues with Chicago in February, New York in April, and Detroit in June. The Detroit date is the major departure, because it always has been in early January, but has shifted to summertime.
A lot of people in the auto industry are curious and anxious about that shift, moving the traditional mid-winter Detroit exposition to summer, and the anxiety is because a number of hard-core auto observers are concerned that the once-heralded major shows have faded in the intensity of interest by both auto makers and consumers. The question for us in Minnesota is, where does all that leave us, here in flyover land?
By John Gilbert
The annual complaints from Northern Tier U.S auto drivers  drivers about the horrible condition of streets and highways has reached a pinnacle this year. We can blame Climate Change, or Global Warming, but a particularly long and tough winter of alternating freezing and mild temperatures has caused countless chunks of pavement to break, buckle and otherwise abandon their intended resting places, leaving nasty traps waiting to ambush unsuspecting tires, wheels and suspensiuon parts.
My city, Duluth, Minnesota, is, I submit, deserving of a nomination for the worst, and who can deny or judge it? I enjoy driving and reporting on an assortment of new vehicles every week to report on them, and I seek out varied real-world roadways to check on the steering and suspension of all these vehicles. But I certainly did not want a close-up and personal validation of my opinions of road conditions.
Out of familiarity with the roads that I travel most frequently, and so it was as I drove a 2019 Volkswagen Golf SE 1.4-turbo for a week recently. I had driven various VW Golf models, including the GTI, Golf R, and reported on a Golf SE with a stick shift during a minus-35-actual stretch of Minnesota winter. And while not trying to overdo it with repetitious reviews, this is supposedly the final year that we will get the tried-and-true Golf  models in U.S. showrooms, which I have declared a sad thing; we'll enjoy getting the GTI and Golf R, but the base car — the SE — is special on its own. It comes with VW's newest engine, a 1.4-liter four-cylinder from a whole new engine family, bolstered by a turbocharger to extract surprising power from such a small engine.
The test car has a base price of $25,245, and a sticker of $27,435 as equipped. With only 147 horsepower, its 1.4 lacks the power of the corporate 1.8 or 2.0, but it has abundant torque, which peaks at 184 foot-pounds at a mere 1,400 RPMs — more than the bigger engines. This test car, in a medium Silk Blue Metallic paint job with alloy wheels, had an 8-speed automatic with almost-hidden paddle shifters on the steering wheel. So you get beyond the lack of horsepower by downshifting, then running the revs up to the pleasant feeling as the torque comes through.
Golfs always ride well, with supple but moderately firm suspension, which allows even the base car to take turns in a sporty manner. With all the contemporary safety elements built in — electronic stability control, anti-slip regulation, anti-lock brakes with electronic brake assist — the 4-door hatchback Golf is a safe, solid luxury compact that can get more than 38 miles per gallon.
I was able to attain 38.2 mpg in combined city-highway driving, while EPA estimates show 37 highway, and I was over 36 in all-city operation. That's up there in TDI country, where only the previous turbo-diesel could go.
The 225-45 17-inch Pirelli P7 tires obviously contribute to the excellent handling and smooth ride. So there I was, negotiating the pits and pitfalls of Duluth's nastiest streets and roads through five days of the week.
The rural highway we live on is a few miles out the North Shore, and as you drive south to join the freeway for the ride into Duluth, you leave the township, with its St. Louis County-maintenance, and enter Duluth's city limits, where city crews take care of the surface. You don't need the sign that says "Duluth," because you can see the white surface, probably concrete, end where it meets the gray asphalt of the city segment.
Without question, the concrete stays amazingly smooth, and the asphalt chunks out in a harsh and irrgular manner. As I drive down on the 55-mph county segment,  and slow for the 30 mph residential city rules, I have a practiced routine. The familiar start to the asphalt has re has a couple of modest potholes seem to join hands just to the right of the middle of the road. Being able to see a couple blocks ahead, I generally swing into the oncoming lane until I get past that stretch, then swing back into the right lane.
This time, with my wife, Joan, and older son, Jack, riding with me to meet up with our younger son, Jeff, at the Trampled By Turtles concert at Bayfront Festival Park, I saw a car or two coming toward us. I had to abandon my normal plan, so I chose to straddle the rough patch or go wide right. I chose to go wide right.
Ka-Chonk! My right front absorbed a rugged hit. Turns out, when I swung wide right to miss the moderate but annoying potholes I was aware of, my right front struck a fourth pothole 10 yards ahead that I was not aware of. It was a long and deep pit. As the blow reverberated, I continued driving, feeling nothing out of sorts, and it was with great relief that no serious damage could be detected.
I pulled onto the freeway and got up to the 65 mph speed limit without any hesitation or vibration, but after about a mile, a little warning sign came on the instrument panel: "Air loss detected in right front tire." I slowed down immediately, cursing the bad luck, but I couldn't pull off immediately because of a narrow shoulder. By the time I could, I felt the pull of the deflated tire. Sure enough, the impact of the tire striking what amounted to the far cliff of the Grand Canyon not only blasted a hole in the tire's sidewall, it scratched up the flashy alloy wheel a bit, too,
It was impressive that the Pirelli P7 took the blow and held its integrity for a mile or so, and it was more impressive that the tire-sensor relayed such quick and accurate information.
With Jack as lead pit-crew guy, we changed it for the space-saver spare, and I drove gingerly the rest of the night and on to Sunday. The timing of my test-drive, though, was to end when the Chicago fleet delivery guys would pick up the Golf SE at 11 a.m. Monday and drive back to Chicago.
We didn't want them driving that far on the space-saver, so I called Volkswagen of Duluth early Monday morning, explained what had happened, and inquired about their supply of P7s. They had four in stock, they said. When I got there, however, we realized that they were from a year-old supply and the new one was an inch larger, at 17. We talked it over, and I asked if they might have exactly the same SE model on their lot, and they did. Service manager Calvin Edel summoned the unsold car and his service crew did a quick remounting job.
Just to make sure there would be no imbalance, they put the new tire on the right rear and rotated the right rear to right front. Good move. I made it home about an hour before the drivers showed up, and they appreciated the quick and efficient work of Volkswagen of Duluth.
That VW dealership, by the way, is primarily responsible for recalibrating and legalizing almost all the many recalled Golf, Jetta and Passat TDI models to bring their turbo-diesel engines into full compliance, before being sent to dealers throughout the Upper Midwest, where they represented one of the great car values of our time. That's impressive, especially if they do as thorough a job as they did changing and remounting that tire for the Golf SE.
The caution with which we take on the Pothole Obstacle Course driving through Duluth has been amplified. We've got some potholes this year that, to be fair, should register on the nav screen's GPS.
By John Gilbert
Volkswagen is a difficult target to follow these days, coming out with new vehicles and new engines that give the German automaker a definite step up from most competitors. One seemingly dizzying move is the announcement that Volkswagen will keep selling the Jetta compact, and the Passat, its new Arteon luxury midsize sedan, as well as its wagons and SUVs, but it will stop sending its iconic Golf hatchback to the United States.
Well, almost. The spectacular Golf R that I recently tested for a week along the North Shore of Lake Superior is unquestionably based on the Golf, and thankfully, it will keep coming to U.S. showrooms, along with the GTI. But the base Golfs will be made for sale elsewhere only.
To Volkswagen, it's not a puzzle. The Golf outsells the Jetta in every country of the world where both are sold, except the U.S. Our buyers became convinced they didn't want small hatchbacks anymore, and we buy many more Jettas than Golfs, so the Golf is simply being eliminated from our future.
The asterisk is that Volkswagen has allowed it will bring in two specialty Golf models, the GTI and the Golf R. That, too, makes economic sense because the high-performance GTI and the even higher-performance Golf R account for something like 46 percent of all Golf sales in the U.S.
Despite the opportunity to be blown away by my week-long road test of a new 2019 Golf R in a new slate-grey color, I am disappointed to hear of the decision on the other Golfs. The GTI is, of course, the icon of all "hot hatches" and outruns the standard Golf with ease, but the basic Golf now comes with VW's 1.4-liter turbo four-cylinder engine that is part of a new and different engine family than the 2.0 or 1.8 fours.
The 1.4 turbo powers the Jetta, and it only recently has migrated into the base Golf as well. I wrote about testing a base 1.4-turbo Golf in minus-30-degree January weather this past winter. It has plenty of power with the turbo and can push out amazing amounts of torque, and despite what the big-time magazines such as Motor Trend or Car & Driver say about needing more power and faster acceleration from everything they test, the 1.4 has at least adequate in performance, and is a fun way to achieve 40-plus miles per gallon.
But I digress.
The GTI set the standard for fun and high-performance handling and power and has maintained that stature since the 1970s. Volkswagen kept making subtle refinements without ever losing the flat handling and solid performance in the tweaked front-wheel-drive GTI hatchback. It was distinctive in autocross competition and road-racing for hoisting its inside rear wheel in a tight turn, evidence of how stiff the platform was.
Suggesting improvements for the GTI seemed like heresy, but VW has done it, with an under-publicized, under-rated and mostly under-appreciated Golf R. The 2019 Golf R shares the 2.0-liter dual-overhead cam four with the GTI, but it gets a power tweak in the R, up to 292 horsepower and 280 foot -pounds of torque.
That power is distributed to all four wheels in VW's 4-Motion concept, and a 6-speed stick helps make the 4-door (only) hatchback stick. There will be no rear-wheel lifting in this one. It is too well-planted with the power going to all four wheels, and it is not likely you will ever screech the tires taking off, even if you try to. And why would you?
The test vehicle comes in at a bit over $43,000, and if that seems like a lot for a Golf, consider that it will go through anything, and handle with the same agile stability as the GTI, only better. And it should make the hillside-scaling in Duluth winters a joy rather than treacherous.
The 4-door form does nothing to lessen the sportiness of the R from the traditional 2-door coupe. and it adds convenience to rear occupants. First impression was stunning, because the color is a unique slate gray, which is flat compared to the various high-metallic shades of grey everybody seems to favor. Various other companies including Toyota and Honda also have recently tried a flat grey and it's always eye-catching.
This one stands out because its distinctive color was set off by a set of black, 19-inch alloy wheels, making the high-performance Continental ContiSport Contact tires look like part of the wheels, and the all-black tire-wheel combination contrasts sharply and amplifies the car color. A tiny silver "R" adorns the grille, and any other special package indications are scarce, except for the four exhaust tailpipes that at least let you know that something special just blew by you.
I was able to get up and over 30-miles per gallon with the R when driving it conservatively, but it is a chore to resist running the revs up in second and third gears, which put you right up there in risk territory for any speed limit. Those revs rise steadily and smoothly, which also describes the way the Golf R handles the tightest turns, turning cloverleafs into highlights and making you wish for a chicane or two on your nearest interstate system.
The highlight of the auto industry ad business these days is the compelling new prime-time Volkswagen commercial, set to the "Sound of Silence" classic by Simon and Garfunkel. Great song, and a fantastic ad, because it shows an engineer getting up in the dark of night to walk through the darkened house to his design bench, where he's drawing up a stunning new version of the Microbus — VW's stodgy but lovable Woodstock-era van from the 1960s.
Only there's nothing stodgy about the new van, with its dramatic snub-nosed styling, only hinted at in the commercial. Reviewers have claimed that the ad shows that Volkswagen is still trying to apologize for the diesel scandal of the past decade, whereby software in Volkswagen diesels ingeniously restricted emissions when being tested, but violated standards when running free.
We must always add the footnote that virtually every other company on the face of the earth that builds a diesel engine also has had similar problems, although they have been kept much quieter, suspiciously allowing General Motors, Ford, FCA, Mercedes and others to stay safely below the "scandal" threshold stamped on Volkswagen. Most of those are larger trucks, and the high-mileage Golf TDIs were so plentiful that the company has pretty much stopped building diesels — at least for the U.S.
There have been enough apologies, and hefty fines, and VW has proven capable of building a whole new fleet of exceptional cars with small, turbocharged gas engines. To criticize the critics, there are other reasons that ad is a clever look into the future. The opening line, "Hello darkness, my old friend," fits the nighttime theme, and the closing line, which reiterates the phrase "…the sound, of silence," as we are shown an outline of the new VW "bus" head-on. Hmmm…let's see now. What is silent while running, but shines brightly in the night? How about an all-electric vehicle?
Car folks might know far better than ad critics that the new version of the Microbus shown at all the major car shows for two years now, and coming soon, will be all-electric. And thus it becomes an old friend reborning, and running silently.
Meantime, Volkswagen is putting the finishing touches on its all-electric Golf, called the e-Golf, which will definitely prove that VW is headed down the cleanest of clean-air paths. It will be silent, it won't require any gasoline, and it may lead the way, along with the Microbus, for an entire new direction for VW.
But pardon me if I engage in a little pre-nostalgia: Give us your best electric-motor technology, give us that Microbus, but please, don't take away our Golf R!