Equinox gives Chevy a Premier compact SUV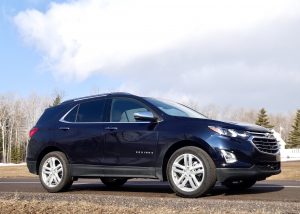 By John Gilbert
As the dreaded Coronavirus was about to foul up our springtime of 2020, I was just getting ready to enjoy the start of the NCHC college hockey playoffs, where the University of Minnesota Duluth was about to start its bid for a third straight NCAA title. I also had just finished a week-long road test with a 2020 Chevrolet Equinox Premier, a nicely styled and nicely sized SUV that is aimed at challenging the best of the compact SUVs — the RAV4, CR-V, Escape, Rogue, Cherokee, Tucson, Forester, and — my favorite — the Mazda CX-5.
Several things happened that caught me by surprise between my test drive week and the actual writing of this review. First, I was very impressed with everything about the Equinox, surprising because Chevrolet has seemed powerless to avoid fading away from the best of the rest. Second, I had read a couple reviews in car magazines, and my impressions of the previous Chevy SUVs and those test reports combined to make me apprehensive at best about the Equinox.
Another thing that happened was that the Federal Government has been very harsh — at least in its "Fearless Leader's" dealings with General Motors. GM chief Mary Barra seems to have become one of President Trump's favorite targets for his hit-and-run twitter/press briefing cheap-shots, dating back to his early days in office when he assumed all U.S. car-makers could simply shutter their overseas manufacturing plants and return to Detroit.
The most recent hit came after the last weekend in March, when the Coronavirus was tightening its deadly grip on all corners of the U.S., and Trump was live on television saying that GM had been dragging its feet when it came to aiding the nation, which was something he had become accustomed to in dealing with Barra.
It struck me as curious, because in the week before that outburst, I had read an account of how GM had worked out a partnership with Ventec Life Systems, a small company that makes ventilators, which have become so vital to helping afflicted patients keep breathing. GM engineers collaborated with Ventec on how they could convert a GM plant and find the materials to help Ventec make 10 times more than the 200 ventilators it normally makes each month.
In a matter of four days, the plan had been mobilized. And then Trump took his private little stage on Friday, March 27, 2020 and said he had activated an emergency plan that would force GM to help.
To their credit, although reportedly outraged, GM officials made the judicious move to keep on working around the clock to create ventilators without any comment on the accusation, and resisted making the link that Trump might have been hustling to attain his daily dose of praise, figuring if he hurried, he could take credit for forcing General Motors to start doing what it had already been doing for most of a week. Shortly after criticizing difficulties with GM "under Mary," Trump cut off a daily press conference question about GM's involvement and praised the company and its chairman for a "great job" of helping, stopping predictably short of apologizing for his awkward statement three days earlier.

Ford and FCA (Fiat Chrysler Automobiles), incidentally, also have been helping the cause. Ford, for example, has partnered with Minnesota's 3M, and respirator-maker GE Healthcare, to simplify the process by which GE Healthcare can greatly increase its production of respirators, aiming at 100,000 per week.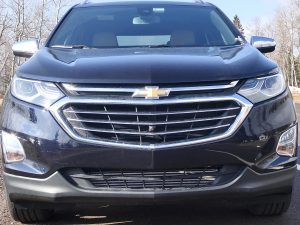 Meanwhile, back out on the road, I found the Equinox a far more worthy family hauler than a Motor Trend review of it indicated. Those car magazine hot-rodders tend to pound cars much harder than normal consumers might, so when they ripped the Equinox for not cornering like a Miata, I took it with a grain of salsa.
In testing a vehicle's handling, what one driver might find too-soft in corner swaying is another driver's comfortable ride; just like one driver's firm and solid cornering might be another's harsh and uncomfortable ride. The Equinox came in eighth and last in the Motor Trend comparison, but Chevrolet needn't feel too bad; the magazine didn't even bother to include a Ford Escape — another compact SUV I like a lot.
In the magazine's test, the CR-V was first, the Mazda CX-5 second. Without question, the Equinox is no race car, although the magazine's criticism of the car's safety devices and poor-quality interior ingredients might be mostly due to the fact that it was not up to the standards of my test vehicle — which was the optional Premier, with its top-of-the-line features.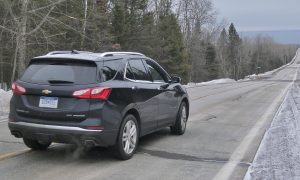 It was far better equipped to corner and display directional stability, and its numerous other interior and safety parts were much appreciated. The leather seats, lane-departure alert, lane-keep assist, rear-park assist and camera, heated and ventilated front buckets, heated steering wheel and adaptive cruise control are significant upgrades for a loaded, as-tested sticker of a reasonable $38,545.
Power in the test Equinox came from Chevrolet's new-age 2.0-liter turbocharged 4-cylinder engine with a smooth-shifting 9-speed automatic transmission, while many competitors have a CVT (continuously variable transmission) that tends to drone and frustrate in equal parts. The 9-speed worked smoothly in coordination with the all-wheel drive in the Equinox.
The LED head and tail lights and the keyless start system are also nice things sometimes rare on compact SUVs.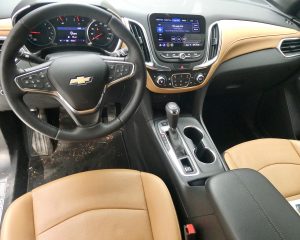 Each time I walked up to the Equinox, I was impressed by its styling, with its swept-back lines that blend the rear pillar into the rear of the vehicle. and I think it stands out from the pack because of that.
Chevy also makes the Traverse, which is a little bigger, but very similarly styled, with a V6 for power and three rows of seats. That makes it your choice: if you want and need a larger vehicle with a larger engine, or can get by with the agility of the smaller Equinox and appreciate improved economy. It was perfect timing that put the Equinox Premier with its push-button-activated all-wheel drive came into my hands at the precise time when it seemed that General Motors and Chevrolet needed and deserved some defending from unfair criticism from the White House, coupled with my impressions of the vehicle itself.
It has been a Chevrolet tradition when it makes cars to offer a top-of-the-line model, a mid-range model for features and expense, and a less-expensive bargain model that may be without a lot of appreciated features. Other companies cut corners similarly, but nobody else is guilty of stripping the true value items from its less-expensive models. That's one area where the Japanese, Germans and Koreans are far ahead.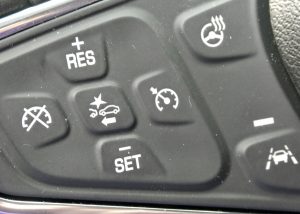 The Premier version of the Equinox matches most competitive compact SUVs, although the audio system was nothing special. It did have wireless charging for cell phones, and the optional OnStar system adds security. In its quest to load up remote switchgear on the steering wheel, though, I found that every time I cranked the steering wheel to get into or out of a parking spot, I inadvertently hit the little switch above the grip location and became conditioned to cancelling out the OnStar lady as she attempted to plan my rescue.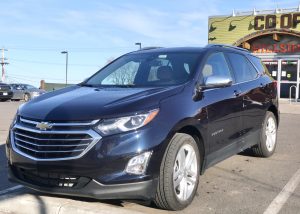 Over the weekend, various car dealerships hurting for sales came out with enormous ad campaigns. I caught a Chevrolet ad that screamed out about the 2020 Equinox being offered for 0-percent down, and 0-percent interest for 80 months, with the company paying the first four months-worth! That made the timing still better, because it seems as though Chevrolet is virtually giving away its Equinoxes.
Just remember, you may like it a lot or dislike it completely, but it all comes down to a driver's opinion. And keep in mind that not all compact SUVs are created Equinox-ly.
Comments