By John Gilbert
You've got to love this time of year, the Christmas break, when you scurry around thinking of a million things, or nothing, you could buy, most of which cost more than you can afford. In the car-testing business, there are numerous possibilities as a late family gift, in every imaginable price range.
We should start at the top. For example, you could buy a luxury SUV, and of you don't want a gigantic 0one, there are several that might be the perfect gift size, such as the 2022 Cadillac XT5 or XT6. They look a lot alike, but they are two different vehicles. They cruise in the $60,000-$75,000 range, which could dissuade a lot of us.
Before looking those two over, let's consider something a lot less glamorous, but maybe the best winter insurance available for your family — a set of four "Nokian one" all-season tires. They will astound you at how they make any vehicle run smoothly and quietly in the dry, yet also work well to stick to the road and grab traction in the worst winter storms.
Car-owners in or around Duluth, Minnesota, by the way, should be cautioned to ignore the syndicated story from Detroit that ran a couple of weeks ago in various publications, including the usually reliable Minneapolis Star Tribune, in its weekly automotive page. Now, Detroit doesn't have hills like Duluth does, so we can cut the guy some slack because maybe he's never driven to the Upper Peninsula, and never needed true winter tires. But he wrote that the newest winter tires are not all that beneficial, and they are what used to be called "snow tires."
No. Not true. There are summer tires, there are all-season tires, and there are snow tires, and you get to choose what you want or need. Tire companies make tires for all circumstances, and the newest top all-season tires can handle the duties of winter driving better than more basic summer tires, which run long and smoothly but lack the ability for foul-weather traction, and better than snow tires used to.
But there also are major differences in how different tires work on snow and ice, which is as critical to stopping and cornering as to going forward.
Companies can put whatever designation they want on their tires, it seems, but not many have mastered the technique of making tires that work in snow and on ice in the real world, and also run smoothly when you're not on snow or ice, which is 90 percent or more of the time, even in severe winters. Plows come out promptly, and a day or two after a storm, you're back on pavement.
But we're talking tires for the critical moment when you are cruising along on a winter night, or day, and nearing the apex of a curve when you hit some black ice glazing the pavement, and you start to skid toward the ditch, or abutment. Instantly, your heart is in your throat and your adrenaline goes to overload.
If you know how to hold your poise and steer into the skid with light and careful braking, good for you. But sometimes it's hopeless because your tires just won't stick.
In that moment of crisis, how much would you pay to have that situation not exist? Certainly a lot more than $500, because it's going to cost you a lot more than that to fish your car out of the ditch and to repair the dents you have just installed.
Nokian tires — based in Finland and which used to be "Nokia" but gained an "n" on the end after the Nokia cell phones became worldwide big-sellers — have convinced me from 50 years of test drives in Minnesota winters, and they are the best way to handle the toughest winter conditions.
I first discovered N0kians from a fellow named Dave Erickson, who once ran Bloomington Tire Center in that Twin Cities suburb. He was a racer and knew every detail ab0ut tires, and when he got me to try Nokia tires, it was a revelation. They had the unique ability to go year-round, last a long time, and still alleviate anxious moments on wintry roads.
Nokia designed and built tires for winter rally racing north of the Arctic Circle, and has continued to make tires with a compound that retains its flexibility no matter how cold the weather is. The company's all-out winter beater is the Hakkapeliitta, which preceded the Bridgestone Blizzak and remains a superb tire today. Blizzaks are excellent on ice and snow, but not as good on normal pavement because their tread decomposes as part of the principle that the remaining tiny concave shapes aid grip, so they wear out faster on dry pavement.
I replaced the super-aggressive-looking Michelin XAS asymmetric-tread tires that came on a beloved Saab 900 we purchased. Impressive as they looked, the XAS tires were excellent in rain, but hopeless in snow and ice, where they slipped and slithered when they should have been gripping and holding course. I went with the Nokia all-season, and found them to be so good I never saw the need to go to the Hakkapeliittas, despite Dave Erickson's urging.
Dave got out of the tire business a few decades ago, and we moved from the Twin Cities to Duluth since then, where I knew of a place called "Foreign Affairs" that does auto repair and also sells tires.  Jeff Hofslund owns Foreign Affairs — great name — and he is similar to Dave Erickson in trying to make sure each customer ends up with the best tire for specific needs. He sold a lot of tires over the years, but mostly prescribes Nokian tires. His always-busy little shop on 7th Av. E. and 8th St. on Duluth's East Hillside, became the No. 1 U.S. outlet for Nokian sales. He's not sure if he still holds that honor, but while he can obtain any tire by overnight delivery, he has a separate connection with Nokian, which insists on avoiding large tire shops for what they believe is superior personal satisfaction from smaller companies.
A set of Nokian WG3 tires are serving us well on the family Mini Cooper, and they have directional tread design and a compound that still sticks to the road effectively after five or six years. We bought a new set last year for our older son and they are the new "Nokian one" tires, which don't look as aggressive as the WG3, but sticks just as well. The new ones are not directional, which makes it easier to rotate them, and are designed to run for significantly more miles, and in amazing silence when running on dry pavement.
As a potential Christmas gift siuggestion, I called Jeff Hofslund and asked how much a new set of Nokian one tires would cost. "It depends," he said, "on what size, what kind of car, front-wheel, rear-wheel or all-wheel drive, and what type of use would the tires get. I like to try to suggest tires that fit into a family's lifestyle and vehicle usage."
Such personal service is right up Nokian's alley. The new "Nokian one" somehow bridges the compromise between working on icy avenues in Duluth and being just as impressive in year-round driving without the need to switch to summer tires. A new set of four, in 17-inch size for example, would be about $120 apiece, mounted and balanced. That's nearly $500 for four, which is already a lot, but it's inexpensive in my concept of eliminating those moments of terror when you lose traction.
It was more than Christmas that caused me to
think of  suggesting a set of Nokian tires as a Christmas gift. It was brought to mind by the close-order proximity of test-driving both the high-end Cadillac XT5 SUV and  XT6 SUTVs. Both are perfect compromises between sedans or station wagons and midsize SUVs, as far as people-hauling goes. Appropriately, the XT5 is a bit smaller, with two rows of seats, and therefore is priced fr0m a $50,795 base, to a test-vehicle high of $67,965.
The XT6 is just enough longer to fit in foldable third-row seats, which don't come in the XT5, but the roomier XT6 starts at $54,995 and rises, via the option list, to an as-tested $70,965.    If you can afford the $3,000-$5,000 difference, then you can decide. I had the XT5 and XT6 close enough together at the advent of snow and ice season up in the Great White North, offering me the opportunity to compare the all-wheel-drive vehicles.
The XT5 was black, which in Cadillac-ese "Stellar Black Metallic." It also was lighter and felt a bit sportier — although both vehicles were powered by the same high-end 3.6-liter dual-overhead-cam V6 with 9-speed automatic transmission. The XT5, I must say, slithered around a bit when the roadways got slippery from the snow and ice coating. I got out and checked and noted Michelin Primacy tires, which fit my theory that Michelin takes pride in tires that will endure high speeds and last a lot of miles, two traits not necessarily good for slippery winter conditions.
The XT6, meanwhile, was the "Premium Luxury" version, and was painted "Rosewood Metallic." It had enlarged 20-inch alloy wheels, on which were mounted Continental all-season Cross-trek tires, with a lot of cross-tread sipes designed to flex just enough to spit out snow and grip slippery road surfaces better. They did that, as we proved when we had more snow in the XT6's week. It handled it all with no problems.
Both vehicles were loaded with creature features, and the XT5, which is targeting those who might want to do some light off-roading, had an additional mode switch that allowed you to select from tour, AWD, sport, and off-road. Frankly, I can't see it as an off-road vehicle, but the power is there and the AWD system works.
You can also change modes with the XT6, but not quite as aggressively, as though Cadillac knows the difference between country club and rock-climbing..Both Cadillacs are sized right, above the now-popular compact SUVs but well below the giant SUVs like the Escalade, which is at the top of the Cadillac pecking order.
With all the safety and connectivity features included with both, the price difference basically remains whether you want the pure luxury of the fine leather and wood in the XT6 or the also-nice leather and wood trim in the XT5.
Just make sure, for the price, you take into account what tires you're buying. They all look good in the showroom, but remember that your total contact with any roadway is less than one square foot at each corner of your car, and making sure your tires share your insistence on staying in contact of those four patches.
By John Gilbert
When Kia introduced the Niro a couple of years ago, I got a chance to drive one for a week and review it. The Niro was available in hybrid, plug-in hybrid, and electric — although the electric version was not out yet. It was an impressive vehicle in every way, with the same powertrain options as its partner, Hyundai, had put into its Ioniq sedan.
But this time, when I got a 2022 Niro to live with for a week, it was different. This time the vehicle delivery service in Chicago brought the Niro to me in an enclosed trailer, rather than driving it as they did with the first hybrid Niro. This time, the prize showed up and looked the part, in gleaming Snow White Pearl, and I couldn't wait to drive it.
We've heard all the predictions and speculation about electric vehicles, and we all share the primary concern, called "range anxiety." No, we won't be using an extremely long extension cord. EVs run on battery packs, and every battery company is racing to build better battery packs, with quicker charging and more power delivery to allow us to drive for far more distance than the short-range of the original electric cars.
Face it, we are going to be buying and driving electric cars instead of internal-combustion-engine cars sooner than later, and I am one of those convinced advocates about going electric. But I have some questions of my own.
Having driven a few electric vehicles — or EVs — I understand that the efficiency of electric power means your maximum torque occurs at zero RPMs, so when you hit the gas, you virtually blast away in a flash. The Niro did exactly that. My major question is what happens to all that sweet electric power when you have to park your EV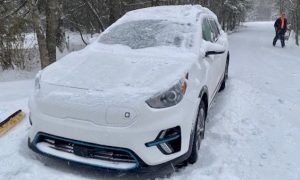 outside in Duluth, Minnesota, when the temperature is single-digit cold overnight? It is similar to camera batteries, which tend to go from fully charged to warning you the battery is drained in minutes, when it's cold out.
Now I could find out first hand, because this Niro was totally electric, with the electric motor under the hood where the engine used to be, and it powers the front wheels. Rolling out of its trailer, the Niro showed 237 miles of range. That's a lot, and is a tribute to the LG Chem company in South Korea, which has worked closely with Hyundai/Kia to develop the lithium-ion-polymer battery pack that is cutting edge on charging, range and power output, and also is conveniently flat for packaging ease.
The lithium-ion-polymer battery pack has 64 kWh (kilowatt-hours) of power, and drives a 150 kW electric motor, and a 7.2 kW on-board charger. The battery pack itself lies flat, under the rear seat, making the Niro handle even better than it should, because it's front-wheel drive but with the weight balance of a mid-engine vehicle.
I drove down our hill and a short way up the North Shore of Lake Superior to shoot a few photos, and a bit more, just experimenting with the throttle and the silent potency. When I got back in, I pushed the button, knowing the response would be silent, and looked for the "Ready" indication on the instrument cluster. I was surprised to see that the range number had actually increased from when I left. I'm a strong believer that you slow down a good distance from your stop, and you descend hills knowing you can add regenerative electricity to the battery pack by braking lightly.
What I didn't realize at first was that the paddle shifters affixed to the steering wheel are not just for up and downshifting the continuously variable transmission to a better range. When you pull on the left paddle to downshift, you also are intensifying the regenerative operation, so when I instinctively downshifted with the left paddle coming the mile down Duluth's Lake Avenue, I inadvertently added to the battery's power without even touching the brakes.
We were thoroughly impressed with the comfort and feel of the Niro, and with the power and efficiency. We don't have a high-speed 480 outlet at home, although we would obtain one if we had an EV, so I plugged into normal household current overnight, from about 6 p.m. until 8 a.m. the next morning. The range-gauge told me I would have 213 miles before needing a recharge, and I was going to drive to the Iron Range and back, so 213 miles should be sufficient.
You need to be aware though, that the battery pack delivers the equivalent of 123 miles per gallon in town, and 102 miles of highway driving, so cruising on a trip at 70 miles per hour will use up your electric energy faster than if you were just driving to work and back. When I started my return trip, it showed I had 110 miles of range. Another neat little item on the information screen shows where the nearest high-speed charger is located with an arrow and distance. I learned from the car itself that there was such a charger in downtown Virginia. I already knew there were others in downtown Duluth and at UMD's campus. I also knew I wasn't that far from home, so I went for the long-range experiment.
As I drove back and through Duluth, noting the range was decreasing, I headed up the mile-long hill toward our house. A little notification informed me I should be looking for a charge, because I only had 11 percent of my total remaining. No problem. It was cold out, and I pulled out the self-contained cord from the trunk, and plugged one end into our outside electrical outlet and opened the little trap door in the front body panel to plug the other end into the car's receptacle.
That short-term charge was enough to improve our range, and we were going to see a UMD-Ohio State women's hockey game at AMSOIL Arena down by the harbor, and about four blocks from the arena a row of parking meters includes high-speed charging stations. I pulled into one of those spots and activated the charger by plugging its cable into the front end receptacle, and we walked to the game. When we returned, it was chilly, with a nasty wind, but we got there promptly. When I unplugged the cable, the charging meter notified me that I had only gotten a partial charge because I was supposed to prepay with a credit card to get more, which I was unaware of.
I got into the Niro and hit the starter button: Silence, but life. And the instrument cluster said I had 184 miles of range. Impressive, especially since I hadn't ordered a full charge. Parking outside again 10 miles away at home, where the temperature went down to about 9 degrees overnight, the car showed 172 miles of range. Not bad, considering the frigid weather hadn't nicked it for much more than the drive home.
The next day, our final full day with the Niro, a snowstorm hit and kept coming through the night, reaching a total of about 7 inches up on our ridge. That gave us the full scope of what we might expect with an EV in Duluth winter. The Niro handled driving in the snow adequately, although the Michelin tires mounted were more for long-wear and high mileage than winter traction, which is a tendency of all Michelins except the company's all-out winter tires.
Interior comfort was excellent, with roomy bucket seats and a rear bench covered with what Kia calls SynTex, which seems to be a tough but comfortable material. They are more comfortable when electrically heated, as the test vehicle's seats were. A sunroof with a shade, all the company's many safety lane-keeping and fore and aft parking warnings are in place, and so is smart cruise-control with stop-and-go, and a Harmon Kardon audio system that was extra impressive because there was no engine sound to interfere with the satellite music.
The $44,650 price tag for the EX Premier model was increased to $47,080, by the addition — thank you very much — of a "Cold Weather Package," consisting of a battery heater, a heat pump, plus a heated steering wheel. The heat pump is greatly responsible for our interior comfort in the Niro. You could get everything going with auto-start, but I kept thinking it would warm up quickly, being all-electric, and I didn't want to lower the range any more than necessary.
The week-long test was interesting, if too brief. I want more time with the Niro EV, and it would be fun to try the Niro Hybrid for comparison. With the hybrid or plug-in hybrid, of course, the 1.6-liter 4-cylinder engine works to recharge the battery pack and eliminate all the range anxiety, as well as the intrigue of daily cold-weather testing. But the pure-electric Niro was fascinating, and the Duluth weather, which can be harsh, was for once appreciated so we could give it a sun-cold-snow-long-range test within our week's trial.
By John Gilbert
It has been challenging but fun, to try to keep up with the flurry of SUVs on the market, and to discuss and debate the benefits of minivans compared to SUVs. My findings are that often minivans are the best family haulers because of their economy and versatility, and the wonderful competitiveness of the top of the line entries. The new Kia Carnival, just out as an advance 2022 model, might rank at the top, challenging the very impressive Honda Odyssey, Chrysler Pacifica, and Toyota Sienna.
But the more you expect things to stay the same in the automotive world, the more they seem to change. With that in mind, I got to spend a week in Duluth, Minnesota, with the 2022 Toyota Sienna, which comes in one flavor — spectacular.
Every aspect of every vehicle is open to challenging competition these days, and the Sienna has been a solid contributor to Toyota's worldwide wealth despite going 10 years before its makeover, which came for the 2021 model year. It was a major change, with a new platform, body, powertrain and features.
The refined 2022 checks allo the boxes for family-hauler wannabes. For example, you want all-wheel drive? Check. The new Sienna XSE that I drove had electronic-all-wheel drive. You want a hybrid? Check. The new 2022 Sienna XSE is the top of the line, but all Siennas come with your choice of powertrains — as long as your choice is a very efficient hybrid.
This particular hybrid consists of a 2.5-liter, dual-overhead-cam, direct injected  4-cylinder and with two electric motors, combining to direct 245 horsepower to all four wheels.
Toyota is pretty synonymous with hybrids, of course, and this one works through a continuously variable automatic that works smoothly and efficiently at all times and facing whatever driving challenges you might find. For me, it was scaling the steep avenues of Duluth, and the Sienna zipped up with ease, while still delivering just over 36.2 miles per gallon. The EPA estimate says 35 city, 36 highway, so we were a smidge over that.
The look of the new Sienna steps up in class, particularly to be as flashy test vehicle, which came in a stunning red exterior color called "Ruby Flare Pearl," which is pretty expressive as names go. I found it looked especially good when parked with a colorful sunset lighting the sky in the background.
Toyota fans have been wondering what the company has up its sleeve, to meet competition on the way to electric vehicles. All I knew was the promise that Toyota would be announcing some new directions toward EVs soon, just before the word leaked out this first week of December, 2021, by way of Automotive News, sourced from, of all places, Beijing. Yes, apparently Toyota is planning to work with an aggressive Chinese battery-maker named BYD to create and launch a small electric vehicle in China that could revolutionize the EV business.
Toyota stubbornly stuck with nickel-metal-hydride battery packs for its Prius, while the world pulled an end run and chose lithium-ion, and then lithium-ion polymer because the batteries were lighter, charged faster, retained power longer and delivered more power. Toyota finally gave in and started using lithium-ion battery packs, even in the Prius. Toyota's eagerness to work with China's BYD is its new concept, described as lithium-ion-phosphate Blade batteries. Even as Toyota is striving to develop its own batteries, BYD has started using solid-state lithium-ion cells for longer range and more efficient energy storage in what is called its Blade battery, creating thinner and lighter batteries than lithium-ion, and they have the advantage of not using cobalt or nickel, which are costlier, yet are less prone to overheating and have a longer shelf-life.
Reportedly, Toyota investigated a joint venture with BYD several years ago but did not go through with it. One of the issues is that Toyota has such rigid standards for testing and perfecting new designs, while BYD seems to charge ahead and turn its experiments into real-world vehicles. This time, the innovation has lured Toyota to the possibility of a joint venture to give Toyota the same technical advantages that Tesla already has attained; Tesla uses BYD-style batteries in its Model 3 and Model Y vehicles sold in China.
While that may be the most exciting news out of Toyota since the establishment of its Prius, the new Sienna indicates current Toyota vehicles are at a high level on their own.
The interior of the 2022 Sienna XSE includes comfortable and supportive bucket seats in front and in the second row, where occupants have their own wireless headphones and connectivity, with 11.6-inch screens.
The second row buckets are not removable, but stow low onto the floor, and they also slide more than 2 feet fore and aft, creating easy access and more room in the third row. The better to enjoy the upgraded audio system, which consists of 12 JBL speakers plus an amplifier and subwoofer.
Driving the Sienna is more car-like than truck-like, or even minivan-like. The XSE package adds to the full complement of safety features by also installing a sport handling suspension. The lane-departure alerts are now bolstered by lane-tracing capability to keep you following the best trajectory around curves.
My personal style while driving any hybrid is to think ahead and slow down before needing to stop, to reclaim regenerative braking power that feeds the battery pack. The Sienna also has a driving mode switch that allows you to choose a sport setting and also more economical or normal settings, and you also can click a switch that gives you dedicated electric power or focuses on the regenerative energy-capture.
All of these features, of course, come at a cost. The Sienna starts at a base price of $42,860, but remember you're getting all-wheel drive and the hybrid powertrain, and loading it up with the XSE luxury touches such as leather seats and upgraded interior, all of which boost the sticker to $47,942.
Also, remember that competition is fierce, and the Carnival, Odyssey and Pacifica are worthy choices for customers. But no minivan — or SUV family-hauler buyer — should overlook a test drive in the new Sienna. Our test-drive beat the early December snowfall that hit Duluth, but knowing the S
ienna can be had with AWD, I want another chance!
By John Gilbert
Whether it's football season, hockey season, basketball season, or buying-a-new-vehicle season, we can all agree that the "American way" is to own something bigger and more imposing than anything any of your neighbors are interested in. That's not always true, particularly from this column, where I've always stressed that buying a vehicle should mean you get the smallest version of something that's big enough.
The 2022 Chevrolet Suburban can convince you otherwise — if you can afford it. With a base price of $58,800 and an as-tested sticker of $79,370, the 2022 Suburban I got to live with for a week was the Suburban AWD Premier model, and it did its best to spoil us throughout a November week that included a small dose of snow and slippery roadways in Northern Minnesota. It never slipped, and never missed a beat.
It pampered us as though the nastiest cold wind blowing out of Canada to us along the North Shore of Lake Superior might just as well have been a soothing breeze on the western shore of Key West, Florida. You are in a fortress on wheels — 20-inch wheels, at that — and you could get massaged into believing that you are impervious to any outside problems. Yes, it took on a personality, and if we owned it, we would have to bestow some fitting nickname on it
Going back to the sports analogy, it's like your son grew up as a wide receiver and turned into a defensive tackle, or you planned on a quick-striking centerman and wound up with a hulking defenseman who appreciates the alternative term "policeman." Or you envisioned an elusive, 3-point-shooting guard and instead raised a power forward who crashes, bangs and rebounds. But a successful team in any sport needs all the elements. Read more
By John Gilbert
We're still a month away from 2022, but on Thanksgiving Weekend, we can be thankful for our health — if we have it — and for some early arrivals on the automobile scene, as 2022 models — if we can afford one. One of the notable newcomers is the Kia Carnival, which has jumped into the minivan segment and elbowed its way to the highest level of the tightly defined field.
Being able to stay warm as the temperature drops below freezing is important, of course, but so is the ability to see outside, and some of the wonders we've been witnessing in the spectacular sunsets on the North Shore of Lake Superior during autumn of 2021.
If you like to drive to Grandmother's House for holidays and you have three or more kids, you will be thankful for the amenities in the Carnival. And while becoming a home on wheels for trips, the airiness and openness of the Carnival gives occupants in all three rows separation as well as room for their own space.
Regardless of how many vehicles I've been able to test dive, it's always like coming home again to get into the newest minivans, and that has only been amplified by exposure to the new Carnival. Think about it. What better conveyance for the family to finish Thanksgiving dinner, watch a little football, and then load up the Carnival to go for a relaxing drive to check out sunset, and some neighborhood Christmas lighting? Read more